Sweet potatoes are one of the best starter foods for babies. They are perfect for the little ones who need to gain some healthy weight. Babies simply love the creamy texture and slight sweetness of these roots. Take a look at these easy sweet potato recipes for baby weight gain. Sweet potatoes are also, super nutritious and offer an array of health benefits for the little ones. They are one of the most versatile food options. You can easily team them with fruits, veggies, chicken, grains, and even breast milk to make delicious and nutritious meal options for your baby.
When can you introduce sweet potato to your baby?
The ideal age to introduce sweet potato to your baby is when your little one is 6 months old. By this age, babies are ready to graduate to other diet options in addition to formula or breast milk. It can be introduced with other starter foods like fresh fruits and vegetables.
Also Read:

10 Recipes using Ghee for Baby Weight Gain
What are the benefits of sweet potatoes for babies?
Nutritionally, sweet potatoes are extremely beneficial for children. Some well-known benefits are as follows:
#1. Aid healthy weight gain
Sweet potatoes are a great way to lend an instant calorie boost to babies. They are rich in slow digesting carbohydrates that keep the baby satiated for long and help her gain weight faster. The advantage with sweet potatoes is that they are very low in fat. Therefore, the weight gain is healthy. Also Read:
11 Healthy & Yummy Snacks Ideas For Kids
#2. Multi-vitamin food source
Sweet potatoes are known to be one of the richest natural sources of Vitamin A, which helps to enhance your little one's eyesight. It is also rich in beta-carotene, which helps the body to use Vitamin A that is provided through food. Sweet potato also provides several other vitamins such as - Vitamin B6, B9, Bi, C, K, and E. All these together help the baby through her developmental milestones and aid normal growth. This is why the sweet potato recipes for baby weight gain will be very helpful for you.
#3. Rich source of vital minerals
Sweet potatoes are a great source of phosphorus, magnesium, iron, calcium, potassium, and zinc. All these minerals help in the proper development of bones and muscles. They also aid normal body functioning.
#4. Build immunity
As they are rich in Vitamin C and antioxidants, sweet potatoes help to develop the baby's immune system. They prevent common infections such as cough and cold and are especially great as winter food.
#5. Effective constipation remedy
Many babies develop digestive issues when they are introduced to solid foods. Sweet potatoes are rich in fiber and therefore, help resolve indigestion and constipation. They also aid smoother and regular bowel movements.
Can babies be allergic to sweet potato?
Although it is rare, some babies do get allergic to sweet potato. Therefore, it is important to watch out for the symptoms of an allergy when you introduce this food item. These symptoms include:
Pain in the abdomen

Hives or rashes on the skin

Breathlessness

Swelling around the mouth

Weakness

Dizziness
You must consult your doctor if you notice any of the symptoms above. When you introduce a new food such as sweet potato, make sure that the other foods you use with it are the ones that are tried and tested for allergies. Do this for the first four to five days. That way, you will know what is causing the allergy if it happens.
Top 10 sweet potato recipes for baby weight gain
For 6 - 8 Months Old Babies
At this age, the food should be easy for the child to digest. Since teeth are not developed at this age, purees are the best option.
#1. Sweet potato and apple puree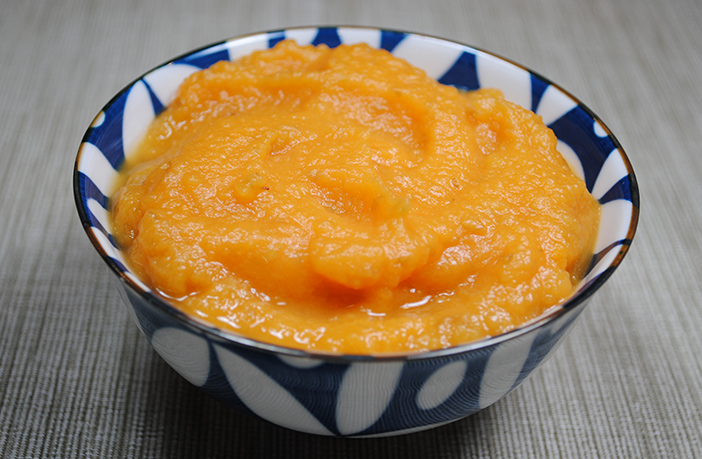 Image Source: Attracting Wellness
Ingredients
Chopped and peeled sweet potato - 1

Chopped and peeled apple - 1
Directions
Boil water in a pan.

Place the apple and the sweet potato in a steamer.

Lower it into the pan such that the steamer does not touch the water.

Once the apple and sweet potato are tender, turn the flame off.

Use a blender to puree them until they are smooth.

Strain the mixture in a colander and store.
Tip:
You can follow the same procedure with any vegetable of your choice instead of apples. Peas and carrots are great options for variety.
Also Read:
31 Healthy Recipes Using Weight Gain Foods for Babies and Kids
#2. Banana and sweet potato mash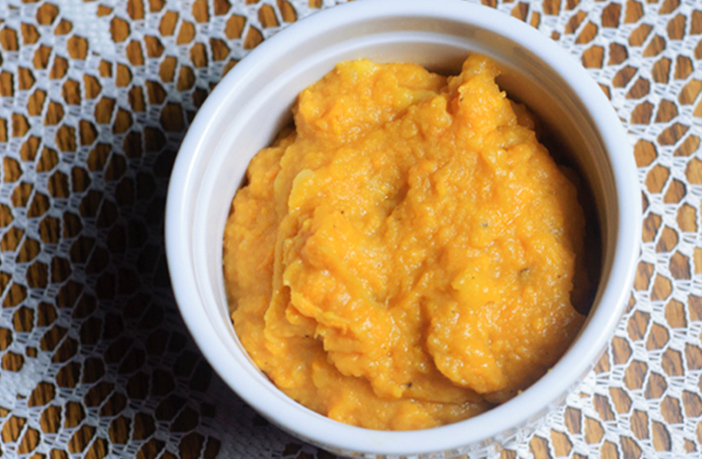 Image Source: Jan's Sushi Bar
Ingredients
Peeled and cubed sweet potato - 1

Ripe banana - 1

Milk (12 months and above) or breast milk or formula milk- 1 cup

Vanilla essence - ½ tsp (optional)

Lemon juice - 1 tbsp (optional)

2-3 drops of ghee ( optional)
Directions
Boil the milk in a pan.

Place the banana and sweet potato in the milk. Let the mixture boil until the sweet potatoes are tender. If you chose to use breast milk instead of regular milk, use pre-boiled sweet potatoes. Mix them together and leave it for five minutes to let the milk get absorbed and proceed with rest of the method.

Once the milk is absorbed and the banana and sweet potato are tender, transfer the mixture to a bowl. Using a fork, mash it up until it turns very fine and pasty.

Mix in the vanilla essence and lemon juice. This step is optional and purely for flavor.

Before serving, add a dollop of ghee to make it tastier and healthier for the baby.
For 8 - 12 months old babies
When the child is about 12 months old, you can introduce salt in the diet. This gives the food a better taste and introduces the body to a good source of sodium, which is essential for several bodily functions.
#3. Sweet potato, apple and lentil Soup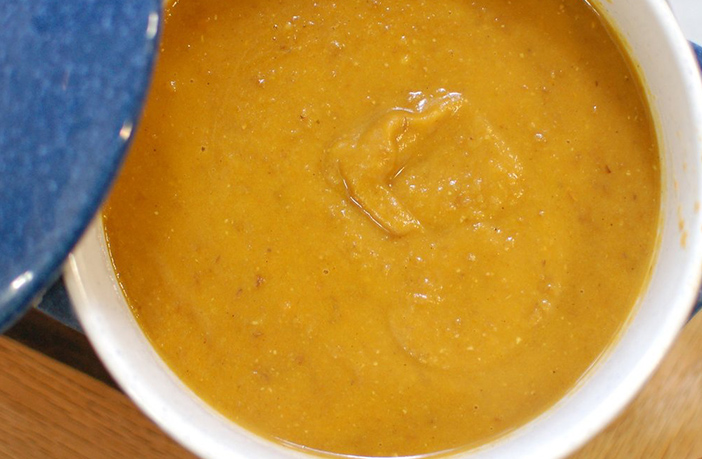 Image Source: Meghann Riley Holistic Nutrition
Ingredients
Peeled, chopped, and washed sweet potato - ½

Peeled and chopped apples - 1

Red or Green lentils - ½ cup

Water - 1 cup
Directions
Bring the water to boil in a pot.

Add lentils to this and let the mixture boil for some time.

When the lentils are very soft and the water is absorbed, turn the heat off.

In another bowl, boil water. Place the potato and apples in a steel steamer and insert the basket in the bowl.

Cover and let it cook.

When it has cooked, pour it into a food processor jar and blend all the ingredients until they become smooth.
Tip:
To start with, you can use lesser quantity of lentils. As the baby starts liking the taste, you can increase the quantity of the lentils. It is a great way to introduce daals to the baby.
#4. Chicken and sweet potato baby food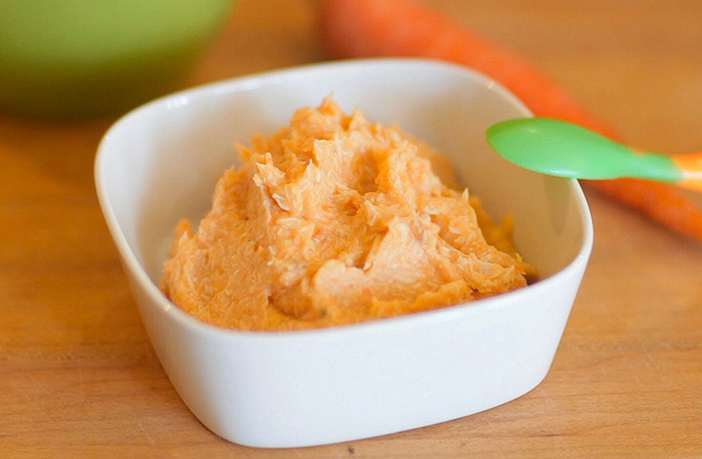 Image Source: youtube
Ingredients
Boneless Chicken breast, cut into chunks - 100g

Peeled and cubed sweet potato - 1

Water - 2 cups
Directions
Use a pot to cook the chicken in water and make a broth.

When the chicken is tender, turn the heat off.

Steam or bake the sweet potatoes and blend to make a puree.

Mix the cooked chicken and chicken broth in this puree and blend again.

You will get a creamy puree.

If it is not runny enough, you can add boiled water to make a thick soupy consistency for your baby.
Tip:
Choosing boneless breast piece is the best option for a chicken puree as it has maximum proteins. Make sure the chicken is washed well. You can even marinate it with some turmeric before cooking it.
#5. Sweet potato biscuits for teething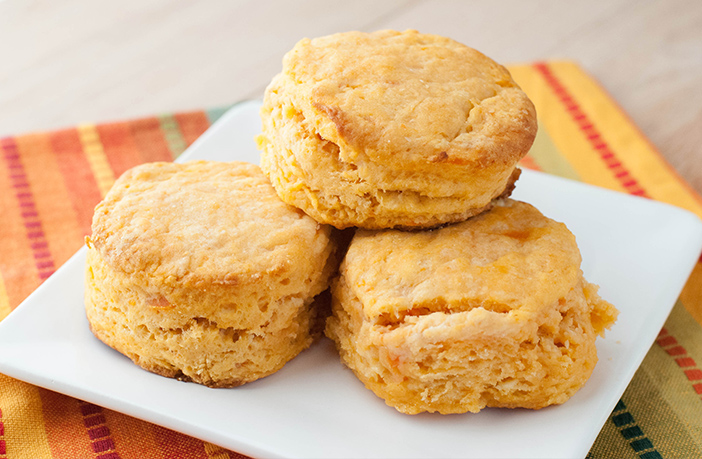 Image Source: Macaroni and Cheesecake
Ingredients
Whole Wheat Flour - 1 cup

Pureed sweet potato - ½ cup

Coconut oil or olive oil - 1 tbsp

Water
Directions
Mix the ingredients in a bowl.

Add water slowly and make the dough.

Roll the dough out.

Cut the biscuits into any shape you like. The larger the better.

Bake them for 30 minutes at 350

0

F.

These biscuits are soft and tasty for babies who are teething.
Tip:
If the baby has not started teething yet, you can make these biscuits when he or she begins to. They work well to scrub the gums and ease the itchiness.
For 12 - 18 months old babies
This is the phase when babies can manage well with semi-solid to solid foods. Making the food a little chunky will also help the baby get used to the act of chewing and ease the teething process.
#6. Sweet potato, cauliflower, and chickpeas baby food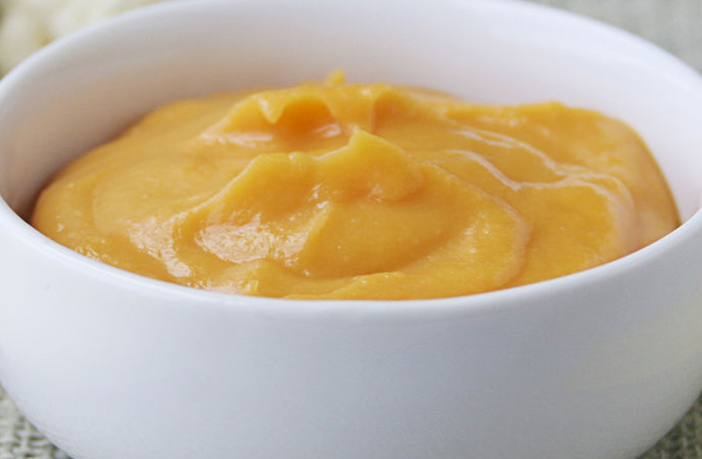 Image Source: Tablespoon
Ingredients
Peeled and cubed sweet potato - ½

Cauliflower florets - 1 ½ cups

Drained and rinsed chickpeas - ½ cup
Directions
In a saucepan, add water and place the steamer basket in it without the base touching the water.

Place the cauliflower and sweet potato in the basket. Cover and steam for about 12 minutes.

In a pressure cooker, cook the chickpeas until they are soft.

Blend the steamed veggies and the chickpeas together and let them cool.
Tip:
You can give a spoon to your baby and let her sit in a highchair with a bowl of this yummy dish. Watching her try to eat on her own will be fun as this dish is not very runny and is easy to manage.
#7. Sweet potato porridge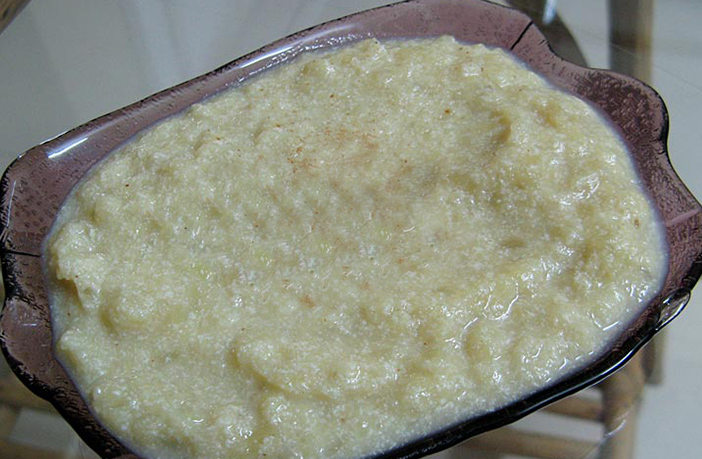 Image Source: mummumtime
Ingredients
Rice - 1 cup

Sweet potatoes - 4

Water - 3 cups

Milk - 1 cup
Directions
In a cooking pot, boil water.

Wash and clean the rice and add it to the pot.

Peel and cube the sweet potatoes and mix them with the rice.

You can add two more cups of water and the milk.

Bring the mixture to a boil. Then allow the potato and rice to cook on a low flame.

Once the rice and potatoes are cooked, turn the heat off.

Let it cool before you give it to your baby.
Tip -
You can add more milk to make this dish creamier for the baby.
Also Read:
A Complete Guide : Baby Growth Spurts
For 18 months and above babies
The baby can now chew food easily. You can experiment with different shapes and textures to make the food more interesting for the baby.
#8. Sweet potato circles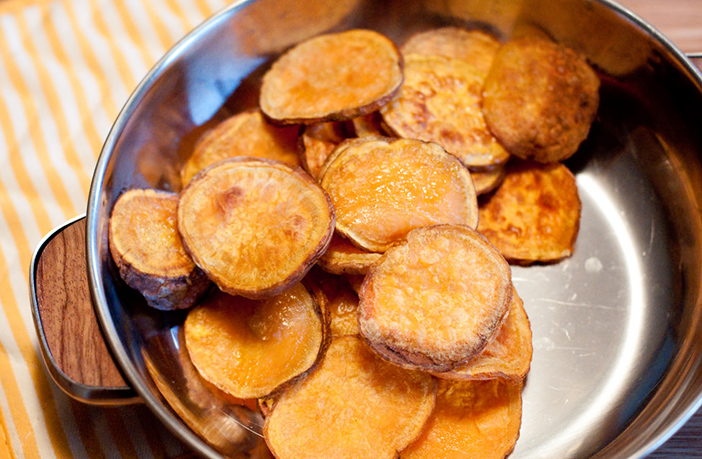 Image Source: flickr
Ingredients
Sweet potatoes, peeled and cut into circles

Olive Oil or ghee – 2 tbsp

Cinnamon- ½ tsp

Honey- 2 tbsp
Directions
Preheat the oven to 450

0

C.

Mix all the ingredients together in a bowl.

Arrange the sweet potato circles on a non-stick baking tray.

Bake them for 15 minutes.

Turn them over once and bake for 10 more minutes.
Tip:
You can even cut the sweet potatoes in the shape of French fries or wedges and follow the same recipe.
#9. Sweet potato cinnamon pancakes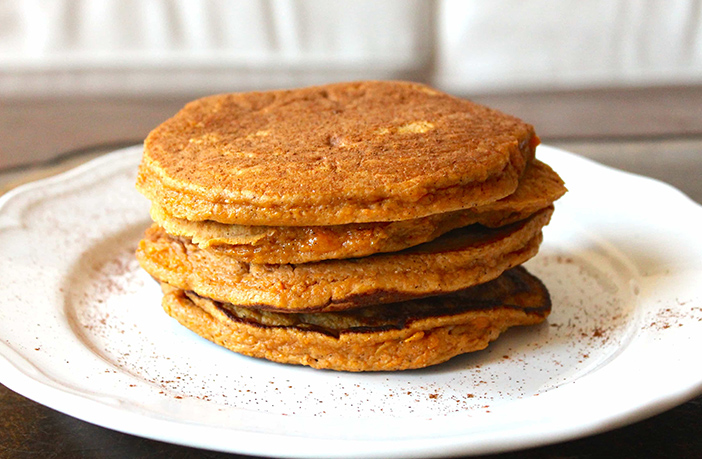 Image Source: smile sandwich
Ingredients
Peeled and cubed sweet potato - 1

Ground cinnamon - 2 tsp (optional)

Ghee - 1 tbsp

Ripe banana - 1
Directions
Steam and puree the sweet potatoes.

Blend them with bananas until they are smooth.

Add water to make them runny in consistency.

In a pan, heat the ghee.

Mix the cinnamon powder in it.

Spoon out the mixture into the pan, to make small pancakes. Use almost 2 teaspoons for each pancake.

Let it cook well on both sides.

Allow the pancakes to cool.
Tip:
You can drizzle the pancakes with honey before giving it to your baby for enhanced nutritional value and taste.
#10. Sweet potato puffs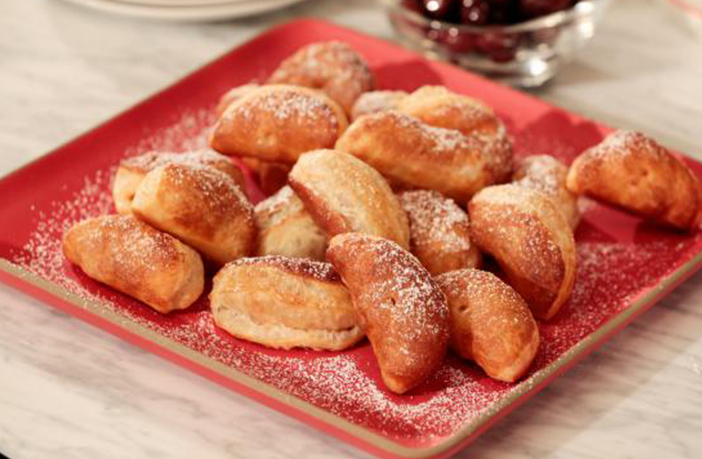 Image Source: foodnetwork
Ingredients
Directions
In a bowl, mix the applesauce, sweet potato mash, and oil. Stir the water in until you have a smooth blend.

Add the flour and baby cereal to this. To make it coarser, add more cereal.

Make a cone using a cookie sheet or plastic sheet and pour the dough in it. Cut the tip-off.

Now squeeze out small portions and roll them into a ball. Make a hole in the centre to leave some air bubbles. This will make it look like a puff.

Arrange them on a baking tray and brush on some oil.

Preheat the oven to 350

0

C and bake for 155 minutes. Allow it to cool before you serve it to the baby.
Tip
: Instead of using a steamer, you can also cook the vegetables in a pressure cooker as an alternative.
Also Read:
Food Chart for 8 Months Baby
If you are looking for a food item that helps to increase your baby's weight in a healthy manner, then you must try sweet potatoes. Your baby will love the taste, while you will be happy with the many benefits it offers. So, go ahead and try out these recipes to see the results.
Want to share your mommy experience with other moms through words or images? Become a part of the Moms United community.
Click here and we will get in touch with you
null
null