Mother Nature brings with each season a different bounty of healthy food. It is always advisable to eat produce that is freshly available in that particular season. Kids need a lot more energy during winter months. They are also more susceptible to health troubles and allergies.
Don't worry mommies, armed with this hand-picked list of important winter foods and recipes, you can make sure your child enjoys a healthy winter! With winters still not over, they are sure to be available at your local supermarket.
You might also like to read: 5 Things To Take Care Before Giving the Bath To Your Baby In Winters
11 Essential winter foods for kids
#1. Garlic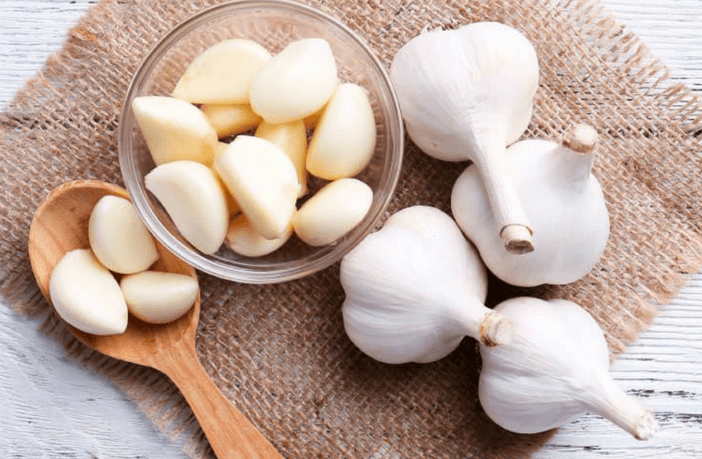 Image Source: dr. axe
Why garlic: Packed with allicin, garlic releases a very powerful antioxidant which helps in keeping body away from illness, especially common cold!
Suggested Recipe: Toddlers might not be ready to swallow a raw garlic bud but garlic dips and garlic breads are wonderful options to entice them.
Ingredients:
2 slices – Bread
7-8 cloves – garlic (crushed/chopped)
1 tbsp – grated cheese
1 cup – mixed vegetables cut into thin slices (carrot, cucumber, tomato, cabbage)
1 tsp – black pepper powder
50 gms – Butter
Salt – as required
Method:
Preheat oven to 200 degree Celsius.
Cut bread into triangle pieces and keep aside.
Take a bowl add the vegetables and cheese and mix nicely.
In another small bowl add butter, garlic, little salt, pepper and mix nicely.
Apply this on bread. On top of the bread now spread the vegetable cheese mixture.
Bake in oven for 6-7 minutes and serve.
#2. Carrots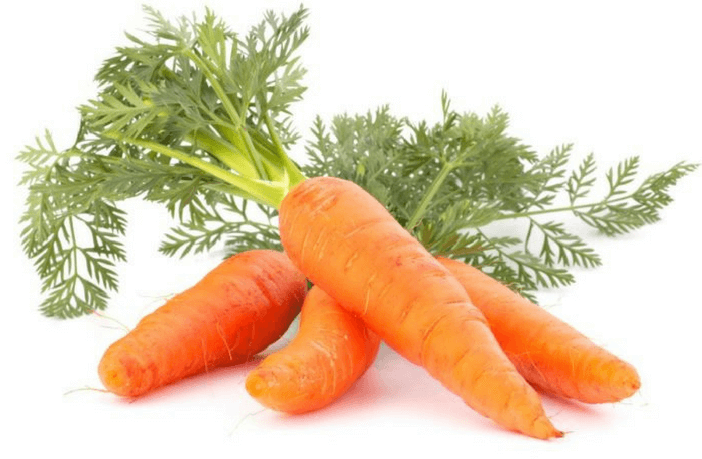 Image Source: organic facts
Why carrots: These little veggies can actually do a lot! Rich in beta-carotene, carrots not only helps in maintaining a healthy eyesight but in winters they also helps in boosting white blood cells (WBC). WBCs help to improve the immune system and protects the body against viral infections.
Suggested recipes: A sweet carrot halwa with desi ghee is a very good option. You can also serve them carrot soup.
Ingredients:
500 gms Carrots
750 mls Milk
4 Elachi
5-7 Tbsp Ghee
4-6 Tbsp Sugar
1 Tbsp Raisins
1 Tbsp Almonds, shredded
1 Tbsp Dates, chopped
Method:
Peel and grate the carrots.
Simmer carrots in milk with elaichi until milk almost evaporates.
Heat ghee in a heavy pan and add this carrot mixture.
Cook on low flame for 10 minutes.
Mix in sugar and cook until the halwa turns deep reddish color.
Garnish with dried fruits and serve.
Note: This recipe is suggested for babies above 1 year of age.
#3. Dates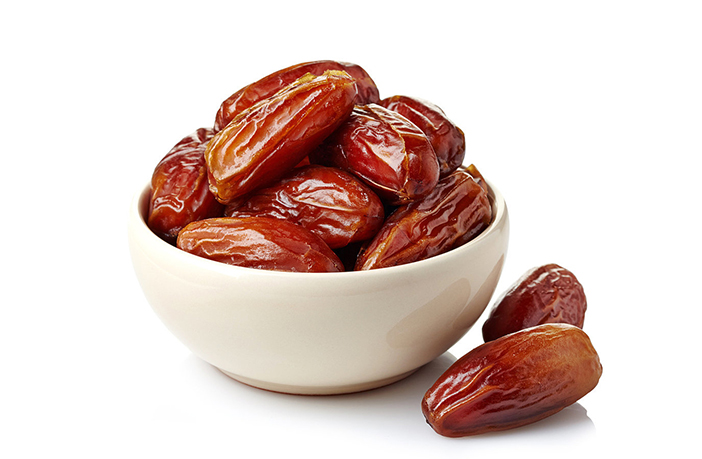 Image Source: Paleo Bay
Why Dates: Dates have plenty of health benefits for kids. Dates, besides being sweet and yummy in taste contain many essential nutrients like vitamins and minerals like calcium, iron, and potassium. In winter dates help to keep the body warm.
Suggested recipe: Give them whole as a snack or add one to their smoothies! You can also add dates to ladoos or even make healthy dates syrup that can be added to pancakes, smoothies and drizzled on desserts.
Ingredients:
One cup seedless dates, chopped
Water as required
1 tsp pure Vanilla extract
Method:
In a heavy bottom pan, put the chopped dates and enough water to submerge dates.
Bring water to boil and then switch off the flame.
Add Vanilla extract and mix.
Let the dates soak in the hot water till they become soft and tender for about 20 minutes.
Strain the water and mash the pulp a little with a spoon.
Put the dates in a blender and some of the dates water and blend it all to form a smooth puree.
Strain the puree. And add more dates water if required.
Put the puree back on stove and cook till thickened. Syrup gets thicker when cooled.
Store it in the refrigerator in a glass bottle. It stays good for about 3 to 4 weeks.
#4. Oranges and Citrus Fruits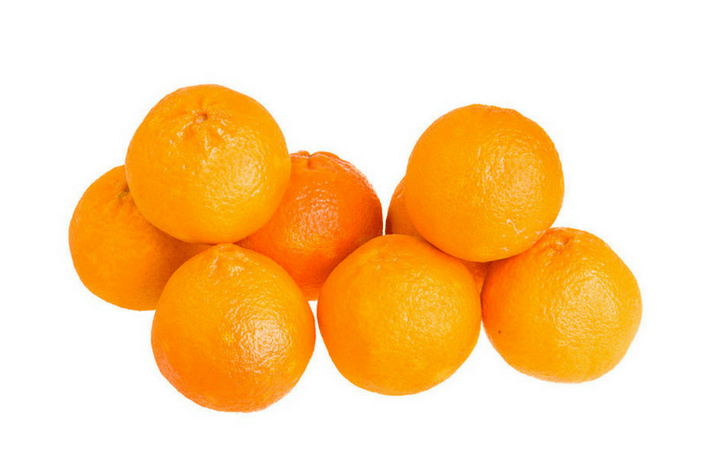 Image Source: fine art america
Why oranges: Rich source of Vitamin C and fiber, oranges are most favorite fruit among kids. Being a seasonal fruit, it is packed with antioxidants which help in maintaining healthy immune system.
Suggested recipe: They are easy for the kids to carry and eat them anywhere they want. Orange juice early in the morning is also highly recommended!
Also Read: 10 Recipes Using Sweet Potato for Baby Weight Gain
Ingredients:
4 oranges
A pinch of black salt
Method:
Peel the oranges and juice them
Add a pinch of black salt and serve
#5. Sweet potatoes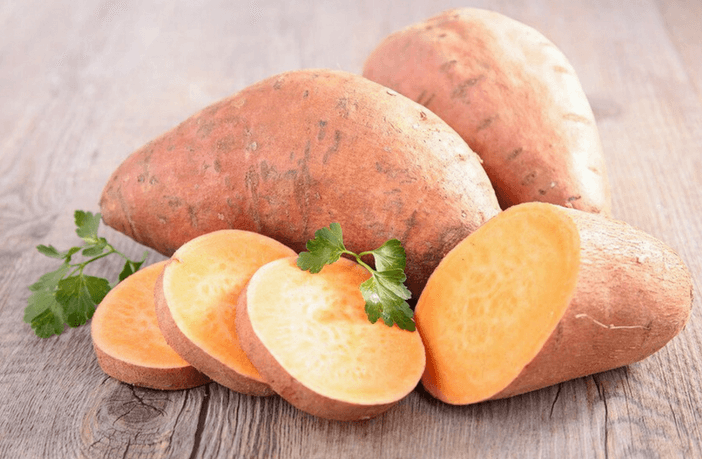 Image Source: dr.axe
Why sweet potatoes: Sweet potatoes are packed with the goodness of Vitamin A and potassium; they are an excellent substitute for French fries for kids!
Suggested recipe: Sweet potato puree can be used in macaroni or some sweet pudding. You can even bake some sweet potato fries and add some salt and pepper on them to make them extra tasty.
Ingredients:
5 sweet potatoes, peeled and sliced
Oil as required
1 tablespoon seasoning mix
1/2 teaspoon pepper (optional)
Salt – as required
Method:
Preheat oven to 220 degree Celsius.
Grease a baking tray.
In a large bowl toss cut sweet potatoes with little oil.
Sprinkle with seasoning, salt and pepper.
Spread sweet potatoes in single layer on baking sheet.
Bake until they are crisp and golden brown, turning occasionally, about 20 minutes.
Let cool 5 to 10 minutes before serving.
#6. Spinach and other leafy vegetables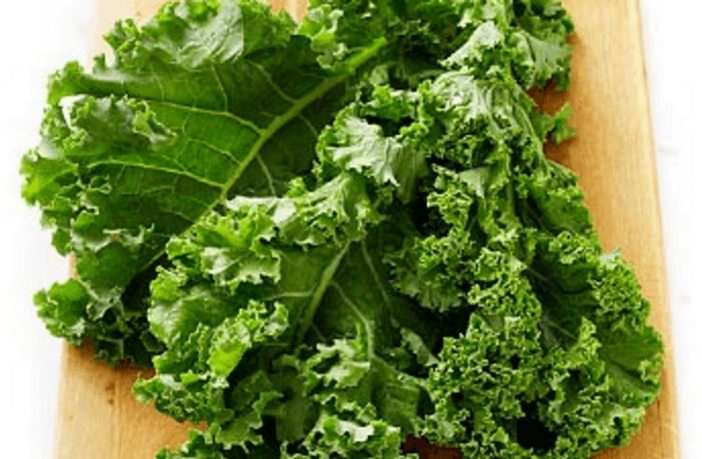 Image Source: health magazine
Why leafy vegetables: They are packed with vitamin A, C, folate, and lutein. Spinach is a super food for kids in winters. This dietary fiber packed in spinach is good for keeping the kid's digestive system clean and prevents constipation – a common problem among kids.
Suggested recipe: How to incorporate it into your kid's diet is going to be tough for sure! Pureed spinach with cottage cheese could be worth a try. You can even make spinach pesto sauce and use it as dips or even in pasta. You can also use the leaves as a sandwich filling.
Also Read: 10 Recipes using Ghee for Baby Weight Gain
Ingredients:
250 gms – Boiled pasta
200gms – Spinach
1 tbsp Lemon juice
1 tbsp chopped garlic
1 tbsp peeled almonds
1 tbsp walnuts
50 gms – Parmesan cheese
Olive oil – as required
Salt – as required
Method:
Cover spinach in hot water and let it sit for about 3 mins, stir it occasionally.
Drain the water and let the spinach cool.
In the food processor, add spinach, lemon juice, garlic, almonds, walnuts, parmesan cheese and olive oil
and blend them until smooth.
Toss in some boiled pasta and serve.
#7. Pomegranate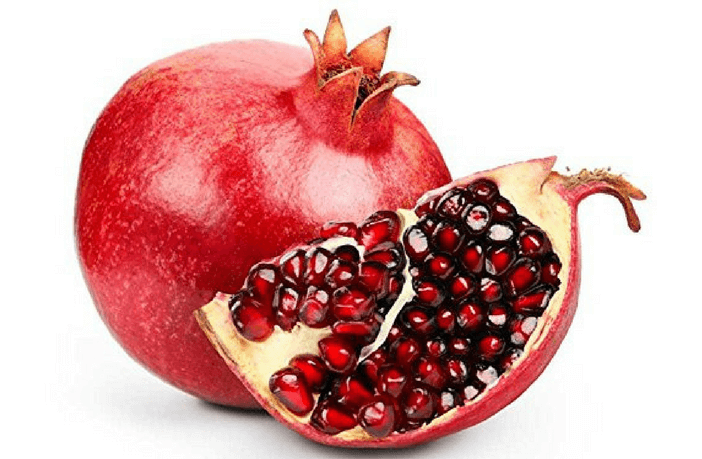 Image Source: amazon
Why pomegranate: A rich source of antioxidants, pomegranate juice is a great option. Drinking pomegranate juice also helps to kill intestinal worms – a common problem in kids.
Suggested recipe: Nobody can say no to pomegranate juice that has just the right amount of sugar in it!! You can also make a pomegranate-cucumber salsa for your child.
Also Read: 31 Healthy Recipes Using Weight Gain Foods for Babies and Kids
Ingredients:
1 cup pomegranate seeds
½ cup chopped cucumber
½ cup fined diced tomatoes
2 -3 leaves of fresh mint
2 -3 leaves of coriander
1 teaspoon Lemon juice
Olive oil – for drizzling
Salt – as required
Method:
Mix finely chopped cucumber, pomegranate seeds, fined diced tomatoes, fresh mint and coriander, salt, lemon juice and olive oil.
Stir them together, cover them and keep it in the refrigerator until needed.
#8. Bajra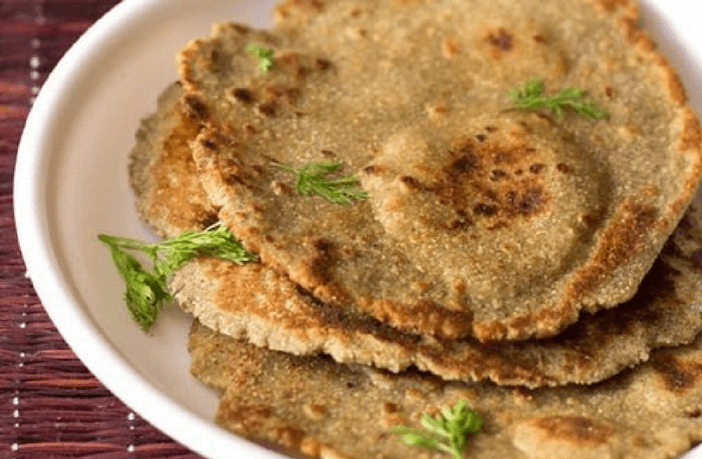 Image Source: veg recipes of india
Why bajra: There is a reason why Bajre ki roti is traditionally eaten during the colder months. It is full of protein and fiber, as well as essential minerals like phosphorous.
Suggested recipe: Bajra rotis can be served with ghee/butter and goes well with a piece of jaggery to maintain proper heat within the body of the child.
You May Also Like: 21 Weight Gain Foods for Babies
Ingredients:
2 cups bajra flour
1/4 cup whole wheat flour
Salt to taste
White butter or ghee
Method:
Knead together the bajra flour, whole wheat flour and salt in a deep bowl using some warm water. Divide the dough into equal portions.
Roll out a portion of the dough into a roti.
Meanwhile heat a skillet and cook the roti till a few bristles appear on top.
Turn it over and cook again.
Using tongs lift the roti and roast on open flame till brown spots appear.
Serve immediately with some white butter or ghee.
#9. Methi and Mustard Leaves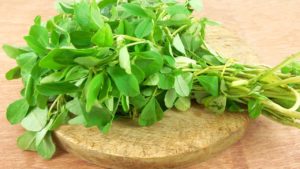 Why Methi and Mustard Leaves: Methi helps to improve digestive problems and reduce cholesterol levels.
Mustard leaves also help to reduce inflammation inside the body and strengthens immunity.
Suggested Recipe: Sarso ka saag made from mustard leaves is a popular dish! Methi ka parathas are a great tiffin option for kids as well!
Ingredients:
3 cups methi leaves-chopped fine
1/2 cup gram flour
1 cup whole wheat flour salt to taste
1/4 tsp hing
2 Tbsp ghee
1 Tbsp chopped coriander leaves
1/2 cup ghee for frying
Method:
Make the atta by kneading together all the ingredients together – methi leaves, gram flour, whole wheat atta, hing and coriander leaves.
Divide the atta into equal portions and make balls and keep aside.
Roll like regular paratha
Shallow fry on skillet using ghee like normal paratha.
#10. Amla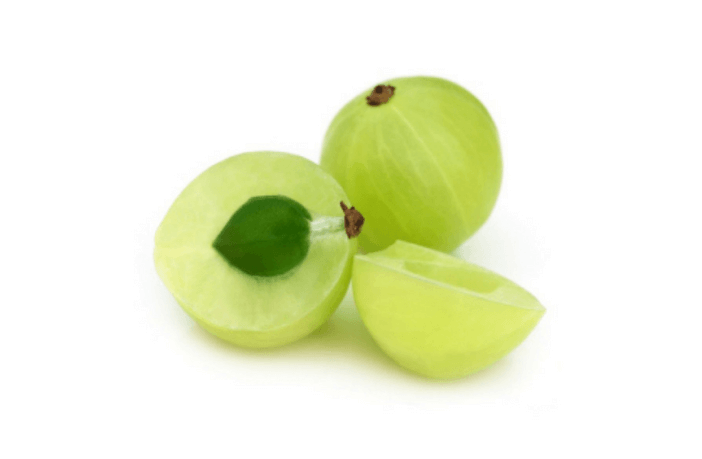 Image Source: mahishop
Why amla: A very rich source of vitamin C, Amla gives an antioxidant boost to the body which helps the body to protect itself from various diseases.
Suggested recipe: Make some fresh amla juice and mix it with salt and other spices to create a funky and healthy drink!
Ingredients:
Amla-3 big ones
Water – 1.5 cups
Honey – 2 tbsp
Method:
Wash amla and chop them. Discard the seeds.
Take the chopped amlas and grind to paste with a cup of water.
Strain the juice and collet in a bowl.
Then add honey to the amla juice.
Mix well and add more water if required.
#11. Beetroot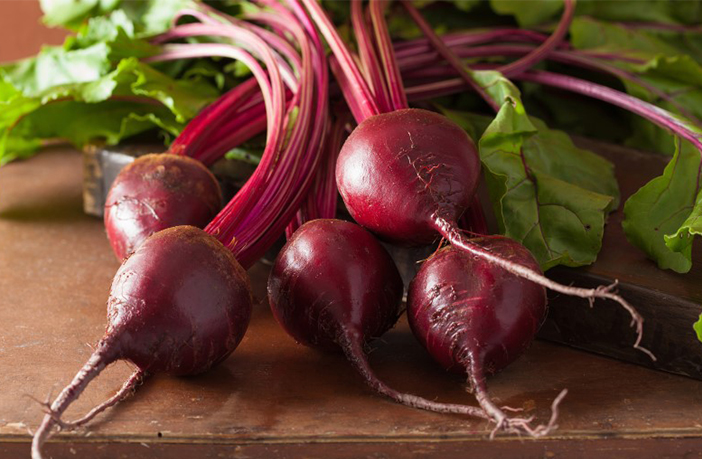 Image Source: southlandssun.co.za
Why Beetroot: Beetroots contain antioxidants, vitamins A, B, C, potassium and folates. They are a good source of natural sugar to satisfy your child's sugar cravings.
Suggested recipes: Add to salads, juices or make some delicious beetroot raita. Kids love the colour of beetroot raita and are tempted to try it!
Ingredients:
2 beetroots
1 cup curd
½ spoon sugar
Black salt
Method:
Wash and peel the beetroots.
Grate the beets and add to the curd.
Mix in sugar and salt and serve.
Also Read: Read the Benefits of RAGI AS A SUPER FOOD for your Baby
What winter foods do you prefer over at your house? Have you tried any of these recipes? How did it turn out for you? Share below!!
Want to share your experience as a mom with other moms through words or images? Become a part of the Moms United community, click here and we will get in touch with you
null
null