This Mother's Day, Prega News urges us to take a step towards ending gender discrimination. A baby, whether a boy or a girl, is born equal. Let's cherish our daughters like we cherish our sons. Let's take a look at three real mom stories on how their lives have changed for the better after the birth of their daughter.
DEVA AHUJA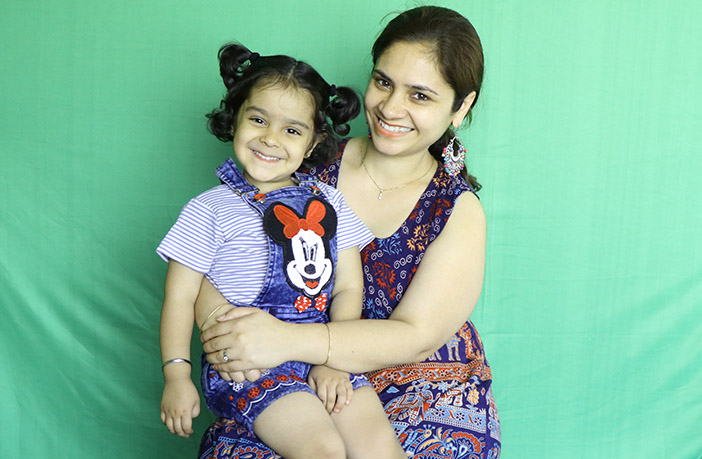 For any woman, the day she becomes a mom is perhaps the biggest and best day of her life. It was no different for Deva Ahuja when she gave birth to little Himyra. She says, "I couldn't believe it! I was so excited and emotional at the same time. My tears were uncontrollable because what I felt when I saw my daughter for the first time is hard for me to put into words". When Deva heard her baby cry for the first time, it was as though a huge burden had been lifted off her shoulders, the long wait had been worth every pain.
However, Deva does admit to the fact that she had always wanted a son. "I know it may sound stupid and my daughter is very small right now, but the only reason I wanted a son is because I know that some day, Himyra will get married and go to someone else's home. I don't think I can handle giving her away to someone else", she says. In hindsight, Deva understands that no matter what the gender of the baby is, it really doesn't matter because the bond between a mom and her baby is unshakeable.
On several occasions, Deva has been urged to try for a son. She tries to take comments like, "If you give birth to a son, your family will be complete" with a smile and not dwell on it. Why do people still have the mentality that only a son can complete a family? She wants people to understand that a daughter and a son are one and the same.
There is a glow on Deva's face when she talks about her daughter. She says, "It's so easy to fall in love with a daughter and from the minute she comes into this world, you only want the best for her. You want her to be happy. You want her to be successful. You want her to be healthy. You want her to experience real JOY in her life and you also realize that your mom feels the exact same way about you".
When questioned about how she is helping Himyra understand the concept of gender equality, Deva simply said that she encourages her daughter to be own person and follow her dreams despite what society classifies as "appropriate" or "desirable". "Helping children understand equality is critical for developing positive self-esteem, confidence and respect for others", Deva adds.
SAPNA SENGAR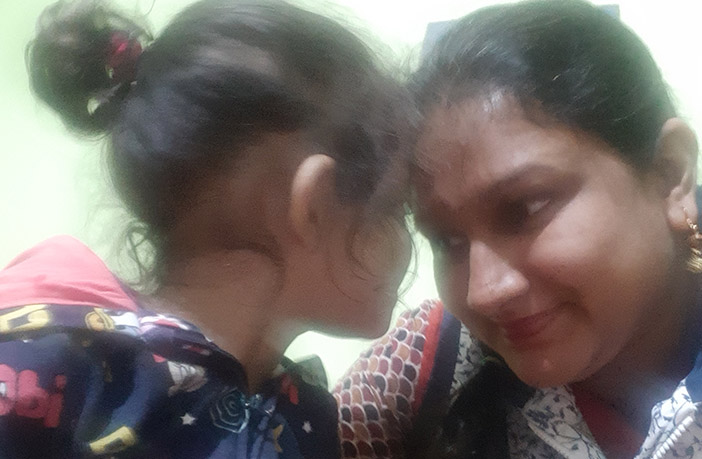 For Sapna Sengar, the birth of her daughter totally changed her life – it was quite literally "Ghar Mein Raunak Aana". Already a mom to a 3-year-old son, Sapna had always wished for a daughter. No matter how much she loved her son, she had always prayed for a daughter as well. She laughs and says, when I am getting ready for a party, my daughter will tell me "You are looking beautiful today", and only a daughter can be so generous with their compliments. I don't think my son would give me those compliments." She further adds that their lives have changed for the better after the birth of her daughter. Her son has learned how to care for his little sister and this in turn has taught him responsibility. As for herself, she feels like her life would be a little boring too had it not been for her daughter. When asked about what the best thing about having a daughter is, Sapna doesn't hold back. For her, every little thing is the absolute best. "Girls are very emotional from an early age and they learn empathy early on. Seeing my daughter's love for father is priceless for me", she adds.
At Sapna's home, gender equality is at the heart of everything they do. She feels like equality is something that can't be taught by telling a child to do "this" or "that". Children are impressionable and they will imitate what they see. Everything that Sapna's son does, her daughter will do too and vice versa. Sapna also adds that, her daughter may be small, but she has a mind of her own and she feels that she can do anything a boy can do.
When questioned about why some women choose to abort a baby daughter, Sapna's response comes straight from the heart. She says, "I don't think any woman wants to abort her daughter, it's only the people around her that force her to or convince her to. They make her believe that a girl is only a burden and that she will forever be a burden. All I want to say to women who are considering an abortion is to only think about herself and the health of her baby. A baby girl gives more power to a mother".
SHYAMALEE SINGH
We often overlook the heightened emotional capabilities of children, don't we? For Shyamalee Singh, her daughter has been her biggest blessing and her strongest pillar of support. When her daughter was very young, Shyamalee had been faced with a dilemma. She had to leave home (New Delhi) for 1 year to go to Bangladesh. Shyamalee did not have the heart to leave her daughter but it was her daughter that made the tough decision for her. Her daughter personally packed her bags for her and told her she would be fine on her own.
Coming from a family of strong, smart, independent women, Shyamalee's daughter has quickly learned how to follow in her mother's footsteps. Both of them draw inspiration from Shyamalee's mother, who hails from a small village. Her humble beginnings and background did not deter her will to fight the obstacles that came her way in ensuring that her daughters learned how to stand on their feet.
Shyamalee's daughter is 13 years old now, but Shyamalee still remembers the day her daughter was born as though it was yesterday. She was delivered via a Cesarean delivery and the moment Shyamalee held her daughter, she forgot all the pain she ever felt. Shyamalee says that her daughter is her best friend and she couldn't have asked for anything more. Shyamalee loves spending time with her daughter and focusing on the little things in life, like trying out new hairstyles on her daughter, bonding over girly stuff and she feels that had she had a son, perhaps this sort of connection would not be possible. She says that everyday there are new things to learn from her daughter and for that she is extremely grateful.
When asked about what she thinks is the best thing about having a daughter, Shyamalee says, "They are the biggest emotional support system a mom could ever ask for. They help moms in taking some of the biggest decisions of their life and stand by them when people are against her mother."
null