In this highly technical world, phones and televisions have become the gadget gurus. Life with these objects is like a pocketful of sunshine. Not only adults are attracted towards it but also toddlers are becoming a part of it at a very early age. Parents all over the world are looking for always to keep their keep your kids away from phones. We ourselves keep on saying the same statement: "Kids are taking birth with a technical mind". But none of us has realized who is responsible for making our kids this way. "Yes, the answer is WE (the parents), our surroundings, and our lifestyle". It is the parents' responsibility to keep your kids away from phones.
Why kids are attracted towards smartphones?
Colorful pictures, attractive videos, interesting games, and a wide range of other such features have made it an irresistible entertainment toy for kids. The moving pictures and ease of use is an added advantage. Kids find really easy to use a smartphone. Even if they don't know how to type, they can get their favorite videos from history.
For many parents, nowadays it is coming as a challenge to keep their toddlers away from these electronic devices.
Today, my motto is to save kids from "nature & culture deficit disorder". Sharing the different ways to keep your kids away from phones.
How to keep your kids away from phones
#1. Make Them Aware
Talk about the health and mental hazards that can happen because of it. Tell your child how his eyes and mental health can get affected due to the harmful rays of gadgets. You can show this by way of images to your child.
Also Read: 64 gift ideas of toys for kids on their birthday
#2. Swap the Playdates with Other Parents
Image Source: 1040
These days, everyone feels more comfortable to remain at home with their toddlers. Moms should invite other mommy friends with their kids for playdates. This way, children will get friends to play with and moms will also have company.
In this way, toddlers will be able to do their favorite work i.e. playing as they enjoy their friend's company, simultaneously they can learn to share and socializing from the early age, detaching them from gadgets.
#3. Set a Good Example
One of the best ways to keep your kids away from phones is to lead my example. We all know,
"kids are best imitators".
Parents are the first role models that a child has. Kids try to do the same things that they see around like sometimes you must be tapping your TV remotes to start the TV and you may find your child doing the same thing, yes it's funny but it happens.
So, it's our duty to set the right example for the kids. We need to model the types of behavior we want our children to imbibe. So try to minimize the use of phones and TV in front of your kids or use at the time when your kids are not around. The best way is to resist the temptation to watch TV and ask the child to play or do some engaging activity with you. This way, you'll get to spend some quality time with your child and he/she would not want to watch TV.
Also Read: 21 Indoor Games and Activities for Children for the Holiday Season
#4. Connect Children with Nature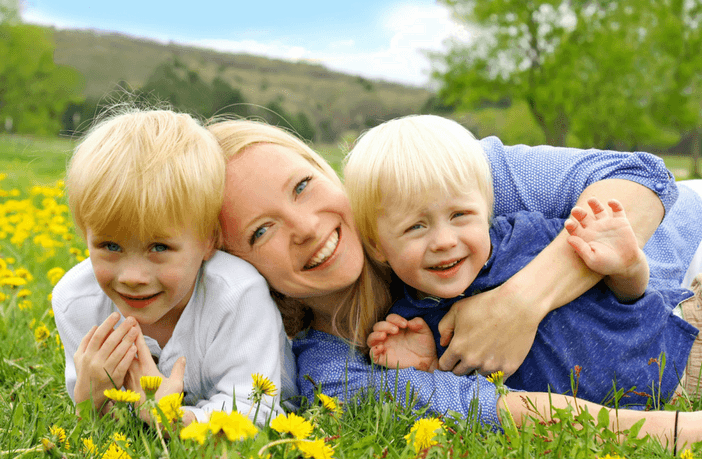 Image Source: canyonviewfamilymedicine
Nature proves to be a natural therapy for kids and can help you keep your kids away from phones. Try to take them to park or some green area near your home every day where you can find some swings. In this way, kids will enjoy the greenery and also will feel refreshed.
Children are growing very smart, they will soon find some new games in an open environment and mothers will definitely feel happy as your child is away from gadgets. Also, you can read some childhood rhymes or stories in the outer area as reading stimulates the imagination, especially when it's dark outside.
#5. Make Kid's Schedule
It's not feasible to not to keep TV and phone in your home. So the better option is to keep TV in your living room rather than in your bedroom and try to minimize the use of phones in front of kids. Also, avoid saying "No" all the time because kids usually do the things that they are not allowed to do.
So, plan the schedule of your kids watching their favorite cartoons or any channel that provides useful information for half an hour or so. In this way, neither they are completely restricted from these gadgets nor are they addicted of such items. Everything should be done in a balanced way.
Also Read: 10 Toys you must buy to boost cognitive skills of your baby
#6. Create New Opportunities at Home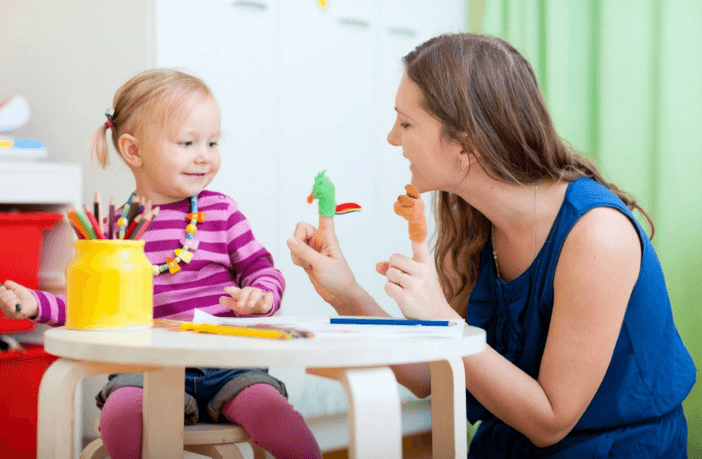 Image Source: start2finishonline
As we all know "empty mind is a devil's home". So always try to engage your child at home like they can be made busy playing with colors and water such as hand-painting, using waste material at home (like toilet paper roll, newspapers, etc.) to make some creative stuff, provide them with some coloring books etc. Keeping your kids engaged is a great way to keep your kids away from phones.
Involve the grandparents with kids as they can provide flexible time to their grandchildren. They can play well with them or can tell them the old religious and mythological stories. This way both the grandparents and your kids can remain busy and happy. Also, you can allow them to play with plants at home, in this way their immunity will also get developed as they will be close to mud and they will come close to nature, where nature proves to be a good teacher.
#7. Passwords Protection
Always keep a tight security on all the gadgets - phone, tablet, cable, by setting up passwords. Never key in your password in front of your kid. If your child tries to crack the code, let him/her know that this isn't a good practice and one shouldn't try to hack someone else phone and that the passwords have been setup to keep a check on his/her screen time.
A toddler's age is basically an age of walking, talking, and playing. Instead of spoiling their age in dropping the gadgets in their hands, I hope each and every mom is going to save their kids' age and future by rewarding them with the best thing i.e. their time which is going to result in a well behaved and a happy child.
Also Read: 10 Best Learning Toys For Kids (12 – 18 Months Old)
Want to share your mommy experience with other moms through words or images? Become a part of the Moms United community.
Click here and we will get in touch with you
null
null