In terms of the happiest, and most awaited life events, very few other events come close to having a baby. The celebrations begin even before the baby's arrival. Baby Shower or 'Godh Bharai', as it is called in many parts of India is a popular ceremony is a way to celebrate the expected birth of a child by presenting gifts to the mother at a party
In India, baby showers have been celebrated by different names in different regions – 'Godh Bharai' in Northern India, 'Shaad' in West Bengal or 'Valakappu' in Tamil Nadu. Whichever the region, the reason to celebrate remains the same – to shower the mother-to-be with blessings for her and her baby's good health and to shower her, and the new arrival with gifts.
Baby Showers are typically co-hosted by the grandma-to-be or close aunts in collaboration with the mother-to-be. Many women in India are now choosing to combine the traditional with the modern by combining traditional ceremonies with baby shower parties. Read on to find out how to organise a memorable baby shower, equally fun for the mother-to-be and the guests.
Also Read: I really wish I could be pregnant forever!
#1. Shower invites which set the tone:
Pick a gender neutral invite which beautifully combines the traditional with the modern. Send out your invites well in advance for your guests to have sufficient time. Block their dates and plan. Do not forget to include the names of your co-hosts in the invite to honour them.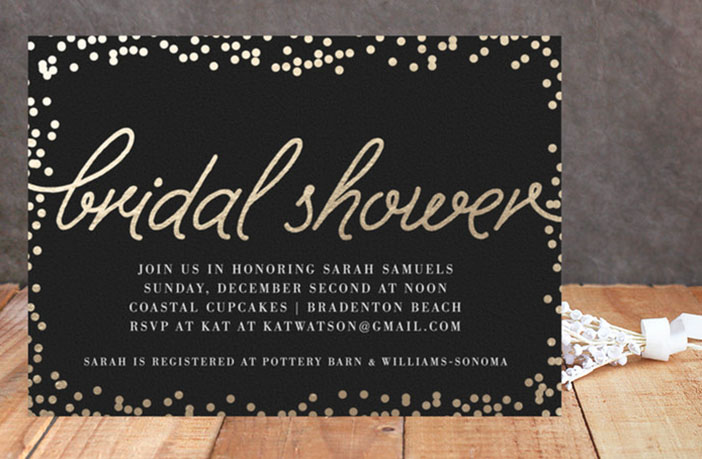 #2. Beautiful, but comfortable attire:
The Baby shower is all about you, the mother-to-be and you surely want to look your very best. However, since you are probably in the final trimester of pregnancy, comfort is important too. If you are celebrating with the traditional poojas followed by a party, it might be a good idea to pick an Indo-western outfit to seamlessly take your from one celebration to the other. You could choose a long embroidered gown on the lines of an Indian Anarkali or a saree-gown. Remember to keep an odhni (dupatta) handy as some traditional ceremonies require the head to be covered.
#3. Fun games for all ages and both genders:
Even though it is you who will be the centre of all attention, thoughtfully picked out events can make the guests feel included and ensure they have fun too. For the traditional ceremony, you could have a Mehendi artist apply henna on all female guests palms and maybe a bangle counter where they can pick bangles of their choice and size.
For the Baby Shower party you can organise baby-themed games like baby words unscramble, or the hugely fun pin the diaper on the baby where blindfolded guests take turns to pin a diaper on a baby picture.
Also Read: Girl or Boy? 9 Unique Ways to Predict your baby's gender
#4. Photobooth:
A sure-shot way to ensure you create a lot of memories is by setting up a photo booth. Arrange for baby-shower appropriate photo props and a photographer and encourage guests to strike their best pose. It should be fun watching the grandmas, aunties, and uncles pose away. You could even have on-the-spot polaroid photo printing to ensure that the guests go home with keepsakes to last them a lifetime.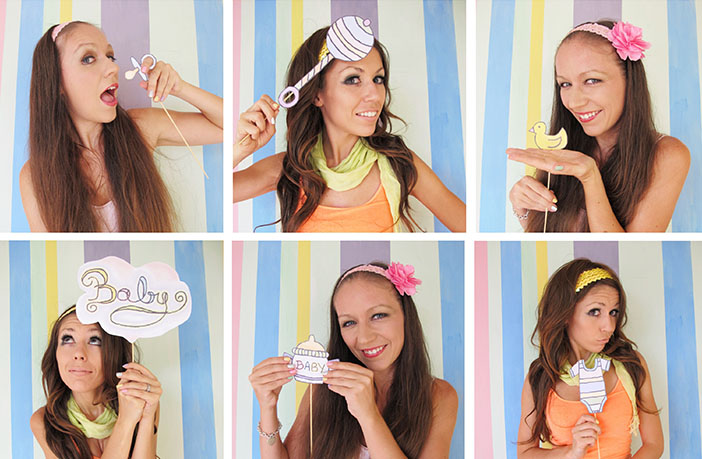 Click Here To See Baby Shower Themed Photo Booth Props
#5. Food, Food, and food
In India, food is definitely the way to your guest's hearts. Include traditional delights with the food your younger guests will love. The presentation of the food matters as much as the choice of dishes. You could deck-out the buffet tables in shades of pink and blue, creatively display the names of the dishes (peas in the pod pulao, babies in a blanket rolls) and include little whimsy displays like pink and blue cotton candies, lollipops and candies in jars. Whatever your menu, having a beautiful, lip-smacking cake would have your guests oohing and aahing.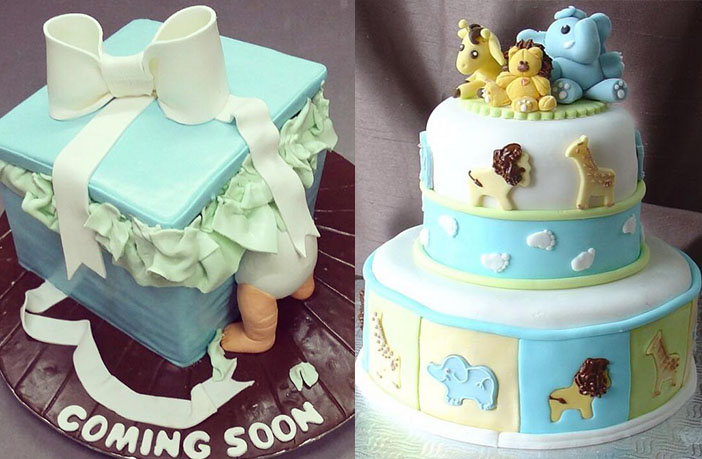 #6. Thoughtful return gifts:
Even though the baby shower happens in honour of the mother-to-be and she is the one who is showered with gifts, it is a nice gesture to give gifts to the guests as a token of appreciation. If the budget permits and the celebration is traditional, small silver bowls or silver cutlery is a nice gift.
For a shower which is more modern, you could give jars of beautifully packaged cookies or brownies. If you want to steer clear of sweets and candies, giving the guests sets of body lotion or foot and hand lotion could be a good idea and something they would appreciate and use. Whatever gift you choose, didn't forget to include a Thank-you Note.

Also Read: Gorgeous Maternity Photoshoot of 6 Bollywood Celebrities
#7. Do not forget to thank your co-hosts
In India, traditionally baby showers have been organised by the mother-to-be's mother-in-law in collaboration with various close relatives who put in a lot of effort and thought in planning and executing the event. At the end of your memorable day, remember to thank these ladies who treated you like a queen with thoughtful gifts. Depending on your budget it could be sarees or jewellery for the older ladies and gift or spa vouchers for the younger ones. For a new baby is not only awaited by the parents but also the grandparents, uncles (mamas and chachas) and aunts (maasis and buas).
The most important tip for the host is to relax, participate in and enjoy the event and make all the guests feel welcome and included in the celebration. This will surely make the event a memorable one for the guests and the mother-to-be.
Want to share your mommy experience with other moms through words or images? Become a part of the Moms United community. Click here and we will get in touch with you
null