Moms, especially Indian moms are always super concerned about their child's weight and whether they are getting complete nutrition or not. If you are looking for some superfoods for babies and have asked any of these following questions, you have come to the right place!
What foods should I give to my child?
Can I give this food in combination with this?
What is the most nutritious food for my child?
What is the most healthy and weight gaining food for kids?
Here is a list of superfoods for babies aged 1-3 years old and some recipes that can be made with them!
10 Superfoods For Babies (1-3 Year Old Kids)
#1. Oats
This is a super versatile food item which can be combined with almost everything! It's healthy too and a combination of oats can make things super interesting. A good source of fiber, low in sodium, cholesterol, and saturated fats. Oats also provides proteins, magnesium, and phosphorus to the body.
#2. Ragi
The most common superfood used by all our mothers during the weaning stages! I am sure we all have grown up to delicious ragi dishes, so our kids too deserve the same! This superfood provides the necessary calcium to your growing child for healthy bones and keeps a check on sugar levels and excess weight gain in children. It also contains antioxidants that are good for kids.

Also Read: 21 Iron Rich Foods for babies and toddlers
#3. Lentils
Lentils are one of the best superfoods for babies as it includes all types of dals and all of them have wonderful benefits! Very high in proteins, dals help to improve the metabolism and in healthy digestion. A major chunk of the diet should consist of most of these food items because of its high nutrition value!
#4. Banana
Bananas too fall under one of the best superfoods for babies as they contain natural fruit sugars that can easily satisfy your child's sweet cravings in a healthy way! They are a complete nutritional package packed with fiber and vitamins.
#5. Eggs
Eggs are full of protein, and they are one of the few foods that is a good source of Vitamin D. Eggs also help the body to absorb calcium which is required for children's growing bones. Eating eggs helps to kids keep kids satisfied longer (so no mid-morning hunger pangs).
#6. Nuts
All nuts are a powerhouse of healthy fats, which are required by kids for growth and development. Almonds, Walnuts, Cashews and Pistachios – all are great for your child's health. Having a bunch of these "good" fat early in the morning will give your kids a burst of energy throughout the day.
#7. Milk & Dairy Products
Milk and dairy products is essential for kids and falls under necessary superfoods for babies. Every mom knows the importance of milk! Protein and calcium in dairy products are good for growing brain and body. Protein from milk helps to build kids brain tissue, while the calcium keeps kids' bones and teeth healthy and strong.
#8. Tofu
Tofu is a great source of lean protein and has many anti-cancer benefits as well. Tofu is also rich in good cholesterol and omega-3 fatty acids. It is a far healthier option instead of meat for kids. It can also be used as a replacement for paneer.
#9. Cruciferous Veggies
Cruciferous veggies like cabbage have a mild flavor and delicious crunch that kids like. Cauliflower, broccoli and kale contain phytonutrients which is known to improve digestion. They also help to clear harmful toxins from the body by releasing enzymes that whisk them out.
Also Read: 10 Recipes using Ghee for Baby Weight Gain
#10. Fish
Fish contains Omega-3 fats, which are good for the heart, boosts brain development, and has superb anti inflammatory properties. Eating fish weekly has been known to raise children's IQ levels.
As mommies, I'm sure you're wondering how to go about it! So, let me make your work a little simple! You can follow these food charts for more of these superfoods into your baby's diet!
Food Chart For 1 – 2 Year Old Babies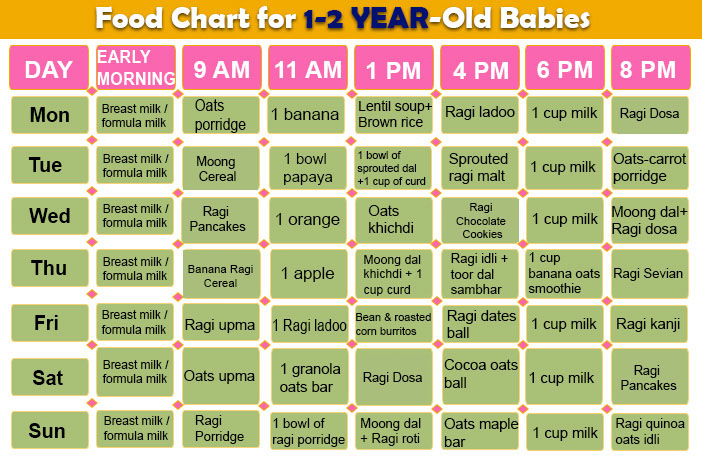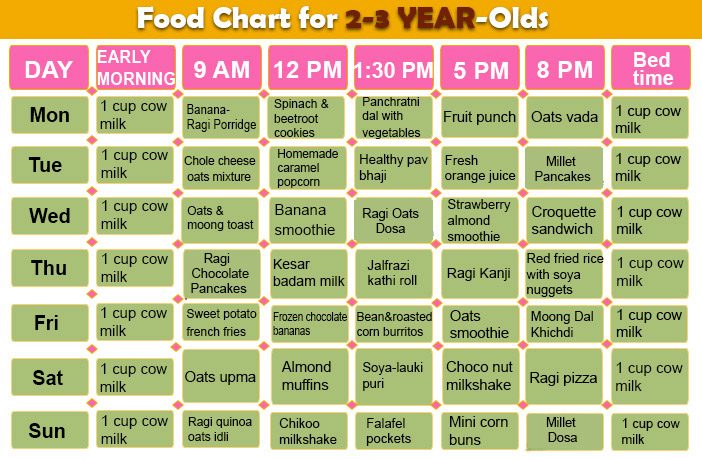 Here are some recipes to help to cook yummy dishes from these super foods!
Moong Dal Khichdi Recipe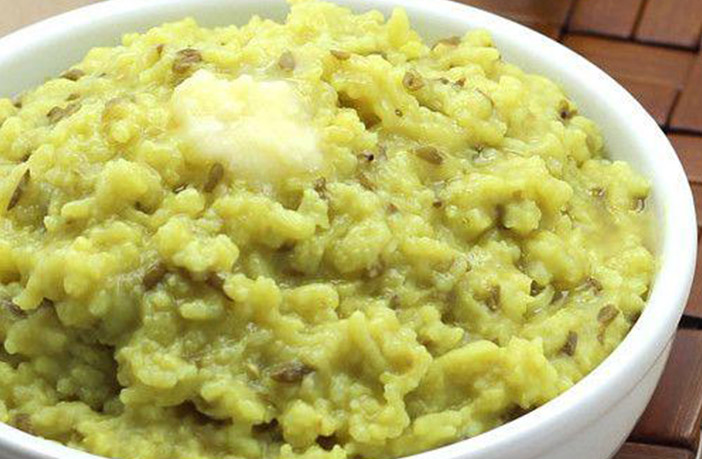 Ingredients:
2/3 cup rice
1/3 cup of moong dal
½ cup of carrot
½ cup of green peas
A pinch of salt.
2 cups of water
Method:
Wash and soak the rice and moong dal for 30 minutes
Rinse it properly after 20 minutes.
Add all the ingredients mentioned in the above list in the pressure cooker.
Cook it for 3 whistles.
Banana and Oats Smoothie Recipe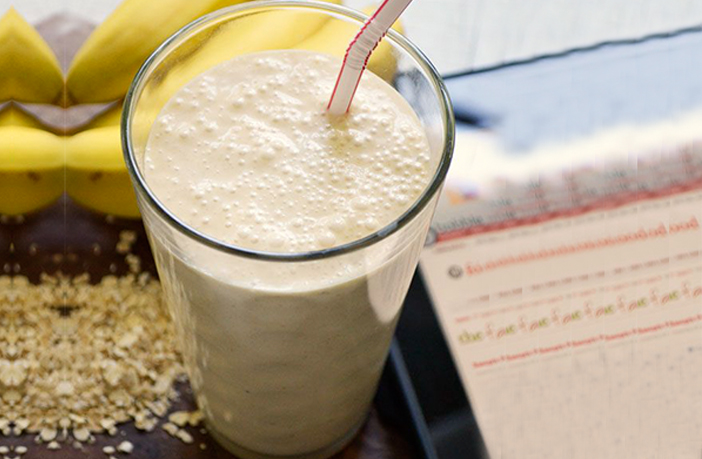 Ingredients:
1 ripe banana
1 tbsp. Of mashed oats
1 cup of milk
1 tbsp. Of powdered jaggery
1 tbsp. Of powdered nuts
Method:
Blend all the ingredients together.
Serve it at room temperature.
Masala Omelette Recipe:

Ingredients:
2 medium sized eggs
I tbs milk
1 teaspoon Olive oil
1 teaspoon Water
Salt to taste
Pepper
Cheese -50 gms
Chopped Veggies – bell pepper, spinach, tomatoes, broccoli – ½ cup
Method:
Mix eggs in a bowl
Add a tablespoon of milk, olive oil and water
Add salt and pepper and veggies like bell peppers, spinach, tomatoes or broccoli.
In a heated pan, add some oil. Once hot, add this mixture
Season it with some grated cheese and let cook till the egg is cooked.
Also Read: 31 Healthy Recipes Using Weight Gain Foods for Babies and Kids
Trail Mix Recipe:
Ingredients:
Walnuts
Almonds
Pistas
Cashews
Spice Mix
Salt
Method:
Roast all the nuts separately and then mix together
Add salt and the spice mix and shake till they all all mixed well
Give this as a snack or keep it for munching along in the car.
Strawberry Shake Recipe:
Ingredients :
1 cup of milk
6 strawberries, chopped
1/4th cup of sugar
1 cup fresh strawberries.
Vanilla ice cream (optional)
Method:
Add milk, sugar, and strawberries to the blender jar.
Blend for a minute.
Now add a scoop of vanilla ice cream with some chopped strawberries on top and serve.
Tofu Tikka Recipe:
Ingredients:
100 gms Tofu – cut into small pieces
1 teasppon – Cornstarch
50 gms – Parmesan cheese
Olive oil
Salt (to taste)
Spice Mix(optional)
Method:
In a bowl, mix the Parmesan cheese, salt, cornstarch and spice mix.
Now add the cut up tofu pieces and mix together so that all the tofu pieces are coated.
Heat a little oil in a pan.
Add tofu pieces and cook until it turns brown and crispy.
Cabbage sandwich Recipe: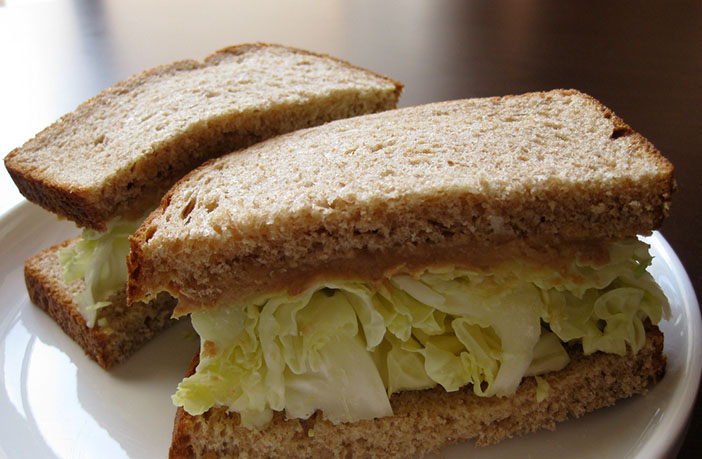 Ingredients:
Bread – 2 slice
½ cup Finely chopped cabbage
½ cup Finely chopped onions
½ cup Grated carrots
½ cup finely chopped capsium
Butter – 20 gms
Salt – to taste
Pasta seasoning – a pinch
Black pepper- a pinch
Grated Cheese (optional)
Method:
Mix all the chopped vegetables along with salt, spices and seasoning.
Place this stuffing on one bread.
Sprinkle cheese on the veggies and cover with the second slice.
Apply butter on both the sides and roast on a skillet till golden brown.
Oats Upma Recipe: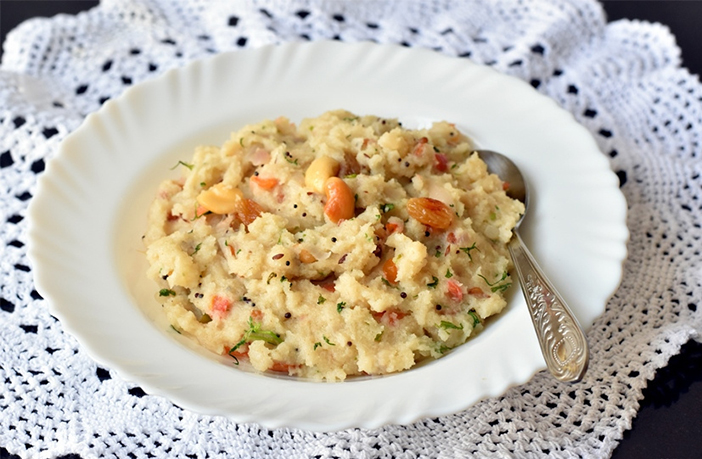 Ingredients:
½ cup mashed oats
½ cup fresh tomato puree
1 tsp of ghee
½ cup of water
Method:
Thaw mashed oats in minimal water for 2 minutes.
Take a pressure cooker, add mashed thaw oats, ½ cup of tomato puree, ghee and water.
Pressure cook it for 2 whistles.
Fish Fingers Recipe:
Ingredients:
100g white fish (boneless)
2 eggs
225g breadcrumbs
2 tbsp olive oil
Salt to taste
Spice Mix/Pasta Seasoning
Method:
Preheat the oven to 200'C
Cut the fish into thin strips.
Mix the spices in the egg and beat well.
Now dip the fish fingers in the egg mixture and then coat it with breadcrumbs.
Lightly brush a baking sheet with olive oil and place the strips on it.
Bake in the medium rack for 12-15 minutes until the fish is cooked through and the coating is golden.
Ragi Seviya Recipe: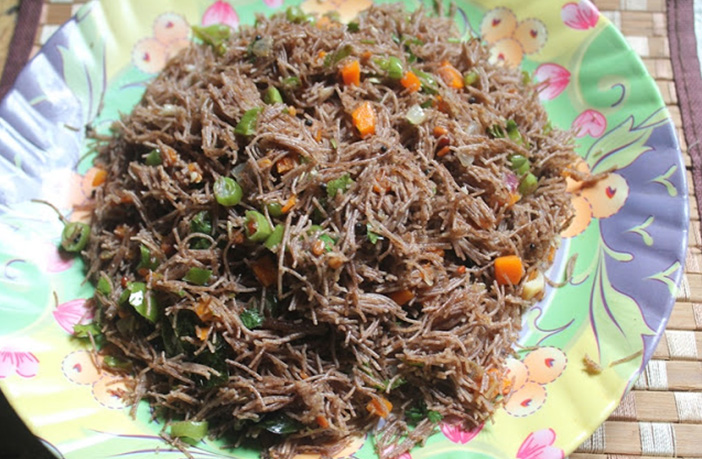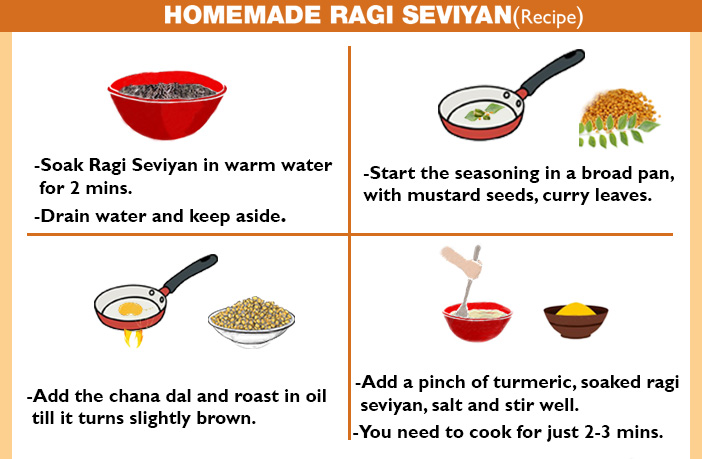 Ingredients:
½ cup Ragi Seviya
1 teaspoon chana dal
Oil for seasoning
2-3 Curry leaves (optional)
1 cup chopped seasonal veggies (optional)
Water as required
Salt – a pinch
Turmeric – a pinch
1 dollop of ghee
Method:
Soak seviyan in warm water for 2 minutes
In a pan add one teaspoon oil when oil is hot , add curry leaves
Add the chana dal and roast till brown.
Add turmeric, salt, veggies and seviyan and cook
Add a dollop of ghee and serve hot.
What foods does your child enjoy eating? Have to tried any of these recipes before? Share below!
Want to share your mommy experience with other moms through words or images? Become a part of the Moms United community. Click here and we will get in touch with you
null
null