Christmas is a special time of the year for everyone, more so, for the kids. It is that fun and festive time that has a strangely magical touch to it. The carols, the gifts, the decorations, talks of fairies, elves and of course, the jolly, pot-bellied, toy-bearing, Santa Claus – all add to the magic.
Kids simply love Santa and believe in him with all their heart. As parents we know, they are going to indulge in this fairy tale only for the first seven or eight years of their life; until logic kicks in. However, it is fun to feed their imagination and make them believe that Santa actually exists. Maybe, it is a way for us to relive the magical moments of our own childhood.
The best way to prolong your little one's faith in St. Nicolas is by becoming their 'Secret Santa'. The idea behind being secret Santa is to make your child believe that Santa actually exists and gives gifts to well-behaved children on Christmas. However, if you are planning to become the 'Secret Santa' for your little one this year, I am sure you are going to need some extra help. Kids of today do not buy stories with ease. They are tech-savvy and loaded with information. Therefore, if you really want to preserve the magic of Christmas for your little one, you need to step up your game plan. Given below are some suggestions that might help.
Also Read: 10 Best Learning Toys For Kids (12 – 18 Months Old)
10 Ways to successfully become your child's Secret Santa
Before Christmas preparations
Listed below are a few things that you need to do before Christmas to set the stage for your big surprise.
#1. Secret Santa Christmas Build-up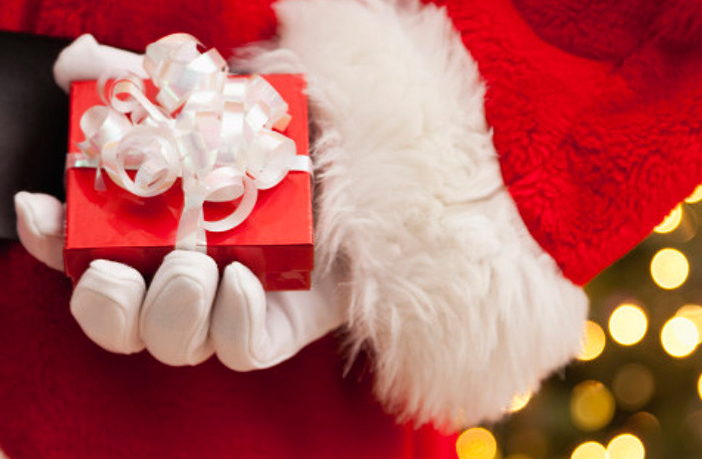 Image Source: Huffington Post Canada
The perfect Christmas setting never happens overnight. It is important to build-up the magic of Christmas. I had a friend who always told her kids that 1st December onward the elves start paying a visit to every household. The houses where kids finish their food, tidy their room, and are good mannered get stars on a daily basis. The elves then sum up all gold stars two days before Christmas and report to Santa with the score. The kids with maximum gold stars get the best gifts.
Taking a cue from her idea, I went ahead and bought a magnetic star chart for my kids. It listed out activities for the day and had a place to stick the stars on for all days of the week. It was a super cool idea. My kids began finishing their meals, tidied their room, and brushed their teeth before bed.
Every night when they went to bed I secretly sneaked in and stuck the appropriate stars in front of their names and activities for that day. They used to be excited and thrilled when they discovered what the elves had left for them at night. It created a magical setting for the big day much in advance. If you want. you can start this activity a few days before Christmas and continue until New Years.
#2. Get an elf up the shelf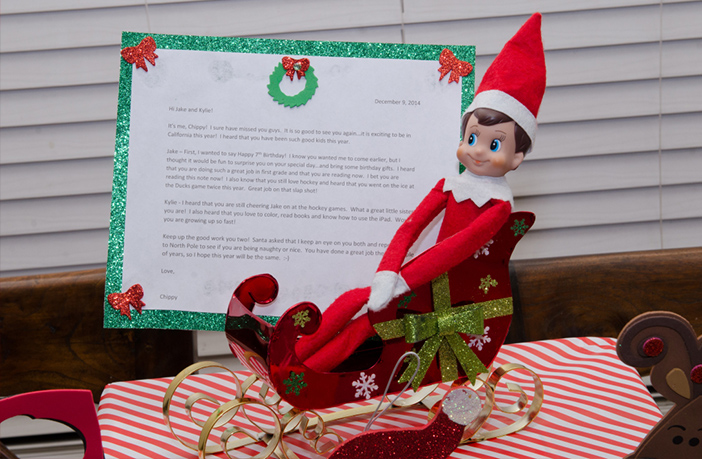 Image Source: Momco
The 'Elf on the Shelf' toy is a perfect addition to carry forward your magical Christmas build-up. It has now become a long-standing tradition in many households. According to the game, an Elf comes visiting the house close to Thanksgiving and stays until Christmas. The kids must name it and never touch it to let its magic work. It is the elf's job to observe the kids for their behavior and report to Santa each night. Since the elf travels to the North Pole every night, he is never at the same place where the kids left him the night before.
As a parent and your little one's secret Santa, make sure you move the elf every night after the kiddos go to bed. This cute toy comes with instructions for parents and a plush toy Elf to position around the house every day.
#3. Write to Santa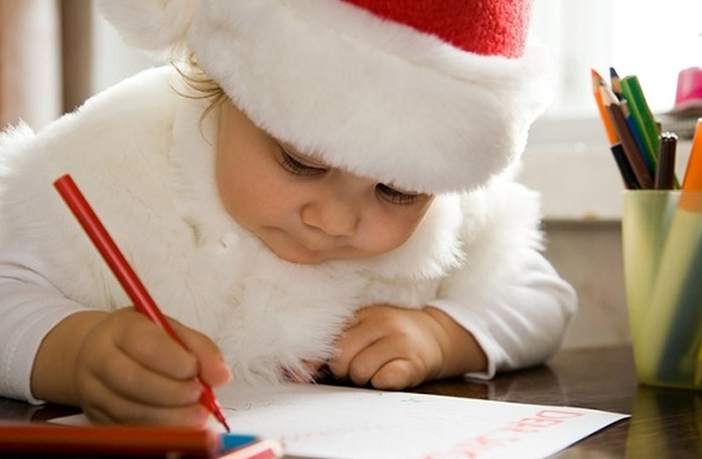 Image Source: novostipmr.com
When you plan to secretly buy a gift for your little one and pretend Santa sent it, it is important that you get it right. The best way to find out what your kiddo wants for Christmas is by asking her to write a letter to Santa. Tell her that the letter will be her secret and she must list her desires in order of preference. This way you will get a list of choices to buy the gift from. The trick has always worked for me so far.
I love the free printable letters to Santa available on the Internet. They come complete with the address on a printable envelope. Alternatively, you can buy her coloring Santa letter Pad or a Santa stationary kit, complete with letter sheets, stickers, envelopes, and accents to decorate.
Also Read: Gorgeous Maternity Photoshoot of 6 Bollywood Celebrities
#4. Santa Writes Too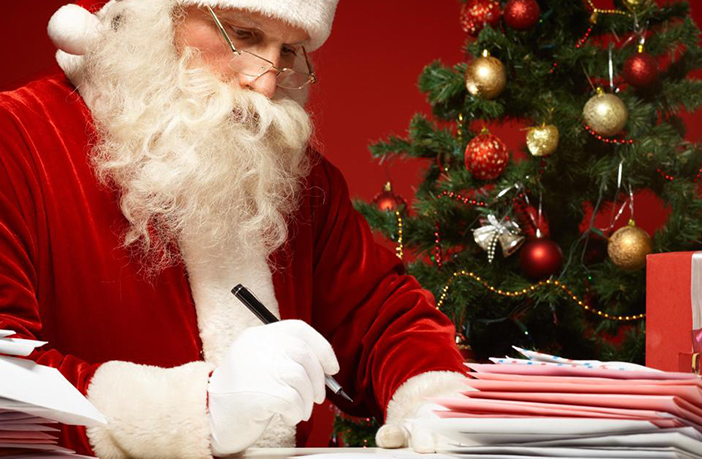 Image Source: The Sun
Here is a fun twist. If your kids get naughty during the holidays, you can also post Santa's Naughty Certificates addressed to each of your children. The certificates come as a warning from Santa. They are sure to get the troublesome bunch thinking that Santa is watching and their gifts are in jeopardy. You will find them back on track in a day. Once they start behaving, you can go ahead and post a 'Nice Certificate' from Santa as an encouragement as well.
#5. Be creative with the stockings
Image Source: Improvements Catalog
Christmas stockings that kids delightfully hang in the living room or from their beds are as much fun to fill, as is shopping for the presents. However, it is important to be creative with what you put in the stocking. A random stuffing might actually leave your kiddo disappointed.
My friend once filled her son's stocking with some candies left over from his birthday party, few pencils, erasers, and an apple. Her son immediately guessed that it was not Santa, but mommy, who had filled his stocking. So, go ahead and put on your thinking cap.
Also Read: 10 Best Bedtime Story Books for Babies
Here are some tips that will help –
Make sure that you do not fill the stocking with random items that you find around the house. Give it some thought.

Find inexpensive, tiny, but delightful items that excite your little ones.

Hide your stocking fillings as well as you hide the Christmas gifts. Do not let the kids find them and ruin the surprise.
A great Stocking mix can include items such as
Mini playables

– a Hotwheels car, a Barbie dress, an action figure, or a tub of clay.

Edible goodies

– a

Christmas chocolate lollies

, a pack of candied fruit, or jellybeans.

Fun stationary item

– a

reindeer pencil pouch

, mini

scribble diary

, or a Santa shaped sharpener.

Surprise trick

–a

magic trick

or a mini puzzle.

Girly accessories

– Nail stickers, fruity lip balm, and hair accessories make good stocking gifts for girls.

Game cards

–

Pokemon Cards

or

Cricket Attax cards

are perfect for boys. They can exchange the cards with friends or simply add to their existing collection.

Mini blocks

– such a

Legos

delight every little one.

Finger Puppets

are the perfect stocking gift for toddlers who love stories.
#6. Let us track Santa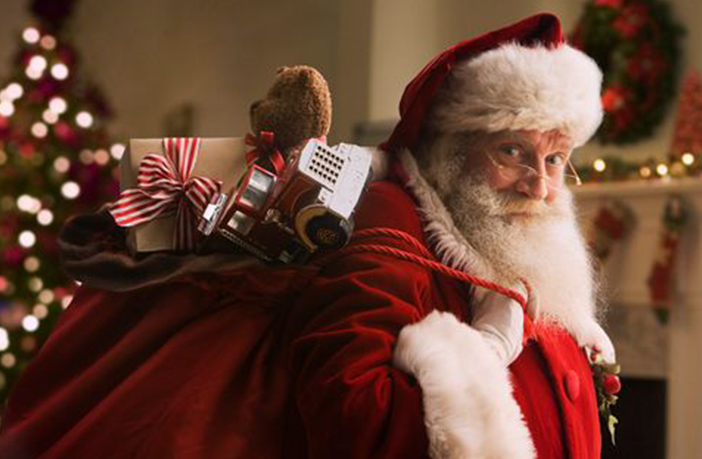 Image Source: www.mirror.co.uk
We all tell children that Santa travels from the North Pole and drops off gifts for all children in his 'Nice List'. What if you could track Santa's journey around the world and show it to your little one? That would make it sound even more authentic and help keep up the Christmas spirit. Thanks to technology, there are many apps that track Santa's fictional journey on Christmas eve.
Google's Santa Tracker even allows kids to see where Santa is delivering gifts. Children can figure out the time it will take for Santa to reach them. This educative app also teaches kids interesting Christmas traditions from around the world and has some games for them to play as well. The North American Aerospace Defense Command (NORAD) website shows Santa hopping across different continents and features a counter to display the number of gifts distributed so far.
There are apps that also send out personalized messages for the child from Santa. For added fun, you can even get a video message done for your kiddo.
#7. Secret Santa Shops Alone
When you are going for Christmas shopping for your little ones, make sure you do it without them. My kids have eyes everywhere and it is very difficult to hide things when they are around. That is why, I prefer to go shopping when they are at school. It gives me ample time to wrap the gifts and hide them away safely before they get back home.
When you go secret Christmas shopping for your kids, the thumb rule to follow is – buy your kids the gift they expect Santa to give them. Do not buy what you want them to play with. Buy what they want to play with. You can make your little ones learn things the whole year round. Remember, kids write letters to Santa to get gifts that they feel they might not get otherwise. So, if there is any such gift your little ones are longing for, maybe it's time you loosen up a little and buy it for them.
Here are some gift buying tips to follow –
Stay age appropriate when you buy the gift.

Do not buy gifts the child is embarrassed to share in front of friends – a set of Ben10 undies is definitely not a good idea.

T

hink of something different, it need not be over-the-top, but it must be fun.

Avoid buying perishable items. You cannot hide them for long.

You can avoid clothes as well, unless you are sure a try-out for the size is not required. Most kids are not so excited to get clothes as gifts.
If you need some help with your gift-buying list, listed below are ideas that work as delightful Christmas gifts kids love to receive. Peek to decide –
My first slide

(1-2 years) – This is a great accessory for the kids' room and fits well even in balconies. If you have a verandah, it is even better.

Inflatable toy bouncer

(2-3 years) – Jumpy and soft, this bouncer lends hours of fun for your restless little monkeys. It is safe as well.

Magic car ride

(3 years +) – Ride-on toys are always fun and exciting for toddlers full of energy. Your little one will love the independent ride. Watch her drive it all around the house.

Interactive finger monkey

(3-4 years) – This toy makes a great travel partner and keeps the little one engaged for hours. The monkey rolls its eyes and talks monkey language that is fun to hear. You can also opt for interactive dolls and singing plush toys.

Giant battery operated Kids Kitchen Play set

(3 years +) – This luxurious kitchen set comes complete with utensils and gadgets that feature appropriate sounds and can be folded into a briefcase after playtime. Tool benches, doctor sets, and sand and water play tubs are other options to pick from.

Activity Box Subscriptions (2-12 years) – This is a great gift to buy for your child. These subscription boxes come to your doorstep every month with an array of activities for the little one to do. From DIY crafts to logical reasoning, science experiments, puzzles, and a lot more, these boxes are great fun. Flinto Box, Magic Crate,

Explora Box

,

Einstein Box

and Genius Box are some great choices.

Thomas Train set

(5 years +) – Every kid loves to have a track set with an engine that chugs away. This set comes complete with a station and adjustable tracks for hours of fun.

Prankster kit

(6 years+) – Now this is something that only Santa can get you and certainly not your mommy. So go ahead and surprise your kiddo with this fun-filled set that he has been wanting for so long.

Selfie stick with mic

(8 years +) – Indulge your child's creative passions and self-esteem with this adjustable selfie stick with a mic. Perfect to record song videos, this gift will keep her occupied for hours.

Skate scooter

(3-10 years) – If your little one loves speed, he is surely going to enjoy this gift. Introduce him to a new sport and you never know he might graduate to skateboarding or roller-skating soon.

Video games, book sets, Lego blocks, Magic kits, and giant puzzles are other gifts children love to receive.
A day before Christmas
Once you have prepped, here is what you need to finalize a night before Christmas.
#8. Get organized and stay alert
It is important to plan and stay organized on the day before Christmas. Keep everything ready beforehand. Plan to have an early dinner and put the kids to bed so that you have ample time to layout the gifts under the tree. However, the kids are bound to be excited. I always have to warn my kids that Santa is watching and if they do not go to sleep on time, they will not get any gift. It's good to remember, kids are smart and imaginative. They always come back to check. Assign one elder the duty to keep a watch while you arrange the gifts. I always hang a chime on the kids' bedroom door so that I get a warning every time there is someone trying to sneak out.
As you will have very little time at hand, keep a checklist handy. Tick off the items on the list as you proceed.
#9. Secret Santa caught on camera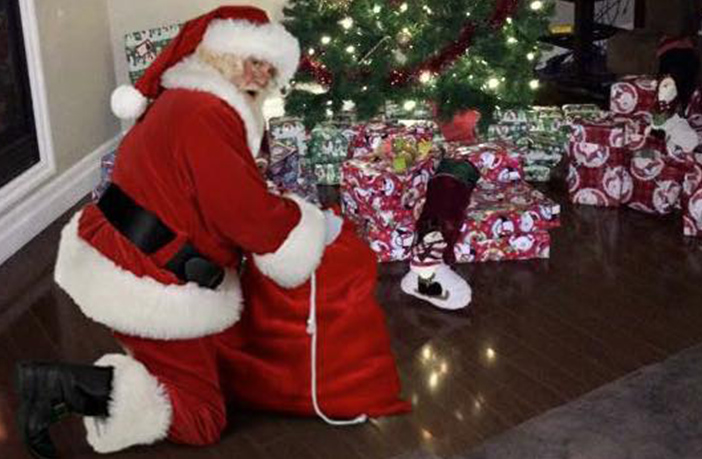 Image Source: Good Housekeeping
Recording Santa while he is delivering the gifts is the perfect way to seal the deal. It is a great idea to convince the logical minds that Santa is real. My husband once played Santa on a friend's request. While he laid out the gifts under the tree, his friend recorded the act on camera with just Santa's back showing all the time. However, it was enough to make his toddlers jump with joy and amazement. You can also rent out or buy your own costume, complete with the Santa cap, gift bag, and large boots. Ask your friends to make a video while you are at the job. However, there is a chance that your kiddos will recognize you. So be careful!
Also Read: 5 Simple Tips to Pep Up your Look for your Special Day
On Christmas Day
#10. Secret Santa leaves a trail
Once your gifts are laid out, make sure you do not forget the final touches, to the whole make-believe, an extravaganza that you have been planning for your little one. Now, if Santa is real and he did come to your home; there have to be some signs other than the gift itself. So here is what you can do –
Ask your little one to leave some cookies and warm milk refreshments on the table for Santa. After you are done with the gifts, bite off a part of the cookie, drink some milk, and leave a thank you note for your kiddo from Santa.

Make some muddy boot marks on the floor next to the tree, near a window, or at the entrance as proof that Santa came.

You can also drop some half-eaten carrots in the lawn to indicate that the reindeer ate carrots while Santa did his job.
If this is not enough, remember, you have the video as the final proof! Do not be surprised if you find your little ones writing 'Thank you' letters to Santa after Christmas.
Also Read: 10 Toys you must buy to boost cognitive skills of your baby
Go ahead and plan a lovely Christmas surprise for your little ones. Even if it is for just a few years of their childhood, let them believe that Santa is real and magic can happen. It will go a long way in teaching your child to have faith. If that means you have to become the magician for your kiddos, go the length, and indulge them. We are sure, those surprised eyes, amused giggles, and squeals of delight will definitely make it worth all your effort.
Want to share your experience as a mom with other moms through words or images? Become a part of the Moms United community
click here and we will get in touch with you
null
null