Hair coloring is done not only to cover the grey hair but also to experiment new looks and show off the vibrant hair. Of course, healthy hair is a pride and glory of every woman. Pregnant women are no exceptions.
Hair dyes contain numerous chemicals like PPD (this allows the color to bond with the hair shaft), resorcinol, MEA, ammonia, persulfates, parabens, propylene glycol and metals such as nickel. So it's natural to think of their potential side effects.
There is a big confusion in our society that hair coloring harms the growing fetus. Is it true? Is hair coloring unsafe for the unborn child? Let's discuss the same in the points below:
Although research confirms that hair coloring is safe during pregnancy, it is good not to color hair during the first trimester when organs of the baby are developing rapidly. The first 12 weeks are of the major development phase of the baby. Organs take the shape, muscles grow, nail and hair follicles appear. The chemicals in hair colors may interact with the hormones that are secreted during pregnancy. If you must color, do it in the second and third trimester. Hair treatments like coloring, bleaching and straightening can be dangerous to the growing fetus as it gets absorbed by the scalp.
You May Also Like: 11 Remedies For swollen feet during pregnancy
Hair coloring includes temporary dyes, semi-permanent dyes and permanent dyes. Common chemicals used are hydrogen peroxide, ammonia and alcohols. These chemicals irritate the skin, nose and throat. Its absorption through the skin depends on factors like skin texture, area applied, active ingredient used and number of times applied during pregnancy.
Low levels of concentrates in hair dye (vegan friendly hair dyes which have 2 percent ammonia and paraben level) are absorbed through the skin after application, and the dye is excreted in urine. This small amount is hoped not to cause a problem for the developing baby. Single color dying is not recommended by the experts as it comes in contact with the scalp and hair follicles.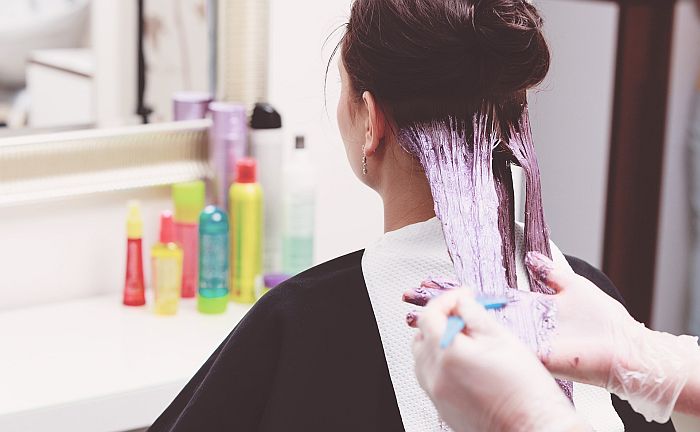 Image Source: momtricks.com
Side effects of Coloring Your Hair
There are several allergic reactions associated with hair coloring.
The most common reactions of hair coloring are itchy scalp, redness and swelling in the scalp, mild dandruff.
Individuals may experience swelling around the eyes, nose and face.
Individuals who are allergic to hair dyes get red rashes on the scalp. The rashes will appear in few minutes after the dye is applied. You must immediately see a dermatologist, in such conditions.
Hair coloring when pregnant also makes your hair brittle because of the chemicals used. Resorcinol is a chemical present in hair dye which may cause cancer according to American Association of Cancer Institute.
Numerous studies have shown that asthma rises with the hair coloring process. This periodical asthma is due to exposure to PPD in hair dyes and persulfates used in bleaches.
This exposure irritates the respiratory track and makes it difficult for the pregnant mother to breathe.

Other Alternatives to color your hair during pregnancy
Organic and vegetable dye are safer. Choose pure vegetable dye like henna, tea powder or beetroot which are free from ammonia and other synthetic ingredients.
Highlights and foils are also a good choice, which means just coloring the hair that is visible and doesn't touch the scalp.
Color enhancing shampoos are available in the market that can be the best alternative to hair coloring when pregnant.
"Hair mascara" tubes with a thick brush like wand are also safer to use. They only coat the outside layer of your hair and don't get anywhere near your scalp.
There are natural hair tints which we can prepare at home and are very safe to apply. For example: Mix half a cup of beetroot juice and half cup of carrot juice. Pour on the damp hair. Wait for one hour then rinse completely. You will acquire red highlights over your hair.
Also Read: 11 Food Items to avoid during Pregnancy
Why to choose natural hair coloring during pregnancy?
Fortify the hair with minerals
Condition the hair from root to tip
Keep hair healthy and strong
No use of ammonia to open the cuticle in order to deliver color
Present a low risk of allergies or birth defect
Give a wide range of lush, natural-looking color
It is important to spend time to learn about hair coloring products that are used and make sure they do not affect the developing fetus. Being pregnant makes one feel gorgeous at one time and unattractive at other time. Hormones change the skin, hair and face texture. Many obstetricians have their own opinion about using hair color and dyes during pregnancy. We encourage you to ask your doctor for their opinion and then take an informed decision.
Also Read: 11 Food Items to avoid during Pregnancy
Want to share your mommy experience with other moms through words or images? Become a part of the Moms United community. Click here and we will get in touch with you
null