As a newborn, the baby gets a regular supply of healthy fats from the mother's milk. However, when you begin to wean off the baby from breast milk, it is important to find a suitable replacement for the healthy fats to ensure continued baby weight gain.
Ghee for the baby (Clarified butter) is one of the best options to ensure your child gets sufficient healthy fats. In addition to weight gain, using homemade ghee offers several other health benefits to your little one (6 Month Baby). However, many parents are skeptical about giving ghee to their babies.
Mothers often worry about how much ghee is too much for the baby.
Therefore, here are answers to some common questions about ghee that bother every new mom. Also listed are its many benefits and some yummy ghee recipes that you can try at home for your little one.
When can you start giving Ghee to the Baby?
By 6 months, the baby starts loosing the healthy birth fat which is gained from the breast milk. Therefore, the best age to start giving ghee to a baby is when he or she is 7-8 months old. This is when the breast milk is not enough to fulfill the nutritional requirements of the baby.
Ghee made from cow's milk is considered good for the babies, as it is easy to digest. It can be introduced with purees and mashed foods. Most babies love the taste of ghee.
You might also like: 10 Food Recipes for 1 to 2 years old kids
How much Ghee can you give to your Baby?
Whether your child is of optimum weight or is underweight, ghee should always be introduced in small quantities. You can begin with just a few drops to see if the baby likes the taste and is able to digest the ghee as well. Then, you can slowly increase the quantity. Do not give the baby more than 1 teaspoon of ghee a day as that may lead to indigestion.
It is important to seek your pediatrician's advice before giving ghee to your baby. Professional advice is recommended for babies who have had jaundice as newborns. Neonatal jaundice is common in most babies.
However, if your little one has had a prolonged episode of the disease, avoid giving fatty foods. A compromised liver finds it difficult to digest fats, which may get accumulated in the liver causing health issues.
Read More: 7 food charts (Bonus Recipes) for 0-2 year babies
Why is Ghee good for the Baby?
Ghee for the baby has numerous health benefits. Some of these are:
#1. Required for Growth
Ghee is a rich source of healthy fats required by the body to sustain regular growth and maintain optimum weight. Babies gain weight with ghee as the extra calories needed to perform activities like walking are obtained from it.
#2. Food for the Digestive System
Ghee is very easy on the baby's stomach as it is digested fast. It therefore, helps to improve body metabolism. Ghee aids bowel movement in babies and prevents constipation.
#3. Rich source of essential Vitamins
Ghee contains Vitamin K2, which is known to produce calcium. It also contains Vitamin D, which aids better absorption of calcium in the body. Ghee is also a rich source of Vitamin A, which helps to develop better eyesight. The vitamins A and E in ghee help to boost immunity.
Also Read: 21 Weight Gain Foods for Babies
#4. Facilitates Development
It also contains EPA and DHA, which play a vital role in early brain development in children. Ghee contains Omega-3 and 9 Fatty Acids which keep the skin, heart, and the digestive system healthy.
#5. Good for Muscle Development
It strengthens muscles. Any muscle-related disorder can be prevented later in life if the baby is given ghee at an early age.
#6. Effective Home Remedy
Ghee can be used as remedy for common health issues like congestion and cough. Simply warm ½ tsp of ghee and sauté some garlic cloves in it. Strain the cloves and collect the ghee in a spoon.
Let it cool a little. When it is at suitable temperature, give it to your baby to eat. Immediately make the baby drink warm water. This remedy helps find relief from chest congestion.
#7. Great add-on for starter Foods
With ghee, the new foods that you introduce to the baby also become tastier.
Also Read: 13 Benefits of Figaro olive oil for baby
10 Recipes using Ghee for the Baby for Weight Gain
These 10 recipes are extremely simple and easy to make. They are ideal for new mums who are always short on time. The recipes offer nutritious and delicious food options for your baby.
Most dishes mentioned below lend a significant calorie intake and are rich in energy giving ingredients to facilitate growth and weight gain in babies.
Daal and Rice with Ghee
Atta Halwa
Banana and Jowar Sheera
Pumpkin rice with ghee
Ghee rice
Three veggie puree with ghee
Mango and ghee rice
Broken wheat porridge
Sooji Kheer
Rice Pudding
However, these are dishes that will go on to become the comfort food for your little one for many years to come.
#1. Daal and Rice with Ghee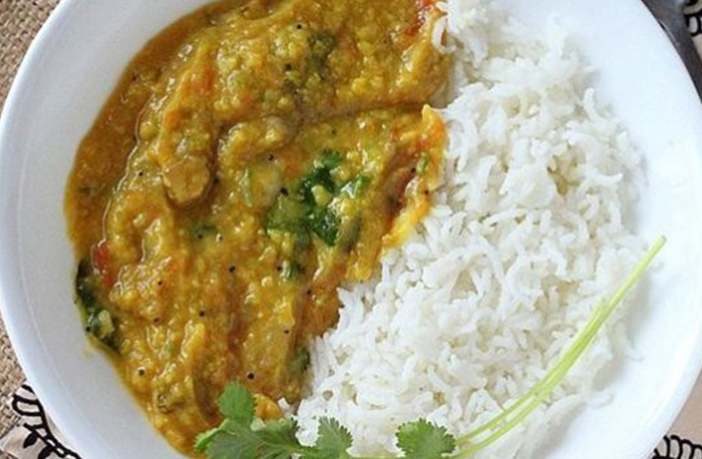 Image Source: lunch.pk
Ingredients
Rice – ½ cup

Dal (any dal of your choice preferably moong dal) – ½ cup

Ghee- 1 teaspoon

Jeera powder- a pinch

Mustard seeds (powdered) – ½ tsp.

Curry leaves- 2

Water- 3 cups
Directions
Wash dal and rice in the running water.

Take a pressure cooker and heat the ghee in it.

Add the curry leaves, jeera, and mustard seeds powder to it. Saute these ingredients.

Add the dal and rice with water.

Allow them to cook until you get 3-4 whistles so that the rice and daal are cooked properly and become soft.

Give to your baby when it is warm. In summers, you can give it with curd.
#2. Atta Halwa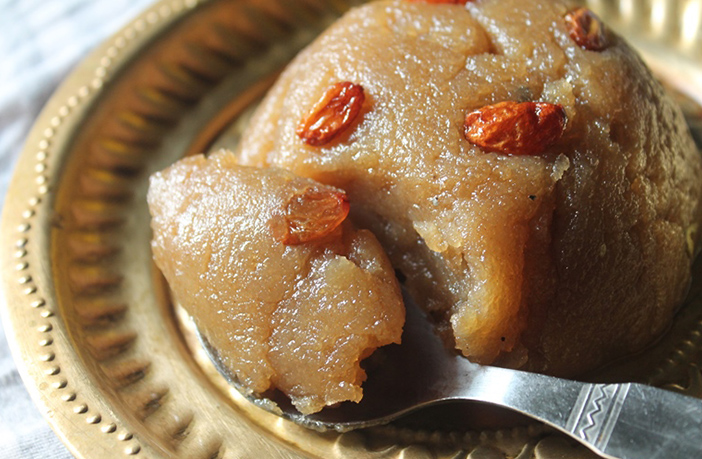 Image Source: Yummy Tummy
Ingredients
Directions
In a pan, heat the ghee and roast the Atta over the low medium flame.

Stir continuously. Once its golden brown in color, add the hot water.

Keep stirring to avoid lumps. Once water got absorbed, turn the heat off.

Serve to your baby when its warm. You can add formula or the breast milk if requires.
#3. Banana and Jowar Sheera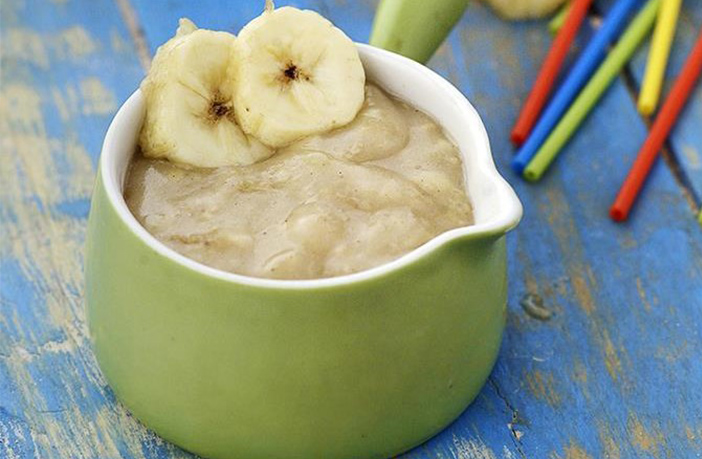 Image Source: BabyBerry
Ingredients
Jowar flour – 2 tbsp

Ghee – 1 tsp

Banana – 1

Powdered rice – 1 tbsp

Water – 2 cups
Directions
Heat the ghee in pan.

Add the jowar flour and saute till it is light brown.

Slowly stir the rice powder in it.

Add water and keep stirring continuously to avoid any lumps.

Keep the flame low and cook for about 5 minutes.

Now add the mashed banana into it and turn the flame off.

You can even mix breast milk or baby formula for better taste and consistency.
#4. Pumpkin rice with ghee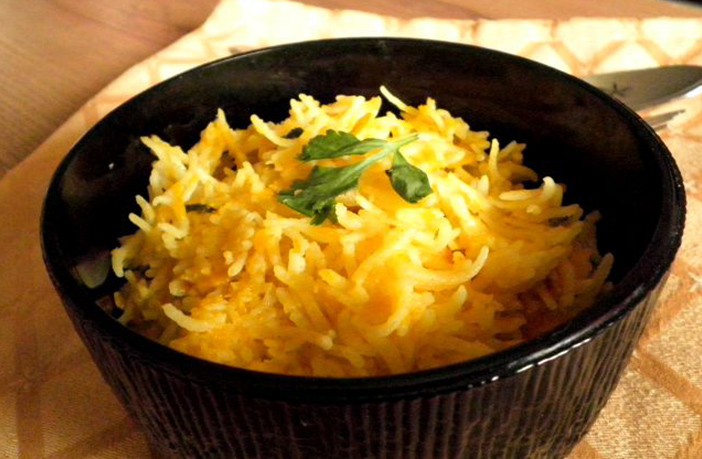 Image Source: Treat and Trick – blogger
Ingredients
Directions
Clean the daal and rice thoroughly.

Peel and cut the pumpkin into cubes or slices.

In a pressure cooker add water and stir in all the other ingredients.

Cook until you get 4-5 whistles.

Puree the mixture and serve with a dollop of ghee.
#5. Ghee rice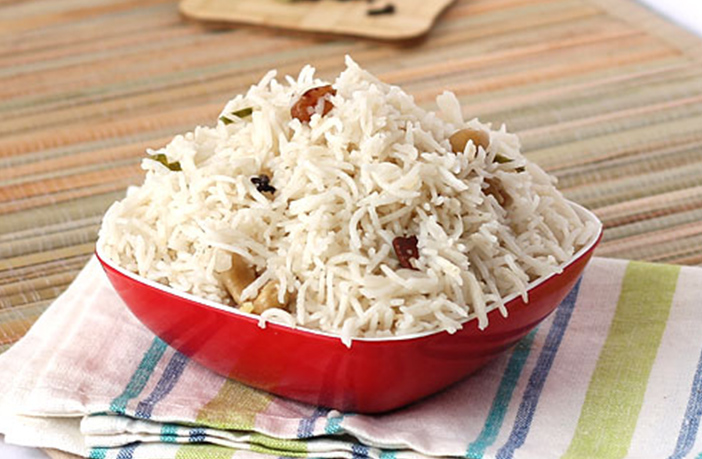 Image Source: Foodviva.com
Ingredients
Directions:
Wash the rice thoroughly in the running water.

In a pressure cooker, add the rice and water.

Wait for about five whistles to make sure that the rice is soft.

Once the rice is done, let it cool down.

Mix the rice with ghee. You can add salt or jaggery powder if the baby is older than 12 months.

Mash the mixture up well before you serve.
#6. Three veggie puree with ghee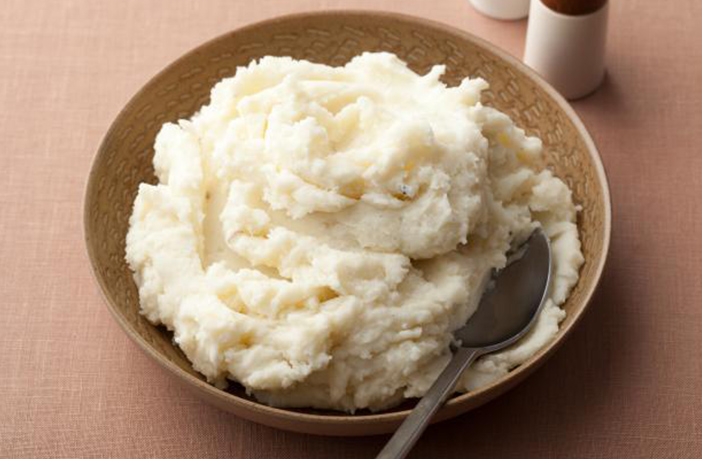 Image Source: foodnetwork.com
Ingredients
Potato – 1 medium sized

Peas – ½ cup

Beans – ½ cup

Ghee – 1 tsp.
Directions
Clean the beans and get the fiber out from the edges. Cut it into small pieces.

Peel and dice the potato into small pieces.

Clean the peas. Shell them first if they are in a pod.

In a saucepan, boil about 2 cups of water and add the vegetables.

Cook them until they are soft.

Puree the cooked vegetables.

Add ghee once it is cooled.
#7. Mango and ghee rice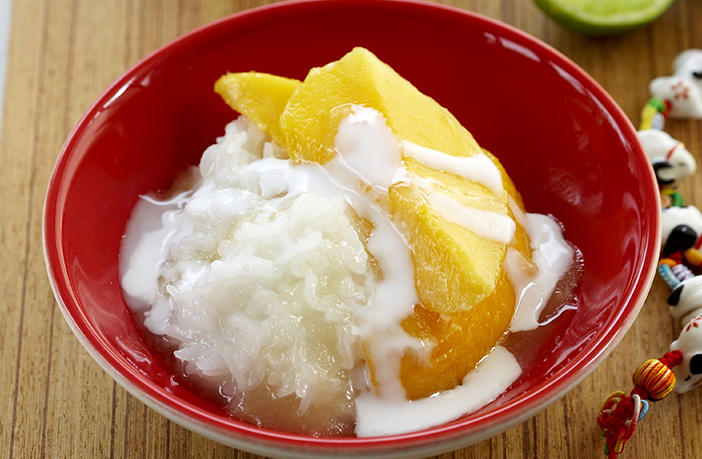 Image Source: Taste
Ingredients
Directions
Puree the mangos until they are smooth.

Add the ghee to the puree and blend.

Mix ghee and mango puree with the rice.

You can also puree the mixture after you add the rice, to make it easier for the baby to eat.
Also Read: Read the Benefits of RAGI AS A SUPER FOOD for your Baby
Suitable For Babies Above 1 Year Of Age
#8. Broken wheat porridge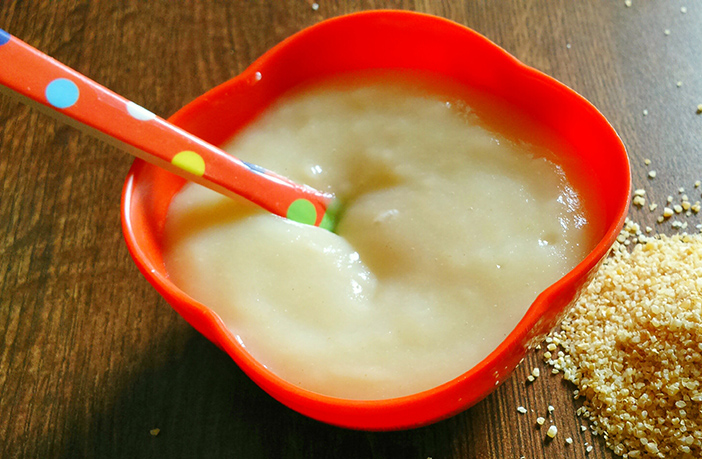 Image Source: My little Moppet
Ingredients
Dalia or broken wheat – 2 tablespoons

Water – ½ cup

Milk – 1 cup

Ghee – 1 tsp

Sugar – ½ tsp

Grated almonds – 1 tsp (for toddlers over 12 months of age)
Directions:
In a pan, heat some ghee and add the dalia. Toss it gently until it is light brown in color.

Keep the heat low and stir the milk in.

Keep stirring until the milk comes to boil.

Add sugar and turn the heat off.

Serve it with a garnish of grated almonds if your child is older than 12 months.

This recipe is suitable for babies above 1 year of age. For younger babies just replace milk with water and avoid the sugar. You can add breastmilk or formula milk to the prepared porridge before giving to the baby. This will make the porridge creamy and even more nutritious.
#9. Sooji Kheer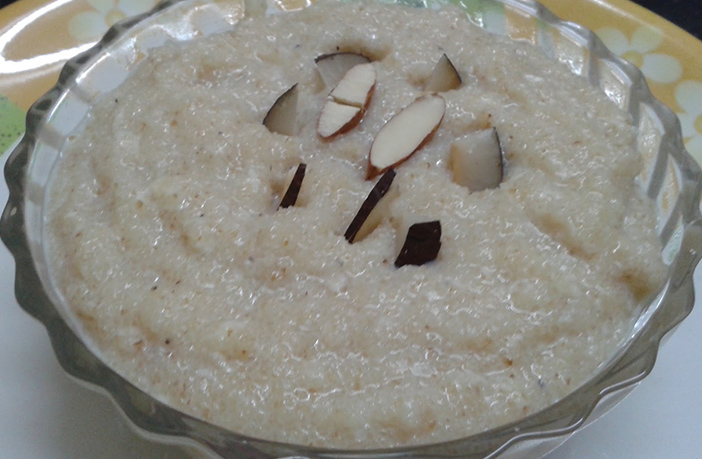 Image Source: For Food Lovers lunchrecipe.blogspot.in blogger
Ingredients
Directions
Heat some ghee in a pan and fry the sooji in it till it turns golden brown.

Add the milk and stir continuously.

Let it come to a boil on a slow flame.

Add sugar and stir until the sooji is fully cooked. The kheer is now ready.

This recipe is also suitable for babies above 1 year of age. Therefore, for younger babies just replace milk with water and do not use any sugar. Once the sooji is done, take it off the flame, cool it a little, and add breastmilk or formula milk to make it creamier and more nutritious.
#10. Rice Pudding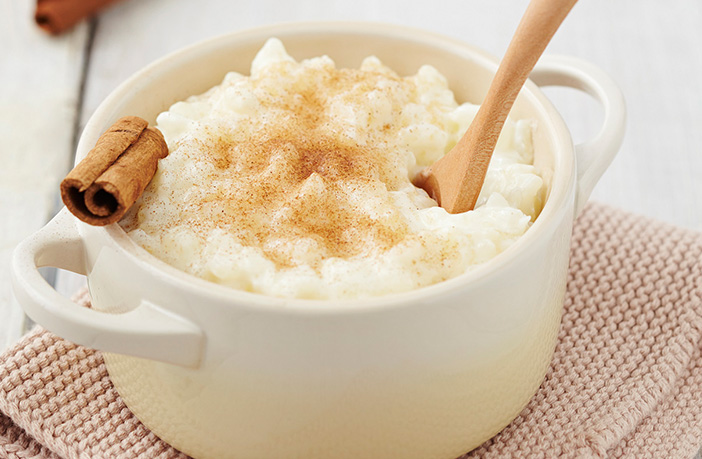 Image Source: Lactaid
Ingredients
Milk – 4 cups

Sugar – ½ tsp

Rice – ½ cup

Ghee – 1 tsp
Directions
In a pan, boil the milk and add sugar.

Mix the rice into the milk and make sure you stir the mixture continuously.

Let the rice cook in the milk on slow flame.

You can also pressure cook the rice to make it soft.

Once the rice is cooked, mix the ghee in it and the pudding is ready.
Also Read: Benefits of dry fruits for Kids in winters (10 Recipes included)
Try out these super-nutritious recipes for your little one to see a consistent and healthy weight gain. They are great starter foods and can be continued for many years later as well. You can add veggies and fruits to make variations as your kiddos needs change.
Want to share your experience as a mom with other moms through words or images? Become a part of the Moms United community. click here and we will get in touch with you
null