Ragi recipes are popular all over India and many regional dishes boast of ragi seeds as their main ingredient. Ragi is popular primarily because of its nutritive properties. It is a rich source of fiber, carbohydrates, calcium, iron and vitamin C for the baby and is considered to be a superfood that must be included in the diet of growing children. Let's check out 7 Best Ragi Recipes for Kids. Ragi offers many health benefits for kids. It strengthens the bones, prevents anaemia, boosts immunity, aids digestion, and is also helps skinny children gain weight. These are some interesting ways in which you too can incorporate ragi in your little one's diet.
7 Ragi Recipes For Kids
#1. Ragi flour porridge (7 - 8 months +)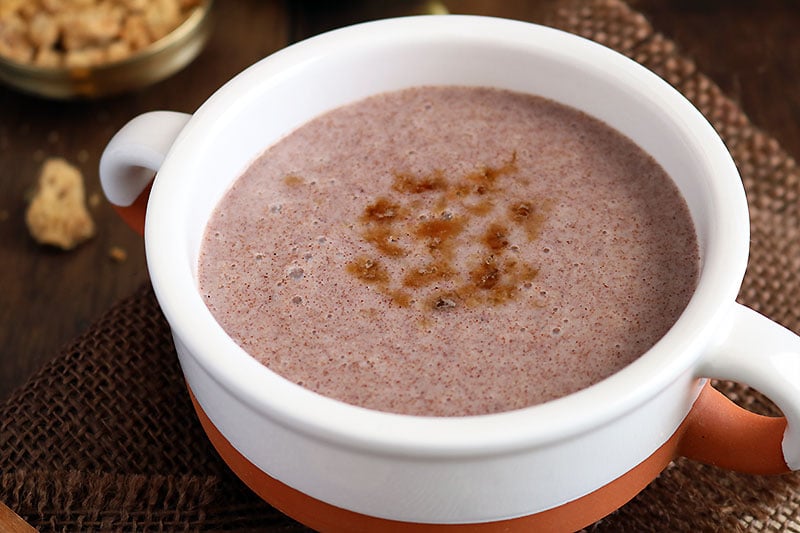 Ragi flour is low in fat and helps keep the body cool. It is also a rich source of Vitamin C which in turn enhances the absorption of iron in the body.
Ingredients
Ragi flour - 2 Tsp
Water - 750ml
Cardamom powder - A pinch
Ginger powder - A pinch
Regular sugar - 2 Tsp
Milk - ¼ cup
Ghee - 1 Tbsp
How to prepare
Heat some water in a pan.
Add ragi powder in the water and let it simmer. Stir continuously.
Add milk along withthe rest of the ingredients except ghee and continue to cook.
Add the ghee just before serving.
You May Also Like:
Read the Benefits of RAGI AS A SUPER FOOD for your Baby
#2. Ragi Idli (7 months+)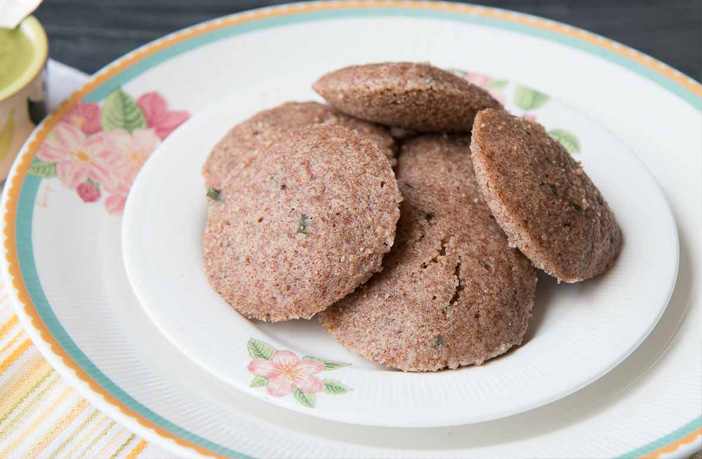 Ragi Idli is a traditional savory food from the southern parts of India. It is easily digestible and extremely nutritious for babies.
Ingredients
Ragi flour -1/2 cup
Urad dal -1/4 cup
Flattened rice or Poha or Aval -1/4 cup
How to prepare
Wash and soak urad dal in drinking water for about 8 hours.
Soak flattened rice in drinking water for up to three hours.
Grind urad dal and aval in the grinder.
Make a paste of ragi flour using water.
Mix it with the dal and aval mixture.
Coat the idli molds with oil and poura spoon of batter into the mold.
Steam cook the idlis for 30 minutes or until done.
#3. Stuffed Ragi and Paneer Paratha (10 months +)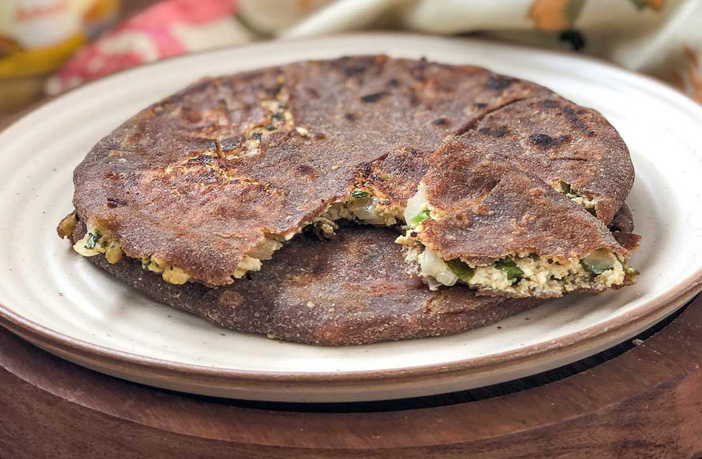 Stuffed ragi and paneer paratha is a delicious breakfast your kids are sure to like.
Ingredients
Paneer – 1/3 Cup
Cumin Powder – 1 Tsp
Salt – 1 Tsp.
Whole wheat flour – 1/2 cup
Ragi powder- ½ cup
Water – as required
Oil– 2 tbsp
How to prepare
Prepare the dough using the ragi and wheat flour.
Crumble the paneer and add cumin powder and salt to it.
Take the dough and make balls from it.
Roll the balls out into a flat round shape and add a tablespoon of filling in them.
Close the round shape by joining the edges.
Use the rolling pin to flatten out the balls again.
Use some oil to cook the paratha on the pan until it turns golden brown on both sides.
Also Read:
10 Healthy Halwa Recipes for Babies and Kids
#4. Ragi almond cookies (11 months +)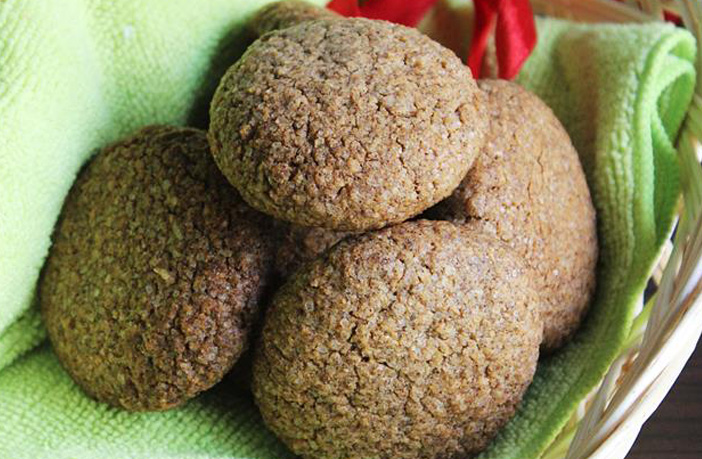 Ragi almond cookies is the best alternative for normal cookies as they provide energy to our body.
Ingredients
Ragi flour - ¼ cup
Wheat flour -1/4 cup
Almond powder - ¼ cup
Dark brown sugar - ¼ cup
Baking powder - ¼ tsp
Butter melted - 75 gm
Vanilla extract - 1 tsp
Milk -2 tbsp
Finely chopped cashews -1 or 2 tbsp
Pistachio - Finely crushed 5-6
How to prepare
Add roasted wheat flour, almond flour & ragi powder in a bowl and mix them well.
Melt the butter and set it aside.
Add brown sugar, baking powder, salt, chopped cashews, vanilla extract in another bowl and mix well them.
Add the roasted flour mix to the latter mix and stir them well.
Now, add the melted butter and milk into the dry ingredients.
Knead lightly.
Refrigerate it for 15 to 20 minutes before baking.
Make round balls out of the dough and place small sized balls on the tray.
Press the balls slightly using a fork to make them flat.
Decorate them with broken pistachio.
Bake them at 180 degrees C for 15 min.
Cool before serving.
#5. Ragi Soup (1 year +)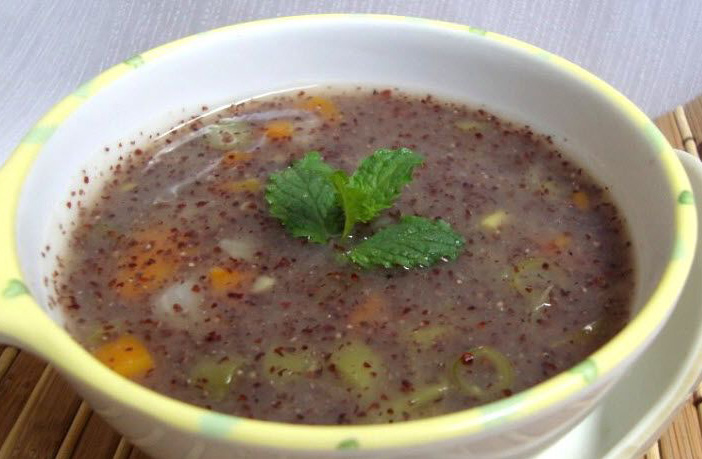 Ragi soup works as a nourishing appetizer before meals.
Ingredients
Sprouted ragi flour – 1.5 tbsp
Water – ½ cup
Vegetables
Frozen corn– 2 tbsp
Garlic – 2
Ginger – 1
Turmeric powder – ¼ tsp
Pepper powder – ½ tsp
Milk – 3 tbsp
Salt – to taste
Butter – 1 tbsp
How to prepare
Put some oil in a pressure cooker and let it heat up.
Add crushed ginger and garlic in the pressure cooker.
Add all the vegetables and saute them for a minute.
Add turmeric and pepper powder & salt to taste.
Mix the ragi flour in water and cook it for upto three whistles.
Add milk and boil it.
Serve warm.
Also Read:
10 High-Fibre Foods that your kid must have
#6. Ragi cake (1 year+)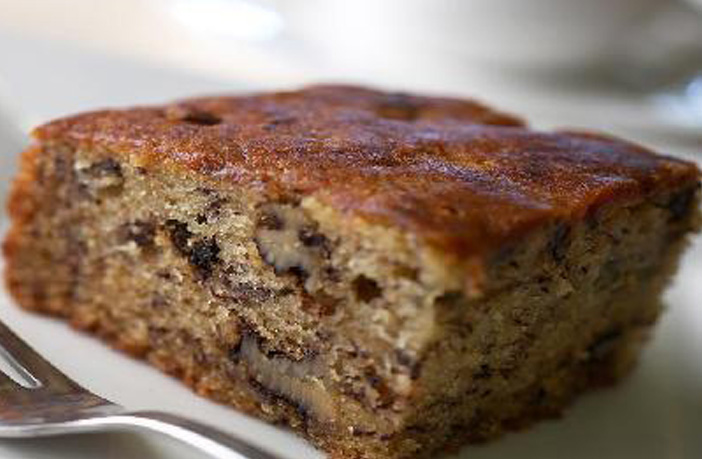 Ragi Cake is one of the yummist Ragi Recipes for Kids. This is rich in iron, calcium, and potassium. It is easy to digest as it is low in fat.
Ingredients
Whole Wheat Flour- 1 cup
Ragi flour-1/2 cup
Powdered Brown Sugar-1 cup
Baking Soda-3/4 tsp
Cocoa powder -2 tbsp
Thick yogurt-3/4 cup
Milk -1/4 cup + 2 tbsp
Oil -1/4 cup
Vanilla essence- 1 tsp
How to prepare
Mix the curd with honey.
Add milk, vanilla essence and oil to the mixture.
Now,add whole wheat flour, ragi powder, brown sugar, baking soda, and cocoa powder in a separate bowl.
Slowly add the wet mixture with the dry one.
Pour it into a greased baking dish and bake it at 180 degrees for 30-35 minutes.
Poke a toothpick once done. If it comes out clean, your cake is ready.
Read:
11 Essential winter foods for kids
#7. Ragi ambli (3 years+)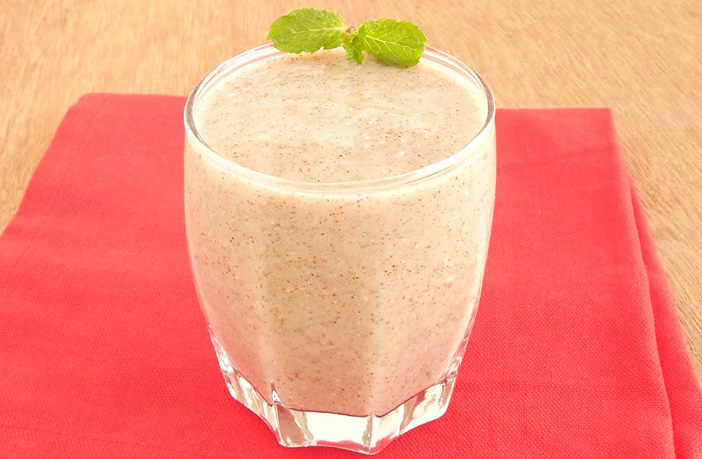 Ragi ambli is a perfect summer drink that keeps energetic toddlers protected from the heat.
Ingredients
Sprouted ragi flour - 2 tbsp
Water -1.5 cup
Buttermilk - 1.5 cup
Cumin powder – ¼ tsp
Asafoetida - a pinch
How to prepare
Mix ragi flour with ¼ cup water.
Add cumin powder and asafoetida in buttermilk and mix it well.
Then, add ragi mixture to buttermilk and whisk it.
Chill it in the refrigerator and serve cold.
Make sure that the ingredients you are using for all these ragi recipes for kids are of a high quality and cleaned before you use them. Let your little one develop a taste for this super food to ensure a healthy life ahead.
Want to share your mommy experience with other moms through words or images? Become a part of the Moms United community.
Click here and we will get in touch with you
null
null