Babies are considered to be premature if they are born before 37th week of pregnancy. The normal birth tends to be between 37 to 40 weeks. The birth of a baby is such a joyful time. But when it happens much before the expected due date, it can be a cause for stress and concern for the new parents. The earlier the baby is born, the higher is the risk of complications. While taking care of all babies requires constant alertness, premature baby care demands extra care and attention.
Causes of a premature baby
Often the causes of premature birth cannot be defined. But the main causes that might cause premature birth of a baby can be if a pregnant woman suffers from:
Diabetes
Heart disease
Kidney disease
High blood pressure
Also read:
Taking Care Of A Premature Baby: 10 Best Tips
Other causes that can cause premature birth are:
Poor nutrition before and during pregnancy
Smoking or drinking too much alcohol during pregnancy
Certain infections, such as urinary tract and amniotic membrane infections
Premature birth in a previous pregnancy
An abnormal uterus
A weakened cervix opening early
A premature baby will likely spend some time in the neonatal intensive care unit (NICU), until he is totally ready to go home. Even after he is cleared to leave, as a parent you might feel scared to leave the security of the hospital as your baby is too tiny.
What does a premature baby look like?
The earlier your baby arrives, the smaller he will be. His head will be larger than the rest of the body. He will have very less fat in the body. With so little fat, his skin will seem thinner and more transparent. You will be able to see the blood vessels beneath it. He also may have fine hair, called lanugo, on her back and shoulders. He will also get cold in normal room temperature as the temperature inside your womb is very cozy and really warm. Fear not. With following all your doctor's instructions and taking good care of yourself and your baby, with help at hand; you will be able to easily take care and raise a healthy and happy child.
Helpful Premature Baby Care Tips
Let's take a look at these helpful premature baby care tips:
#1. Ask your doctor and nurses
Premature or preterm babies are commonly admitted to the neonatal intensive care unit (NICU) to receive specialized care. This is done because the babies are not fully developed and they need to do that development after their birth. This time is a great opportunity for you to learn the skills you'll need once your baby comes home. No question is stupid, so ask your doctor and nurses and observe how they are taking care of the baby.
#2. Feeding your baby
If you are breastfeeding, you can give your baby breast milk through a tube. The baby will be too small and will not be able to latch onto your breast or a bottle. Pump breast milk as soon as possible after you give birth to help establish your milk supply. The nurse will help you and teach you how to do it. It is in the NICU that doctors will tell you if your breast milk is enough or you will have to supplement the baby's feeds with formula. Although, breast milk often has to be boosted with extra protein, vitamins, and minerals to meet the high nutritional needs of premature babies. Formula milk specially designed for premature babies might be prescribed by your doctor in order to help the baby develop fully. Also read:
Checkout- What Karan Johar has to say about Premature babies care
#3. Keep a tab on feeding cues
In the hospital, premature babies are taken care of by nurses who help them learn to coordinate sucking, swallowing and breathing to have a meal safely. This should be carefully observed by you as well. The time taken by them to learn depends on their level of prematurity. Initially, tiny feedings, the equivalent of a single teaspoon or as prescribed by your doctor — every three hours around the clock are typical. Over time, your baby's tummy will grow to hold more milk and only then you can take him home and feed him by your breast or bottle.
#4. Keep the premature baby warm
At the NICU, the babies will be kept warm but once you take the baby home you need to take care of the temperature. Dress your baby as you would dress yourself given the season and the temperature of your home. You should not overdress or underdress the baby. Easy and comfortable clothing works well. Always cover the baby's head with a little baby cap. We all lose a significant amount of body heat through our heads. A baby's head is much larger compared to his body so cover the head at all times.
#5. Keep everything clean
A premature baby's immune system is not fully developed. Thus it becomes important to take those extra precautions to keep germs, dust and other particles away from your baby and from your home. Make the baby wear clean clothes at all times and lose nightwear at night. Make sure that all visitors wash their hands with warm water and soap before holding your baby, and that you do the same before preparing feedings. For formula fed babies learn how to sterilise everything- the vessels or bottles, you use to feed the baby. There are many sterilisers that you can buy that help clean the bottles effectively.
#6. Kangaroo baby care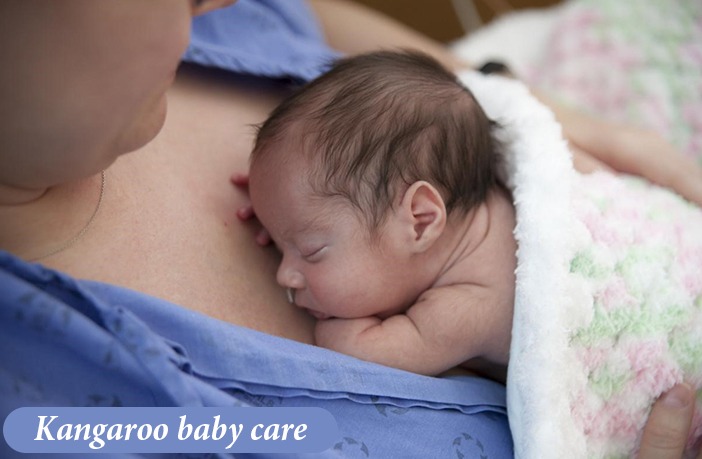 Kangaroo care is a method of holding a premature baby that involves skin-to-skin contact. Here the baby is naked, with only a diaper on him and is placed in an upright position on a parent's bare chest. Then the baby is covered with a blanket or a sheet and it is like snuggling inside the parent's chest like a kangaroo's pouch. Research has shown that skin-to-skin holding stabilizes the heart and respiratory rates, improves oxygen saturation rates, better regulates an infant's body temperature, and conserves a baby's calories. When a mother is doing this the baby instantly falls asleep on the mother's chest. The breast can increase in temperature when the infant's body is cool and can decrease in temperature as the baby is warmed. This is a great way to keep your premature baby warm and make him fall asleep. This also helps in regulating body temperature and conserve the baby's energy. Also read:
Importance Of Postnatal Medical Care For Mothers And Newborns
Generally, a premature infant is released from the hospital and is ready to go home with his parents once they can do the following:
Breast-feed or bottle-feed properly and do not choke or have trouble in latching
Breathe without support and breathe like normal babies
Maintain body temperature and body weight; i.e; they are growing well and having proper feeds
Want to share your experience as a mom with other moms through words or images? Become a part of the Moms United community. Click here and we will get in touch with you
null
null