On a warm and sunny day in the middle of 2018, when all of India was busy living their lives, Neha Dhupia and Angad Bedi took to Instagram to declare that they had tied the knot. On the 10th of May, 2018, Dhupia uploaded a picture of her wedding ceremony with a caption that read, "Best decision of my life…today, I married my best friend. Hello there, husband! @angadbedi" and her husband too posted the same picture and captioned it, "Best friend…now Wife!!! Well hello there Mrs. BEDI!!!@nehadhupia."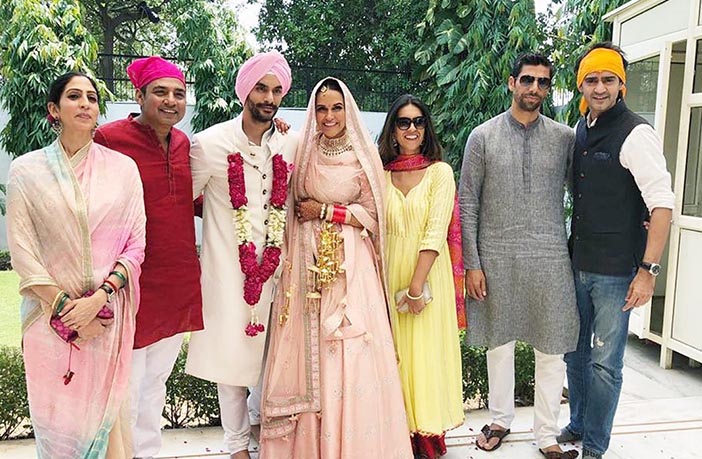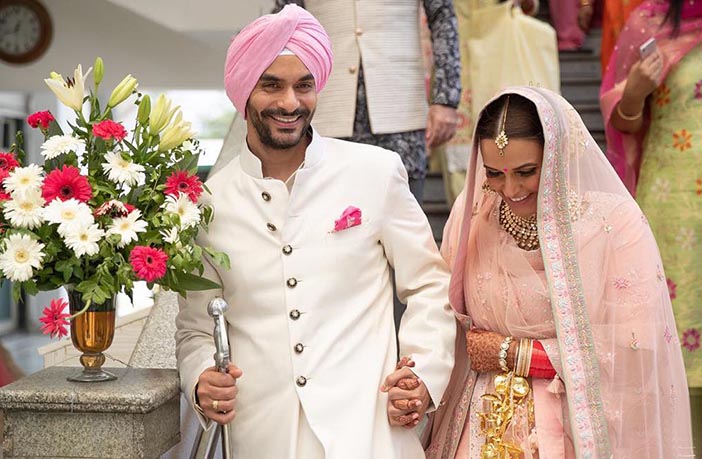 As soon as they newlyweds officially announced the wedding, people on the internet went crazy – either to congratulate the happy couple or to question if the wedding was in fact a real one. Most assumed that it was just a joke, an advertisement for a jewellery brand or a photoshoot for a magazine. It just took minutes for people to realise that Dhupia and Bedi had in fact married each other after Karan Johar himself congratulated the couple. Congratulatory wishes from other celebrities like Rishi Kapoor, Rannvijay Singh, Amitabh Bachchan and Aditi Rao Hydari amongst others poured in quickly.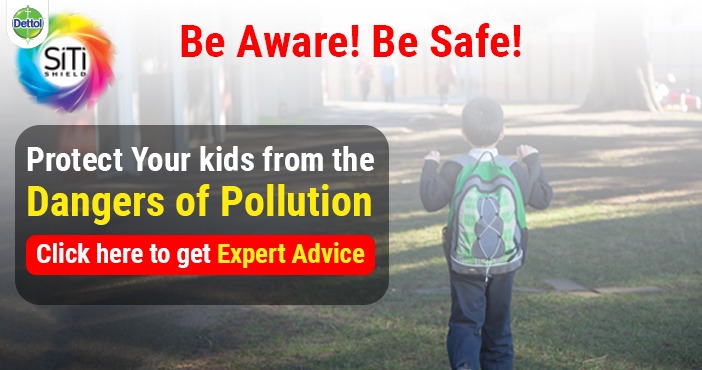 Was Neha Dhupia pregnant before the wedding?
In an interview with a leading daily, Dhupia had revealed that Karan Johar was one of the first few people who knew about the wedding. When Neha told him that she was ready to get married, Karan had calmly told her that it was the right thing to do. However, soon after news of the couple's wedding broke, people were quick to jump to conclusions that the rush-rush wedding only took place as Dhupia was already pregnant. Dhupia's father had dispelled the speculations and rumours while speaking to Dainik Bhaskar.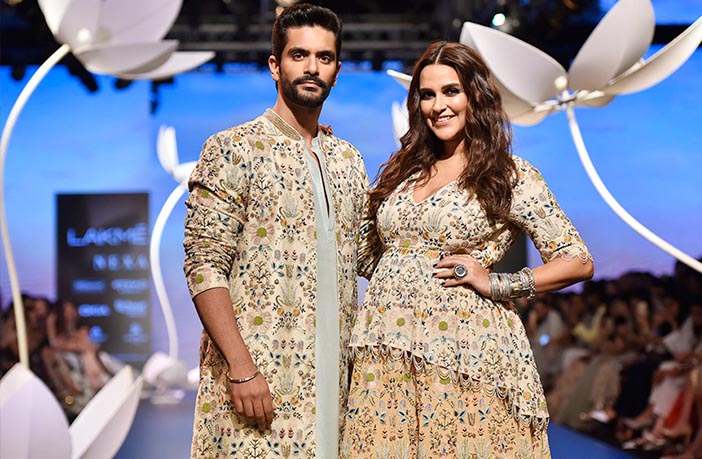 Also read: Deepika and Ranveer's Dreamy Wedding
Soon after that, Dhupia and Bedi took to Instagram yet again to officially announce that they were expecting. Dhupia hosts a popular talk show titled, "No Filter Neha". In an episode of season 3, Bedi was called on as a guest on the show. No one had anticipated just how candid Bedi would get about his wife's pregnancy and the sudden wedding. Contrary to what Dhupia's father had earlier said about the wedding, Angad confirmed that it was Neha's pregnancy that led the couple to finally decide that getting married was the right thing to do. Even after years of being together, breaking the news of the pregnancy to either sets of parents was not an easy thing to do. Bedi went to explain just how angry the news had made their parents. Perhaps, it was more of a shock than anger as Neha's parents had always wanted her to settle down with Angad.
Also read: How to Celebrate Your Child's First Birthday in Celebrity Style
The glamorous baby shower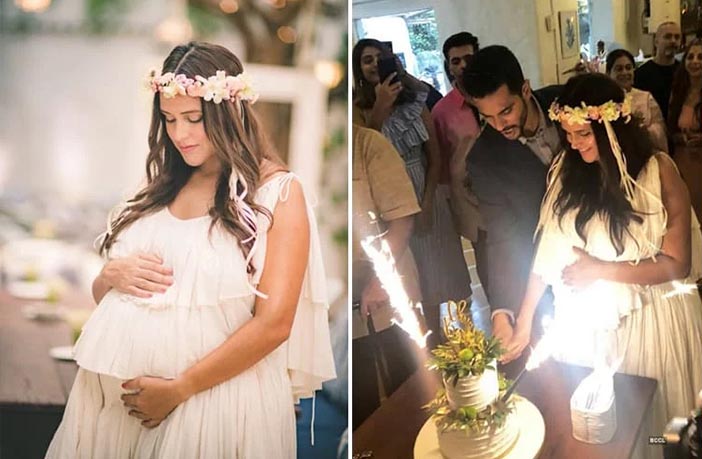 Before the birth of their beautiful baby girl, the couple had hosted a baby shower at Olive Bar & Kitchen in Mumbai. The couple were seen walking hand and hand and looked like they were absolutely in love. Dhupia looked radiant showing off her belly in a breezy and summery white dress by Sohaya Misra while Bedi complimented his wife in a chic and grey pants and a royal blue coloured jacket. The baby shower saw the who's who of B-town and actors like Sonakshi Sinha, Shilpa Shetty, Kiara Advani, Huma Qureshi and Manish Malhotra among others shared inside photos of the baby shower. Other prominent stars like Karan Johar and Ileana D'Cruz were spotted posing with Dhupia and Angad and smiling for the cameras.

Also read: Celebrity Moms Who Had A C-Section Share Their Weight Loss Secrets
Say Hello To Baby girl Mehr Dhupia Bedi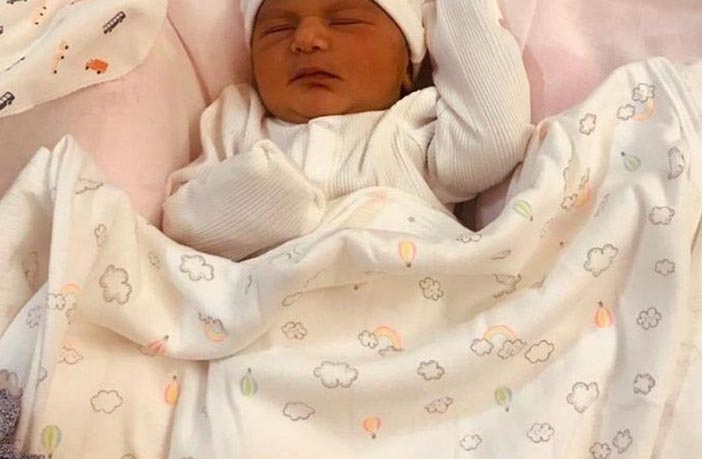 For Neha Dhupia and Angad Bedi, the 18th of November, 2018 was indeed a glorious day as they welcomed their first child and newest member of the family- a baby girl at the Women's Hospital in Mumbai. The couple yet again took to Instagram to announce the arrival of their baby girl, Mehr Dhupia Bedi.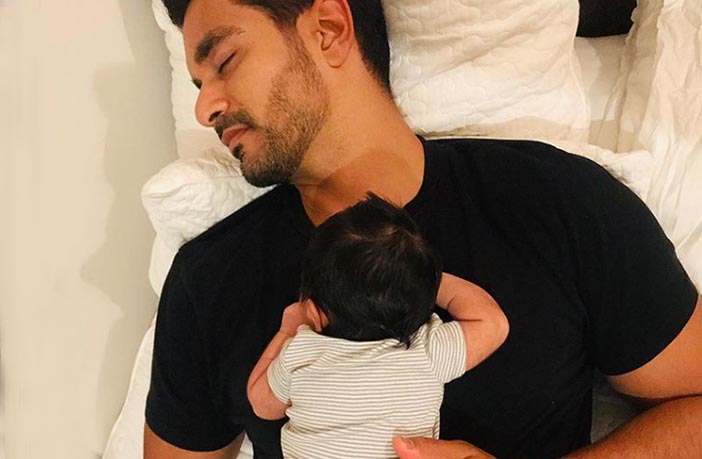 As soon as the birth of Mehr Dhupia Bedi was announced, wishes congratulations flooded in from everyone and everywhere. It sure has been quite a year for both Dhupia and Bedi in terms of how their personal and professional lives have progressed.
Also read: Indian Celebrity Kids You Can't Wait To Watch In Movies
Want to share your experience as a mom with other moms through words or images? Become a part of the Moms United community. Click here and we will get in touch with you
null