"A vaccine is a biological preparation that improves immunity to a particular disease.", says World Health Organization. This is why vaccination and immunization is very important.
Why Does Your Baby Need Vaccination?
It is very crucial for babies to get vaccinated as it builds up their immunity and has been proven to be the most effective way to protect them against the diseases like Smallpox, Polio, Hepatitis B, etc.
Today most people know that vaccination is important. The questions that they and you could be seeking answers to are:
Which vaccinations should be given?
When it should be given?
What if I forget any?
And that is exactly what we are going to inform you here…
Also Read:
Essential Vaccination Chart for Babies
Vaccination & Immunization Schedule for Indian Children (2018)
IAP or Indian Academy of Paediatrics
amends the necessary changes to the immunization schedule and makes a list of recommended vaccines after analyzing the studies and global trends involving the effectiveness of various vaccines.
The list is applicable to all Indian children.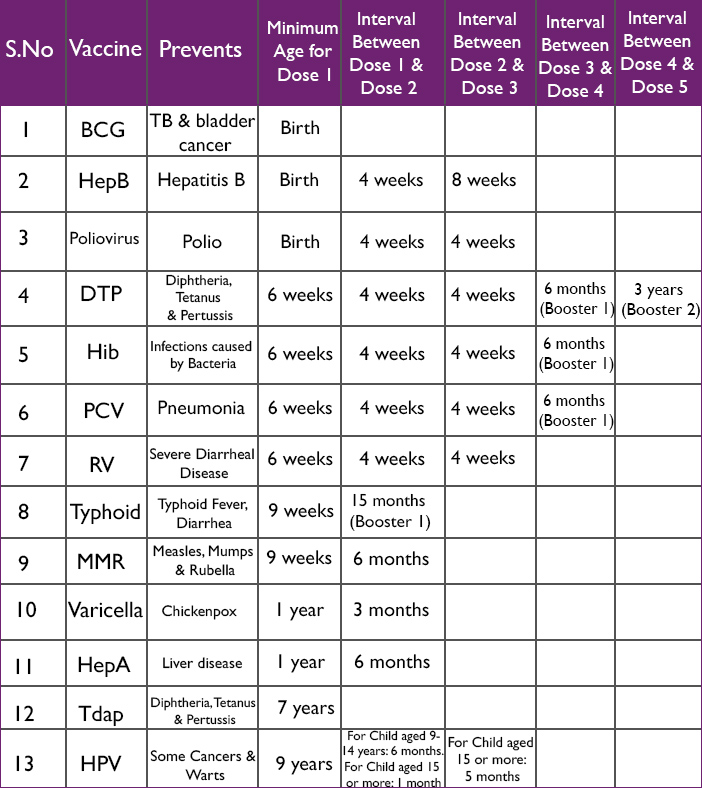 Information Source: Based on
IAP
recommended immunization schedule.
Why it's Important to do the Vaccination on Time?
The immunization schedule is especially designed to optimize your child's immunity at the earliest their body is ready. Vaccinating on time ensures that the child is no longer vulnerable and his body can fight the potential cause of diseases.
There are a few vaccines that must be given at a specific time and delaying them would only be bad, or sometimes even fatal for the baby.
Following the recommended vaccination schedule minimizes the number of visits to the doctor which also means less stress for the baby and you.
What if You Missed a Vaccination?
If your child has missed certain vaccinations, he will be vulnerable to diseases until he gets all the scheduled vaccines. The baby could fall sick and this will only bring hard time for you and baby.
The first thing you should do is consult your pediatrician. He may recommend combination vaccines that build immunity against various diseases in one go.
There is also a catch-up schedule for missed vaccines so that your child shouldn't have to start over. But even though it is possible for most babies to make up for missed vaccines, postponing the vaccines is still very risky because you never know when your child's immunity is put to test.
Also Read:
How to manage bottle feeding when traveling?
What if my Baby is Sick on Vaccination day?
Though it could be tempting to cancel or postpone a doctor's appointment for vaccination if your baby has sniffles, an upset stomach, or low fever, it is absolutely fine to get your baby vaccinated the same day.
Your child could still get the vaccination if he/she has:
A low-grade fever (less than 101 degrees Fahrenheit)

A cold, runny nose, or cough

Ear infection

Mild diarrhea
There are no health benefits in waiting to get your child vaccinated due to mild illness and it's very important that the child gets the vaccination on time even if they are not feeling too well so that they can be secured against serious diseases.
You should also consult your doctor as they can best determine if your baby can get vaccinated or not when mildly ill.
Catch-Up Vaccination Schedule in India (2018)
Based on IAP's recommendation, here is a Vaccination Catch Up Chart that you can follow. This will ensure that all the missed/delayed vaccines are taken care of and the rest are administered properly.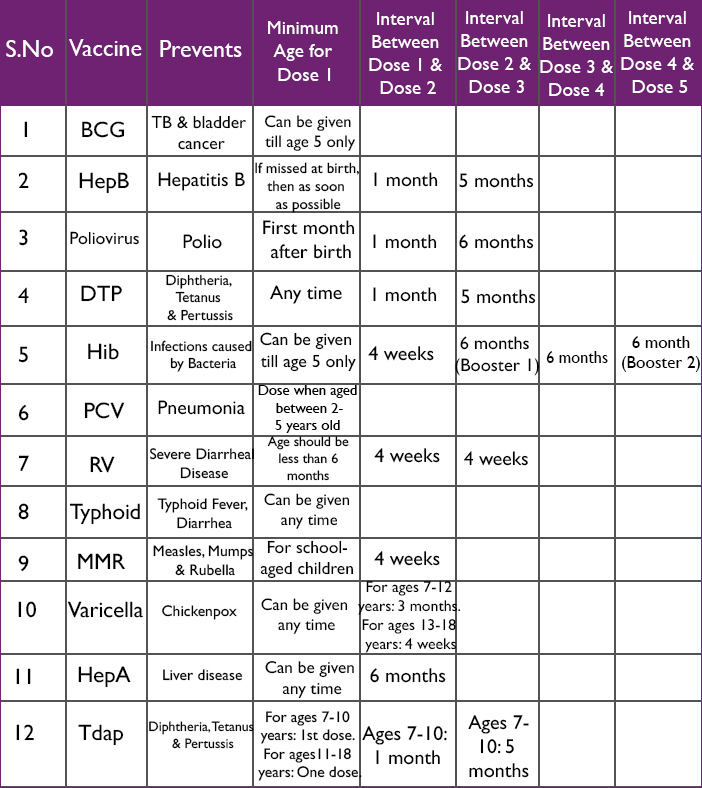 Information Source: Based on
IAP
recommended immunization schedule.
How to Read the Chart
Let's read the chart for DTP Vaccine.
See the Original Chart

1st Dose - At least after 6 weeks of birth.

2nd Dose - 4 weeks after the 1st dose.

3rd Dose - 4 weeks after the 2nd dose.

Booster 1 - 6 months after the 3rd dose.

Booster 2 - 3 years after booster 1.
If you miss the 1st dose,
See the Catch-Up Chart

1st Dose - Anytime.

2nd Dose - 4 weeks after the 1st dose.

3rd Dose - 5 months after the 2nd dose.
Though it is possible to get the missed vaccination for your baby at a later date, it is strongly recommended to follow the proper time and schedule advised by your pediatrician.
*
Make sure you read official IAP recommendation file and footnotes.
Also Read:
13 Benefits of Figaro olive oil for baby
Want to share your mommy experience with other moms through words or images? Become a part of the Moms United community.
Click here and we will get in touch with you
null
null