Many famous Bollywood celebs have used the social media to pen-down their feelings and emotions, which they wanted to convey to their children, grandchildren, parents and the masses. Letters make it very easy for a person to express himself.
Let's take a look at some open letters penned down by famous Bollywood Celebs:
#1. Karan Johar's letters to his twins

Karan Johar became a father to a set of twins in February 2017. He named them very fondly after the names of his own father and mother. He wrote a letter around the end of the year and read it on the Television show TED Talks India, which is hosted by Shah Rukh Khan.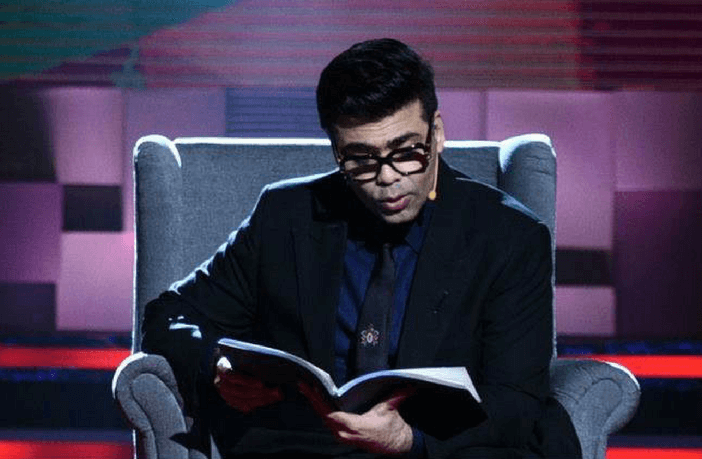 Image Source: Peepingmoon
He said, "As you grow up, people will try to label you according to colour, looks, religion, popularity and money. People will gossip about you, but know that no one can label you. Just because you are different, it doesn't make you wrong. You may be treated differently in school; mothers of your classmates will come to drop them, but you will have your father to take care of that. While most of your classmates' mothers will make a WhatsApp group to discuss your homework, I will be the only father in it."
Also Read: Father plays a crucial role in raising Triplets| Farah Khan
In August 2017, he had written a letter to his twins in Vogue, saying,
"Dear Roohi and Yash,
I was 44-years-old when you were born to me and almost immediately you made me as sentimental as a Hallmark greeting card. I spout clichés on how magical the two of you are, how you have filled the vacuum in my life and how you made my house a home, but it's true.
You've changed my life completely and I'm not complaining. I worry a lot more than I ever did—I have these strange thoughts about my insurance premium, my will, even the division of my assets. I stay awake some nights wondering who I can appoint your guardian if something happened to me.
#2.Celina Jaitley's letter
Actress and Model Celina Jaitley lost her father and one of her twin babies last year and she penned down an emotional letter on Facebook.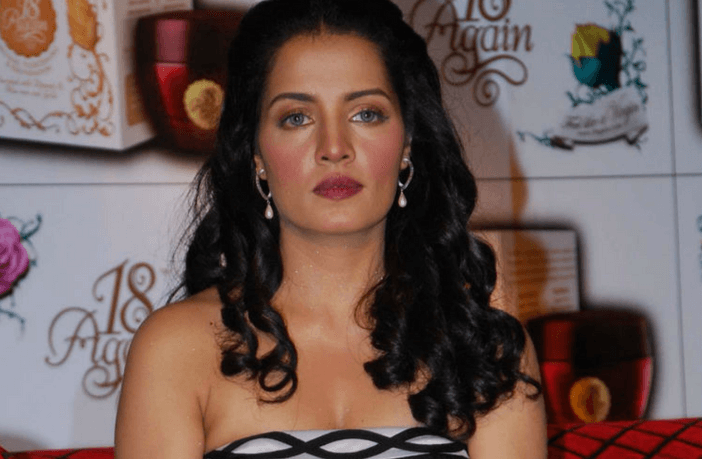 Image Source: InUth
"ANNOUNCING THE BITTERSWEET ARRIVAL OF OUR 2nd SET OF TWINS

When it rains look for rainbows, when it's dark look for stars… My dearest friends, beloved fans and followers. On the auspicious occasion of Dusshera, we would like to take this opportunity to share with you all the following bittersweet news.

The Gods above have blessed us yet again with another set of very handsome twin boys 'Arthur Jaitly Haag' and 'Shamsher Jaitly Haag' in Dubai on 10th September 2017. However, life is not always how we plan it to be. Our son 'Shamsher Jaitly Haag' succumbed to a serious heart condition and could not continue his journey in this world.

Heartbreaking as that is we are very fortunate that a part of him still lives with us through Arthur, whose face will always remind us that an angel who looks exactly like him looks upon us from the arms of his grandfather, my father, in the heavens above, whom we also lost two months ago.

The last two months have been a tumultuous journey for us from losing my beloved father and now baby Shamsher, however there is always a light at the end of a tunnel and that light for us is our handsome son 'Arthur Jaitly Haag' who seeks your blessings and love in his journey that he commences in this world. We thank you all in advance for your love and continued support.

Sending love, immense gratitude and very Happy Dussehra wishes your way."

Celina & Peter
(@celinjaitly & @peterhaag )

Also Read: 7 Amazing Mother-Daughter Relationships of Bollywood
#3. Sushmita Sen's letter to her daughter Renee

The former Miss Universe and actress Sushmita Sen wrote a letter to her adopted daughter Renee when she started going to boarding school.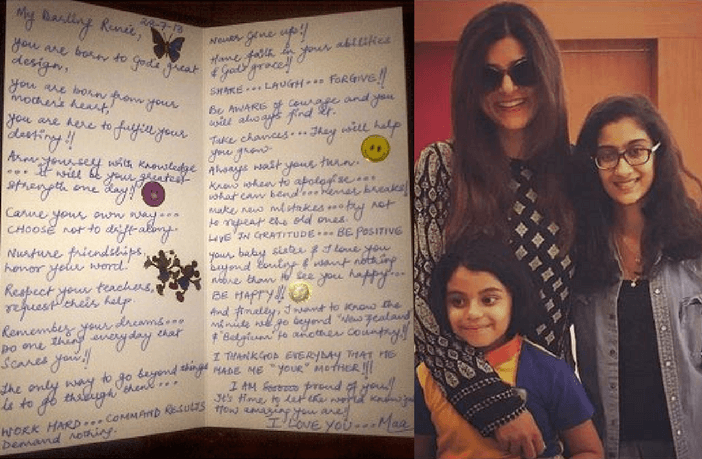 Image Source: Bollywoodlife
It said,
"My Darling Renée,
You are born to God's great design,
you are born from your mother's heart,
you are here to fulfill your destiny!!
Arm yourself with knowledge… it will be your greatest strength one day!
Carve your own way… CHOOSE not to drift along.
Nurture friendships, honor your word.
Respect your teachers, request their help.
Remember your dreams… Do one thing everyday that scares you!
The only way to go beyond things is to go through them…
WORD HARD…..COMMAND RESULTS
Demand nothing.
Never give up!!
Have faith in your abilities & God's grace.
SHARE… LAUGH… FORGIVE!!
Be AWARE of Courage and you will always find it.
Take chances… they will help you grow.
Always wait your turn.
Know when to apologize… what can bend… never breaks!
Make new mistakes… try not to repeat the old ones.
LIVE IN GRATITUDE….BE POSITIVE
Your baby sister & I love you beyond loving & want nothing more than to see you happy…
BE HAPPY!!!
And finally, I want to know the minute we go beyond "New Zealand" and "Belgium" to another country!!
I THANK EVERYDAY THAT HE MADE ME "YOUR" MOTHER!!
I AM sooooo proud of you!!
It's time to let the world know just how amazing you are!!
I LOVE YOU…..Maa."

#4. Amitabh Bachchan's Letter to his granddaughters Navya Naveli and Aaradhya

Big B penned down a letter for his granddaughters Aaradhya and Navya,
"Namaste Aaradhya, I don't know when you will see this but this is how I looked in year 2016."
"Hi Navya Naveli, namaste, I have written a letter to both of you and I am going to read it and I am going to put it on internet because I feel that it is a letter meant not just for you but every granddaughter."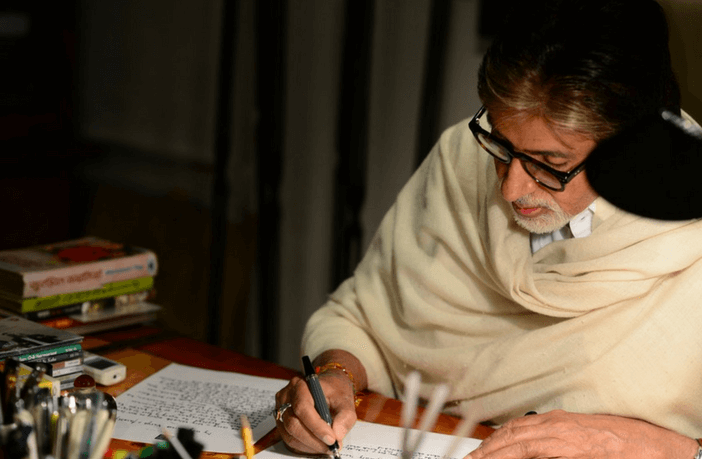 Image Source: Twitter
"My very dearest Navya & Aaradhya
You both carry a very valuable legacy on your tender shoulders – Aaradhya, the legacy of your pardadaji , Dr Harivansh Rai Bachchan…and Navya, the legacy of your pardadaji , Shri H P Nanda….
Both your pardadaji ' s gave your present surnames celebrated fame, dignity and recognition !
Both of you may be a Nanda or a Bachchan, but you are also girls…women !
And because you are women people will force their thinking, their boundaries on you.
They will tell you how to dress, how to behave, who you can meet and where you can go.
Don't live in the shadows of people's judgement. Make your own choices in the light of your own wisdom.
Don't let anyone make you believe that the length of your skirt is a measure of your character.
Don't let anyone's opinion of who you should be friends with, dictate who you will be friends with.
Don't get married for any other reason other than you want to get married.
People will talk. They shall say some terrible things. But that doesn't mean you have to listen to everyone. Never ever worry about – log kya kahenge.
At the end of the day, you are the only one who will face the consequences of your actions, so don't let other people make your decisions for you.
Navya – the privilege your name, your surname offers you, will not protect you from the difficulties you will face because you're a woman.
Aaradhya – by the time you see and understand this, I may well not be around. But I think what I am saying today shall still be relevant.
This may be a difficult, difficult world to be a woman. But I believe that it is women like you that will change that.
It may not be easy, setting your own boundaries, making your own choices, rising above people's judgement.
But YOU !…you can set an example for women everywhere.
Do this and you would have done more than I have ever done, and it will be my honor to be known not as Amitabh Bachchan, but as your grandfather !!
With all my love
Your ….Dadaji ….your Nana."
Also Read: 8 Incredibly Comfortable Footwears for Pregnant Mums
It is overwhelming to read these letters that come straight from the heart. We feel this is a great way to tell our loved ones that we care for them and to let them know many important things, which one is unable to say otherwise.
Want to share your mommy experience with other moms through words or images? Become a part of the Moms United community. Click here and we will get in touch with you
null
null