When it comes to feeding kids, it can be quite a hard task as they are fussy and very particular about what they will and will not eat. If you too are facing the same problem when making snacks for your kids, you can definitely try these fun kids snacks recipes from around the world. Whether it is a birthday party or just a fun evening at home, children are bound to finish up their meals if they are introduced to something new and interesting. Try these fresh recipes for kids snacks and watch your kid enjoy all these great dishes from around the world.
#1. Limber de Coco from Puerto Rico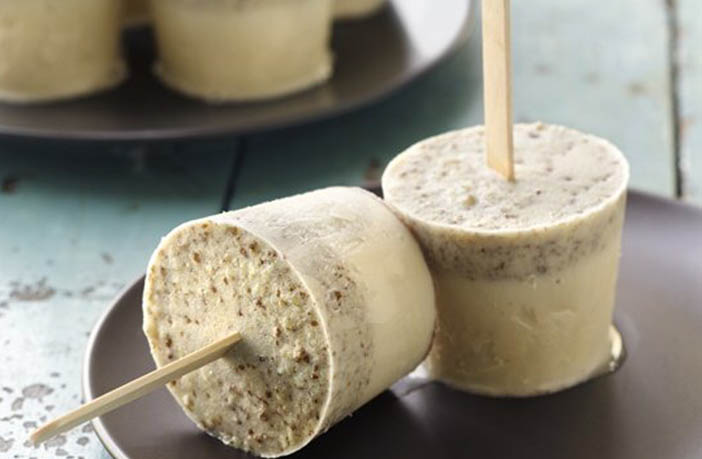 Limber de Coco or "Coconut Popsicle" is one the most popular kids snacks in Puerto Rico. The best part is - it's extremely easy to make and you will only require three ingredients. It's great for the summers and any child will enjoy sucking on these delicious popsicles.
Ingredients:
1 can cream of coconut
1 can coconut milk
½ cup water
½ tsp. Cinnamon (optional)
How to prepare:
In a bowl, whisk all the ingredients (except cinnamon) together until smooth.
Place small plastic cups in a large tray
Pour the mixture into the cups and add thin wooden sticks in it or simply use a popsicle mold.
If you wish, you can sprinkle some cinnamon into it.
Freeze it overnight.
Carefully remove the popsicle for the mold & enjoy it.
Also read:
11 Healthy & Yummy Snacks Ideas For Kids
#2. Brigadeiros from Brazil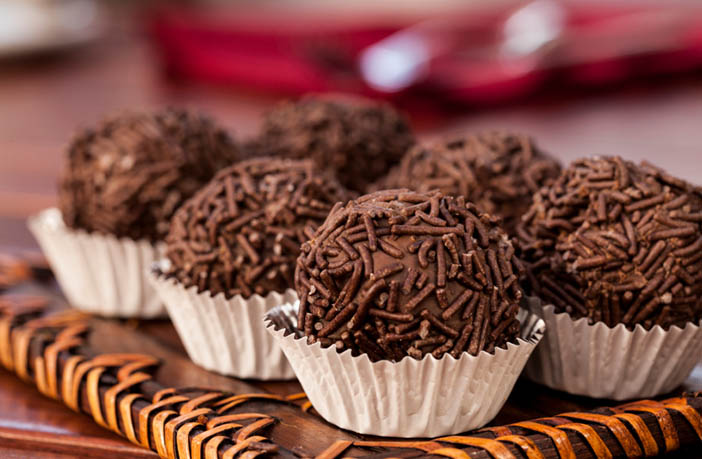 Besides boasting of extremely gifted footballers, Brazil is also home to some of the most delectable dishes in the whole world. Children in Brazil enjoy feasting on Brigadeiros or Fudge balls and adults too like to end their meal with this simple yet delicious dessert.
Ingredients:
1 can condensed milk
4 tsp. cocoa powder
A few spoons of butter
Salt
Sprinkles of your choice
How to prepare:
Pour condensed milk, cocoa powder, salt & 2 spoons of butter in a saucepan.
Heat the pan in low-medium heat.
Keep mixing it continuously and gently until it thickens. Not mixing it will make it burn.
Turn the heat off and let it cool to room temperature.
Spread your sprinkles in a plate.
Once the mixture of brigadeiro has cooled down, grease your hands with some butter & make a little ball from the mixture.
Roll the brigadeiro balls into the sprinkles & serve it foil candy cups.
# 3. Bread with chocolate and sea salt from Spain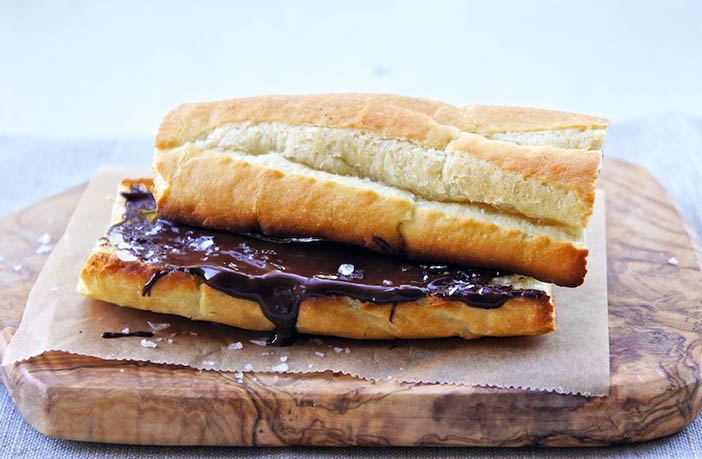 While this may seem like quite the ordinary, run-off-the-mill kind of snack, certain tweaks in it make it extra delicious and quite unique. They say that the Spaniards really know to eat well and perhaps something like a simple bread and chocolate spread will definitely teach us how to as well. Also read:
15 Best Home Made Sweet Recipes For Kids
Ingredients:
Chocolate or Nutella
Bread
Extra virgin olive oil
Sea salt
How to prepare:
Melt some chocolate to make it into a thick syrup and smear it on a piece of bread
You can alternatively use Nutella as well
Pour a few drops of extra virgin olive oil over it
Sprinkle some sea salt on it
Enjoy your snack
#4. Pita toast with Labneh and pomegranate from Jordan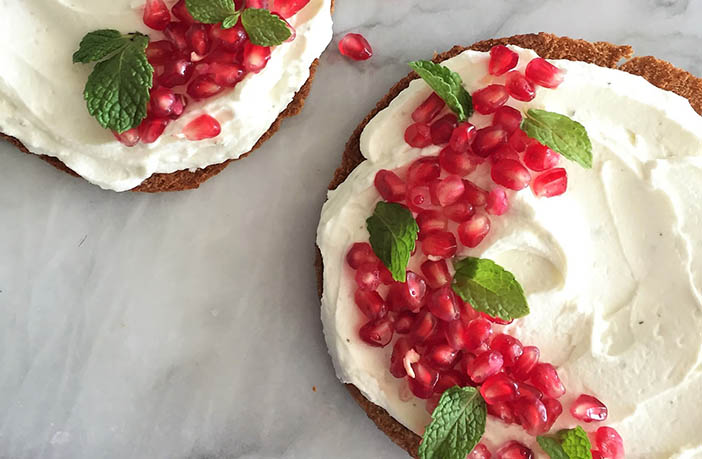 If you are adventurous enough and have about 40 days to spare you can travel the whole country on foot via the Jordan Trail. While on the trail, try having the pita toast with Labneh which is a popular snack among both children and adults.
Ingredients:
1 cup fat-free Greek yogurt
¼ tsp. sea salt
1 pita bread
4 tsp. extra virgin olive oil
⅛ tsp. crushed ground black pepper
15 fresh mint leaves
How to prepare:
Stir yogurt & salt in a small bowl. Line a sieve with a triple layer of paper towels. Add the yogurt, fold the paper towels over the yogurt and let strain while resting over a bowl to collect liquid in the refrigerator for about 8 hours.
Preheat the oven to 350°F. Cut open the pita into 2 rounds.
Brush olive oil on each pita round.
Place on a baking sheet. Bake until brown and crisp, about 15 minutes. Set aside on a rack to cool.
In a small bowl, stir together the strained yogurt (labneh), black pepper and remaining 2 teaspoons of olive oil until creamy.
Spread the labneh mixture onto the pita toasts. Sprinkle with the pomegranates, mint, and serve.
#5. Plantain Chips from Nigeria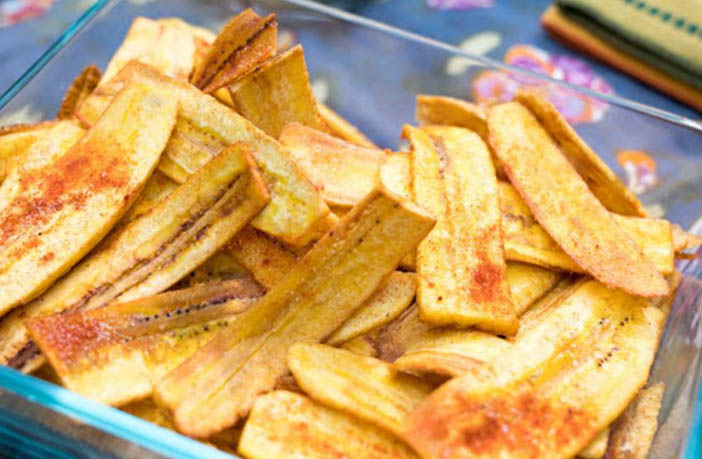 Nigeria boasts of petroleum and cocoa beans as two of its highest grossing exports. However, the dishes in Nigeria are quite unique with interesting names like Egusi, Moin moin and Tuwo sinkafa. Finger foods made from plantains generally accompany their meals and children love to munch on them. Also read:
7 Healthy Pancake Recipes For Kids
Ingredients:
2 green plantains peeled and sliced
Salt
Vegetable oil
How to prepare:
Heat oil in a deep frying pan
Deep fry the plantain in the oil for 3-4 min minutes or until both sides is golden brown.
Layer a serving bowl with paper towels
Scoop out the plantain into the bowl and sprinkle some salt on it
#6. Batidos from Costa Rica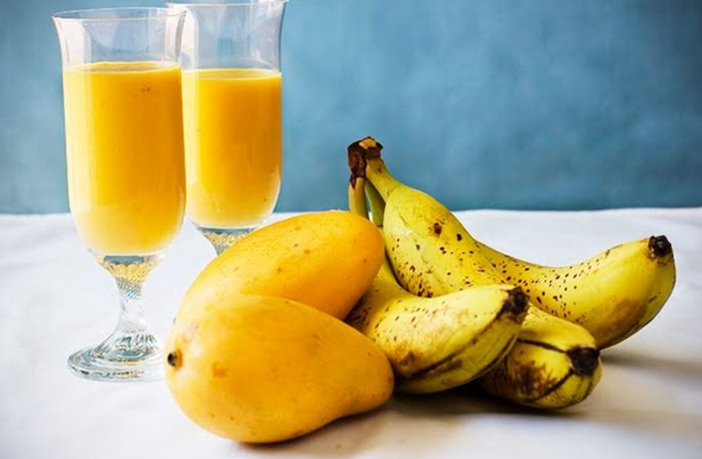 An easy way to keep children from going hungry and making sure that they are hydrated after hours of playing is to make them some Batidos or simply some fruit smoothies. It's easy to make and kids love it, it's quite a win-win situation.
Ingredients:
½ banana (frozen and sliced)
½ cup of ripe mango chunks
½ cup of cold milk
2 ice cubes
How to prepare:
Put all the ingredients in a blender and puree it until smooth.
Serve it in stemmed glass.
#7. Pan con Palta from Chile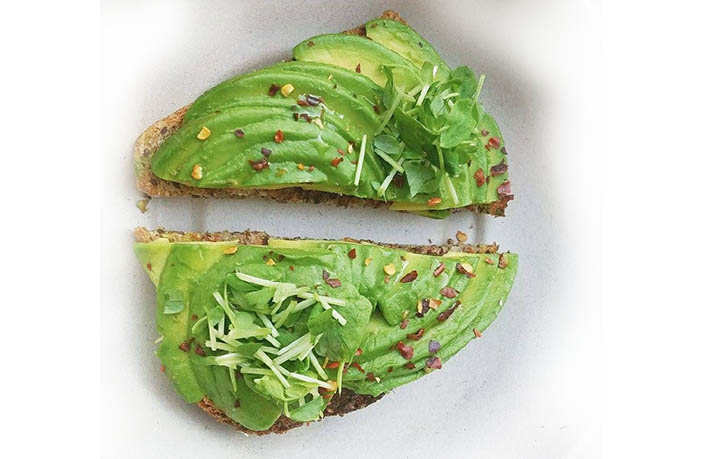 Although this sounds rather like a cocktail and something that is complicated to make, it's quite the opposite. It's a just a simple and yummy sandwich full of goodness and health. While making one for your child, you might as well make one for yourself as well.
Ingredients:
1 Ripe avocado sliced
1 piece of soft French bread
Salt
Crushed black pepper
Butter (optional)
2 basil leaves crushed
Olive oil
How to prepare:
Slightly heat the bread and smear a little butter on it (if you want to)
Place the avocado slices on the bed
Sprinkle some salt & black pepper
Sprinkle some basil over it
Drizzle some olive oil over the avocado
#8. Hotteok from Korea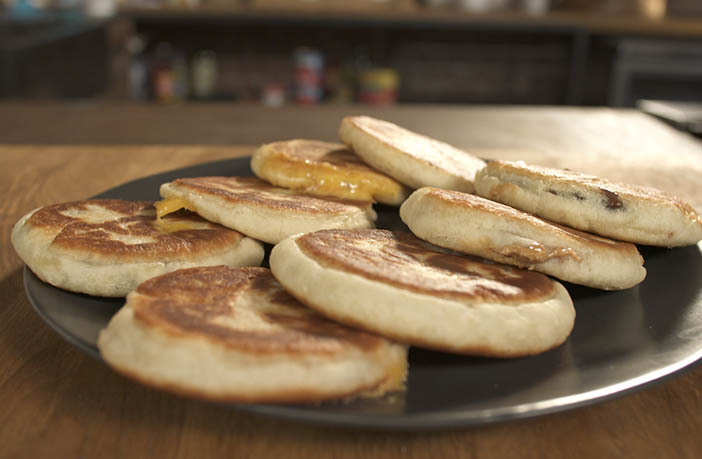 A Hotteok is a flour dough pancake which is filled with sugar syrup inside of it. It is one of the most popular street snacks in Korea. It is generally eaten as a dessert and has a fried crispness on the outside. Also read:
10 Snack Ideas to get your child drooling
Ingredients:
Flour
Water
Dry yeast
Salt
Vegetable oil
Sugar
Brown Sugar
Walnuts
Cinnamon powder
How to prepare:
How to make the Hottoek dough:
Pour 1 cup of lukewarm water into a mixing bowl.
Add 2 tbsp white sugar, 2 tsp yeast, ½ tsp salt, 1 tbsp vegetable & stir well.
Add 2 cups of flour and mix with a large spatula or by hand.
Let the dough rise. It should sit with the lid closed at room temperature for 1 hour.
After an hour, the dough will rise to twice its size. Knead it well.
Let it rise for another 15-20 minutes.
How to make the filling:
Mix ½ cup brown sugar, 1 tsp cinnamon powder with 2 tbsp chopped walnuts in a bowl.
How to make Hottoek:
Knead the dough again to remove the gas bubbles.
Sprinkle about ½ cup flour on your chopping board.
Put the dough on your cutting board & knead it. Cut it into 8 equal-sized balls.
Take the balls, flatten them, put some filling in the center and seal them to make balls.
Heat up your non-stick pan over medium heat and some some vegetable oil.
Place 1 ball on the pan and let it cook for 30 seconds.
When the bottom of the dough ball is light golden brown, turn it over and press the dough with a spatula to make a thin and wide circle (about the size of a CD).
Let it cook about 1 minute until the bottom is golden brown.
Turn it over again and turn down the heat very low.
Place the lid on the pan and cook 1 more minute. The brown sugar filling mixture will be melted to syrup!
Serve hot!
#9. Yiamourti me Meli from Greece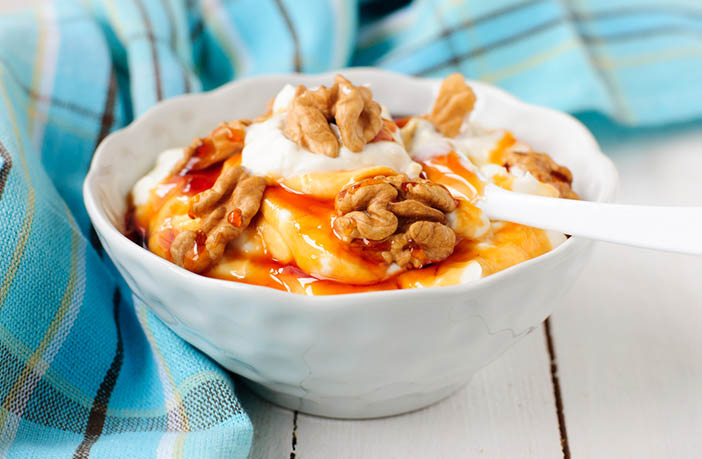 While curd or yogurt is quite a common part of most meals in India, yogurt with honey isn't quite a common concept. One of the easiest snacks to make, Yiamourti me Meli is also a very healthy one. You just need four ingredients and perhaps just three minutes to make.
Ingredients:
½ cup Greek yogurt
½ cup crushed walnuts
1 tbsp of honey
Cinnamon to taste
How to prepare:
Chop the walnuts and pour it in a bowl.
Pour curd over the walnuts.
Drizzle some honey over the yoghurt.
Sprinkle some cinnamon on top.
#10. Vegetable pakora from India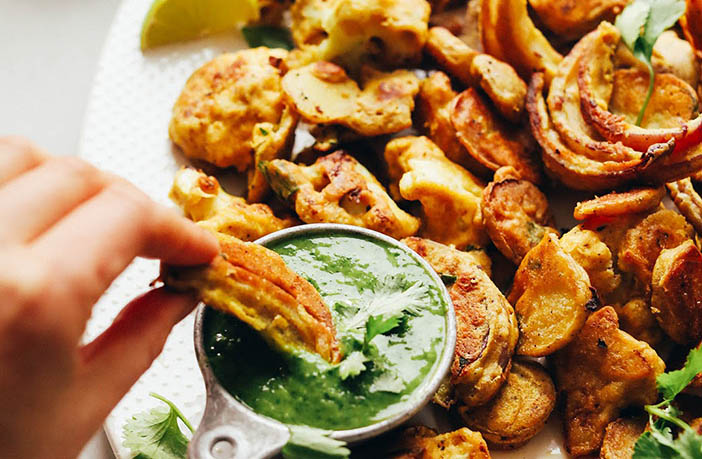 You will often hear of Indian men and women yearn for a steaming cup of chai and a plate of parathas as they are trapped inside home on a lovely, rainy day. But pakoras aren't just a favourite among adults kids are equally fond of it too. A fresh, hot plate of pakoras and glass a cola is all a kid needs to be happy.
Ingredients:
½ cup besan or gram flour
¼ cup rice flour or corn flour
Salt as needed
½ tsp carom seeds or ajwain
3 green chilies chopped
A handful of mint or pudina
1 tsp ginger garlic paste
½ tsp garam masala powder
Oil
1 medium carrot (small pieces)
¼ cup capsicum
1 cup cabbage shredded
1 medium onion thinly sliced
6 french beans
How to prepare:
Wash the vegetables and cut into thin strips.
Add them in a bowl with ginger garlic, chilies, salt, green chilli, mint and other herbs and masalas.
Mix well and gently squeeze them to get rid of excess moisture. Set aside for 10 mins.
Add flour along with ajwain, mix well and make a dough.
Heat oil in a pan and drop small tennis ball sized bits of the mixture into the boiling oil.
Fry for a few minutes and serve.
#11. Pide from Turkey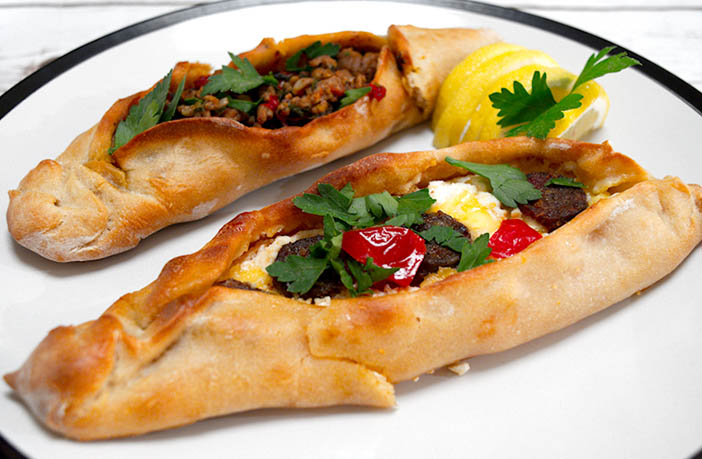 "Pide" pronounced as Pee-day is definitely going to be your child's new favourite snack. It's a pizza like flatbread with toppings and it isn't difficult to recreate at home. You can choose your own toppings and herbs or simply follow this easy but mouthwatering recipe
Ingredients:
For the dough:
350g all-purpose flour
4 tsp instant dried yeast (2x 14g packs)
1 teaspoon sugar
250ml lukewarm water
A few tablespoons of olive oil
1 tsp salt
For the filling:
1 Tbsp olive oil
1 onion, diced
4 cloves garlic, peeled and minced
500g button mushrooms, finely chopped
2 tomatoes, peeled and diced
1 Tbsp tomato paste
1 small red chili, finely chopped - optional
2 tsp smoked paprika
1 tsp ground cumin
Salt and ground black pepper, to taste
Parsley, chopped
⅓ cup cheese of your choice
Also read:
10 Healthy Soup Recipes For Babies & Toddlers
How to prepare:
Preheat the oven to 180C/350F.
Add the yeast and sugar into a bowl. Pour in the lukewarm water and let them dissolve, mixing with your fingers, not with a metallic spoon. Set aside.
Combine the flour and salt in a large bowl. Make a hole in the middle and pour the olive oil and half of the yeast mixture.
Start mixing with your hands. Add the rest of the yeast water and start kneading.
Knead for 5 minutes, until you get a soft, elastic dough. If it's too sticky, add one more tablespoon of olive oil and a little bit of flour.
Place it in a bowl, brush with some oil and cover the bowl with a plastic wrap. Let it rise in a warm place - about one hour. It will double in size.
Meanwhile, make the filling.
Heat the oil in a large pan. Saute the garlic and onion for 2 minutes, then add the rest of the ingredients. Saute for 10 more minutes. Let it cool and wait for the dough to rise.
Once the dough is ready, place it on a lightly floured work surface. Start kneading it for one more minute and divide it into two balls.
Roll each ball in an oval shape - about 40cm long and half as that in width. It should be half a centimeter thick.
Repeat for the other ball.
Line an oven tray with baking paper and place them on it.
Spread the filling over them, making sure you leave a 2cm border. Fold the sides, giving it a boat shape. Make it pointy also, so it will look authentic.
Brush the pide with some olive oil and bake them for 30 minutes, until they turn golden.
Want to share your experience as a mom with other moms through words or images? Become a part of the Moms United community. Click here and we will get in touch with you
null
null