Nowadays social media is the prefered mode of communication. Everyone shares their feelings with their loved ones using social media handles such as Facebook, Twitter and Instagram. Letters are a great way to convey your emotions and feelings if you can't speak to a person face to face or the other person is away.
Producer, Director, Anchor Karan Johar wrote a very emotional letter to his twins – Yash and Roohi. Karan became a father in February 2017 via surrogacy. He wrote this letter and read it out on the Television show TED Talks India, which is hosted by none other than SRK.
Checkout– What Karan Johar has to say about Premature babies care
The letter said, "As you grow up, people will try to label you according to colour, looks, religion, popularity, and money. People will gossip about you, but know that no one can label you. Just because you are different, it doesn't make you wrong. You may be treated differently in school; mothers of your classmates will come to drop them, but you will have your father to take care of that. While most of your classmates' mothers will make a WhatsApp group to discuss your homework, I will be the only father in it."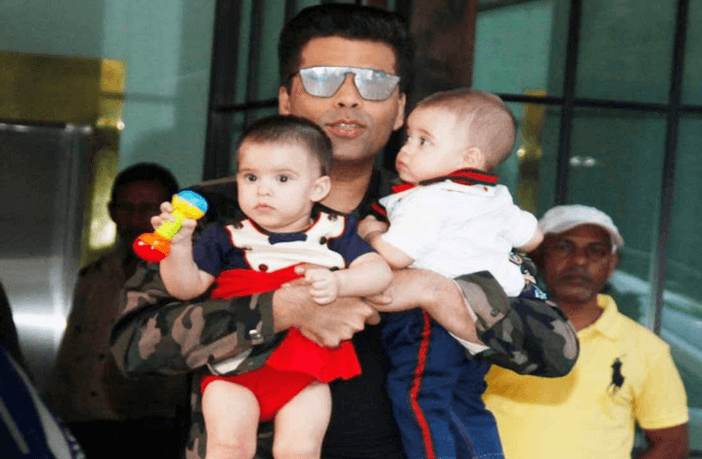 Image Source: Youtube
Also Read: Parenting Lessons from Bollywood Celebrities
Earlier in August 2017, Karan had penned down another letter in Vogue, which read,
"Dear Roohi and Yash,
I was 44-years-old when you were born to me, and almost immediately you made me as sentimental as a Hallmark greeting card. I spout clichés on how magical the two of you are, how you have filled the vacuum in my life and how you made my house a home, but it's true.
You've changed my life completely, and I'm not complaining. I worry a lot more than I ever did—I have these strange thoughts about my insurance premium, my will, even the division of my assets. I stay awake some nights wondering who I can appoint your guardian if something happened to me.
For now, for me, thoughts of what or who I'd want you to be are a long way off—instead, my survival and longevity have taken on a new importance. It might sound selfish but it's my immediate instinct, to be there for you as long as I can, no matter what. Do you want to know the first thing I did when you were born? I started going to the gym and got myself a nutritionist. All to get healthier, so I'm around. I'm aware that the one thing I can give you, that I owe you, is my life. So when I think of what dreams and aspirations I have for you, my first dream is that I'm there long enough.
Most people underrate the gravity of the decision to bring a child into this world. It's considered a part of regular life—you get married and procreate. It's simply the done thing. But in today's day and age, filled with urban angst and crazy schedules where one is barely able to handle their own life, bringing a new life is a big decision. It felt instinctual, I just knew I was ready—to nurture you in the way that I knew best.
Parenting advice is available in every nook and cranny—from what formula milk to how you should be burped. There were aunts and uncles who would extol the virtues of an ergonomically designed cradle and others who would wax eloquent on the degree of softness that your baby pillow should possess. I listen to everyone's advice, but as a single father I've had to find my own path, my own way of being your dad. I am learning to rely more on my instincts and I'm learning to accept the fears, apprehensions and insecurities that come with being a dad.
I've already started imagining things like your first day at school, your first words and even your first acknowledgement of me. To tell you the truth, every single day I whisper 'papa, papa, papa' into your ears because I'm petrified that your first words will be in Malayalam (all our four nurses are from Kerala)!
My second dream of what I wish for the two of you is, strangely, a reaction to all those who will ask us: "Will your kids take your legacy forward?" My father never forced me to do what I'm doing. In fact, he did not want me to do what I'm doing. He wanted me to branch out of the industry, so, likewise, I don't want you to do what is expected just because I have a company and have built a legacy. You don't have to take my company forward if you are not inclined towards the film business. Instead, I wish that I bring you up to become people who are fiercely independent in your choices, opinions and your individual lives. The legacy, if any, I want to pass on is the independence that I was given.
Earlier this year, I attended a session with Sadhguru, and he said something beautiful that stayed with me. He said he brought up his daughter by imparting to her no knowledge. He didn't teach her anything—whatever she learned was from the environment around. That's what I want my children to do. I don't want you to conform to the knowledge that is available.
So, my third hope for you is that you never feel the need to conform to convention. I wouldn't want you to be religious because you are told to be so, or turn to spirituality because it's the cool thing to do. I don't want you to do what people think is right. I want you to grow and acquire your own beliefs. I don't think there's a rulebook I can follow to take care of you, but I do believe that if I have my own strong value system, it will be imbibed into our home (and our lives), organically.
Lastly, I don't know how much of your journey I will be around to witness, but it's important for you to do just one thing—remember. I always remember what my father did and who he was. I live with my mother and I love seeing what she says and what she doesn't. I want you two to eventually remember it all.
Love,
Papa
You might also like: 7 Bollywood Celebs who opted for a Late Pregnancy
These heartfelt letters by Karan show his love and concern for his kids and how he wants to give them the best as a single parent. He is a very protective father and an inspiration for all the dads. His letters display all the emotions a father experiences upon the birth of his kids and unlike most men, he chose to express himself and shared it with the world!
Want to share your mommy experience with other moms through words or images? Become a part of the Moms United community. Click here and we will get in touch with you
null
null