Is your child getting enough protein? How much protein does your child need?
" I make sure my child eats till his/her stomach is full "
" Main usse pet bhar k khana khilati hai but i don't know why his/her growth is not proper"
In literal terms, i get to hear this almost everyday from every other mother.
There is a difference between filling up stomach with food and filling up stomach with balanced food!
Do you know what is your stomach size? Fold your palm, that's the exact size. Now check your child's stomach size, its much smaller than you think!
If you fill up that stomach with unwanted food, there remains no space for good food which results into malnourishment.
I understand, there are many " what should I do" remains unanswered.
What is the most important nutrient which you forget to add to your child's food?
PROTEIN.

Also Read: How much calcium does your baby need (with food chart for 6 months to 3 years)
It's very important to ensure that your child eats proper nutrition for proper growth and development. We all roughly focus on a balanced diet but somehow the required dietary intake of that nutrient isn't reached.
Why Do Kids Require Protein?
#1. Helps In Building Muscle
Proteins are essential for building, maintaining, replacing tissues in the body.
#2. Helps In Boosting Immune System
It is made up of proteins hence low dietary protein will leave to low immunity which will make your kids fall sick again and again.
Kids grow faster than adults do hence the protein requirement for kids is on the higher side.
#3. Helps In Cell Growth
Proteins help in growth and regrowth of cells.
It helps in repairing hair, skin, nails.
#4. Helps In Production Of Hemoglobin
Protein is the part of 'Hemoglobin' which helps in carrying oxygen to all parts of the body.
How Much Protein Does Your Child Need?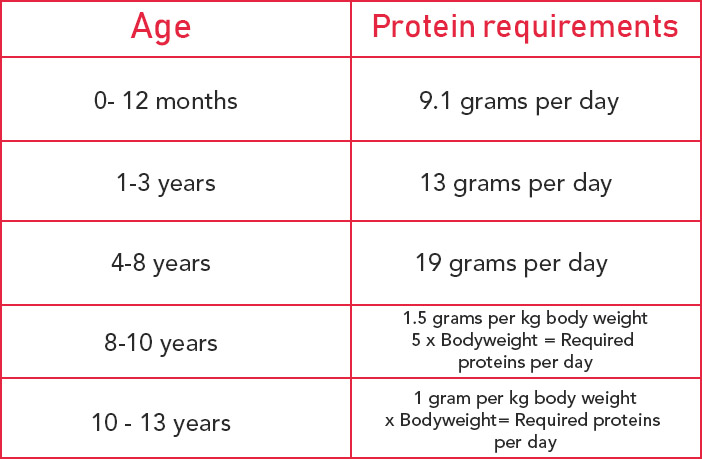 After asking yourself how much protein does my child need, I am sure your next question would be, how will you know that your child is reaching the daily protein requirement?
Also Read: 21 Weight Gain Foods for Babies
I have summarized the most common protein sources in this chart with their approximate protein content : (Hope this helps!)
FOOD SERVING SIZE PROTEIN CONTENT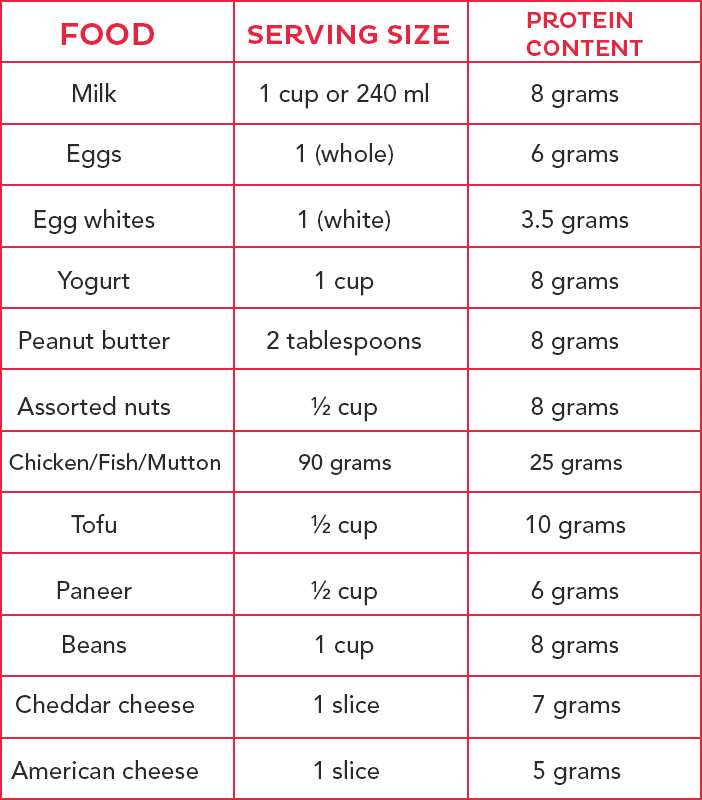 For infants, breast milk multiple times a day completes the protein requirement for the day for an infant. For kids below 3 years, it is advised to consume milk and protein requirement with the same can be easily maintained. For kids above 3 years, combinations of above food items with other nutrients will help in reaching the daily protein requirements easily. Balanced diet is what is required here.
Also Read: 31 Healthy Recipes Using Weight Gain Foods for Babies and Kids
Sample Chart For Toddlers Between Age 2-3: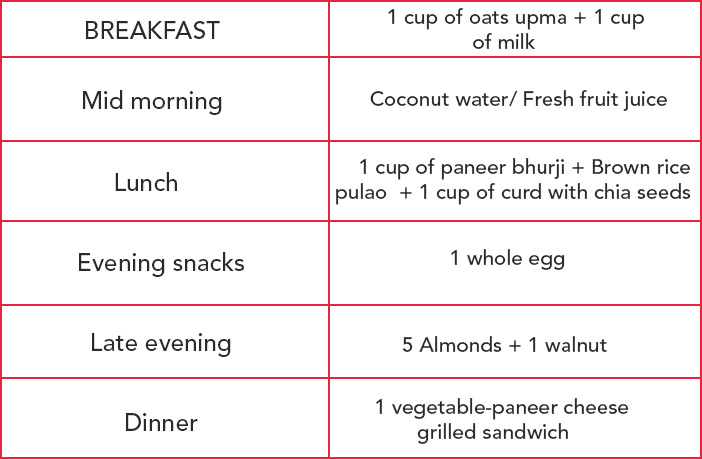 Let's work on boosting health, boosting immunity! With such a precise list, I hope moms will no longer worry about their child's daily protein requirement!
Want to share your mommy experience with other moms through words or images? Become a part of the Moms United community. Click here and we will get in touch with you
null
null