We are always in a hurry and want everything to be instant. We have got into the habit of eating a lot of junk food which is available quickly but it isn't very nutritious and may also be preserved using various chemicals. In spite of the fact that they are more harmful for the body, we do not bother about our health a lot. However, when it comes to babies, a mother can go to any length to ensure that her baby is getting adequate nutrition and homemade cerelac (Sathu Maavu) can certainly come to the rescue.
Parents tend to choose all natural products when it comes to children. New born babies are susceptible to infections and allergies from commercial products and may develop unnecessary digestion risks. The cerelac available in the market is definitely very easy to prepare but does it contain all the nutrients? The boxed cereal for babies may appear very nutritious for babies but they should not be the first choice for your babies. We do not know what chemicals go into preserving them and how well they are stored.
Did you know you can make cerelac for your baby at your own home? With this easy recipe from daily use ingredients, you can easily whip up your own flavor of cerelac and feed your baby in no time. Homemade cerelac is also known as sathu maavu traditionally and is one of the most nutritious foods you can give to your child.
Also read- 21 Weight Gain Foods for Babies
How To Make Homemade Cerelac?
Ingredients
Method
Soak all the ingredients in water in separate containers for 8-9 hours.

Now dry all of the ingredients patiently.

Roast all the dry ingredients.

Roast the rice till they become puffy.

Roast the dal and wheat dalia till they are golden brown in color.

Roast the sago and grams till they are crispy.

Roast the almonds and cashew nuts till they start giving an aroma.

Roast the corn till they are golden brown and crackle.

Put all the ingredients in a mixer blender and grind them all till they have a powdery texture.

Sift the flour to ensure it is finer.

You can store this flour in an airtight jar for 4-6 months and use as and when required.
Also read: 5 Homemade Cerelac Recipes For Babies
To Prepare Sathu Maavu
Add two tablespoons of water into the mixture and make sure there are no lumps.

Cook the mixture on a slow flame for about 10 to 12 minutes.

You can also add some almonds, cashew (powdered).
Note: Dry fruits powder should be added after 10 months of age.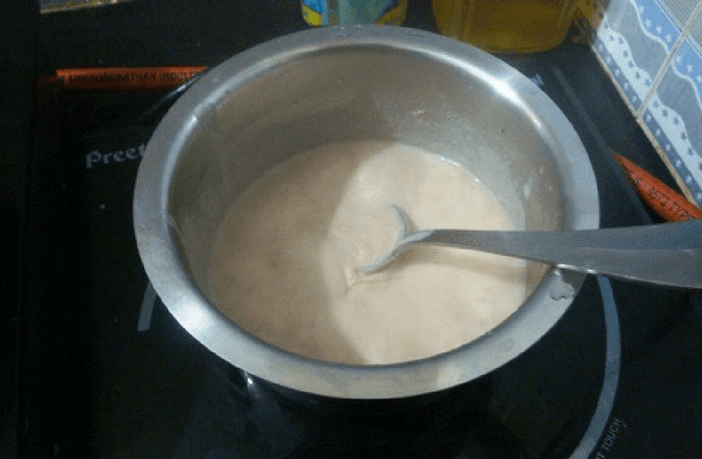 Also read: 10 Recipes Using Sweet Potato for Baby Weight Gain
Homemade Cerelac Recipe Video
Benefits Of Homemade Cerelac For Your Baby
#1. Fresh And Preservative-Free
The ingredients are fresh and fortified with minerals like irons and calcium which is a major necessity for a growing healthy baby. It is completely preservative-free and this gives immense satisfaction to the mother when she feeds her child a healthy meal.
#2. Helps To Regulate Baby's Bowel Movement
The wheat dalia is an essential means of carbohydrate which is the building block for the baby. It will also regulate the bowel movements of the baby very methodically. Proper hydration is required before and after feeding the baby so that digestion occurs in a very smooth process.
#3. Can Be Stored
Homemade cerelac can be stored in fridge up to two days. Make sure you warm the food to a gentle temperature.
#4. No Need To Give Commercial Milk
Many mothers choose to avoid commercial milk, as it contains several non-digestible elements which becomes difficult for the baby to digest leading to constipation so homemade cerelac is the best option for them.
#5. Helps In Gaining Weight
This is the best way to make your child gain some weight. It contains all the essential nutrients and is very filling. It also helps to boost the baby's immunity.
#6. Is Appealing And Can Be Customized As Per Baby's Liking
Adding fresh colorful fruits to the cerelac makes the food look very interesting and also adds to its nutritive value. Hence, when a baby sees a red apple and a yellow piece of mango, they tend to get excited, making them eat the entire bowl of cereal. Force feeding a baby is never an option because they might throw up on your nice shirt if they have to.
Also Read: Read the Benefits of RAGI AS A SUPER FOOD for your Baby
#7. Easy And Quick To Prepare
It can be easily prepared at home within a few minutes.
#8. Helps To Avoid Allergies
If your baby is allergic to a commercially bought cerelac, you would have to stop using that cerelac brand. However, in case of homemade cerelac, you can omit the use of one ingredient at a time and check which ingredient is actually causing the allergy and stop using it.
Hence, with such a simple recipe you can feed your baby with no extra effort at all and forget about the store bought cereals.
Want to share your mommy experience with other moms through words or images? Become a part of the Moms United community. Click here and we will get in touch with you
null