Kids are super-active and need frequent tit-bits of snacks to keep them energized through the day. These between-the-meals snacks are therefore, an essential part of your little ones' growing up days.
The real challenge, however, is to make these snacks as nutritious as possible, without compromising on the taste. We are here to tell you that these healthy snack ideas for kids can be delicous as well.
Most mums spend considerable time and effort on the three main meals of the day. As a result, it is normal if you do not want to get into elaborate preparations for snacks on a daily basis. We have therefore come up with a list of 11 delicious and easy snack recipes for your children to try out.
This list is divided into quick-assembly snacks, pre-prepared snacks, and cook-and-serve snacks. It is carefully compiled keeping in view the importance of healthy snacking and mommy's time at hand. This list caters to every mother's desire to whip up something for the kids that is tasty, nutritious, and less time-consuming. So here goes!
Also read-21 Weight Gain Foods for Babies
Healthy Snack Ideas for Kids
These healthy snack ideas for kids are easy to prepare. With just a little bit of weekend planning, you will be sorted for the week ahead. Once you have prepped and stocked on the ingredients in advance, these simple, no-brainer snacks can be assembled in a jiffy, even by your kids.
#1. Popcorn Snack Mix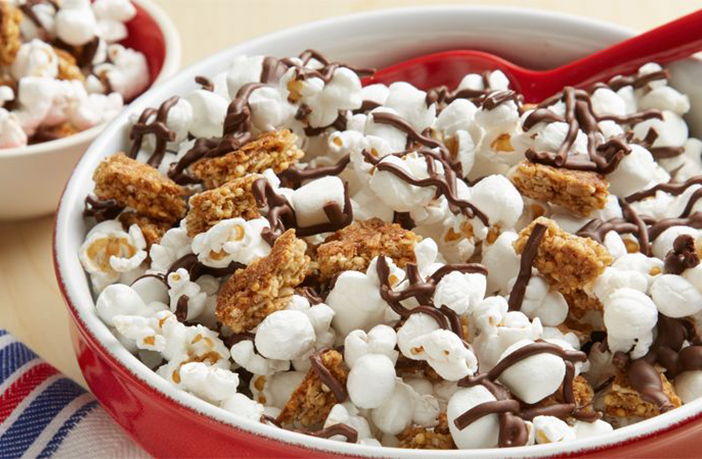 This is a nutritious nutty mix tossed together to lend your child a delicious mix of their favorite popcorn with yummy nuts, dried fruits, and seeds. Popcorn is a rich source of dietary fibre and complex carbohydrates.
It aids digestion and is a fat-free snack that is filling for the child. Nuts and seeds are loaded with minerals such as calcium, iron, zinc, and magnesium. Dried fruit offers an array of vitamins to the little ones besides making the snack yummy and exciting.
Ingredients
Popcorn – 1 large bowl

Sunflower seeds

– 50 g

Roasted and salted Pumpkin seeds – 50 g

Whole grain cereal – 50 g

Peanuts – 50 g

Baked peas – 50 g

Baked chickpeas – 50 g

Banana chips – 50 g

Sweet Murmure – 50 g

Bhel mix – 1 bowl

Gur chana

– 50 g

Chopped Almonds – 10-12

Chopped Pistachios – 10-12

Walnuts – 10-12

Raisins – 10-15

Dried fruit mix

with fruits like berries, guava, papaya, mango, and apple – 1 bowl
Directions
Mix all these ingredients together in a large bowl and store in a see-through container. These quantities should last you a week. Whenever your little one is hungry and you are short on time, give him a bowl full of this mix. While you will be assured, he is having something nutritious; he will be happy to treasure hunt for treats in his bowl.
#2. Sprout Chaat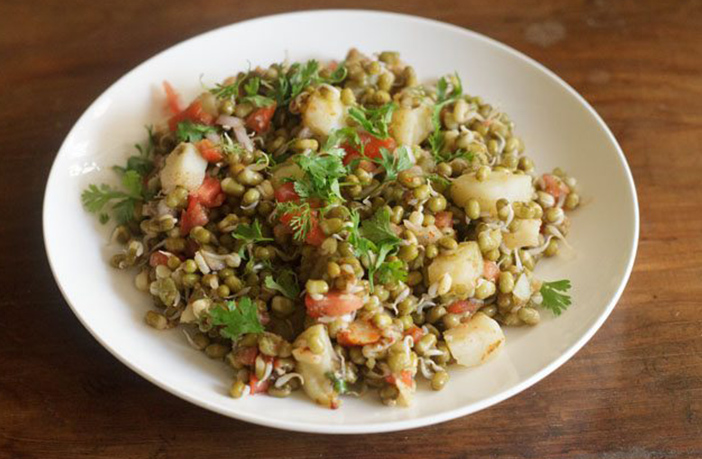 This satiating snack is very nutritious for your little ones. Just stock up on the fruits and prepare your mixed sprouts in advance. Sprouts can be refrigerated for a week without going bad.
Sprouted legumes are power packed with proteins and vital minerals such as calcium, phosphorus, potassium, and magnesium. They are also rich in vitamins and make a wholesome food.
Ingredients
Whole moong daal sprouts – 1 bowl

Whole moth sprouts – 1 bowl

Black gram sprouts – 1 bowl

Chopped tomatoes – ½ bowl

Chopped grapes – ½ bowl

Boiled, peeled, and cubed sweet potato – ½ bowl

Chopped guava – ½

Chopped kiwi – ½

Chopped orange – ½

Chopped apple – ½

Chopped cucumber – ½ bowl

Lemon juice – 2-3 tsps.

Salt and pepper – to taste
Directions
Keep your sprouts in the refrigerator and take out a portion only when you need to prepare the bowl of snack for your children. Mix all the ingredients together in a bowl garnish with lemon juice, salt, and pepper. You can also use chaat masala if your child is not prone to the cough. Your kiddos are sure to love this delicious mix.
#3. Fruity Yogurt Delight in a jar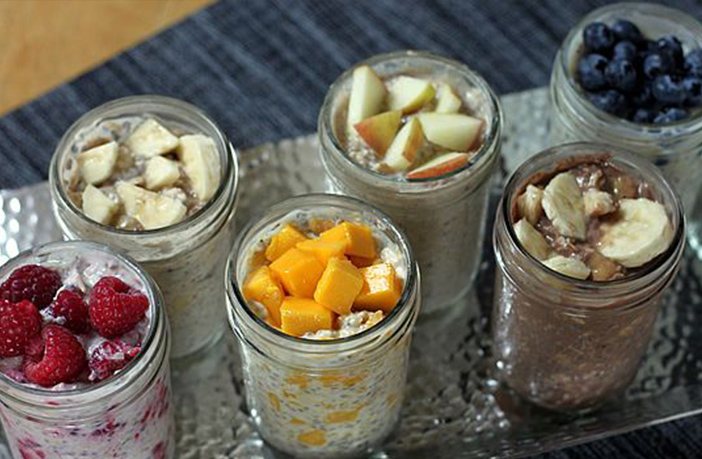 This calcium and vitamins rich snack comes packed with the yummy goodness of yogurt and fruits. Yogurt is excellent for gut health and aids digestion, as it is a probiotic. You can even teach your kids to put together this snack for themselves and take it up as a weekend family-time activity. You can add variety by experimenting with different ingredients in this all-weather recipe.
Ingredients
Yogurt – 1 bowl

Oat cereal chunks

or any cereal of your kids' choice

Chopped strawberries – 2-3

Chopped banana – 1

Raisins – 5-6

Dried berries – 5-6

Chopped Kiwi/Mango chunks – depending upon the season

Honey – 1 tsp. (optional)
Directions
Take a Jar/deep bowl to layer up your snack in.

Start by putting a layer of oats cereal and dried berries at the bottom.

Top it with two to three spoons of yogurt.

Next, add the bananas.

Again, add a few spoons of yogurt.

Layer it with strawberries and oats cereal again.

Now add another layer of yogurt.

Top this layer with chunks of mango or kiwi fruit.

Cover it a again with yogurt.

Drizzle with a teaspoon of honey for added flavor and serve with a spoon.
Pre-prepared snacks
These are snacks that you can cook over a weekend and store in containers. They are perfect for that on-the-go snacking for the whole family. These snacks make great kids' tiffin add-ons and are good after-playtime munchies. You can also serve them with milk early in the morning, before school or use them as takeaways for a picnic.
#4. Banana, Berry, Oats Muffins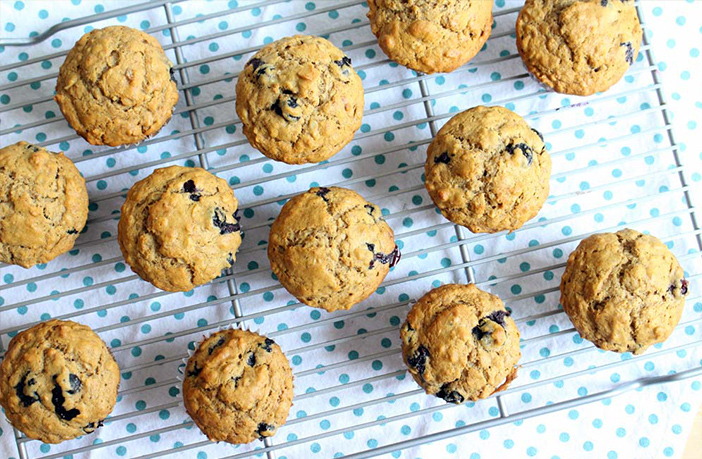 These muffins are super-delicious and very filling. It is not easy to guess that they are made from all-healthy ingredients. Rich in fibre, iron, and antioxidants, these muffins are absolutely sugar free and therefore, are great for mommies as well.
Ingredients
Oats – ¾ cups

Whole-wheat flour – 1-¼ cups

Blue berries or cranberries – 1 cup

Eggs – 2 large

Yogurt – ½ cup

Ripe mashed bananas – 2

Cinnamon powder – 1 tsp.

Honey – 6 tbsp.

Vanilla extract – 2 tsp.

Baking powder – 1 tsp.

Baking Soda – ½ tsp.

Choco chips – ½ cup

These ingredients make 12 large or 20 medium size muffins
Directions
Pre-heat the oven to 180

0

C.

Grease the muffin tray with oil and line it with muffin moulds.

Take a mixing bowl and beat the eggs lightly till fluffy.

Now whisk the yogurt into it.

Add the mashed bananas, cinnamon, honey, and vanilla essence. Beat until smooth.

In a separate bowl, sift the flour, baking powder, and baking soda together.

To this dry mixture, add the oats.

Now spoon by spoon add the dry mixture to the wet mixture in the first bowl and keep beating lightly.

Fold in the choco chips and berries and stir gently.

You can now spoon the batter into the muffin moulds, filling them almost to the top.

Bake at 180

0

C for 20-25 minutes or until the tops of the muffins turn golden brown.

Perform a toothpick test to confirm that the muffins are baked properly.

Take out of the oven, cool on a rack, and store in a dry container.

These muffins can easily last a week in the refrigerator. You can make more batches using multiples of the proportions mentioned above.
#5. Baked Apple, Cinnamon Pie Sticks with Strawberry Sauce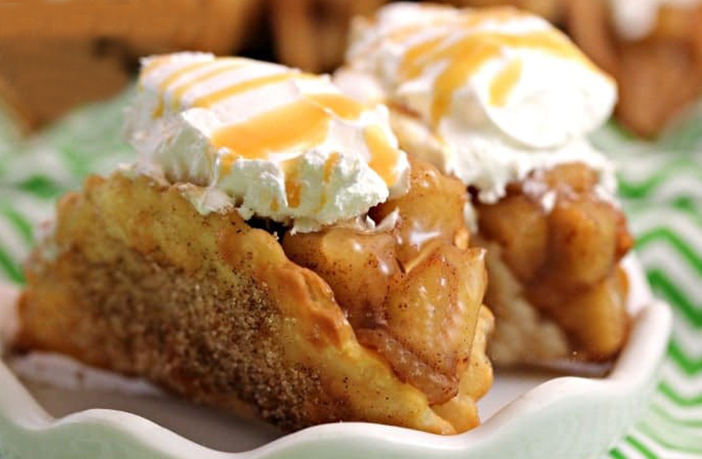 Image Source: spend with pennies
This yummy recipe incorporates the goodness of apples and makes your house smell of delicious cinnamon for days. Use whole-wheat flour instead of maida, to prepare the dough and you have a nutritious snack on your plate. Apples are a rich source of Vitamin A. The strawberries for the sauce offer immunity boosting antioxidants and together they make a snack that is yummy and filling for the kiddos.
Ingredients
For the applesauce:
Apples – 2 large

Cinnamon powder – 1 tsp.

Water – 3 tbsp.

Butter – 2 tbsp.

Brown Sugar – 1/3 cups

Lemon Juice – 3 tbsp.
For the pie crust:
Whole-wheat flour – 1 cup

Melted butter/olive oil – ¼ cup

Coarsely ground brown sugar – ¼ cup

Warm Water – as needed to knead the dough
For the strawberry sauce:
Strawberries – 200 g

Brown Sugar – 100 g

Lemon juice – 1 tbsp.

Water – 2 tbsp.
Directions
For the applesauce:
Peel and cut the apples.

Melt the butter in a pan.

Add the apples, cinnamon powder, sugar, and water to it.

Let the mixture cook until the apples soften.

When it is half done, add the lemon juice.

Cook rest of the way.

Take it off the flame and let it cool.

For this recipe, the apple mixture needs to be of flowy consistency so that it can be spread easily.

Blend the mixture in a food processor to get the right consistency and store in a jar.

Refrigerate for use over the next 15 days to 1 month.
For the pie crust:
Take a bowl and put the flour in it.

Dig a pit in the centre and pour the melted butter in it.

Using your forefingers, gently rub the butter into the flour till it mixes completely and you have a crusty consistency.

Now add the sugar and knead that in using the barest minimum water.

After you are done, the dough should be able to hold together, but it should not be stretchy.

Gently knead to finish.
For the strawberry sauce:
Take a pan and put the water in it.

Put the pan on the flame and pour in the rest of the ingredients.

Let the mixture slow cook.

Keep stirring regularly to prevent the mixture from sticking to the base of the pan.

Your sauce is ready once the strawberries are soft and mushy and the sugar syrup has thickened.

You can either blend it into a fine paste or use it as it is.

Store in a dry, airtight jar in the refrigerator.
Procedure:
Pre-heat the oven to 180

0

C

Line your baking tray with a

baking sheet

.

Divide the dough into two parts and roll them out separately using a rolling pin.

Take one layer and spread it generously with the applesauce.

Now cover this up with the second layer.

Cut out thin sticks, 2-3 inches in length using a knife.

Layout these sticks on the baking sheet and set the oven at 200

0

C.

Bake for 20-25 minutes or till the top layer turns golden brown.

Cool on a rack and store in an airtight container.

You can serve it with the strawberry sauce.
#6. Dates and Almond Chocolates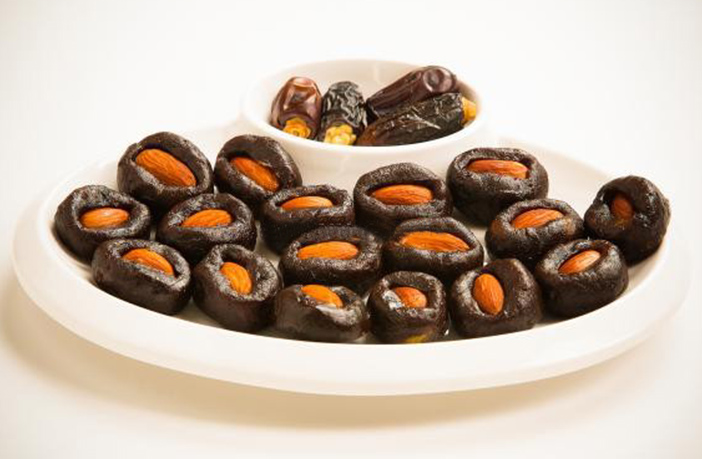 When your kids ask for chocolates, you can happily give them these super nutritious delights. Dates are a rich source of Vitamin B6, magnesium, and copper. They boost immunity and offer healing benefits to the body.
Almonds contain Vitamin E and Vitamin B2. They are great for the skin, hair, and eyes. Almonds also enhance brain function and memory retention. Handout these bite-size snacks as quick energy boosters for the four o'clock hunger, just before playtime.
Ingredients
Directions
Break the dark and white chocolate bars into smaller chunks and put them together in a glass bowl.

Place this bowl in a double boiler, on medium flame, to melt the chocolate.

Keep stirring occasionally to mix evenly and prevent the chocolate from burning.

Meanwhile, deseed the dates by pulling out the seed from one end. Make sure you do not break or tear the dates.

Now, in place of the seed, insert one, whole, salted almond inside every date.

Insert a toothpick each into all the

dates

.

Once the chocolate has melted pick up the dates from the toothpick and dip them in the chocolate one by one.

Make sure that the whole date is well covered. Roll to shed off the extra chocolate.

Stick the toothpicks in a big ball of dough so that they stand and the chocolate gets ample time to dry and set around the dates.

Once done, remove the toothpicks and wrap in foil to preserve.
Also Read: Benefits of dry fruits for Kids in winters (10 Recipes included)
#7. Baked Sweet Potato Chips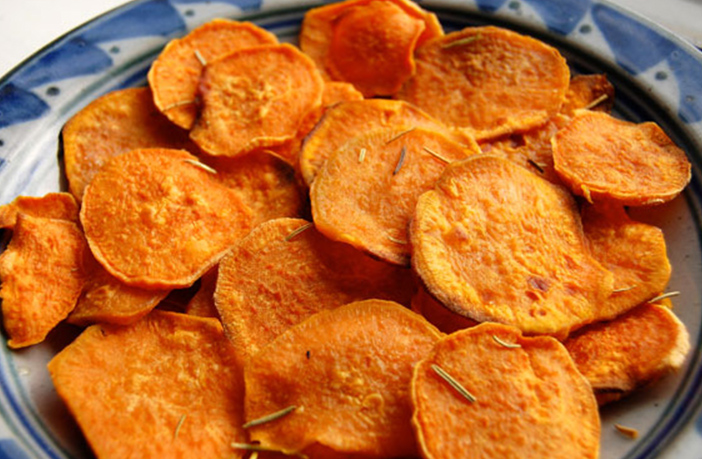 Image Source: paleo grubs
Sweet potatoes are necessary to include in your little one's diet. Packed with multi-nutrients, vitamins, minerals, healthy carbohydrates, and antioxidants, they boost immunity and help in healthy weight gain in children.
Ingredients
Directions
Wash and peel the sweet potatoes.

Carefully cut them into thin slices. The thinner the slices the better will be the chips.

Lay the baking sheet on a baking dish.

Pre-heat the oven to 180

0

C.

Arrange the chips individually, on the baking sheet.

Use a brush to glaze them with olive oil.

Sprinkle the seasoning and salt.

Put inside the oven, on a wire rack, in the middle shelf, to bake at 120

0

C for 20 minutes.

Flip the chips halfway through and continue to bake for the remaining 10 minutes.

When done, the chips should be crisp and golden brown on the edges.

Cool and store in an airtight container.
#8. Multi-grain Chocolate Chip Cookies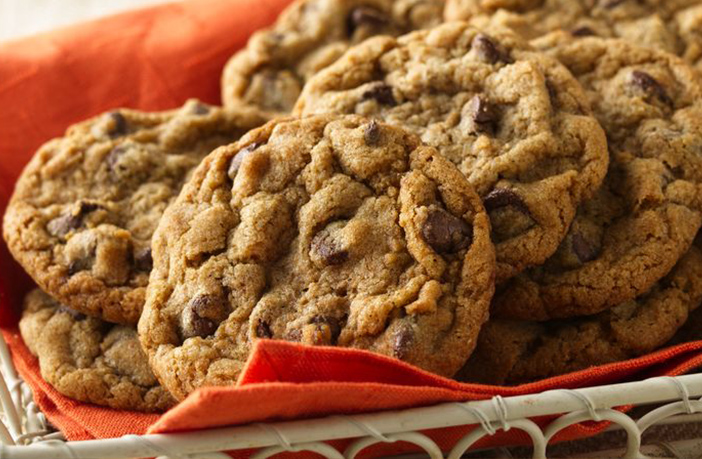 Chocolate chip cookies are every little one's favorite. What if you could lend them a healthy twist? Here is a simple recipe to make the most delicious chocolate chip cookies with the goodness of oats.
These cookies are so nutritious; you can give them as a filling milk accompaniment before school. Your kids will love to dunk the cookies in warm milk and enjoy their chewy goodness.
Ingredients
Dark chocolate chips – 1 cup

Whole-wheat flour – 1-½ cup

Rolled oats or mixed cereal muesli – 2 cups

Brown sugar (packed to the top) – 1-½ cups

Unsalted butter (softened) – 1 cup

Egg – 1

Chopped walnuts – ½ cup

Vanilla essence – 1 tsp.

Baking soda – 1

Salt – 1 tsp.
Directions
Preheat the oven to 180

0

C.

Take a large bowl and mix the butter and sugar together in it until they blend well.

Now stir in the egg and the vanilla essence. Beat them together until the mixture becomes fluffy and light.

Add the oats, baking powder, wheat flour, chocolate chips, and salt. Mix well.

Take a greased cookie sheet and line your cookie tray with it.

Now take a tablespoon and use it to pick up the dough and drop it on the cookie sheet. Make sure to place the cookie dough dollops 2 inches apart from each other.

Place the tray in the oven and bake at 180

0

C for 10-15 minutes depending upon your oven. When the cookies turn golden brown on top, they are ready.

Remove the cookies from the sheet and place them on the wire rack to cool down.

Serve or store once the cookies have cooled completely.
You might also like: Colic: symptoms, reasons and home remedies to treat the colic in babies
Cook and serve snacks
These snacks are best made when you have time at hand and want to use your cooking skills creatively. Although, these snacks do not take much time, they must be cooked and served fresh for great taste and maximum nutritional benefits.
#9. Stuffed Oats Idlis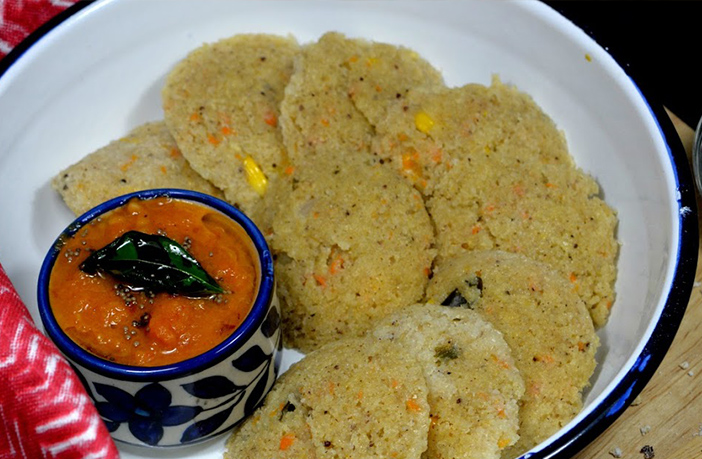 These oats idlis are light and delicious. They provide multiple benefits to your child. They are made from fibrous oats and contain protein-rich pulses, probiotic curd, as well as, vitamin rich veggies. Watch your child gobble them up and ask for more.
Ingredients
Oats – 2 cups

Sour curd – ½ litre

Mustard seeds – 1 tbsp.

Finely chopped chillies – 1 (optional)

Finely chopped coriander – 2 tbsp.

Grated carrots – 1 cup

Urad daal – 1 tbsp.

Chana Daal – ½ tbsp.

Oil – ½ tbsp.

Salt – 2 tbsp.

Eno fruit salt

– a pinch
Directions
Take a fry pan and dry roast the oats on it. Make sure they turn golden brown.

Now grind the oats into a coarse powder in a mixer.

Take it out in a bowl. Add curd, seasoning, and Eno to the oats.

Mix well to get the idli batter-like consistency. Do not add water.

Put aside to rise.

In another pan, add the oil. When it is warm, add the channa daal, urad daal, and mustard seeds to it. Let the seeds crackle and allow the daals to turn into golden brown in colour.

Add the coriander, chillies, and carrots to this mixture. Stir well. Cook for sometime.

Cool this mixture and add to the oats batter. Mix well.

Now grease the idli moulds and pour the batter into them.

Add water in the

idli cooker

or pressure cooker (remove whistle) and place the moulds inside it.

Close the lid and steam for 15 minutes.

Check the idlis by poking a toothpick into them. If the batter does not stick, the idlis are ready.

Serve with homemade coconut or pudina chutney.
#10. Corn and spinach cutlets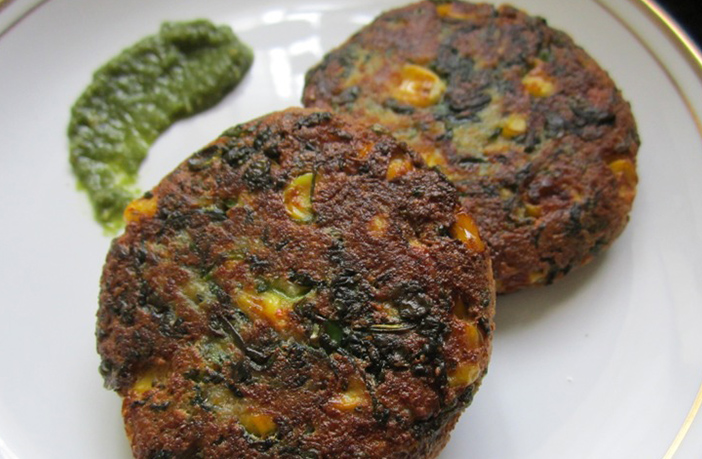 Corn is a rich source of dietary fibre and antioxidants. It aids digestion and builds immunity. Corn also contains phytochemicals, which enhance healthy vision in kids. Spinach on the other hand, is one of the best sources of iron, calcium, and multiple vitamins.
It helps to increase the hemoglobin in the blood and is great for anemic children. However, very few children like spinach. This recipe presents a delicious way to make your child love spinach. Try at home to find out.
Ingredients
Chopped, boiled and drained spinach leaves – 1 ½ cups

Boiled corn kernels – 1 cup

Boiled and mashed potatoes – 4-5

Chopped onions – ½ cup

Amchoor powder – 1 tsp.

Grated paneer – ½ cup

Bread crumbs – 1 cup

Salt and chilly powder – to taste

Oil – for shallow frying
Directions
Coarsely blitz the spinach leaves and corn kernels in a blender.

Take them out. Add the potatoes, paneer, amchoor powder, onions, salt, and chili powder to the mixture.

Mix them well and shape into small cutlets.

Roll the cutlets in breadcrumbs and refrigerate them to set for half an hour.

Take them out and heat some oil in a pan for shallow frying.

Fry the cutlets on medium heat, until they turn golden brown on both sides.

Serve hot with soup as a great evening snack in winters.
#11. Ragi Pancakes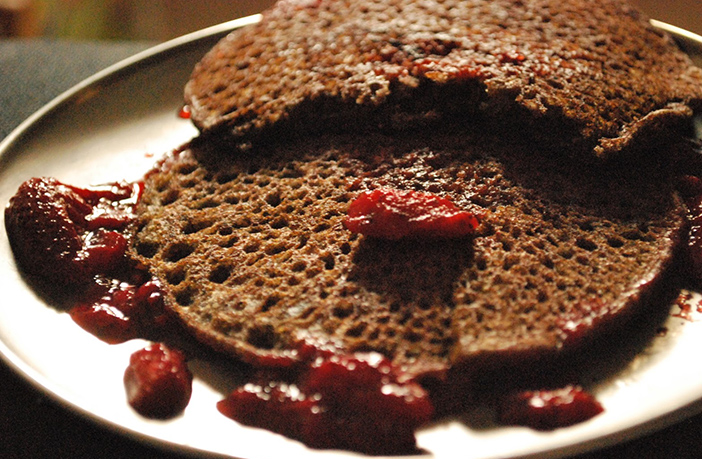 This recipe brings together the goodness of some highly nutritious ingredients. Millets such as Ragi are one of the richest sources of calcium and dietary fiber. Jaggery is rich in iron and helps to relieve constipation in kids.
Bananas again are great for the digestive system and offer wholesome nutrition. Ragi pancakes can be given to babies as young as 8 months old. They make a delicious tiffin time option.
Ingredients
Ragi flour – 1 cup

Jaggery powder – 2 – 3 tbsp.

Mashed bananas – 2

Grated coconut – 4 tbsp.

Powdered cashews – 2 tbsp.

Cardamom powder – 1 tsp.

Ghee – for cooking the pancakes

Salt – a pinch

Water – as needed
Directions
Take a fry pan and put the jaggery in it. Immerse it in water and heat until it melts. Strain it and set aside.

Mash the bananas using a fork.

Add all the ingredients including the ragi and jaggery water to the mashed bananas. Do not add the ghee.

Mix it well to get a paste-like consistency. Add more water if needed. Make sure no lumps are formed.

Heat a flat tawa and pour a spoon of ghee on it.

Spread a ladle full of batter on the ghee and spread evenly to form a circle.

Cook well on one side until it turns brown and crisp. Then flip the pancake repeating the same action for the other side.

Remove from tawa when done. Repeat the process until all pancakes are made.

Serve hot.
Snacking too can become nutritious and delicious at the same time with just a little advance planning. You need not always get into elaborate cooking to ensure healthy snacking. Just prepare some items to store and cook others on the spot to maintain the right balance.
Soon you will discover a manageable system to dish out snacks both you and your kids will love. If you tried any of these healthy snack ideas for kids, let us know which ones your child liked the most.
Want to share your experience as a mom with other moms through words or images? Become a part of the Moms United community, click here and we will get in touch with you
null
null