Pregnancy makes your body work overtime to provide nutrition to you and your growing baby in the womb. The nutrition demands are also high as your body needs a constant supply of energy. When you are pregnant, try these yummy pregnancy snacks.
Healthy snacking during pregnancy is extremely important and useful for you. It not only helps in providing you constant supply of energy but having frequent small meals will help you in reducing indigestion and heartburn during pregnancy. Also, many of the healthy snacks cater to your pregnancy cravings.
But with the growing pregnancy and accompanying fatigue, tiredness etc., it might not be always possible for you to prepare healthy snacks frequently or spend all the time in the kitchen cooking them.

Here are some easy to prepare healthy Indian vegetarian snacks which contain essential nutrients. Some of these snacks can be prepared and stored for 2-3 weeks and some can be prepared in a jiffy with very little effort.
Also Read: 11 Food Items to avoid during Pregnancy
12 Healthy and Yummy pregnancy snacks for munching
#1. Sprouts Bhel
In a bowl, take a cup of moong (green gram) sprouts, add finely chopped coriander, onions and tomatoes. Add some tamarind sauce, chaat masala, amchur (dry mango powder) and salt to taste. Mix it well and top it with sev. Your yummy and healthy snack is ready.
Nutritional Value – Green grams are a rich source of proteins, thiamine, and folates which are required in pregnancy.
#2. Murmura mix/ Churmuri/ Puffed Rice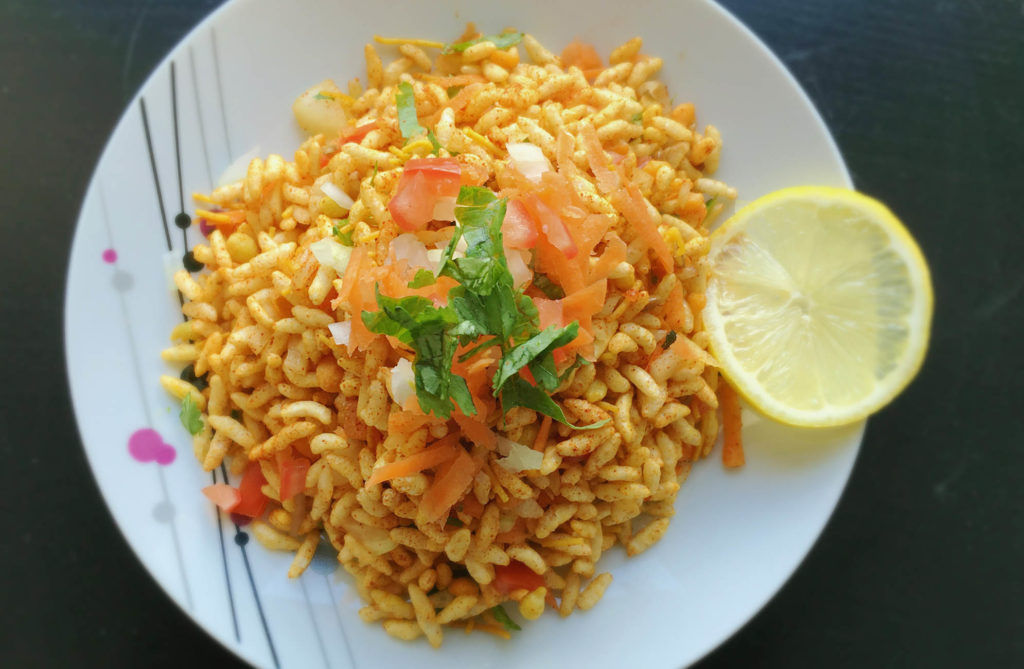 Take 2 cups of unsalted murmura/puffed rice. Add finely chopped onion, tomato, and coriander. If available, add finely chopped raw mango as well. Add salt, red chilli powder and jeera powder to suit your taste. Add 1 spoon of coconut oil and mix it well. Top it with roasted peanuts and squeeze lemon over it.
Nutritional Value – Murmura is an excellent source of proteins and Vitamin B.
#3. Roasted Moong Dal Namkeen/Huruklu
Soak split green gram without skin (Moong dal) in water for 3 hours. Drain all the water and spread the dal on a clean cloth for drying. Once it dries, sauté it in 2 teaspoons of ghee (clarified butter) till it turns golden brown. Alternatively, you can roast it in a microwave.
Add roasted peanuts, thinly sliced and roasted copra (dry coconut), a pinch of turmeric and a pinch of hing (asafoetida). Add salt and chilly powder to suit your taste. This can be stored for 2-3 weeks in an air-tight container.
Nutritional Value – Green gram is a nutritious food rich in proteins and folates. The peanuts and coconut provide essential fats for your body.
#4. Dal Kosambari
This is a classic South Indian nutritious dish. Soak either moong dal or chana dal in water for 2-3 hours. Drain the water. Add finely chopped cucumber, grated carrot, lemon juice and hing. Add salt according to your taste and mix everything well. Garnish with coriander.
Nutritional Value – Cucumber provides relief from heartburn, carrot provides vitamin A and dal provides proteins and Vitamin B.
Also Read: Importance of folic acid during pregnancy
#5. Roasted Masala Papad
Dry papads are available in varieties of shapes and sizes. Take a medium or large size urad dal (black gram lentils) papad and toast in on a girdle. Chop tomatoes and onions finely. Put them in a bowl and add salt, lemon juice, and finely chopped coriander. Mix well.
Spread this mixture on the roasted papad, sprinkle chat masala, and chili powder to suit your taste and serve immediately.
Nutritional Value – Black gram is a powerhouse of proteins and calcium.
#6. Air-popped Popcorn Bhel
Try this recipe if you have a popcorn maker at home. Do not buy the commercially available popcorn packets as they contain high amounts of oil and salt.
Buy dried corn kernels from the supermarket and pop it using popcorn maker. Crush the popcorn gently and add chopped tomatoes, onions, cucumber and coriander. Add tamarind juice, lemon juice, red chili powder, chaat masala, dry mango powder and mix well.
Nutritional Value – Popcorn contains high fiber and good amounts of manganese and magnesium.
#7. Oatmeal
Heat 1 cup of milk along with a cup of water in a saucepan. Add oats to it and keep stirring until the oats become soft. Add sugar or jaggery or honey according to your choice. Top it with fresh fruits like strawberries or apples or grapes. You can also add a pinch of elaichi (cardamom) for taste. Alternatively, you can top your oatmeal with dry fruits like dates, figs, and almonds.
Nutritional value – Oats have a very well balanced nutritional composition of carbohydrates, proteins, and fiber.
#8. Fresh cut fruits/ Fruit Chaat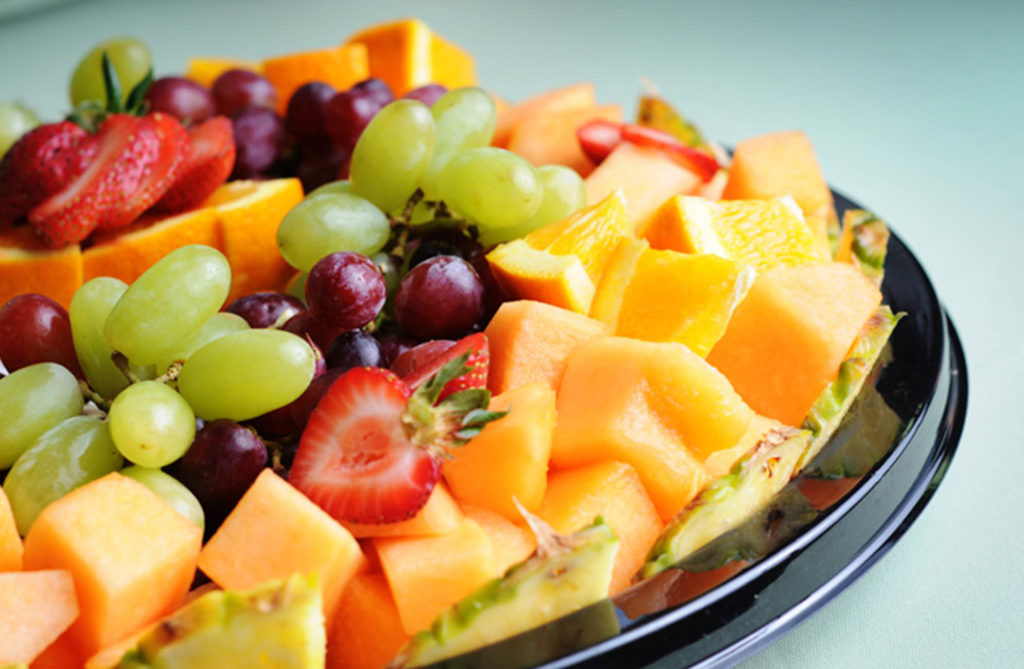 Cut one banana into small pieces, cut a quarter of an apple into small pieces. Mix all these fruits in a bowl. Also, add a half cup of pomegranate and a handful of grapes. Add a pinch of salt, chaat masala, and lemon juice. Mix well and serve immediately.
Nutritional Value – The fruit mix provides various nutrients like carbohydrates, folates, iron etc.
#9. Whole Wheat Khakras
Take 2 cups of whole wheat flour. Add finely chopped methi leaves (fenugreek leaves), a spoon of sesame seeds, a spoon of carom seeds, turmeric powder, chili powder and salt to suit your taste.
Mix all the ingredients well and knead it into a smooth and firm dough. Divide the dough into small equal portions and roll it into a circle using a rolling pin. Heat a concave griddle and cook the khakra on a slow flame till it turns crispy. Store it in an air-tight container for 2-3 months.
Nutritional Value – Khakras are a good source of carbohydrates and are a meal in itself. It gives you instant energy when you are feeling tired.
Also Read: 13 Pregnancy myths and facts
#10. Whole Wheat Sandwiches
Take 2 slices of whole wheat bread. Arrange a slice of cheese, slices of cucumber, tomatoes, and onions on one of the bread slices. Sprinkle salt and some herbs like oregano or thyme. Grill it in a toaster. You can vary the contents as per your choice. You can spread some home-made chutney or pickles on the bread. You can stuff it with lettuce, carrots, corn etc.
Nutritional Value – This recipe is a very good source of healthy carbohydrates. The addition of vegetables makes it more nutrient rich.
#11. Mixed Seeds and Nuts
Though mixed seeds and nuts packets are readily available, they are best avoided as they contain high sodium and sugar.
To prepare it at home, mix a handful of almonds, cashews, walnuts, and pista. Roast sunflower seeds, pumpkin seeds, and watermelon seeds. Add a pinch of olive oil and mix everything together with salt added according to your taste. Store the mix in an airtight container.
Nutritional Value – Nuts and seeds contain healthy fats and many essential nutrients.
#12. Mucchore/Green gram Chakli
The aromatic South-Indian flavour and healthy ingredients make it a must-have snack for pregnant woman. Take 3 cups of rice flour, 1/2 cup of moong dal and ½ cup of chana dal. Dry roast chana dal and moong dal separately and make a fine powder out of it. Mix these powders with rice flour.
Melt 4 tablespoons of butter and pour it on the mixed flour. Add chili powder, sesame seeds, asafoetida, and salt to suit your taste. Using coconut milk, blend all the ingredients into a smooth dough.
Take a portion of the dough and press it into a mould with 3-star press, to make circles. These are called Mucchore chaklis. Heat filtered groundnut oil and deep fry them. Store it in an airtight container for 2-3 weeks.
Nutrition Value – Though it is a deep-fried snack, it is protein packed and folate dense food. The groundnut oil and coconut milk not only adds flavor but also adds essential fats and Vitamin B12 to the snack.
Dear to-be-Mommies, never deny food to your body when you are pregnant. If you feel hungry frequently, it just means that your body needs it. Having frequent and small meals ensures that you keep your body well nourished. What better way than having healthy snacks whenever you want! Enjoy your pregnancy and healthy snacking on these pregnancy snacks!
Also Read: 8 Things to Consider while Choosing the Right Gynecologist for You
Want to share your mommy experience with other moms through words or images? Become a part of the Moms United community. Click here and we will get in touch with you
null
null