Idlis are a very famous South Indian breakfast and are a very healthy meal option. Idlis are steamed, rice pancakes which have huge health benefits. The main ingredients in idli recipes are powdered rice and urad dal powder which can be made by grinding rice and urad dal in a blender. Then the idlis are made by steaming which keeps the nutrients in it intact. Thus they give the benefits of both ingredients and are a wholesome breakfast option.
There are innumerable types of idlis and they can be made in different forms. Once steamed, idlis can also be fried and made into a spicy treat. Usually, all idlis are steamed and this makes for a very healthy option- even for snacking during those hunger pangs. Let's taken a look at some delicious idli recipes.
9 Healthy And Delicious Types Of Idli Recipes
#1. Traditional Rice idli
The traditional idli is served with sambhar and coconut chutney. The key here is to make the batter perfect to make those soft, sumptuous, melting in the mouth idlis.
Ingredient
1/2 cup urad dal (split black lentils)
1 tbsp fenugreek (methi) seeds
2 cups par-boiled rice (ukda chawal)
3 tbsp thick beaten rice (jada poha)
Salt to taste
Method
Combine the urad dal and fenugreek seeds and enough water in a deep bowl and mix well. Cover with a lid and keep aside to soak for 4 hours.
Combine the par-boiled rice and thick beaten rice and enough water in a deep bowl and mix well. Cover with a lid and keep aside to soak for 4 hours.
Wash and drain the urad dal and fenugreek seeds and blend in a mixer to a smooth paste using approx. 1 cup of water. Transfer the mixture into a deep bowl and keep aside.
Wash and drain the par-boiled rice and thick rice flakes and blend in a mixer to a slightly coarse paste using approx. 1½ cups of water. Add this mixture to the urad dal-fenugreek seeds mixture, add the salt and mix very well.
Cover it with a lid and keep aside to ferment in a warm place for 12 hours.
After fermentation, mix the batter well once again and pour spoonfuls of the batter into each of the greased idli moulds.
Steam in an idli steamer for 10 to 12 minutes or till they are cooked.
Once the idlis are cooked, cool them slightly. Dip a spoon in the water and using this spoon loosen the sides of idli and demould them.
(Source: Tarladalal.com)
Also read: 7 Delicious Ragi Recipes That Your Kids Will Love
#2. Beetroot idli
Sometimes children do not want to eat beetroot as a vegetable. Of course, it isn't that tasty. Thus making an idli will give the benefits of both.
Ingredients
Idli batter: 2 cup
Finely grated beetroot – ¾ cup
Method
Mix the idli batter + grated beetroot well.
Heat the steamer with water in it.
Grease the idli moulds with oil and pour enough batter in the moulds.
Keep it for steaming for 8 – 10 mins (don't oversteam)
Allow it to cool for 2 – 3 mins.
Remove it with a knife or spoon.
(Source: maryzkitchen.com)
#3. Spinach idli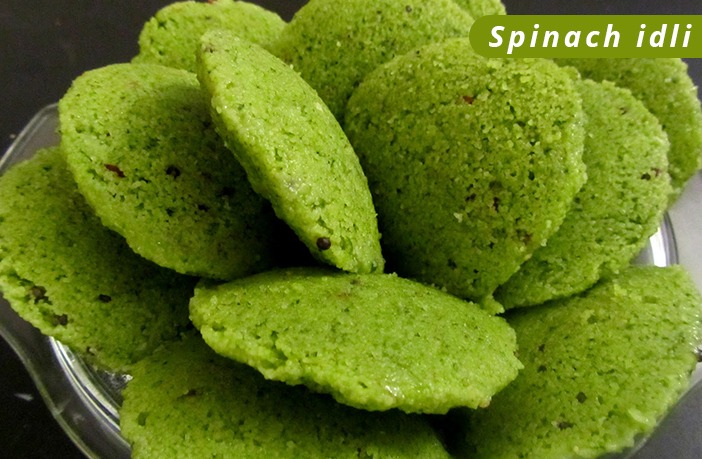 Ingredients
3 cups Idli Dosa Batter
2-3 cups Spinach- roughly chopped
Salt – 1 teaspoon
Red chilli powder – 1 pinch Garam masala powder
Cooking oil to grease
5-6 Cashew nuts, slit (optional)
Method
Blanch them in hot water for 3 minutes. When cooled, puree them in a mixer/blender.
Pour a cup of idli batter in a mixing bowl and transfer the spinach puree into the bowl, and add salt, red chilli powder, garam masala and mix well with a fork.
Grease the idli molds in idli steamer using oil, put a spoonful of the batter into idli molds, add a piece of cashew nut on top of the batter and steam for 10 to 12 minutes or till the idlis are cooked.
Cool a bit and de-mould the Steamed Spinach Savory Cakes with the help of spoon, or smooth side of a knife.
(Source: archanaskitchen.com)
#4. Stuffed Idli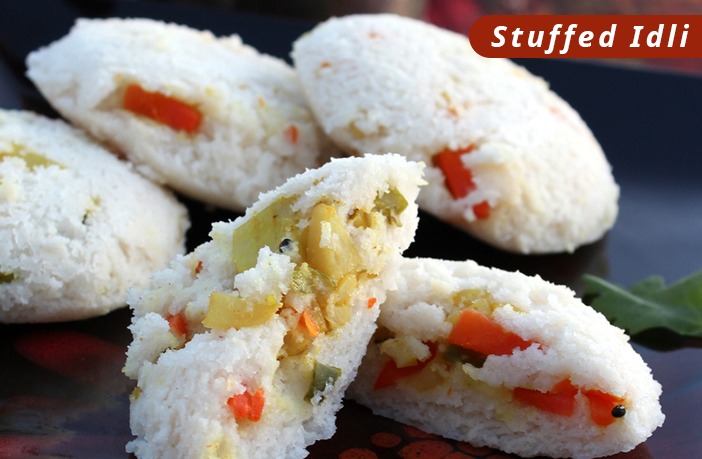 Ingredients
3 cups rice
1 cup urad wash stuffing
1 tsp pistachios – blanched
1 Tbsp roasted cashew nut
1 Tbsp green and red bell peppers – diced
1 Tbsp pickle masala
1 tsp kasoori methi
1 Tbsp carrot, sliced
Method
Soak rice and urad dal and wet grind to make batter.
Set aside to ferment.
Brush idli tray with oil.
Place ingredients of the stuffing, mixed or separate in the centre of each idli space.
Pour the fermented mixture over the stuffing.
Steam until idlis are cooked.
Serve hot.
(Source: food.ndtv.com)
#5. Oats idli
Ingredients
2 Cups oats
1/2 litre curd (slightly sour)
1 tbsp mustard seeds
1 tbsp urad dal
1/2 tbsp channa dal
1/2 tbsp oil
2 tsp green chillies, finely chopped
1 cup carrots, grated
2 tbsp coriander, finely chopped
1/2 tbsp turmeric powder
2 tbsp salt
Method
On a tawa, dry roast the oats until it turns slightly brown and then powder the oats in a mixer.
In a pan, add oil, mustard seeds, urad dal, channa dal and allow the mustard to splutter and the dals to turn golden.
To this, add the chopped chillies, coriander and grated carrots.
Add the turmeric powder and fry for a minute.
Add this seasoning to the powdered oats mixture and add the curd to it to make a batter like that of idli batter's consistency.
You can add as much curd to the mixture to achieve the consistency, but do not add water to the batter.
Grease the idli steamer plates with oil and pour the batter into each area of the steamer.
Steam the idlis for 15 minutes.
(Source: food.ndtv.com)
Also read: 7 Simple And Healthy Brinjal Recipes For Kids
#6. Rava idli
Ingredients
1 cup semolina
1/4 teaspoon mustard seeds
1 teaspoon chana dal
10 cashews
5 finely chopped green chilli
1/2 cup yoghurt (curd)
6 leaves curry leaves
1 teaspoon urad dal
1 pinch salt
Method
Take a pan and heat it on moderate flame with a little oil.
Fry the mustard seeds, curry leaves, dals, cashew nuts and green chillies for a minute.
Then, add the rava and fry till light golden.
Remove the pan from the flame and let it cool.
Add curd and salt. Mix well and keep it aside for 20 to 30 minutes.
Add some water and mix again.
Grease an idli plate and pour small spoonfuls of the batter.
Steam cook until done, about 5 to 6 minutes.
(Source: recipes.timesofindia.com)
#7. Ragi Idli
Ingredients
1 and 1/2 cups idli rice
1/2 cup urad dal
1 cup ragi flour
1 tsp methi seeds
Salt to taste
Water as needed
Method
In a mixing bowl take idli rice, urad dal and methi seeds. Soak it for 5 hours. Rinse it well. Drain water.
Transfer to a mixer grinder and grind. Sprinkle water as and when the batter is dry.
Grind it to a smooth fluffy batter like we grind for idli batter.
Transfer the batter to a tall container.
Add ragi flour to it.Add required salt.
Add little water mix well to form a flowing thickish batter.
Keep covered and allow it to ferment for 8-10 hours.
See the batter is fermented now.
Mix really well. Grease the idli plate with oil. Pour the batter in each hole.
Before placing the idli plate, pour water into the steamer then place the idli plate.
Steam cook for 10 mins
(Source: sharmispassions.com)
#8. Vegetable idlis
Ingredients
Parboiled Rice 1 cup
Carrot 1/2 cup
Carrot grated 1 medium
French beans chopped 4-5
Cauliflower grated 2-3 florets
Fresh coriander leaves chopped 2 tablespoons
Salt to taste
Black peppercorns crushed 7-8
Oil – 2 tablespoons
Method
Wash and soak the rice and urad dal separately for at least four hours.
Drain and grind dal to a fine paste and rice to a coarse paste using very little water.
Mix both the pastes and add sufficient water to make a batter of dropping consistency.
Add salt and allow it to ferment for four to five hours or overnight, covered, in a warm place.
Heat sufficient water in a steamer.
Add the vegetables, coriander leaves and crushed black peppercorns to the fermented batter. Mix well.
Lightly grease the idli moulds with oil.
Pour a spoonful of batter into each mould.
Place the idli mould in the steamer and steam for ten to fifteen minutes.
(Source: sanjeevkapoor.com)
#9. Poha Idli
Ingredients
1 cup Thick Poha
1 cup Semolina
1/2 tsp or a little less Eno fruit salt
1 cup Curd
Salt to taste
About 1 1/2 cup Water
Method
Take poha that we use for making kande pohe into a blender jar. Blend them into a coarse rava.
The rava should not be very fine. It should have a coarse texture.
Add rava that we use to make upma which is a little coarse and mix well.
You can use idli rava in place of this rava. Add salt and mix well.
Add curd and mix everything well together. Add water and mix well to make batter.
The consistency of the batter should be a little thick.
Cover and rest the batter for about 15-20 minutes.
Add eno fruit salt and water just enough to activate it.
Mix well and idli batter is already.
You can use 1/2 tsp of baking soda instead of eno.
If you are using baking soda then add it with curd and water.
Grease the idli mould well with oil.
Fill the moulds with idli batter.
Heat up 1" water at the base of idli cooker.
Transfer the idli stand into the cooker and steam idlis on medium heat for about 15-20 minutes.
Turn off the gas and let the idli stand be in the cooker for another 10 minutes.
Take the idli stand out and let it cool down for about 5 minutes.
(Source: madhurasrecipes.com)
Also read: 10 Easiest And Healthiest Khichdi Recipes For Babies
Want to share your experience as a mom with other moms through words or images? Become a part of the Moms United community. Click here and we will get in touch with you
null
null