Desserts always hold a special place in everyone's heart. Even babies, whose taste buds are developing, love a little sweet every now and then.
These make for great taste changers every once in a while. And if you choose your ingredients wisely, desserts for babies can become super nutritious alternatives to regular feeding.
Desserts are mostly made of sugar or cow's milk, both of which may not be advisable for your little one below 1 year. Hence, before you plan a dessert for your baby, care to keep the following points in mind.
Replace sugar or honey with date syrup or applesauce.
Use coconut milk, mother's milk, or formula milk instead of cow's milk.
Avoid whole nuts. Use them in a powdered form to avoid choking.
Avoid peanuts to prevent allergic reactions.
Avoid refined flour and replace it with whole-wheat flour instead.
You can try different dessert recipes to treat your little one without compromising on nutrition.
Here are 11 such recipes, which are not just easy but also healthy for your baby.
#1. Dry Fruit Balls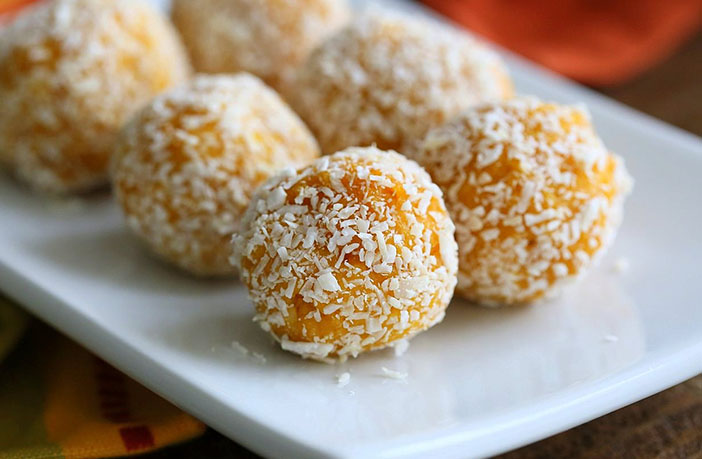 Ingredients
Pitted and chopped dates- ½ cup
Chopped dry figs- ¼ cup
Mixed nuts (almonds & cashew)- ¼ cup
Plain oats- ¾ cup
Hot milk- ¼ cup
Procedure
Soak the dates and figs in hot milk for about an hour.
Once soaked, remove them from the milk and grind to make a puree and keep it coarse.
Roast the nuts and oats on low flame for a few minutes and grind them to a fine powder.
Mix the puree to this powder little by little to form slightly sticky dough.
Make small balls on a tray and refrigerate for minimum 30 minutes.
You might also like: 21 Weight Gain Foods for Babies
#2. Apple Ragi Halwa
Ingredients
Peeled apple (small or large) – 1 nos.
Ragi flour- 3-4 tbsp
Water- ¾ to 1 cup
Ghee- ½ tsp
Procedure
Blend the apple in a blender to form a puree and set it aside.
Stir water to the ragi flour in pan and cook until the mixture is thick. Make sure that there are no lumps formed.
Switch off the flame and let it simmer.
Add the apple puree and ghee and mix well.
#3. Almond Ladoo
Ingredients
Blanched almonds- 1 cup
Dried coconut (optional) – 1 cup
Jaggery/date syrup- 1 cup/depending on sweetness required.
Green cardamom- 4-5 nos.
Almonds- 1 tbsp
Procedure
Roast the almonds on medium flame until you sense its aroma and keep it aside.
In a similar manner, dry roast the cardamom and coconut and set it aside. Make sure not to over roast them as they get roasted pretty quickly.
Powder the almonds, cardamoms, and coconut together in a blender.
Add jaggery to this mixture and blend it again to form a warm mixture that would appear oily textured.
Take the mixture, make into small balls, and place it on a tray.
Make sure the mixture is hot. If it gets cooled down, re-mix it in the mixer to warm it up.
The almond ladoo is ready and can be stored in a dry place for up-to 8-10 days.
#4. Fruit Dessert
Ingredients
Mashed banana- ½ cup
Finely grated apple- 2 tbsp
Date syrup- 1 tsp
Jaggery/Palm sugar- 1 tsp
Procedure
Mix the mashed banana and grated apples and whisk it to a smooth mixture.
Add the date syrup, jaggery and mix it well.
Chill this mixture and the fruit dessert is ready to serve.
#5. Flattened Rice Kheer/ Poha Kheer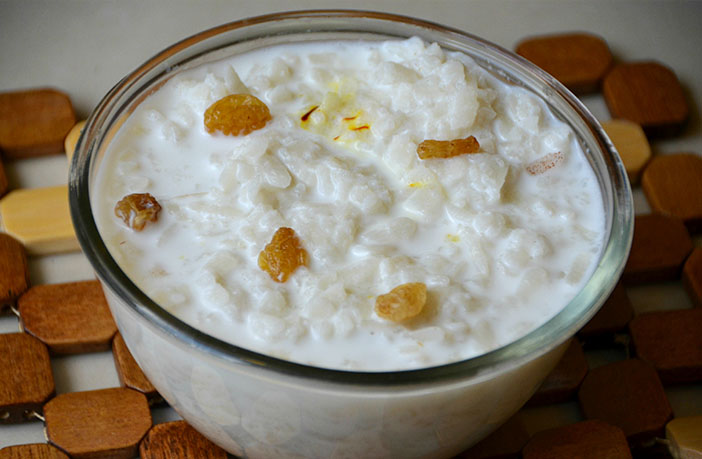 Ingredients
Flattened rice- ½ cup
Coconut/formula milk- 1 cup
Nuts (cashews, almonds)- 3 nos. each
Dates- 4 nos.
Raisins- 1 tsp
Cardamom- 1 nos.
Jaggery- 1-2 tsp (Optional)
Procedure
Wash the poha in running water and soak until its soft.
Grind all the ingredients mentioned above, together along with the poha and blend it to form a smooth mixture.
Transfer this mixture to a pan, mix well and cook until a creamy texture is formed.
Switch off the flame and let it cool.
Note: If you are using formula milk, make sure not to add the milk while blending the ingredients. Milk can be prepared and added once the mixture is heated in the pan and brought to room temperature.
Also read- 10 Food Recipes for 1 to 2 years old kids
#6. Mixed Fruit Smoothie/Lassi
Ingredients
Chopped seasonal fruits of your choice- ¾ cup
Thick curd- 1 cup
Procedure
Peel and deseed the fruits and chop them to the desired size.
Blend these fruits along with curd in a blender to make it smooth.
Refrigerate for 30 minutes and serve it cool.
#7. Yoghurt And Poha Mix (Dahi Chura)
Ingredients
Poha/flattened rice- ¾ cup
Yoghurt- 1 cup
Chopped fruits- ½ cup
Jaggery (optional)- 1-2 tbsp
Chopped nuts (optional)- 1 tbsp
Procedure
Soak poha for 5 minutes in water and keep it aside.
Cut the fruits to desired size for the baby and powder the nuts.
Beat the curd, add jaggery and mix it well with a whisk.
Finally add the soaked poha, fruits and nuts to the curd and mix well.
#8. Wheat Flour Halwa (Atte Ka Halwa)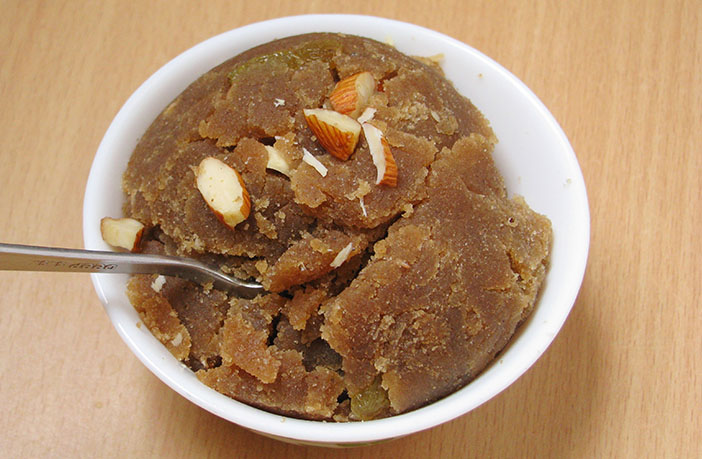 This recipe is an easy to make recipe, is very healthy and is easy to eat for the baby. However, consider to check for any sort of food allergy before its regular consumption.
Ingredients
Whole wheat flour- 3 tbsp.
Palm sugar/Jaggery- 1 tbsp.
Ghee/clarified butter- ¼ to ½ tsp.
Water/milk- 180 ml
Procedure
Mix the flour with water and jaggery so that there are no lumps formed.
Boil this mixture over low flame and keep stirring so that there are no lumps formed.
Add ghee when the mixture reaches a thick consistency.
Cook it for a minute and switch the stove off.
Let the halwa simmer for 5 more minutes and serve it warm.
#9. Kiwi Banana Smoothie
Ingredients
Kiwi- 2 nos.
Banana- ½ cup
Coconut milk/coconut water- 1 cup
Homemade almond powder- 1 tsp (optional)
Procedure
Wash and peel the kiwi and cut it into slices.
Cut banana into a small slices too.
Mix both the chopped fruits and coconut milk/coconut water in a blender and blend the ingredients until smooth.
Refrigerate and serve it cool.
#10. Banana Ice-Cream
Ingredients
Banana- ½ cup
Cinnamon- ½ tsp. (optional)
Breast milk/formula milk- ½ cup
Procedure
Slice the banana and freeze it for 2 hours.
Blend the frozen bananas, cinnamon and the milk used in a blender to cut the banana into small chunks.
Serve it immediately or store it in the freezer.
Also Read: 21 Iron Rich Foods for babies and toddlers
#11. Mango Custard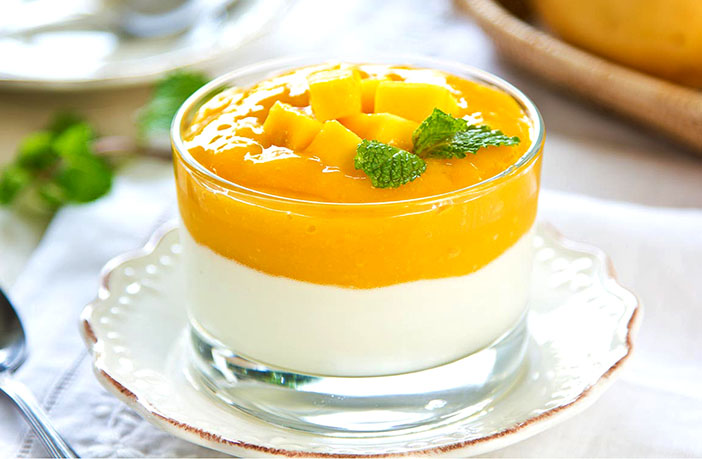 Ingredients
Mango- 1 large or ½ cup if pureed
Milk- 1.5 cup
Custard powder- 1 tbsp.
Jaggery- 2 tbsp.
Fresh cream- 1 tbsp.
Chopped nuts- 1 tbsp.
Procedure
Take the custard powder in a bowl and add ¼ cup milk into it. Mix well to have no lumps.
Take the mango pulp and puree it to a smooth paste and set it aside.
Heat the remaining milk and bring it to rolling boil.
Add jaggery and mix well.
After this simmers for 5 minutes, add the custard powder little by little.
Lower the flame and continue boiling till a creamy consistency is reached.
Once thick, add the fresh cream and cool it down.
Refrigerate and serve with a garnishing of fresh fruits.
Also Read: 21 Iron Rich Foods Recipes For Babies and Toddlers
null