Around the time of his/her first birthday, your child may show a decline in eating. The appetite of babies drops a little at this time and they do not need as much food as the growth slows down a bit once the child turns a year old. A one-year-old child can eat almost everything that you eat. He/she needs approximately 1000 calories in a day, which can be divided into 3 main meals, along with 2 snacks. But don't expect your child to follow this routine every day! Check out these recipes for 1 to 2 years old kids.
Tips For Feeding 1-Year-Old Indian Baby:
Do not force your child to eat.
Your child might be eager to eat when hunger strikes; make sure the food is ready!
Do not prepare food that is too spicy or sweetened.
Make your child sit at the table and eat with everyone else.
You may now start weaning your child off formula/breastmilk and check with the pediatrician whether you can start giving cow milk.
Your child will try to convince you to give only his favorite foods. Do not always give only those foods. Continue to give healthy food.
Increase the quantity of iron-rich foods in your child's diet as your child needs more iron at this age. You can make your child eat iron-fortified cereal, beans, poultry, sweet potatoes, mushrooms, eggs, quinoa, tofu, prune juice, and dark green leafy vegetables to make your child's diet iron rich.
Foods you should avoid Feeding your 1-Year-Old
Refrain from giving certain foods to your child as these foods can cause choking hazards:
Popcorn
Raw and hard vegetables
Whole grapes
Hard candies
Hot dogs
Nuts
Raisins
Tips for babies to promote self-eating
If your pediatrician gives you the green signal for cow milk, you can replace one nursing session with a sippy cup of cow milk. Offer finger foods to your child as much as you can so that your child can eat on his/her own. Even if your child is able to feed with a little spilling, it is completely alright. That's how they learn! Present the food in an appealing manner and encourage your child to taste new foods.

Also Read: 7 food charts (Bonus Recipes) for 0-2 year babies
Indian Recipes For 1 To 2 Years Old Kids
#1. Sweet Potato Cinnamon Pancake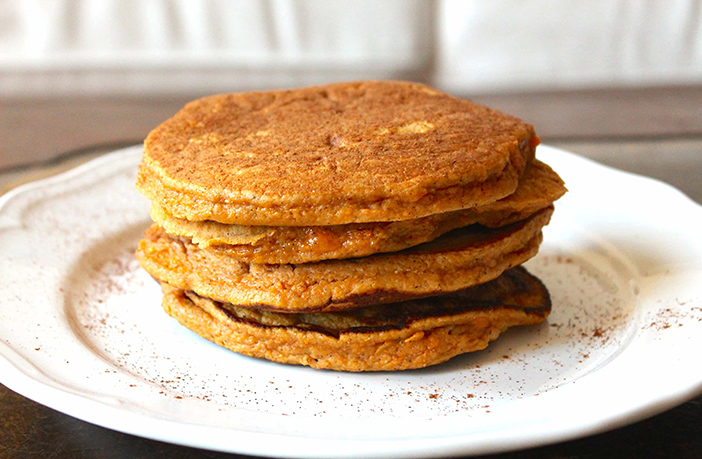 Image Source: smile sandwich
Ingredients:
Peeled and cubed sweet potato – 1
Ground cinnamon – 1 tsp (optional)
Ghee – 1 tbsp
Ripe banana – 1
Method:
Steam and puree the sweet potatoes.
Blend them with bananas until they are smooth.
Add water to make them runny in consistency.
In a pan, heat the ghee. Mix the cinnamon powder in the mixture.
Spoon out the mixture into the pan, to make small pancakes. Use almost 2 teaspoons for each pancake.
Let it cook well on both sides.
Allow the pancakes to cool.
Tip: You can drizzle the pancakes with honey before giving it to your baby for enhanced nutritional value and taste.
#2. Millet Dosa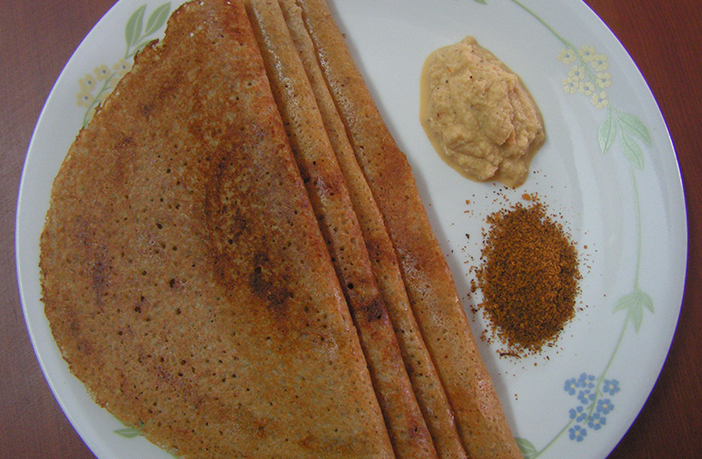 Image Source: The Indian Food Court
Read Also: 21 Weight Gain Foods for Babies
Ingredients:
¼ th cup of Jowar (White millet)
¼ th cup of Ragi (Finger millet)
¼ th cup of Bajra (Pearl millet)
¼ th cup of Kodra (Kodo millet)
¼ th cup of Chena (Proso millet)
2 cups of water
1 tsp of oil
Pinch of salt
Method:
Soak all the millets for 20 minutes.
Add all the ingredients into the blender and prepare a batter out of the millets.
Add 1 tsp of oil in non-stick pan.
Add the batter to the pan like a dosa.
This ingredients list will give you 10 thin dosa sheets.
#3. Jaggery Poha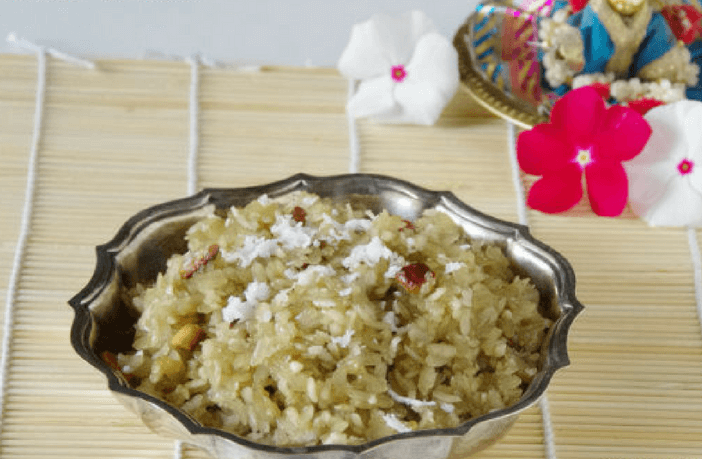 Image Source: Spicy tasty
Also Read: 18 Unsafe Foods For Your Baby before 1 year
Ingredients:
½ cup poha
¼ cup powdered jaggery
1 tsp desiccated coconut
Few raisins
Method:
Rinse the poha and soak it in water till it becomes soft.
Take a pan, add jaggery and add water till the jaggery is immersed in it. Allow the jaggery to melt. As soon as you see bubbles, turn off the gas.
Take a strainer and strain the jaggery water. Now, pour the smooth jaggery syrup into the same pan and add the poha.
Mix well so that the poha is coated with jaggery.
Top it with some ghee.
You may add some desiccated coconut along with some raisins to it. Your child will relish this nutrient-rich and calorie-dense mixture.
#4. Fried banana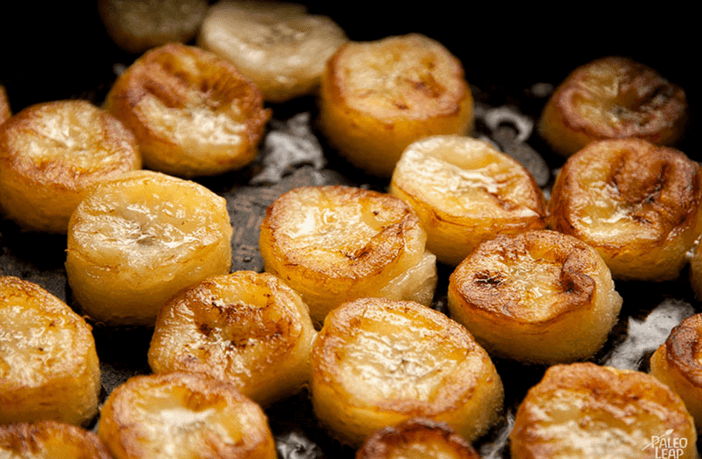 Image Source: paleo leap
Ingredients:
2 bananas
1 tsp cardamom powder
Oil for frying
Method:
Peel and slice the bananas.
Just pan fry the bananas in ghee and sprinkle some cardamom powder on them.
A speciality of Kerala, this dessert is really mouth-watering. It's a great evening snack and an easy to eat finger food for a 1-year-old!
Also Read: 31 Healthy Recipes Using Weight Gain Foods for Babies and Kids
#5. Sweet Potato Puffs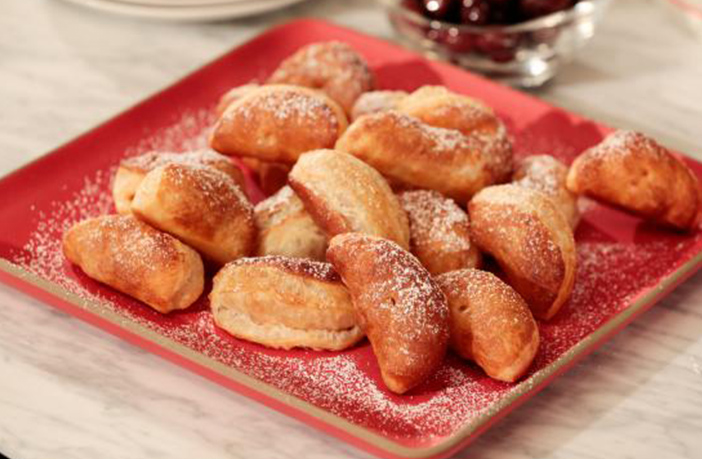 Image Source: foodnetwork
Ingredients:
Cooked and mashed sweet potato- 4 cups
Vegetable oil- 2 tbsp
Water- 2 tbsp
Applesauce- 1 tbsp
Baby cereal- 1 cup
Flour- ½ cup
Method:
In a bowl, mix the applesauce, sweet potato mash, and oil. Stir the water in until you have a smooth blend.
Add the flour and baby cereal to this. To make it coarser, add more cereal.
Make a cone using a cookie sheet or plastic sheet and pour the dough in it. Cut the tip off.
Now squeeze out small portions and roll them into a ball. Make a hole in the center to leave some air bubbles. This will make it look like a puff.
Arrange them on a baking tray and brush on some oil.
Preheat the oven to 3500 C and bake for 155 minutes. Allow it to cool before you serve it to the baby.
Tip: Instead of using a steamer, you can also cook the vegetables in a pressure cooker as an alternative.
#6. Egg Dosa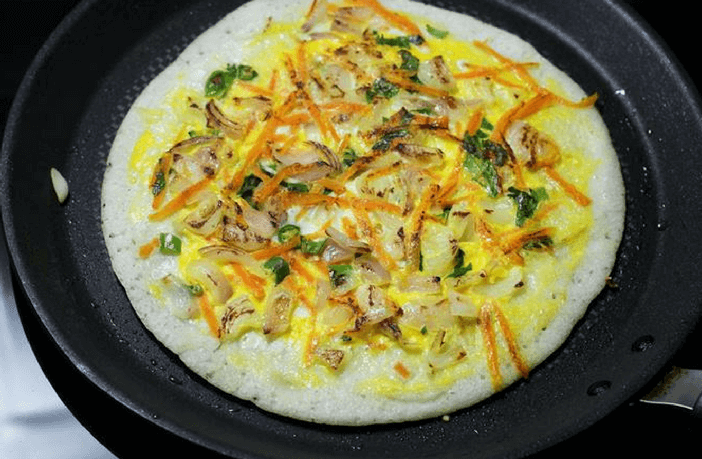 Image Source: swasthi's recipes
Ingredients:
Dosa batter
1 egg
Salt and pepper
Method:
Just spread the dosa batter on the tawa and crack an egg on it.
Cook both sides and season with salt and pepper.
#7. Churi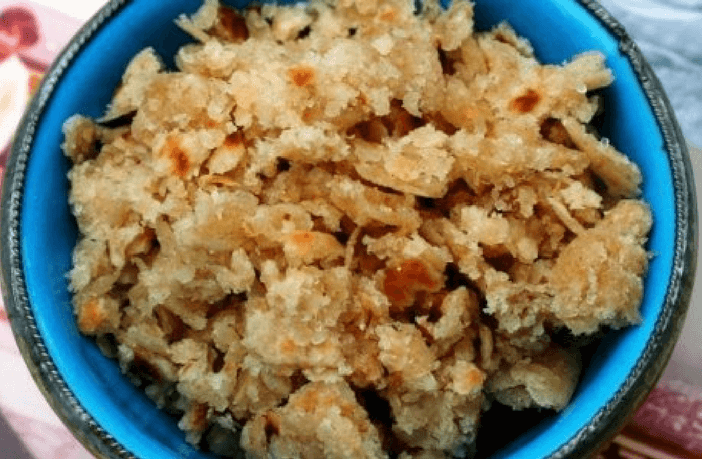 Image Source: Urban Rajah
Ingredients:
250 gms wheat flour
Water to knead the dough
2-3 tsp jaggery powder
2 tbsp ghee
Method:
Knead the dough.
Prepare a chapati and now make small pieces of it in a bowl.
Add lots of ghee along with jaggery powder or salt (according to your child's liking) and mix well.
Churi can be given to children above 1 year of age.
#8. Carrot Oats Muffins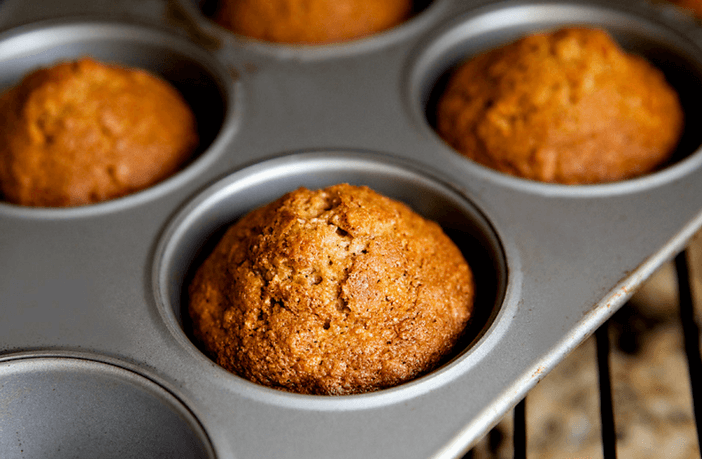 Image Source: Brownie Bites Blog
Ingredients:
½ cup oats flour
½ cup curd
½ cup wheat flour
1 tsp baking soda
1 tsp baking powder
1 grated carrot
1 finely chopped capsicum
¼ th cup finely chopped coriander leaves
1 tsp cumin powder
1 tsp black pepper powder
1 tsp grated ginger
¼ th cup oil
¼ th cup milk
A pinch of salt
Method:
Sift the oats flour along with the wheat flour, baking powder, baking soda, salt, cumin and pepper powder and set aside.
Take a bowl and mix curd, ginger and oil.
Now add the dry ingredients to this bowl and mix well.
Add the capsicum, carrots and milk. Mix well to get a homogenous mixture.
Preheat the oven at 180 degrees celsius.
Grease the baking molds and dust them with flour.
Now pour the mixture into these baking bolds and bake for 15-20 minutes.
Poke a knife to check that the muffins are completely cooked.
Allow the muffins to cool and then remove them from the molds.
#9. Ragi Cake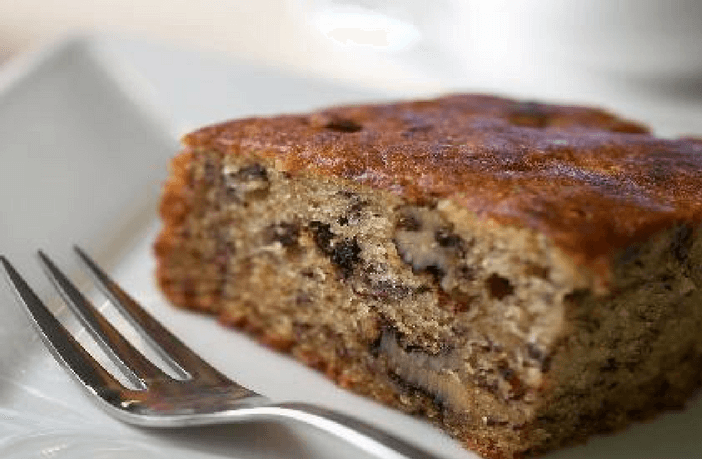 Image Source: bawarchi
Ingredients:
½ cup ragi flour
1 cup whole wheat flour
2 tsp cocoa powder
¾ th cup brown sugar
¾ th tsp baking soda
¾ th cup yogurt
1 cup milk
A pinch of salt
1 tsp vanilla essence
¼ th cup olive oil
Method:
Preheat the oven for 15 minutes at 180 degree celsius and in the meantime, sieve the ragi flour along with cocoa powder, wheat flour, baking soda, powdered sugar, and salt.
Mix the vanilla essence, milk, oil, and yogurt with the flour mixture. Make sure there are no lumps.
Pour the contents into a greased baking dish and bake for 30-35 minutes. Poke a knife into the cake and if it comes out clean, you're done!
Serve it to your child with some chocolate sauce and see your child finish it away. Children just love to eat cakes and a chocolate cake is something that makes them drool!!!!
#10. Spinach Beetroot cookies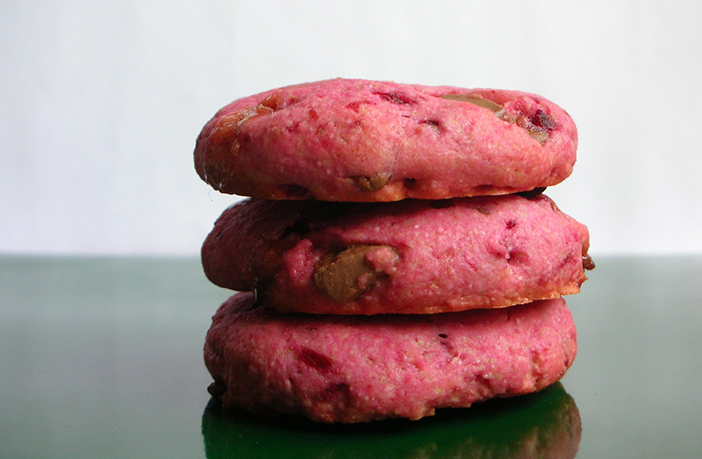 Image Source: Pinterest
Ingredients:
2 tbsp. Of butter
1/3rd cup of powdered jaggery
½ cup of whole wheat flour
2 tbsp. Of raw spinach puree and 2 tbsp of beetroot puree
Method:
Take a bowl and mix butter, jaggery together with a beater and add spinach puree and beat the mixture again.
Take a bowl and mix butter, jaggery together with a beater and add beetroot puree. Beat the mixture again.
Add wheat flour to these mixtures and add water to create a dough.
Line a cookie sheet. Grease the sheet. Place the dough in cookie shape on the sheet.
Preheat the oven at 200 degrees.
Place the cookie sheet in the oven for 10 minutes.
Let it cool down to crisp.
Serve or store in airtight container.
Also Read: Benefits of dry fruits for Kids in winters (10 Recipes included)
A Word of Caution
At this age, children start speaking many words and often speak while eating. Teach your child not to speak with a mouthful as it can not only lead to choking but it doesn't look very pleasant either!
Want to share your experience as a mom with other moms through words or images? Become a part of the Moms United community. click here and we will get in touch with you
null
null