Most 7-month-olds have had a taste of solid food by now and are ready to graduate from simple purees to some combination foods. Some babies have their first teeth too and their hunger has also increased by this time. If you are looking for a food chart for 7 months baby, you've come to the right place.
Points to remember while feeding your 7 Month Old Baby:
#1. DO NOT QUIT BREASTFEEDING.
#2. Once your baby enters the 7th month, you can start with 3 meals a day + Breastfeeding. You can start with 9 am, 12 pm and 6 pm meals with breast milk before bed.
#3. Make your baby sit upright while eating.
#4. Always introduce 1 food at a time and wait for 3 days to check for any allergy symptoms.
#5. Some foods might upset the stomach so the 3-day rule will allow you to know which food is causing the trouble.
#6. Breastfeed your baby between meals if he/she is still hungry.
#7. Ensure that the food is well-cooked and soft so that the baby can digest it easily.
#8. Once you start solids, your child's poop will have a different smell. This is completely normal. No need to panic.
Also read- Food Chart for 8 Months Baby
Food Chart for 7 Months Baby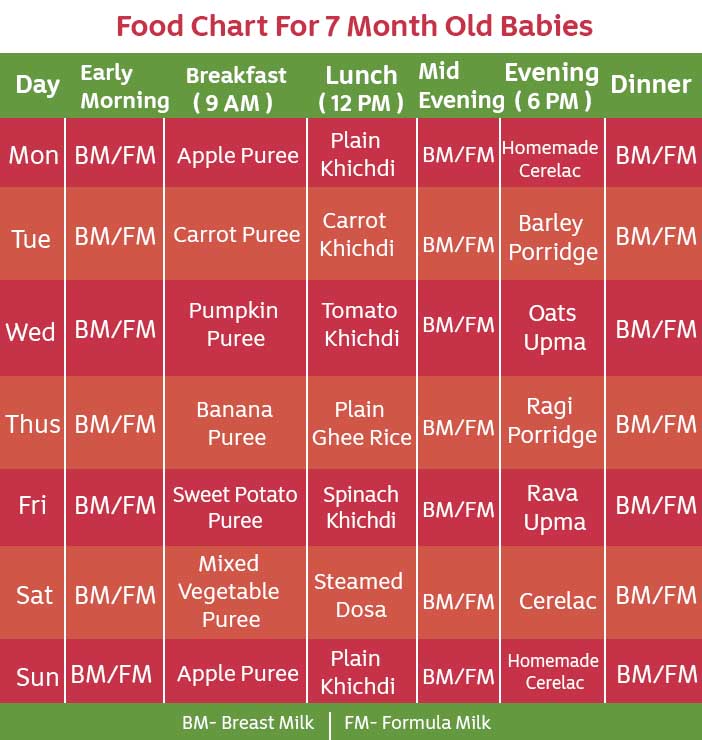 Food Recipe for your 7-month-old baby:-
How to make Sweet Potato and Apple Puree?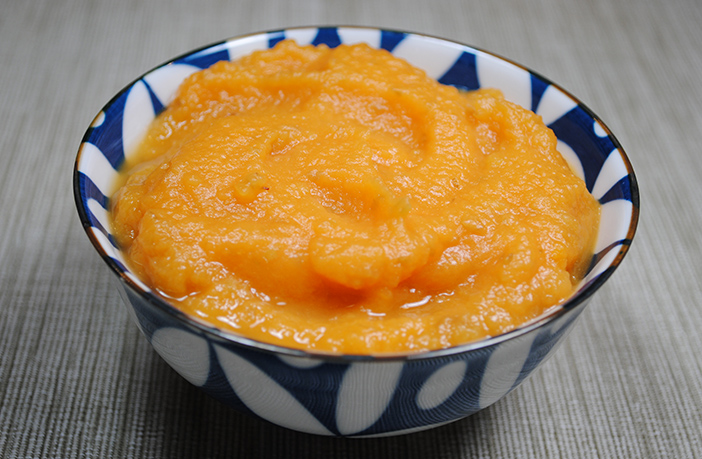 Image Source: Attracting Wellness
Ingredients:
Chopped and peeled sweet potato – 1

Chopped and peeled apple – 1
Method:
Boil water in a pan.

Place the apple and the sweet potato in a steamer.

Lower it into the pan such that the steamer does not touch the water.

Once the apple and sweet potato are tender, turn the flame off.

Use a blender to puree them until they are smooth.

Strain the mixture into a colander and store.
Tip: You can follow the same procedure with any vegetable of your choice instead of apples. Peas and carrots are great options for variety.
Also read: A Complete Guide : Baby Growth Spurts
How to make Banana and sweet potato mash?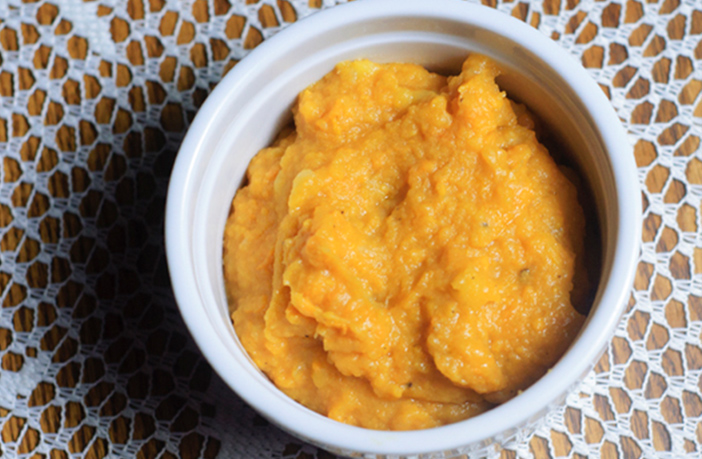 Image Source: Jan's Sushi Bar
Ingredients:
Peeled and cubed sweet potato – 1

Ripe banana – 1

Breast milk or formula milk- 1 cup

2-3 drops of ghee ( optional)
Method:
Boil the milk in a pan.

Boil the sweet potatoes.

Place the banana and sweet potato in the milk. Let the mixture boil until the sweet potatoes are tender. Mix them together and leave it for five minutes to let the milk get absorbed and proceed with rest of the method.

Once the milk is absorbed and the banana and sweet potato are tender, transfer the mixture to a bowl. Using a fork, mash it up until it turns very fine and pasty.

Before serving, add a dollop of ghee to make it tastier and healthier for the baby.
Also Read: 7 food charts (Bonus Recipes) for 0-2 year babies
How to make Plain Ghee Rice?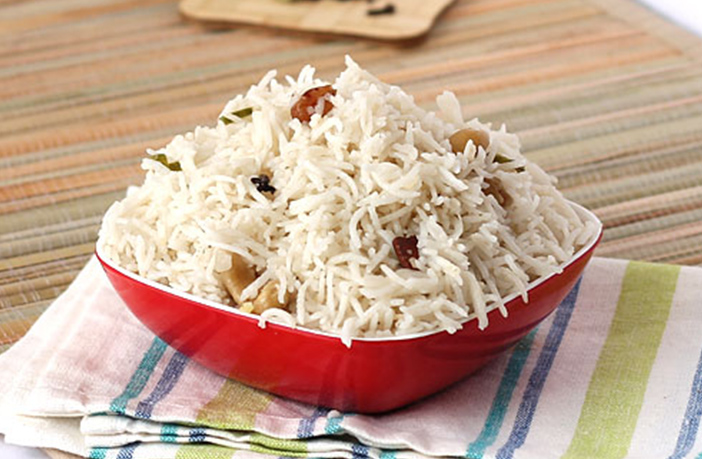 Image Source: Foodviva.com
Ingredients:
Short-grain Rice – ½ cup

Water – 2 cups

Ghee – 1 tsp
Method:
Wash the rice thoroughly in the running water.

In a pressure cooker, add the rice and water.

Wait for about five whistles to make sure that the rice is soft.

Once the rice is done, let it cool down.

Mix the rice with ghee.

Mash the mixture up well before you serve.
Also Read: 7 Best (& Proven) Home Remedies to Treat Low Iron in Kids
How to make Plain Khichdi?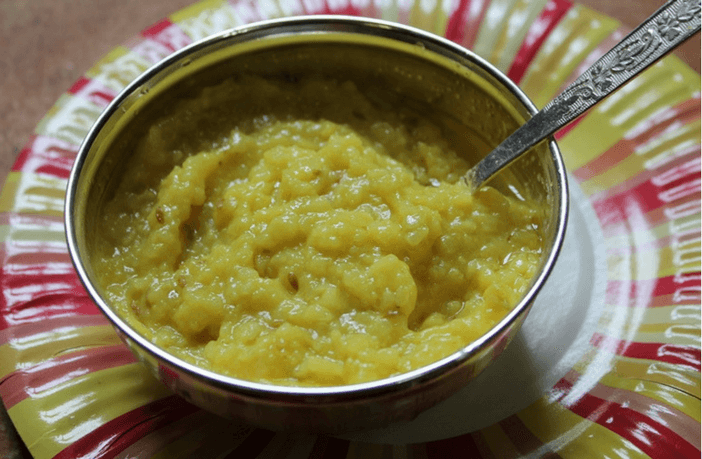 Image Source: Yummy Tummy
Ingredients:
⅔ cup rice

⅓ cup moong dal

1 tbsp ghee

A pinch of hing
Method:
Wash and soak the rice and dal in water for half an hour.

Take a pressure cooker, add dal rice and hing, along with 2 cups of water.

Pressure cook till you get 3 whistles.

Once the pressure is released, add steaming ghee as the tempering.

Mash it and give to the baby since he/she may not have too many teeth.
Homemade Cerelac
Another recipe that you can give your baby is Homemade cerelac. Homemade cerelac is also known as sathu maavu traditionally and is one of the most nutritious foods you can give to your child.
How to make Rava Upma?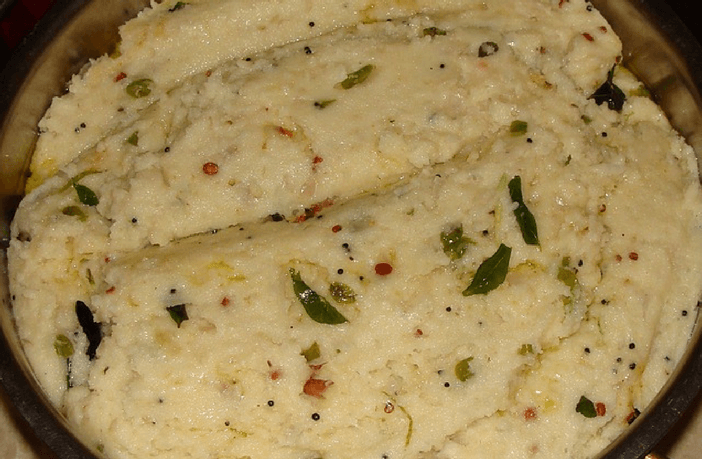 Image Source: pixabay
Ingredients:
2 tbsp rava (suji)

1 cup hot water

⅛ tsp turmeric powder

⅛ tsp cumin seeds

⅛ tsp mustard seeds

2 tsp ghee

A pinch of hing
Method:
Heat ghee in a pan and add the mustard and cumin seeds.

Once they start crackling, add hot water and allow it to boil.

Now add the rava very slowly while stirring continuously. Keep stirring and ensure that there are no lumps.

Add turmeric powder and hing.

Cover with a lid and allow it to cook on low flame for 3-5 minutes. Turn off the flame.

Serve lukewarm to the baby.
How to make Ragi Porridge?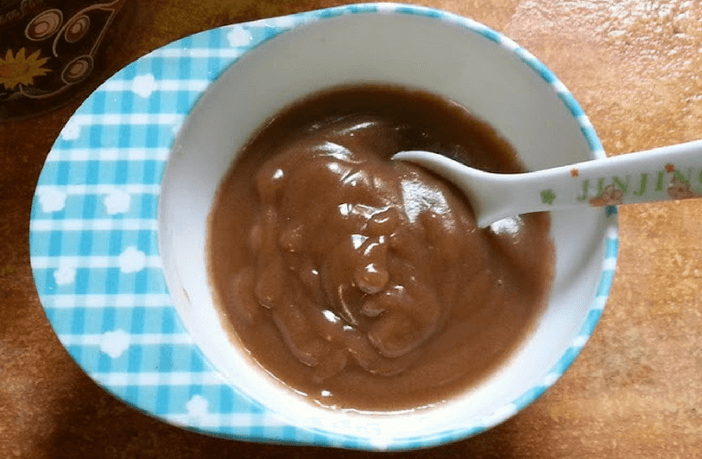 Image source: Yummy tummy
Ingredients:
1 tbsp ragi

1 cup water

1 tsp of dates puree
Method:
Wash and soak ragi in water overnight.

Drain the excess water and put it in the sun for drying.

Take a pan and add the dried ragi.

Cook it on a low flame till it is roasted.

Allow it to cool down.

Grind the roasted ragi to get a fine powder.

Now store this in an air-tight container.

Add water to a pan and mix the ragi powder.

Boil the mixture till it thickens, you can add 1 tsp of dates puree for sweetner purpose.

You may add some jaggery for taste once baby is one year old.

Serve it lukewarm to the baby.
Also Read: 21 Weight Gain Foods for Babies
This is the time when most babies get their first tooth. As the baby might also have started crawling and rolling around, he/she also has an increased appetite. You can move from simple purees to some semi-solid foods. Your child might not like each new food you introduce. Don't lose hope. Don't give up. Baby may take some time to develop the taste for certain foods. Keep trying. We hope that this food chart for 7 months baby will be helpful for you.
Want to share your experience as a mom with other moms through words or images? Become a part of the Moms United community, click here and we will get in touch with you
null
null