Most mothers get confused about what to give your baby after breastfeeding or along with breastfeeding. If your baby is less than 6 months old, breastfeeding is the best thing to give your baby! But after 5 months you can start feeding semi-liquid things. Here is the complete food chart for 6 months baby with recipe.
Feeding Chart For 0 – 6 Month Old Baby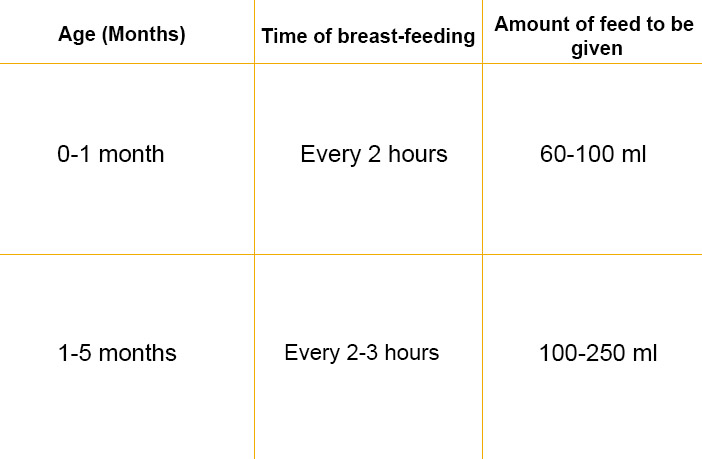 After the 5th month, you can start introducing semi-solid foods to your babies along with the breast milk but before that it always better to check if your baby is ready for solid foods or no!
How To Check Your Child's Readiness To Eat Solid Foods
Crying, sucking thumb after breastfeeding/formula milk feeding

Stable neck

Looking at the food

Put sterilized spoon in baby's mouth and check if he/she is able to hold the spoon or no

Sitting with or without support
Food Chart For 6 Months Baby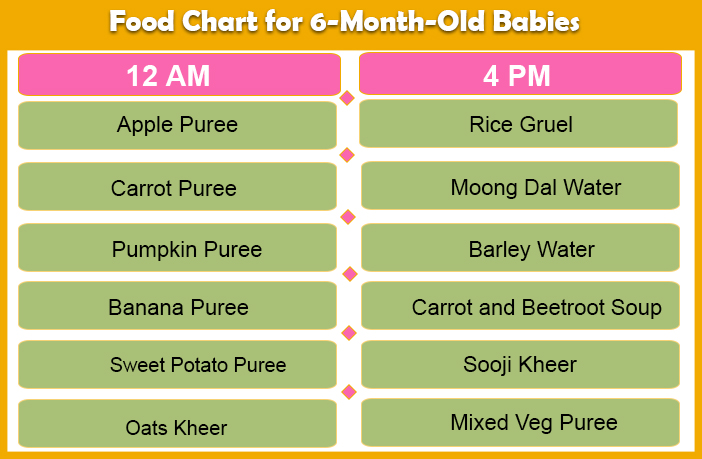 This is the best time to build your baby's taste buds. It is better to include different varieties of food during infancy so that after he/she grows up they can choose healthier options for themselves.
Here are a few points to remember while introducing solids to your baby:
You can always introduce pureed fruits.
Start with 1 tbsp a day and gradually increase it.
Do not force your baby with any foods. If your baby is turning his/her face away from the food it is better not to give it to your baby.
You can start with 12pm and 4pm pureed meals and breast milk/ formula milk in the morning and bedtime.
Lunch has to be the heaviest meal of the day.
Breastfeed your baby throughout the day along with two times meal.
Choose foods with proper texture for your baby's mouth so that it becomes palatable and enjoyable for your baby.
Stop feeding when your baby shows you cues that he or she is done. Often, your baby will do this by turning his or her head away from you.
Hold your baby well in an upright position so he/she can easily see the food as much as they want to.
Have your baby sit up straight and face forward. This makes swallowing easier and choking episodes are reduced.
Talk in a quiet, encouraging voice while you feed. Don't distract them with games!
Let your baby touch the food in the dish and on the spoon.
Allow your baby to self-feed finger foods as soon as he or she shows an interest in touching it.
Always introduce 1 food at a time and wait for 3 days to check for any allergy symptoms.
Also read: Food Chart For 1 Year Old Baby with Recipes
Symptoms Of Allergy And What You Should Do?
The most common symptoms of a food allergy in babies are:
Cough

Pain in the belly

Vomiting

Rashes

Swelling in the face

Trouble breathing
Closely watch your child while feeding him/her. As soon as you notice any allergic reaction, stop giving the particular food and consult the pediatrician immediately.
Food Chart For 6 Months Baby With Recipe
How To Make Apple Puree?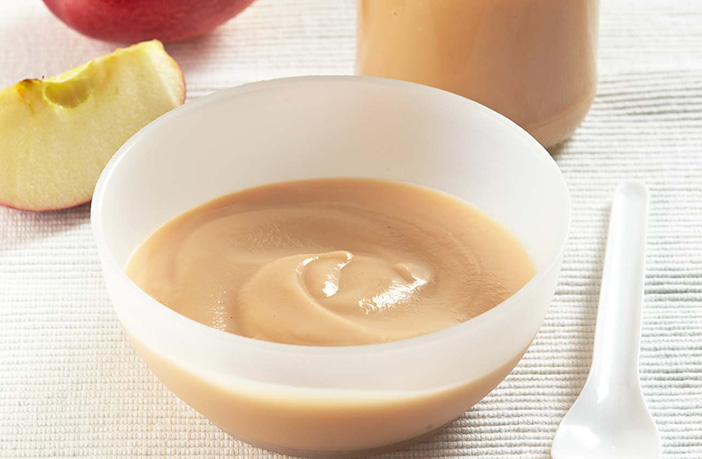 Image Source: Archana's Kitchen
Method
Wash and peel half an apple.

Boil it for a few minutes.

Once it becomes soft, mash it with a spoon.

You can add a few drops of breastmilk or formula (just before feeding) to improve consistency.
How To Make Sooji Kheer?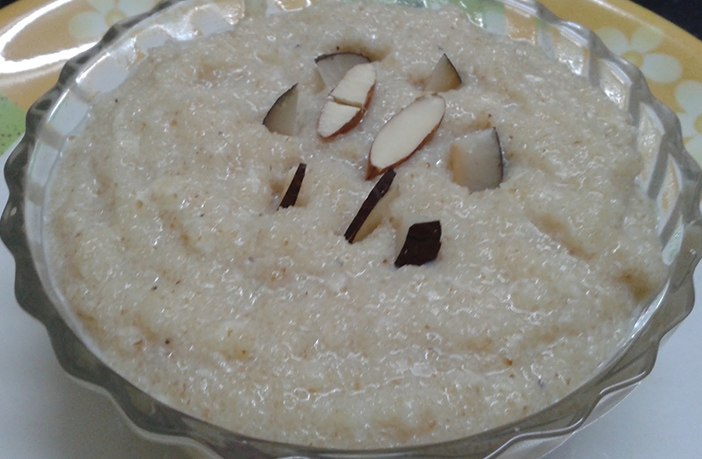 Image Source: For Food Lovers lunchrecipe.blogspot.in blogger
Ingredients
Method
Dry roast the sooji in a pan till it turns golden brown.

Add the water and stir continuously.

Let it come to a boil on a slow flame.

Stir until the sooji is fully cooked. The kheer is now ready.

Once the sooji is done, take it off the flame, cool it a little, and add breastmilk or formula milk to make it creamier and more nutritious.
Also read: Food Chart For 2 Year Old Baby with Recipe
How To Make Banana Puree?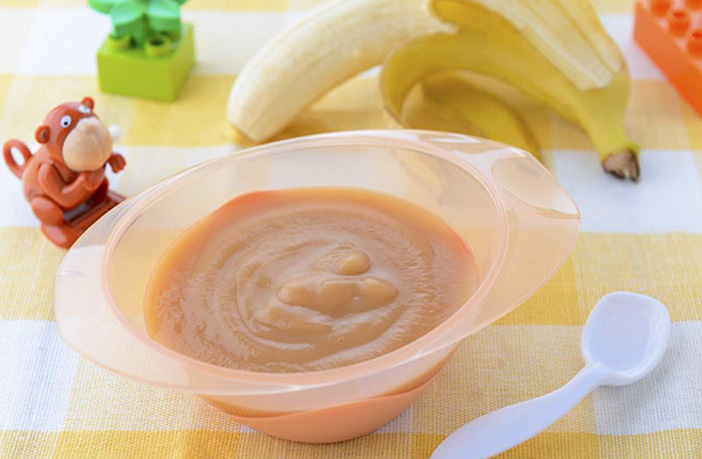 Image Source: Momjunction
Method
No cooking is required in this one.

Simply peel a banana, blend it in a blender to get a smooth puree and give to the baby.

You can add a few drops of breastmilk or formula to improve consistency.
How To Make Pumpkin Puree?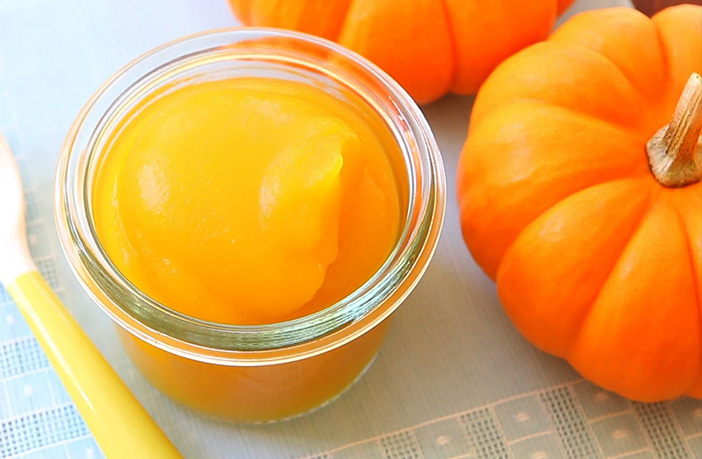 Image Source: gyerek-portal.hu
Method
Wash and peel one slice of pumpkin.

Pressure cook it till you get 3-4 whistles.

Once it becomes soft, mash it with a spoon.

You can add a few drops of breastmilk or formula to improve consistency.

Simply express milk using a pump, store it properly and you can use it to improve the consistency.
Here is a list of things which shouldn't be introduced in the initial months of introducing solid foods: –
Peanuts

Nuts

Seeds

Whole apple (can be given in pureed form)

Sticky foods like peanut butter, Marshmallows

Popcorn

Whole Grapes

Hard candies
Most babies are happy to taste solids but don't make your baby eat faster or slower than he or she wants. Wait for your baby to pay attention to each spoonful before you feed it. Let your child enjoy and chew each bite!
Also read: Healthy Diet Plan For 3-5 Years Old (With Food Chart)
Want to share your experience as a mom with other moms through words or images? Become a part of the Moms United community. Click here and we will get in touch with you
null
null