By 10 months, most babies have a few teeth and are able to chew and swallow food with ease but at the same time, babies seem to be less and less interested in eating. Mothers often worry about the child's poor appetite. Well, the poor appetite is not due to disinterest in eating but maybe due to teething and because your child wants to explore things around him and is more inclined towards play.
It could also be due to the fact that your baby has become picky in choosing the foods he/she wants to eat. In this article, you will find a food chart for 10 months baby with recipe which will be very helpful for you.
Many parents have this query – When can my baby start having meals like us? Your baby is growing but even after 10 months, there are some restrictions which still go on. Your baby cannot have everything unless he/she turns 1!
List of Foods that should not be introduced to babies before their first birthday
#1. Honey
Honey contains antimicrobial agents which can cause severe stomach issues in your baby which might cause infant botulism. It has an excess of sugar which might disrupt the teeth.
#2. Salt
Do not introduce salt into your baby's diet till 1 year. Their daily requirement of sodium is as low as 0.4 mg per day. If you introduce processed foods or junk foods then the daily allowance will be crossed and plus your baby's kidney is not strong enough to flush out salt.
Also read- 10 Food Recipes for 1 to 2 years old kids
#3. Uncooked Eggs
Uncooked eggs might cause digestive issues. Make sure if you are giving boiled eggs, it should be thoroughly cooked.
#4. High Fiber Foods
Your baby cannot cope up with excess fiber since their body is not having high digestive fiber. Go low on foods like raw vegetables, whole nuts and whole fruit.
Foods on Your Baby's Diet at 10 Months:
All fruits except the citrus fruits
Soybeans
Bengal gram dal
Toor dal
All seasonal vegetables including cauliflower
Mushrooms
Brinjal
By the end of 10 months, your baby will be comfortable in using a spoon for eating!
Some points to remember while feeding your 10-month-old baby:
#1. While you introduce new foods into your child's diet, continue to breastfeed and/or offer formula milk. Give your milk whenever the baby demands it. Most babies would want a feed before bedtime or an afternoon nap.
#2. Add spices to your child's food but remember to customize as per your baby's needs.
#3. You can introduce pasta to your child as kids enjoy eating this a lot.
Also Read: 7 food charts (Bonus Recipes) for 0-2 year babies
Food Chart for 10 Months Baby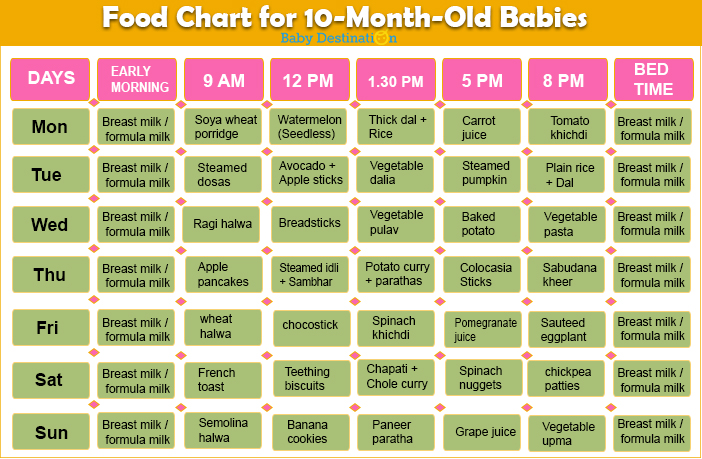 Food options for Your 10-Month-Old Baby:-
#1. Spinach-Potato Nuggets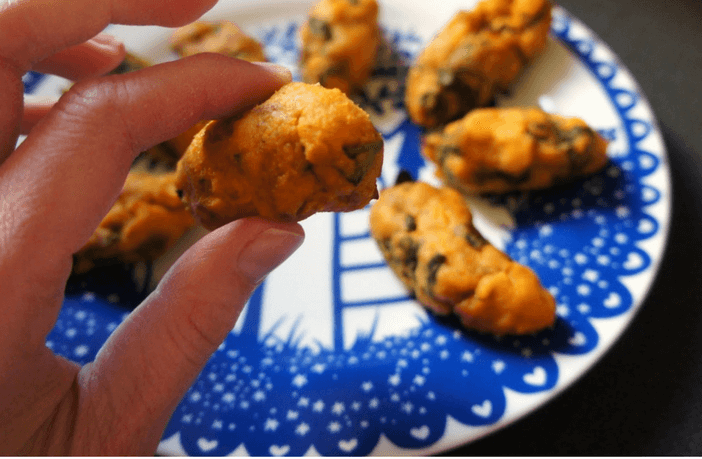 Image Source: bite-sized thoughts
Ingredients
1 mashed potato
5 spinach leaves
½ tsp of turmeric
1 tsp of oil
Method
Take a bowl and add potato, turmeric, and spinach. Mash it all together.
Take a pan, add oil. Let it heat.
Make small balls out of the mashed mixture.
Press the balls and make it like a tikki.
Let it roast and turn off the gas once it becomes crisp.
Read More: Benefits of dry fruits for Kids in winters (10 Recipes included)
#2. Sauteed Eggplant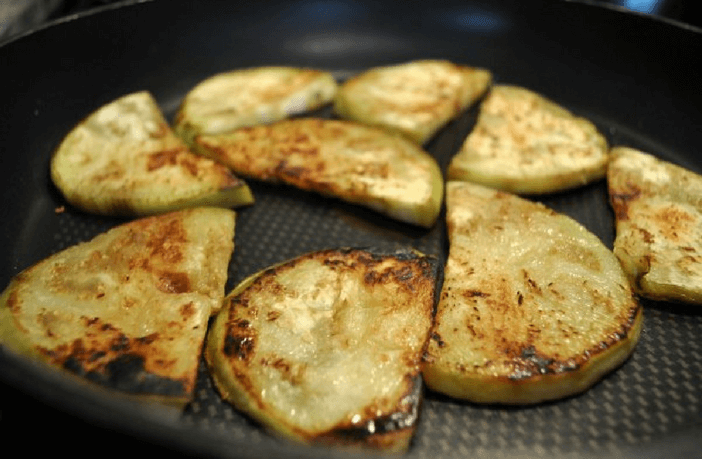 Image Source: doublesidedspoon
Ingredients
1 eggplant/brinjal
2 tbsp olive oil
½ tsp garlic powder
¼ th tsp basil
Method
Peel and dice the brinjal.
Saute the brinjal in olive oil on a medium flame till tender.
Add garlic powder and basil.
Serve lukewarm to the baby.
#3. Soya Wheat Porridge Powder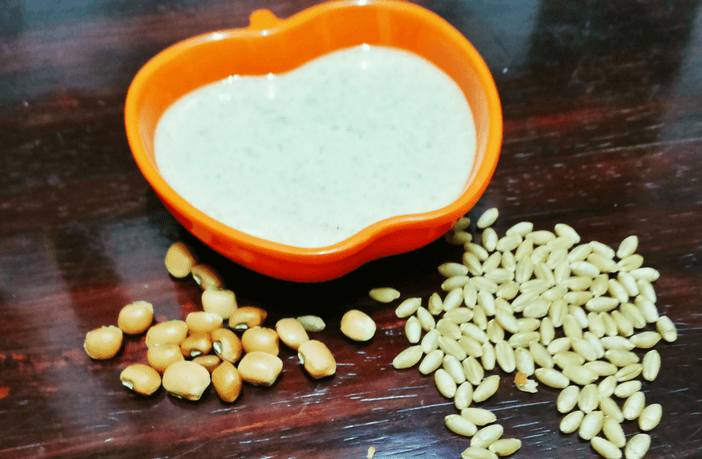 Image Source: mylittlemoppet

Ingredients
80 gms whole wheat
20 gms whole soyabean
Method
Clean the whole wheat and soybean separately.
Now roast the soybean and wheat in hot sand.
Grind both the ingredients separately and mix.
Store this in an airtight container.
Whenever needed, just add a cup of hot water to 1 tbsp of the soya wheat porridge powder. Mix and serve to baby.
You might also like: 10 Recipes Using Sweet Potato for Baby Weight Gain
#4. Banana Dosa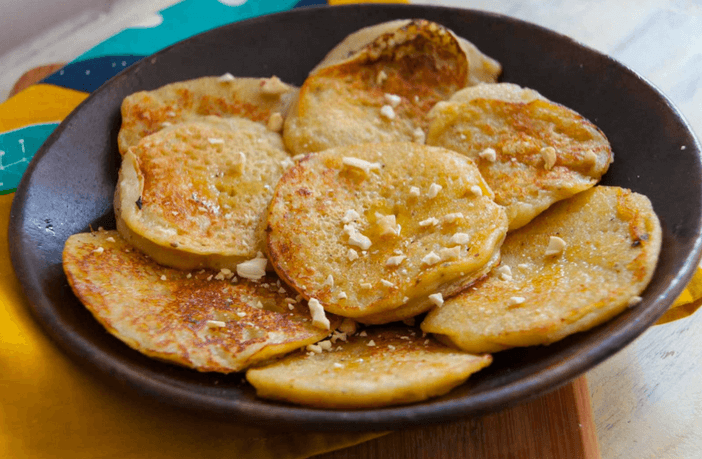 Image Source: archanas kitchen
Ingredients
½ cup mashed banana
½ cup dosa batter
1 tbsp ghee
Method
Mash the bananas and mix with the dosa batter using a blender.
Heat the tawa, grease it and spread the batter on it.
Cook both sides till golden brown.
#5. Baked Sweet Potato Chips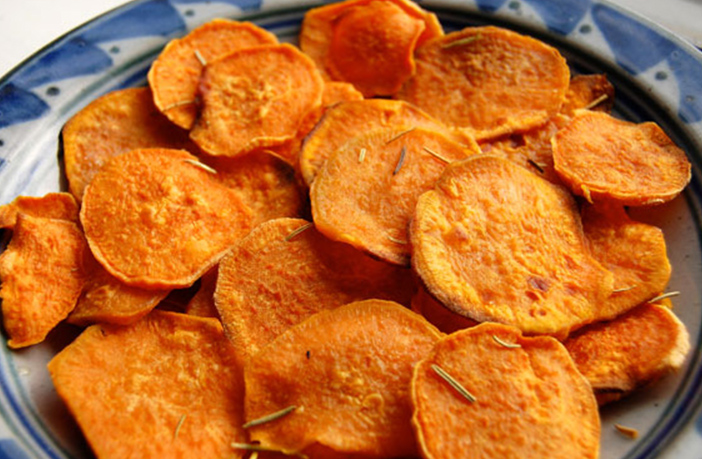 Image Source: paleo grubs
Ingredients
Sweet potatoes – 2
Olive oil – 2 tsp.
Oregano and Pizza seasoning – to taste
Method
Wash and peel the sweet potatoes.
Carefully cut them into thin slices. The thinner the slices the better will be the chips.
Lay the baking sheet on a baking dish.
Preheat the oven to 1800C.
Arrange the chips individually, on the baking sheet.
Use a brush to glaze them with olive oil.
Sprinkle the seasoning.
Put inside the oven, on a wire rack, in the middle shelf, to bake at 1200 degrees Celsius for 20 minutes.
Flip the chips halfway through and continue to bake for the remaining 10 minutes.
When done, the chips should be crisp and golden brown on the edges.
Cool and store in an airtight container.
We hope that this food chart for 10 months baby and the recipes provided are helpful for your baby.
Also Read: 10 Recipes using Ghee for Baby Weight Gain
Want to share your experience as a mom with other moms through words or images? Become a part of the Moms United community. click here and we will get in touch with you
null
null