As your baby turns 9 months old, you'll realize that nothing could be tougher than meal times. At this age, babies get bored while eating food and it can be difficult to engage him/her. Your baby is growing even bigger, he/she might have started teething! You can take a look at this food chart for 9 months baby.
Teething makes your baby irritated and he/she might not feel like eating or feel hungry. You will need to be more creative with textures, presentation and taste to make your baby eat. You can customize some recipes according to your baby's taste buds and liking.
Now is the time to introduce the following foods menu to your baby
Watermelon
Bell peppers
Turnips
Well cooked carrot
Cooked paneer
Homemade breadsticks
Small pieces of parantha
Cooked puffed rice
Boiled potato and beetroot
Also Read: Food Chart for 11 Months Baby
Some points to remember while feeding your 9-month-old baby
#1. Give your baby variety of foods which looks appealing. Don't make your food pale and boring.
#2. Stop pureeing things. After your baby starts with finger foods, there is no need to puree foods.
#3. Continue with breastfeeding at least 90 ml a day.
#4. One most common query which parents have is – Can we add Indian spices to baby's food?
Yes, you can start adding spices one by one if you have started solid foods for your baby but don't mix too many spices together.
#5. Some babies may want to try the regular family food. You should not discourage your baby. Let him/her try everything a little bit.
#6. If your baby tries to feed himself with a spoon, encourage self-feeding. Even if your baby is not successful every time, it is alright. This is how he/she will learn and master the art of self-feeding. Keep an eye on your baby while he/she is eating to avoid any episodes of choking.
#7. Do not force feed your baby. It can lead to puking. Let him eat according to his hunger.
#8. Make mealtime fun for your child by telling a story or playing a game while feeding him/her. Not only does it make the child more interested but also increases his knowledge and he/she gets to know about many other things.
#9. Keep your meals small and crisp. It's okay to feed at short intervals.
Also Read: 21 Weight Gain Foods for Babies
Food Chart for 9 Months Baby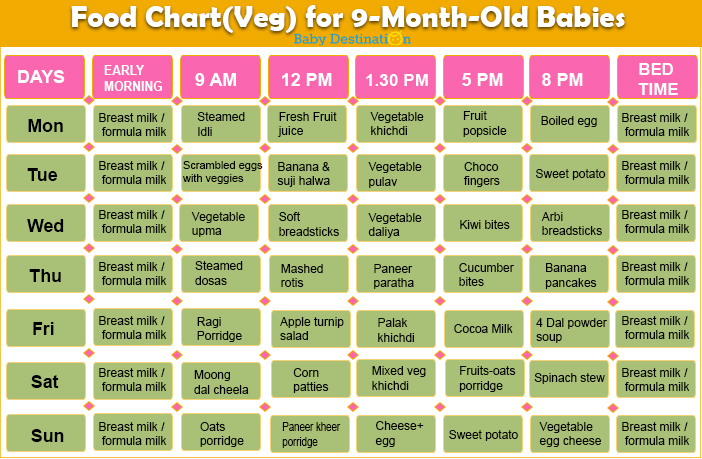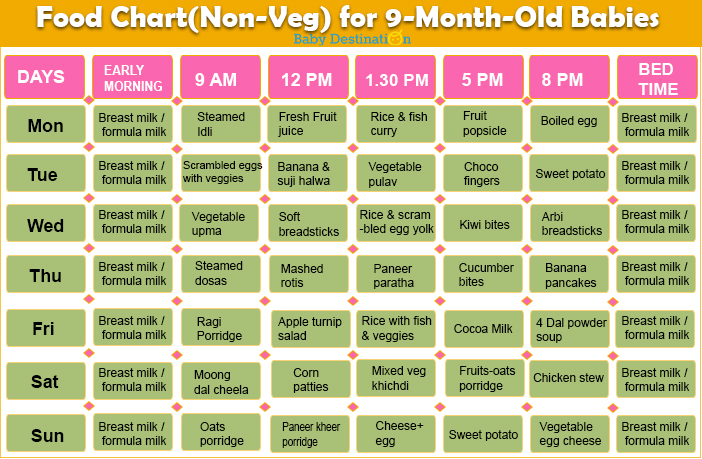 Don't forget to follow the 3-day rule for new foods!
Food options for your 9-month-old baby
#1. Arbi Breadsticks
Image Source: Foodnetwork
Ingredients:
2-3 whole arbi
1 tsp of ghee
Method:
Wash arbi properly. (It is normally has a lot of soil on it, wash it thoroughly)
Chop arbi in standing which makes it easier for your baby to hold.
Take a pan, add 1 tsp of ghee.
Roast it in ghee till it becomes crisp.
Also Read: 11 Superfoods You Should have while Breastfeeding
#2. Paneer Parantha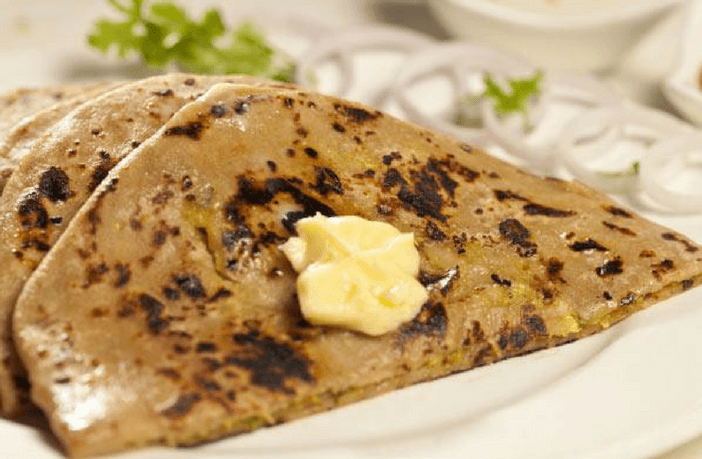 Image Source: iamgujarat
Ingredients:
Fresh homemade paneer
250 gms wheat flour
Water to knead the dough
1tbsp ghee
Method:
Knead a flour dough and keep it aside for 20 minutes.
Now take little dough, roll it into parantha and put paneer stuffing and roll it again to make a parantha.
Put parantha on pre-heated tawa, and prepare it by putting some ghee on top of it.
Roast until you see brown spots on both the side and serve it to baby.
#3. Apple Turnip Salad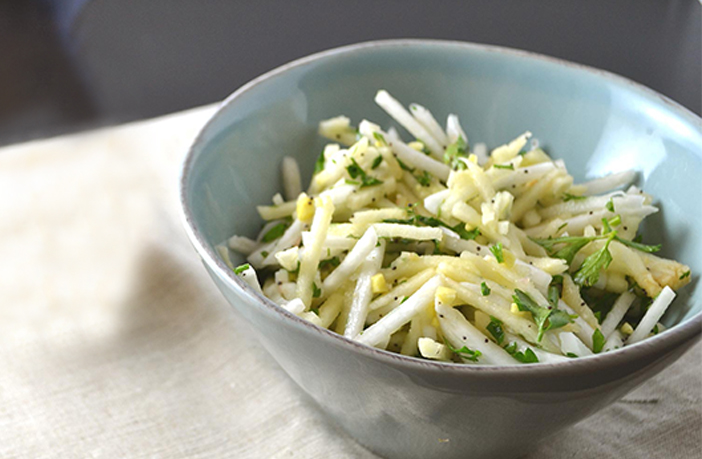 Image Source: farm fresh to you
Ingredients:
1 cup apple (grated)
1 cup turnip (grated)
2 – 4 tbsp parsley (chopped)
1 tbsp olive oil
Method:
Steam the apple and turnip for 10 minutes
Ensure that both are tender.
Allow them to cool.
Put them in a large bowl and add the parsley and olive oil and serve to baby.
#4. Sweet potato porridge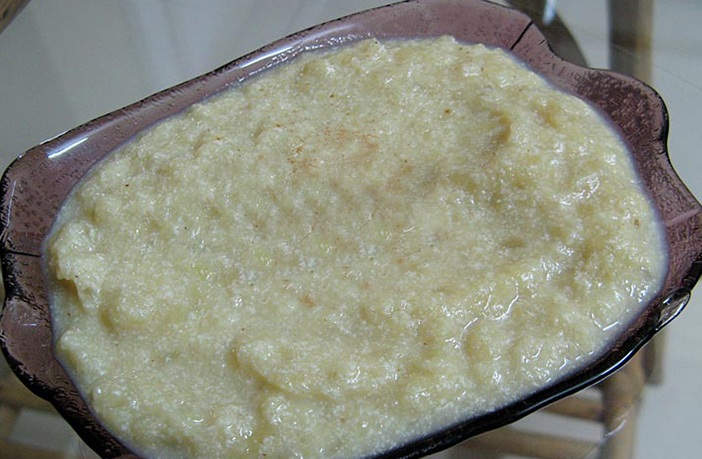 Image Source: mummumtime
Ingredients:
Rice – 1 cup
Sweet potatoes – 4
Water – 3 cups
Breast Milk/ Formula Milk – 1 cup
Method:
In a cooking pot, boil water.
Wash and clean the rice and add it to the pot.
Peel and cube the sweet potatoes and mix them with the rice.
You can add two more cups of water.
Bring the mixture to a boil. Then allow the potato and rice to cook on a low flame.
Once the rice and potatoes are cooked, turn the heat off. Let it cool and then add the breastmilk or formula milk.
Tip – You can add more milk to make this dish creamier for the baby.
You may also like: 31 Healthy Recipes Using Weight Gain Foods for Babies and Kids
#5. Moong Dal Cheela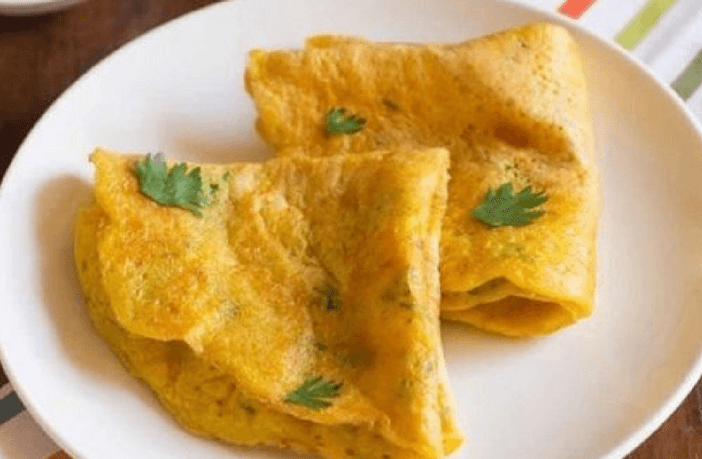 Image Source: Veg recipes of India
Ingredients:
½ tbsp yellow moong dal
¼ cup green split moong dal
¼ tsp cumin seeds
2 tsp ghee
Method:
Wash and soak both the dals for at least 3 hours.
Put all these in a blender and grind everything till you get a smooth batter. You may add some water to make it a dropping consistency.
Add the cumin seeds.
Take a non-stick pan, add ghee and heat it.
Use a big spoon to spread half of the cheela batter on the pan.
Put some ghee on the sides of the cheela and allow it to cook.
Once it turns brown on one side, flip it carefully.
Cook both sides and remove from fire.
Serve lukewarm to your baby. You can break the cheela into small pieces so that your child can pick up small pieces and eat himself.
We hope that this food chart for 9 months baby will be extremely helpful for you and your baby.
Also Read: 13 Super Foods to Improve Babies Immunity
Want to share your experience as a mom with other moms through words or images? Become a part of the Moms United community, click here and we will get in touch with you
null
null