The news of my pregnancy evoked a plethora of emotions in me and I could hardly wait for those nine months to pass. In the middle of the second trimester, my skin started to stretch to make room for the growing baby. As soon as the third trimester started, my breasts started getting heavier! I knew that one side effect of all these changes would be stretch marks on belly, breasts and thighs. I wanted to use an effective stretch marks cream which would not have any side effects on my skin or on my baby.
Click here to see 100% Safe and effective body butter for preventing pregnancy stretch marks
Upon doing research my doctor told me that most stretch mark creams contain a harmful ingredient called DMAE (Dimethylethanolamine) in them. It can be very harmful to the development of the baby inside the womb!
I researched a lot about the appearance of stretch marks and found the following facts:
Where do stretch marks usually appear – An average woman gains around 30 pounds during her pregnancy and such rapid growth causes reddish or whitish stretch marks on the stomach and breasts. Other areas like upper arms, thighs, and hips also bear the brunt of stretch marks.
When do stretch marks appear – Research has shown that approx. 90% of pregnant women get stretch marks in the later part of second trimester or third trimester
Genetics –If your mother had stretch marks, then you have greater odds of having them too.
Stretch marks vary with your complexion – Women with darker complexion tend to develop light-colored stretch marks whereas women with lighter complexion develop pinkish marks.
Although stretch marks are bound to appear during pregnancy and weight gain, Taking Proper care from the second trimester onwards can definitely prevent stretch marks from appearing.
Click here to see 100% Safe, Nourishing and Hydrating Stretch mark cream and Oil
When I was looking for safe and effective stretch mark creams, I came across the Moms Co Stretch Marks Cream and Oil. It was highly recommended by a friend. I placed my order and have been applying the stretch marks cream and oil for the past two months. I'm in my seventh month now and can hardly see any stretch marks on my skin.
These are 100% Safe and composed of all Natural organic ingredients. I later checked with my doctor and found that they have been dermatologically tested for use on the sensitive skin of Indian women.
Usage Directions and Routine for maximum effectiveness
Just apply the body butter and oil on your stretching belly, breasts and hips twice a day, starting from the 3rd month till you breastfeed your baby. Be careful to avoid the nipple area while breastfeeding.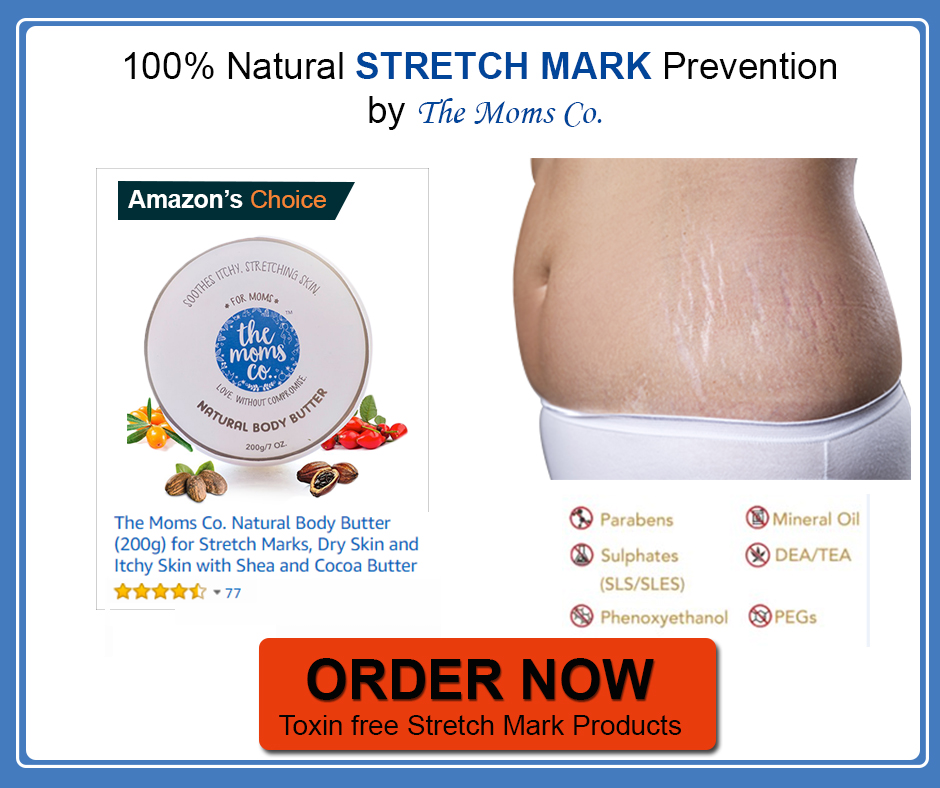 During Pregnancy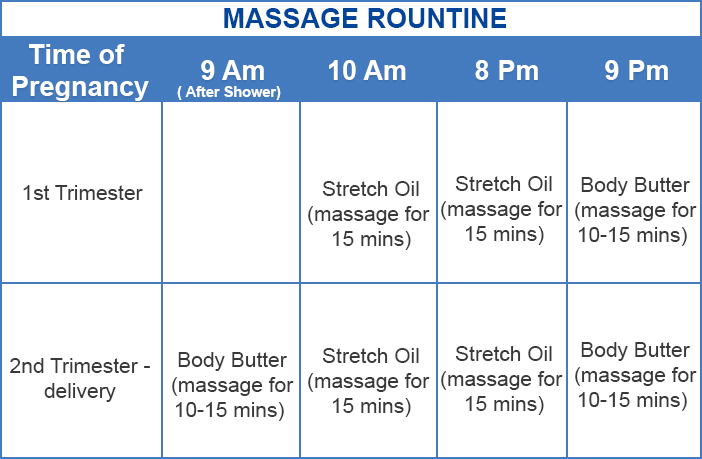 1. Third month to Fifth month
The stretch oil gets absorbed by the skin quickly and is non-greasy. It is great to rub on the belly. It keeps the skin hydrated for a long time.
2. Fifth month to Ninth month
The uterus expands rapidly during third trimester; After bath, Massage with the body butter and follow it up with stretch mark oil massage.
Follow this before bedtime as well
Regular use of the body butter and stretch oil from the initial stages of pregnancy has helped many women and they did not get any stretch marks at all.
Post Pregnancy or Non Pregnant
The body butter and stretch oil can help to lighten the stretch marks. You can use body butter as a daily moisturizing lotion.
It works best when applied right after a shower. The stretch oil should be used for massaging the belly and the hips before going to bed. You can see the results in 2-3 weeks.
Note: Results may vary from person to person as each woman's skin is different and has different elasticity. It also depends upon how old your stretch marks are. The body butter and stretch oil give best results when used in combination.
Click here to see the all natural Body Butter and oil to prevent stretch marks.
I am so glad I chose the best product for my skin! Here is what other moms have to say about Moms co Stretch Mark cream and oil on Amazon.
null
null