Gone are the days, when women would wear loose clothes to hide their baby bump! Now-a-days mommies wear trendy maternity wear that shows off their baby bump! And our Bollywood celebs are leading the way by taking maternity wear to whole new level.
#1. One shoulder high slit dress worn by Kareena Kapoor
Kareena Kapoor looked amazing during her pregnancy, taking pregnancy fashion to an all new high! Kareen was wore an olive green gown with an off shoulder gown and a high side slit to a birthday party of her relative. To accessorize she used a necklace, watch and clutch to complete her stunning outfit. Last we heard, Bebo was planning to write a book on maternity wear in India soon.
#2. Animal printed short dress worn by Lara Dutta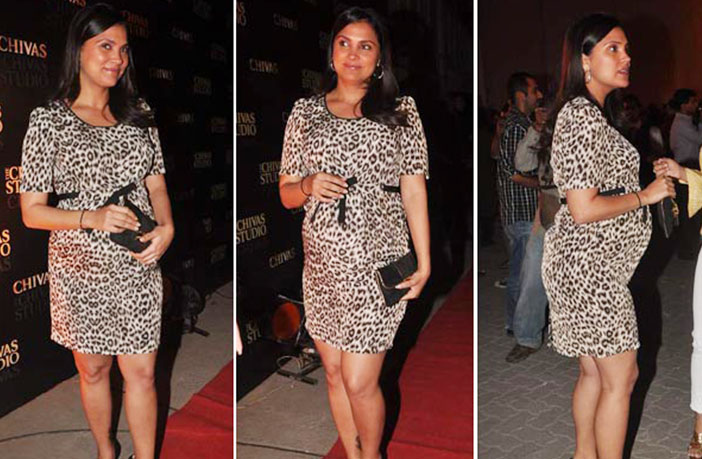 Former beauty queen Lara Dutta knows how to look stylish, every time she steps in front of a camera. Lara had graced many magazine covers in beautiful dresses while pregnant. Beside maternity fashion, she's also created a lot of awareness about prenatal yoga.
While pregnant, she wore this gorgeous leopard printed fitted dress with panache. While some expecting celebs have been spotted in loose fitted dresses and flats – Lara stayed fashionable with high pointed heels and well fitted dresses throughout her pregnancy.
Also Read: 7 Bollywood Celebs who opted for a Late Pregnancy
#3. Tube crushed short dress worn by Tara Sharma
Tara Sharma shows off her cute slim figure in this gorgeous blue tube crushed short dress, with gold polka dots. Sporting her baby bump, Tara didn't need any other accessories at all.

#4. Collared kurta and pallazo pants by Genelia D'Souza
A mom of two little kiddos, Genelia also looked fab during her pregnancy. Genelia took to ethnic fashion with an emerald collared kurta teamed with white palazzo pants. She accessorized well with a silver necklace. She wanted to be comfortable, so opted for flats – but nonetheless she was able to pull off the entire look.
#5. Off shoulder gown by Kareena Kapoor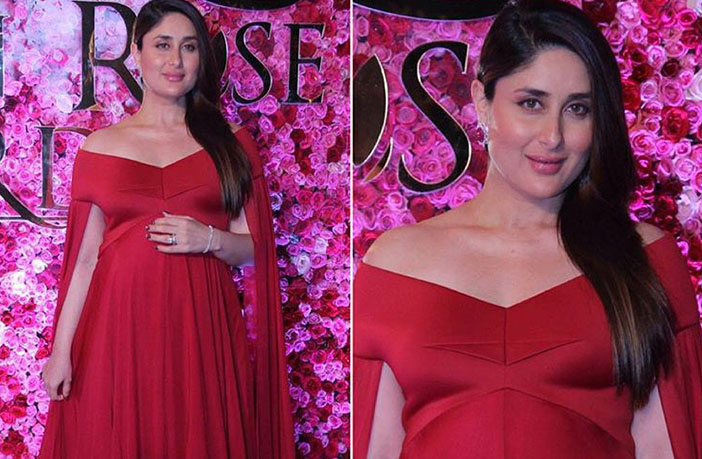 Bebo sure has broken every single stereotype during her pregnancy. Instead of wearing bagging and unflattering clothing, she looked every bit the diva she is.
At the Lux awards, she wore a gorgeous maternity gown from Gauri and Nainika collection. The stunning red floor length gown was off shoulder with a plunging neckline and long cape sleeves. No one could have worn it better!
Also Read: 7 Amazing Mother-Daughter Relationships of Bollywood

#6. Halter empire waist line worn by Aishwarya Rai
Aishwarya enjoyed her pregnancy to the fullest and took her own sweet time when it came to losing the post pregnancy weight. But, all the while she looked stylish and trendy! In this picture we can see Aishwarya in her multi pink V plunge neck halter empire waist line dress, looking gorgeous!
Also read: 7 Popular Bollywood Celebs who've had a Caesarean Delivery
#7. Off shoulder cape worn by Konkana Sen
Konkana has always been seen rocking ethnic fashion. But during her pregnancy she was seen with her baby bump on the cover of OK India Magazine, in an olive green off the shoulder cape. In this gorgeous dress, she's seen revealing her bump and warmly touching it with a beautiful smile on her face. Her braided plaits add an Indian touch to complete the look.
Which celebs did you spot in beautiful maternity dresses? Share with us below!
Want to share your mommy experience with other moms through words or images? Become a part of the Moms United community. Click here and we will get in touch with you
null