Childhood obesity is fast assuming epidemic proportions and that's the grim reality of the world we live in. India is home to the second highest number of obese children in the world (14.4 million), next only to China. The reasons for childhood obesity are well known- lesser outdoor time, increasing intake of processed and junk food and our increasingly sedentary lifestyle.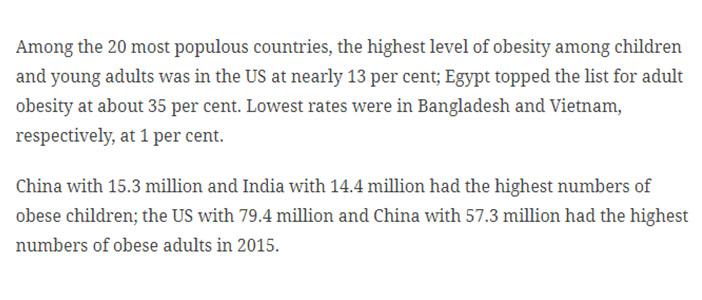 Source Indian Express
Another culprit is our own attitude. A chubby child is often called 'cute' and 'healthy', and a thin child is considered weak. When the chubby child grows up to be an obese adult, then he/she has to join a gym/fitness center and go to a dietitian to get rid of his 'cute chubbiness'.
Overweight or obese children run the risk of growing into obese adults who are at a higher risk of lifestyle-related disorders like diabetes, heart disease, hypertension, constipation, fissures and thyroid. In the case of the girl child PCOD (Polycystic ovarian disease) can also be seen. Improving the entire family's diet and exercise habits is one of the best ways to achieve a fit and healthy body with a desirable weight and a healthy lifestyle in kids as well.
Also Read: 7 food charts (Bonus Recipes) for 0-2 year babies
Dietary tips to prevent childhood obesity:
Encourage intake of natural whole foods like fruits, vegetables, whole grains pulses and nuts.
Introduce your child to all available seasonal fruits and vegetables by the age of 2.
Children should be introduced to dishes traditionally consumed by our ancestors as per seasons and festivals. So do include seasonal items like halwa, gajjack and saag whenever in season
An interesting way to introduce foods like leafy veggies, broccoli, pumpkin and you can incorporate these veggies into soups, sauces, dips, dishes like pav bhaji, kebabs and rolls. These dishes can be introduced alongside a favorite dish of the child so that your child eats it eagerly.
Limit intake of processed foods as they carry excess sugar, salt, fat and additives like preservatives, artificial colors, flavor enhancers.
Decide on a certain frequency of eating out or eating junk that is acceptable to both your child and you. Try to stick to the pre-decided agreements and remember, if you hesitate, your child will hesitate.
Try to prepare your child's favorite dishes at home and give healthy substitutes to junk dishes. For example, while making pizza at home, make the base out of whole wheat, prepare fresh tomato sauce and use fresh veggies as toppings.
Serve small and frequent meals – as kids get hungry frequently.
Encourage kids to recognize fullness signals. If you force them to eat after they are full, they are very likely to learn to ignore fullness signals as they grow up and overeating will become their way of life – paving the way for obesity.
Lifestyle modifications to prevent childhood obesity:
Lead by Example, it is the easiest and the most foolproof way to induce favorable behavior. Exhibit eating practices which you want your kids to adopt.
Emphasize the importance of physical activity – again lead by example by going for a walk or indulging in a sport.
Reduce sitting hours as much as possible.
Organize family outdoor events like playing a sport, cycling, camping, trekking, going for nature walks etc.
Do not body-shame them and never compare them to anyone. Overweight kids need to be dealt with a lot of sensitivity, love and patience. A few harsh words can jeopardize their self-esteem forever.
The goal of nutrition counselling is achieved when "I can't have that" is turned into "I don't want that".
Also Read: 21 Iron Rich Foods for babies and toddlers
Try these fun and wonderful recipes to pep your child's interest in healthy food:
#1. Tricolour Paratha
A paratha with a blend of flavours, colours, nutrients and antioxidants that have a great visual appeal and superior nutritive value!
Ingredients:
Whole wheat flour – 60 grams
Spinach leaves – a few spinach leaves
Carrot – ½ cup diced
Beetroot – ¼ cup diced
Carom seeds (ajwain) – a pinch
Salt to taste
Desi ghee – 1 tsp
Dollops of love
Method:
Blanch spinach in water, grind to a fine paste.
Similarly, make carrot and beetroot puree using the minimum amount of water.
Divide the wheat flour into 3 parts. Make 3 separate doughs using the three purees. Also add the salt, carom seeds to each portion. Usually, there is no need to add water.
Roll out each dough into a snake-like cylindrical shape. Place the three dough cylinders together.
Sprinkle some dry flour and roll together in a spiral to make a ball.
Flatten the ball with a rolling pin.
Heat the tawa, cook the paratha with desi ghee.
Serve hot with any chutney, curry or curd.
Tip: You could substitute spinach with any other seasonal green leafy vegetable.
#2. Powerpuff Idlis
An innovative way to feed legumes to kids who are averse to eating dals! This recipe doesn't require the usual ingredients (rice/suji). A protein-packed power snack to solve your snack-time dilemma!
Ingredients:
Moong dal – 1 cup (soaked overnight or for minimum of 2-3 hours in warm water)
Onion – ¼ th cup chopped
Carrots – ¼ cup chopped/grated
Coriander leaves – a few sprigs
Turmeric powder – ½ tsp
Salt to taste
Eno powder – 1 tsp
Oil – for greasing of moulds
Countless blessings
Method:
Soak dal overnight or for a minimum of 2-3 hours in warm water in just enough water. Grind the dal to a fine paste so that it has a dropping consistency.
Throw in chopped onions, carrots, coriander leaves, turmeric powder and salt.
Grease the moulds, add Eno to the batter when the water starts boiling in the steamer, prepare idlis by steaming for about 15 minutes.
Serve hot with mint chutney or onion-tomato chutney or temper with mustard seeds-curry leaves.
Hope you found these recipes useful. What healthy recipes do you try at home? Share below!
—————————————————————————————————————————-
The author of the article is Pooja Malhotra who is nutritionist based out of New Delhi-NCR. She is a Gold Medalist and completed her Masters in Food & Nutrition from Lady Irwin College, DU. She passionately believes in educating her clients and uses their metabolic individuality to customise diet plans and advise them to help them achieve their goals and manage lifestyle disorders effectively. Pooja can be reached on dietitianpooja22@gmail.com She also answers nutrition related questions in her Facebook Group.
null
null