Congratulations! Your baby has turned 1! It's been a year already and your baby has crawled out of your arms and is getting ready to walk. The first birthday of a baby is a really special occasion for the parents and calls for a celebration. If you are looking for birthday ideas for your child, you've come to the right place.
Although many people throw a huge party to share their joy, many people are of the opinion that the child is not going to remember any of this. At lavish parties, kids are dressed up in very uncomfortable clothing and they are greeted by so many people, who they don't remember or know.
Also read: Ideas to Celebrate Kid's Monthly Birthday
Kids do not enjoy this party at all and I'm sure if you show them pics of this celebration, years later, they'd be even more unhappy to see their crying pics. One should do something that kids really enjoy since it is their day and it should be spent with people who they love!
5 Amazing Birthday Ideas For Your Child
#1. A Small Gathering
Keep it a small gathering – only family members and maybe a few close friends. These should be the people your baby is most friendly with. With familiar faces around, the baby would be happy and enjoy to the fullest. This is what Saif and Kareena did on their son, Taimur's first birthday. The green eyed cutest bollywood baby's birthday was celebrated amongst close family members – massi Karishma, cousins – Kiaan and Samaira, dadi Sharmila Tagore, nani Babita and nanu Randhir Kapoor.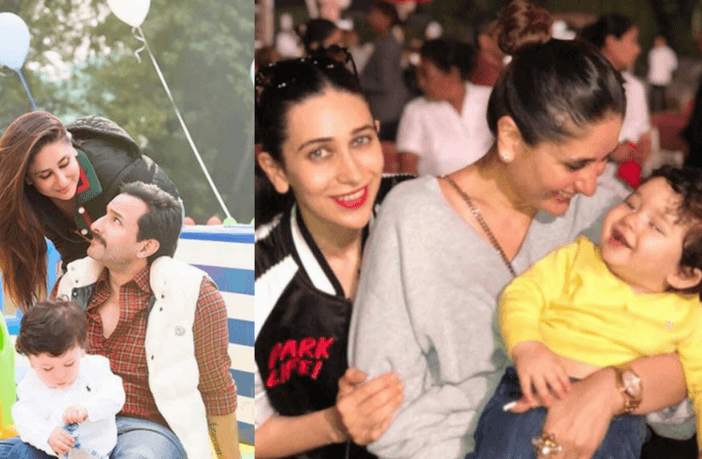 Image Source: Zee news
Also Read: 7 Amazing Mother-Daughter Relationships of Bollywood
#2. Yummy Kids-Special Cake
Order a cake flavor that your child will relish and it should be a shape of your kid's choice, basically a kiddie cake – favorite toy, doll, cartoon character, animals or anything which your child likes. It should really make your baby drool! Little Taimur had a three tier colorful cake with his favorite animals and he was really excited to taste it before anyone else.
Image Source: times now
Also read: It's A Girl For Neha Dhupia And Angad Bedi
#3. Favorite Activity
Plan an activity or a little outing for the child to make the most of it. If your child likes painting, make him/her go wild painting and messing up his/her clothes. There should be no stopping and your baby should have lots of fun doing what he/she really likes. Kareena and Saif took Taimur for a tractor ride and a horse ride and he sure, had a great time riding with his favorite people.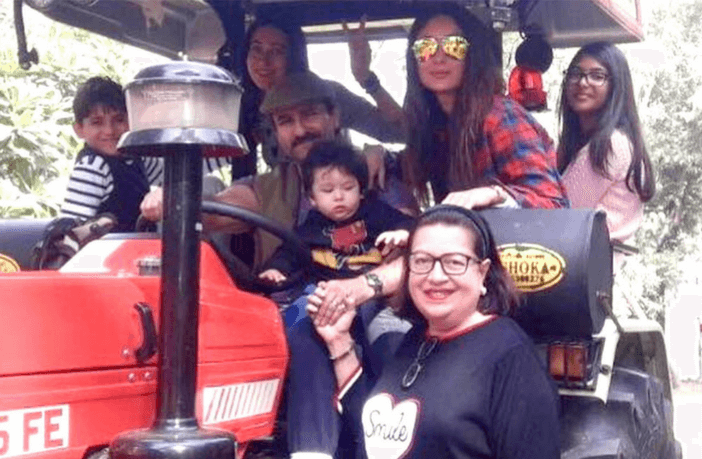 Image Source: vogue india
Checkout– What Karan Johar has to say about Premature babies care
#4. Birthday Selfies
Pictures, selfies, and posing are very important to capture all the memories. These are the wonderful keepsakes and you and your child will love to look at them years from now. This is the time when children start posing for the camera so you can get some really cool clicks! It would be fun to see the newborn pictures along with first birthday pics together. Taimur has surely learnt to smile at the camera and see how he flashes his teeth!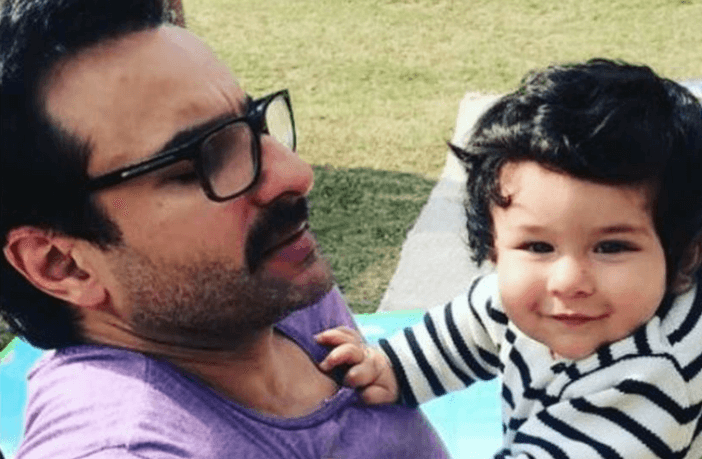 Image Source: hindustan times
Also read: Deepika and Ranveer's Dreamy Wedding
#5. The Perfect Gift
No birthday is complete without a gift, so your child needs to receive a wonderful gift which he/she likes on the first birthday. And what could be a better gift than a toy for a baby? Babies love toys and it would be a great idea to buy something useful like a rider cum walker since this is the time your child is ready to take his/her first steps. Taimur has got the perfect gift – An actual forest! Yes, that's right. Kareena Kapoor's nutritionist Rujuta Diwekar gave him a forest – Taimur Ali Khan Pataudi Forest. It is an amazing place for a child to enjoy nature and reap the benefits of the various natural fruits.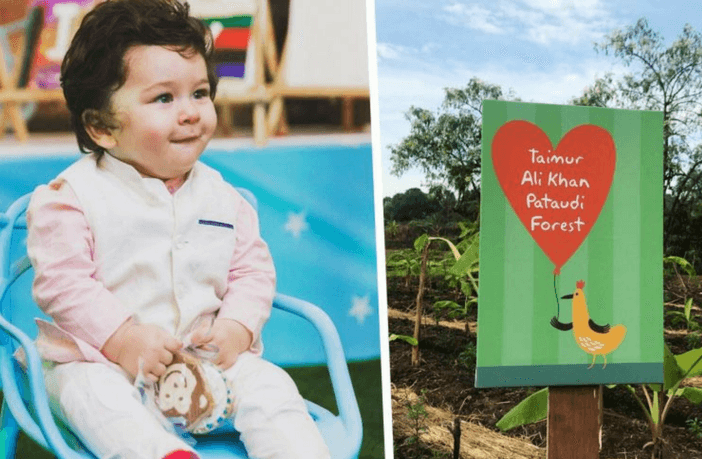 Image Source: GQ India

May God bless Baby Taimur and we get to see more of his amazing pics!
Also read: How To Plan A Disney Themed Party For Your Little Princess
If you are trying any of these birthday ideas for your child, please share your pictures in the comments!
Want to share your mommy experience with other moms through words or images? Become a part of the Moms United community. Click here and we will get in touch with you
null
null