It is quite rare to find a kid who takes to brinjal easily. Brinjal has a distinct taste and texture that takes some time for kids to get used to. However, brinjal is an extremely nutritious vegetable. It is loaded with minerals like folates, manganese, and potassium. It also contains Vitamin K and Vitamin C that is very important for your child's development. With some interesting brinjal recipes for kids, you can actually make this veggie palatable for kids. In fact, the recipes mentioned below are an instant hit.
Delicious Brinjal Recipes For Kids
Eggplant or brinjal is filled with benefits. It is great for the heart, liver and also helps in managing weight. Let's take a look at these healthy brinjal recipes for kids:
#1. Brinjal Curry
This is a simple recipe that involves no grinding or elaborate preparation.
Ingredients
Brinjal- 250gm
Oil- 2 tbsps
Mustard- ¼ cup
Chopped Onion- 1
Chopped Tomato- 1
Curry leaves- 1 sprig
Jeera- ¼ tsp
Ginger garlic paste- 1 tsp
Turmeric- ½ tsp
Garam Masala- ½ Tsp
Chopped coriander leaves- 1 tbsp
Salt to taste
Directions
Heat some oil in a pan and add cumin and mustard seeds.
When they splutter, add curry leaves and onions.
Once they are slightly brown, add the tomatoes and saute for a few minutes.
Add the ginger garlic paste and the dry masalas.
Mix in the baingan when the masala leaves oil. Add salt and let it cook till tender.
Garnish with coriander leaves
Serve with rice or chapatis.
Also read:
Easy And Yummy Finger Food Recipes For Fussy Eaters
#2. Fried Brinjal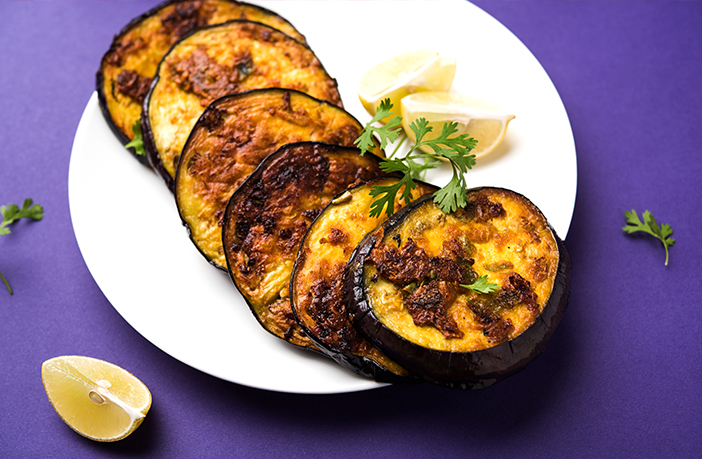 Kids love anything that is fried. This is an easy brinjal recipe that is a hit with kids.
Ingredients
Peeled and sliced brinjal- 1
Flour- 1 cup
Eggs-2
Milk- 1/4th cup
Oregano- 1 tbsp
Salt- 1 tbsp
Olive oil- ½ cup
Directions
Sprinkle salt on the brinjal and keep it aside for about 40 minutes.
In a bowl, mix the milk, eggs, and oregano.
Heat some oil in a pan.
Dip the brinjal in the egg and milk mixture and then in some flour and fry till both the sides are golden and crisp.
#3. Baingan Ka Bharta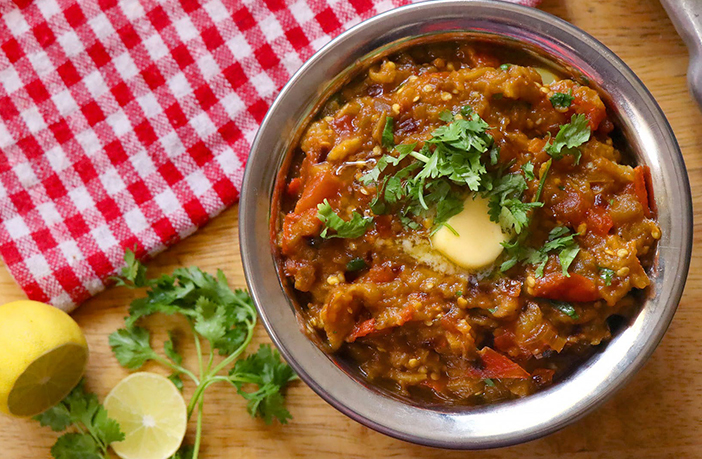 With this recipe, your little one won't even know its baingan.
Ingredients
Large brinjal- 1
Chopped onions- 1
Chopped tomatoes- 1
Yoghurt-250gm
Chilli powder- 1 Tsp
Turmeric powder- 1 Tsp
Coriander powder- 1 Tsp
Salt to taste
Oil- ½ cup
Ginger Garlic paste- 2 Tsp
Garam Masala- 1 Tsp
Directions
Place the brinjal on the flame directly and roast. Remove the skin and mash it.
Heat oil in a pan. Add the onions and fry till it is transparent. Add ginger garlic paste.
Add chopped tomatoes and dry masalas and cook till the oil separates.
Mix in the mashed brinjal and salt. Stir for a few minutes.
Garnish with chopped coriander and serve.
#4. Baked Brinjal With Cheese
This is a simple recipe that will work even for parties and special occasions.
Ingredients
Sliced brinjal- 1
Milk- 1 cup
Salt- 1 tbsp
Flour- 1 cup
Breadcrumbs- 1 cup
Vegetable oil- 1 tbsp
Pasta sauce (store bought)- 1 cup
Mozzarella cheese- 2 cups
Directions
Preheat the oven to 425 degrees.
Mix the salt and milk in a bowl and add the brinjal slices. Let it soak for 20 minutes.
In another bowl, mix the salt, breadcrumbs, and flour.
Grease a baking pan.
Toss the brinjal in the breadcrumb mixture and place them in the pan.
Bake till both sides are golden.
Pour in the pasta sauce and cheese and bake for a few more minutes till the cheese melts.
#5. Brinjal Pasta Salad
Add an interesting twist to your child's lunch with this easy brinjal recipe.
Ingredients
Olive oil: 3 tbsp
Sliced brinjal- 1
Halved button tomatoes- 1 cup
Tomato paste- ¼ cup
Sliced celery stalk (optional)-2
Sugar- 1 tbsp
Chopped parsley/ coriander- 1 cup
Cooked penne pasta- 2 cups
Water
Salt and pepper to taste
Directions
Heat some oil in a pan. Saute the celery till tender.
Add tomatoes and brinjal and cook till tender.
In a bowl, mix the tomato paste, salt, sugar and pepper together. Add this to the pan and let it simmer.
Mix in the penne pasta and cook for a few minutes.
Garnish with chopped parsley or coriander and serve hot.
Also read:
7 Easy And Delicious Beetroot Recipes For Kids
#6. Crispy Brinjal Sticks
This finger food brinjal recipe is great to get your child to eat well.
Ingredients
Sliced brinjal- 1
Olive oil- 1 tbsp
Salt and pepper to taste
Breadcrumbs- ½ cup
Grated cheese- 2 tbsp
Egg- 1
Cooking spray or oil
Directions
Preheat the oven to 450 degrees.
Line a baking pan with baking sheets and grease it with or cooking spray.
In a bowl, mix the brinjal, oil, salt, and pepper. Let it rest for a while.
Mix the breadcrumbs and cheese in another bowl.
Dip each slice of brinjal in this mixture and line it on the baking dish.
Let it bake for ten minutes or until the cover is brown and crisp.
#7. Stuffed Brinjal
This is a flavorsome recipe that your kid will love.
Ingredients
Brinjal, medium- 2
Olive oil- 50ml
Peeled and chopped onions- 2
Cumin seeds- 1 tsp
Chili powder- ½ tsp
Peeled and chopped garlic- 4 cloves
Coarsely chopped tomatoes- 4
Tomato puree- 1 tbsp
Black pepper powder and salt to taste
Coriander, chopped- 2 tbsp
Directions
Slice the brinjal in half lengthwise, scoop the flesh out and keep aside.
In a pan, heat oil and saute the scooped flesh and onions for a few minutes.
Add the rest of the ingredients and cook till the vegetables are tender.
Spoon this into the brinjal "shells" or peel.
Place the stuffed brinjal in and baking dish and pour some water on the bottom of the pan.
Cover it with foil and bake at 200 degrees till the brinjal is tender.
Garnish with coriander and serve.
Also read:
15 Best Home Made Sweet Recipes For Kids
Want to share your experience as a mom with other moms through words or images? Become a part of the Moms United community. Click here and we will get in touch with you
null
null