Speak to any mother and the conversation will eventually turn to their kids' food habits and their effort to get them to eat healthy while making the food tasty and appealing at the same time. Breakfast is a meal when mothers are most pressed for time, yet they want their kids to have a tasty and healthy meal. We bring you recipes which are easy to whip-up and go beyond the boring bread-butter or cereal.
9 Healthy Breakfast recipes for school going kids
#1. Cheese carrot paratha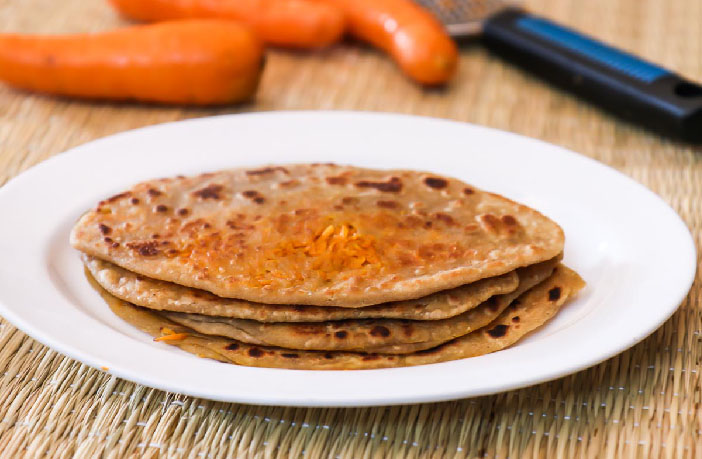 Most kids love cheese and all mothers love it when their kids eat veggies. With this delicious paratha, kids will get a dose of healthy carrots along with their favorite, cheese.
Ingredients:
Whole wheat flour - enough to make dough
Carrot – 2 small
Grated Cheese – 1/3 cup
Roasted Jeera powder – 1 tsp
Chat Masala powder – 1/2 tsp
Salt – to taste
Oil / Ghee – toast
Method:
Make dough for rotis / paranthas with the whole wheat flour, enough water and a pinch of salt.
For the filling - peel, wash and grate 2 small carrots.
Dry roast carrots in a small pan for 3-5 mins to partially cook them.
In a bowl - combine grated carrots, grated cheese, roasted jeera powder, chaat masala powder and salt to make the paratha filling.
Stuff this filling into the parathas and cook parathas with ghee/oil and your delicious parathas are ready.
Tip:
Serve with curd, raita, butter or tomato sauce. Not only are they excellent at breakfast but make for a delicious lunch too.
#2. Beetroot sesame paratha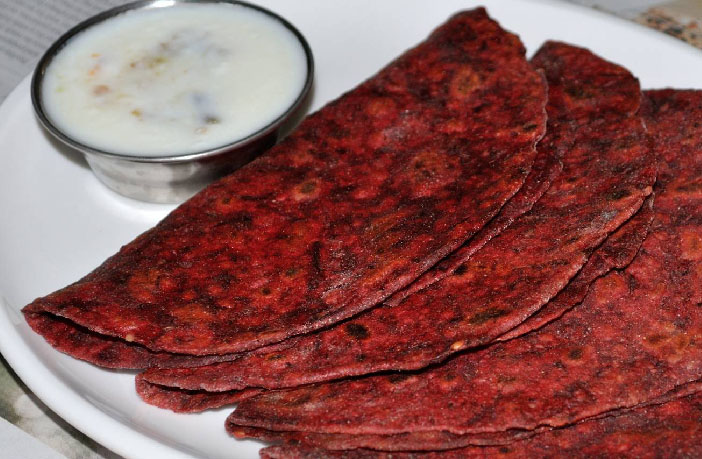 Also Read:
5 Delicious Homemade Cerelac Recipes Your Kids Will Love!
Beetroots are rich in iron, calcium, magnesium, potassium, and a host of vitamins. This unusual but delicious recipe is the perfect way to get not just kids but adults too to eat this wonderful vegetable.
Ingredients:
Boiled and mashed beetroot - 1/4 cup
Sesame seeds - 1 tablespoon
Whole wheat flour - ½ cup
Oil - 2 tsp oil for dough plus 2 tsp for cooking
Coriander powder - ½ tsp
Turmeric powder - ¼th tsp
Salt to taste
Method:
Mix all the ingredients and knead the dough.
Roll out the paranthas.
Heat a tava and cook the paranthas, adding a little oil on each side.
Tip:
Kids will love this paratha with butter and ketchup. Adults are sure to enjoy these with pickles and curds. You could pre-boil and refrigerate the beetroots to speed up breakfast.
#3. No Bake breakfast balls: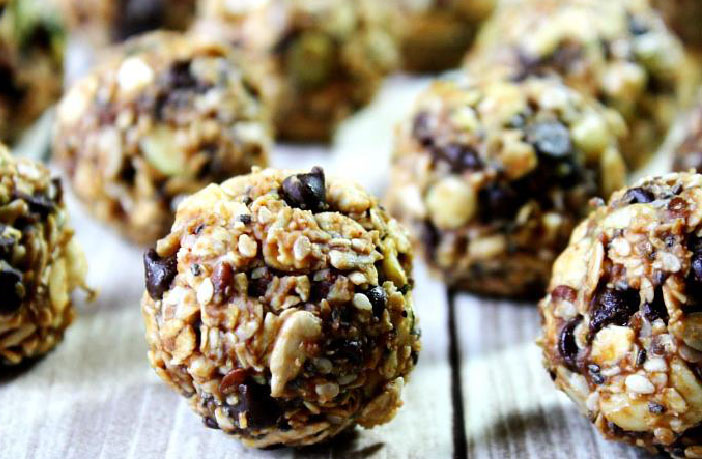 This unusual but easy to make recipe is perfect for the child with a sweet tooth. It is filled with the goodness of nuts, a multitude of vitamins and minerals and is the perfect breakfast on-the-go. Ingredients
Almonds (slivered) - 1/4 cup
Cashew pieces - 1/4 cup
Dried fruit (dates / dried cherries / dried apricots / sultanas) - 1/4 cup
Almond butter - 1/4 cup
Peanut butter - 1 teaspoon
Dark Chocolate pieces - 2 Tablespoons
Toasted granola -1 cup
Note:
Almond butter, peanut butter, chocolate bits and granola are now easily available at any high-end grocery store.
Method:
Put all ingredients except almond butter, peanut butter, and granola into the food processor. For balls that bind well, consider chopping them coarsely.
Mix in the almond butter, peanut butter, and granola and put the mixture in the fridge for about 3 hours.
Use a tablespoon scoop to scoop up and roll into balls with clean hands.
Tip:
Store the balls in an airtight container to keep fresh for a couple of days. You could substitute the nuts mentioned above with any of your liking or add a few more like pecans, pistachios or walnuts.
#4. Paneer Bhurji Sandwich/rolls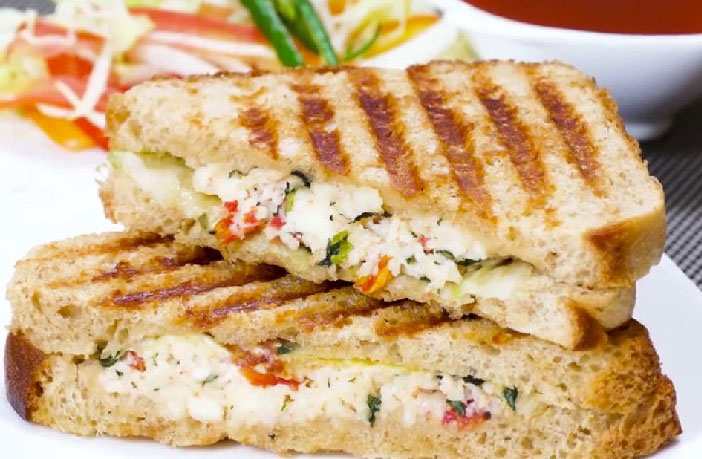 If your kids and you are tired of eating the same old bread-jam or bread butter here is an easy to make paneer sandwich or roll which the entire family will love.
Ingredients:
Brown bread for sandwich - 2 slices OR chapatis / parathas for rolls
Fresh Paneer -100 gm
Onion chopped finely - 1 small
Tomato chopped finely - ½ small
Ghee/oil - ½ tsp
Pinch of turmeric
Pinch of salt
Pinch of garam masala
Method:
To make Bhurji - Grate paneer. In a pan, sauté onions in a little ghee/oil till they are transparent. Add tomatoes and sauté till cooked.
Add the salt, turmeric, garam masala and paneer.
Spread this Bhurjee between two slices of bread to make a sandwich.
Roll this bhurji in a parantha or chapati to make a quick and tasty roll.
Tip:
You could spread a layer of green coriander-mint chutney or ketchup or mayonnaise in the sandwich as per your child's taste. You could serve the sandwich as breakfast and the Bhurjee with parathas for lunch. Also Read:
10 Healthy Halwa Recipes for Babies and Kids
#5. Sweet Cinnamon French Toast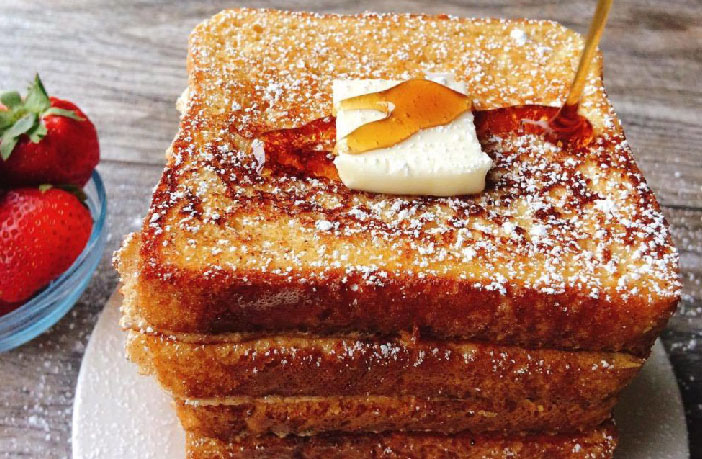 Eggs are a must have for growing kids as they come packed with protein and a host of other vitamins and minerals. This French toast recipe is a delicious way to ensure your kids eat their eggs and love them too.
Ingredients:
Egg - 1
Milk - 1 tbsp
Bread - 2 slices
Sugar/honey - 1 tsp
Cinnamon powder - 1 pinch
Butter to fry
Method:
Crack the egg in a bowl and add milk, cinnamon powder, and sugar/honey. Whisk well into a smooth batter.
Cut the bread into any shape your kids fancy.
Dip the bread into egg mixture and let it soak the egg for a couple of minutes but not too much that the bread breaks in the egg mixture.
Heat butter in a non-stick pan.
Put soaked slices on pan and let it fry. Flip the slices over and cook on both sides until golden brown and as crisp as you like.
Tip:
Serve with a dollop of cream, syrup or fresh cut fruit to make this French toast simply irresistible.
#6. Mix vegetable idlis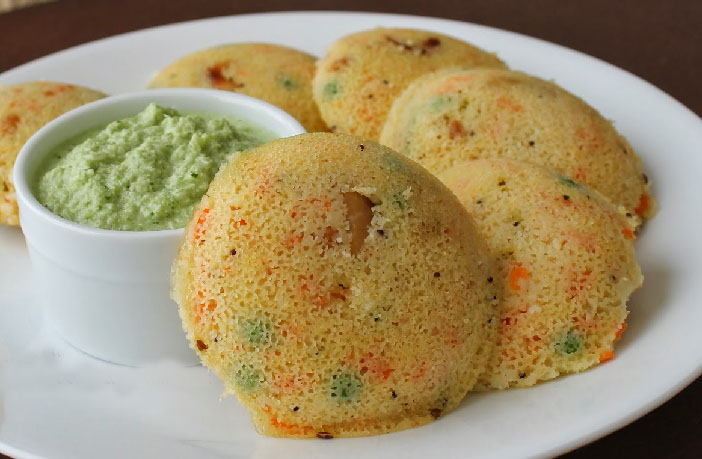 Are your kids bored of regular idlis? This recipe adds the goodness of vegetables to good old idlis to make them not just more colourful, but also healthier.
Ingredients:
Idli Batter - homemade or store bought
Finely chopped mix vegetables - carrots, French beans, capsicum, onions, cabbage, sweet corn, potatoes
Oil - 2 tsp
Cumin seeds/jeera - 1 tsp
Salt to taste
Method:
Heat oil in a pan. Add cumin seeds and let it splutter.
Add all vegetables and salt and saute on medium flame for a few minutes stirring frequently. You do not have to cook it fully as we are going to steam it with the idli batter.
Add coriander leaves and remove from heat.
After it cools, mix it with the idli batter. Take a ladle of batter and pour it in the idli moulds.
Steam for 10-15 minutes or until a toothpick inserted in the center comes out clean. Your idlis are ready.
Tip:
Serve with coconut chutney or tomato ketchup as per your kid's taste. You can add little garam masala powder, chilli powder and coriander powder for spicy vegetable idli. Mix vegetable idli with chutney and sambar makes for a complete family meal too.
#7. Ragi (nachni / finger millet) vegetable dosa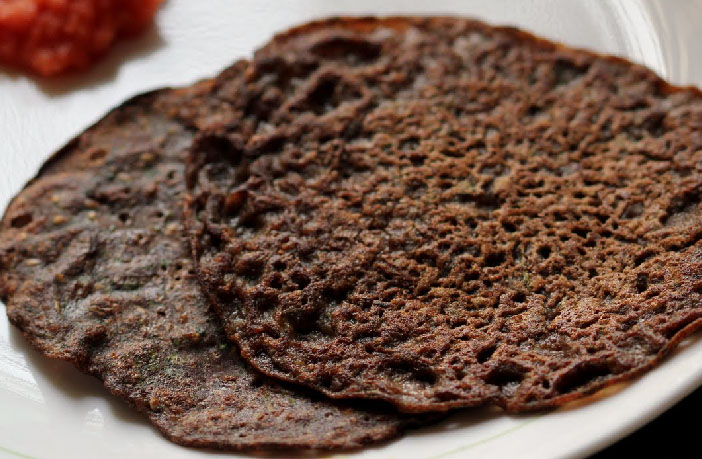 Ragi is packed with proteins, iron, and calcium in high amounts. Because of this, it is a healthy addition to a child's diet and in many regions, one of the first foods babies are introduced to. The addition of vegetables only enhances its goodness.
Ingredients:
Ragi (finger millet) flour - ¾ cup
Wheat flour - ¼ cup
Sooji (semolina) - 2-3 tbsp
Mix Vegetables grated or chopped: carrots, spinach, onion, and tomato
Corainder leaves - a few, finely chopped
Curd - 1 spoon
Cumin seeds - 1/2 tsp
Water, as required
3 tbsp oil
Salt to taste
Method:
In a bowl, add the flours, semolina, vegetables, cumin seeds, coriander, salt, curd, and mix, while adding water. Mix it properly to form a smooth batter without lumps.
The consistency of the batter shouldn't be too watery – so add water in portions to not make it too runny.
In a pan, add oil and spread the batter as you would make a regular dosa.
Let it cook/roast for a couple of minutes or until one side turns golden brown and the other is cooked.
Tip:
Serve with coriander chutney or ketchup as your child likes. Also Read:
7 Healthy Pancake Recipes For Kids
#8. Broken Wheat Upma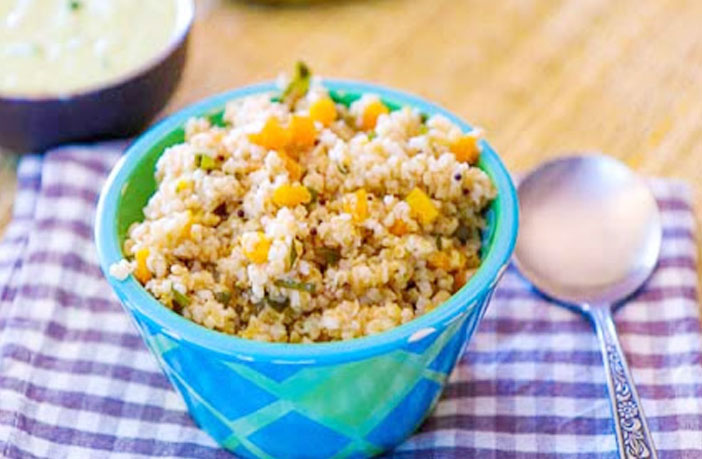 This is a recipe liked by kids and health-conscious adults alike. Made with broken wheat (dalia) and a variety of vegetables, this makes a wholesome breakfast.
Ingredients:
Broken wheat – 1 cup
Onion – 1, large, finely chopped
Ginger – 1 inch piece, finely grated
Mixed vegetables – 1 cup (Beans, carrots, capsicum, peas)
Cooking oil – 1 tbsp
Mustard seeds – 1 tsp
Turmeric powder – ½ tsp
Urad dal – ½ tsp
Curry leaves – 10
Coriander leaves – 1 tbsp
Salt – to taste
Method:
Roast the cleaned and broken wheat on medium flame until slightly warm.
In a pressure cooker, heat the oil, add mustard seeds, urad dal, and curry leaves and allow everything to splutter.
Add onions, ginger and sauté until the onions turn brown.
Add all veggies sauté for few minutes.
Add broken wheat and salt and mix well.
Add thrice the amount of water as broken wheat (3 cups water for 1 cup broken wheat) and bring it to a boil.
Close the cooker and pressure cook for 2 whistles.
Sprinkle coriander leaves and serve hot.
Tip:
This Upma tastes best with green coriander-mint chutney. You could keep the veggies chopped the previous night, pre-roast and store broken wheat to simplify your task and make this in a jiffy
#9. Easy Bread Pizza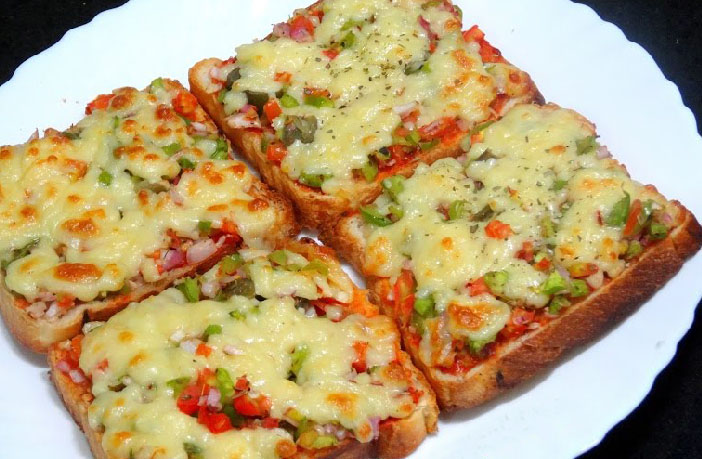 There is hardly a kid who will say no to pizza, and when i''s so easy to make and healthy to eat, no mother will refuse either.
Ingredients:
Wholewheat/ Brown/ White bread – 2 slices
Finely chopped - mix vegetables like onions, capsicum, tomatoes, mushrooms, grated carrots, sweet corn
Grated Mozzarella / processed cheese
Butter as required (room temperature)
Tomato ketchup
Salt and pepper
Oil to grease
Method
Preheat oven to 180 degrees C.
Spread butter on one side of the bread slice. Now spread the tomato ketchup.
Top it with your child's favorite veggies. (You may also add cooked chicken pieces or egg).
Sprinkle a little salt and pepper to taste.
Grate cheese over the toppings generously.
Grease a baking tray using a little oil.
Place the prepared slices on the baking tray and bake them in the oven for 10-12 minutes till the bread becomes crisp and the cheese melts.
Cut into your child's favourite shape and serve topped with a little ketchup.
Tip:
Serve with ketchup or mayo and watch your kids lick their fingers. Also Read:
Benefits of Oatmeal in your child's diet (with 7 recipes)
Want to share your mommy experience with other moms through words or images? Become a part of the Moms United community.
Click here and we will get in touch with you
null