Any woman, be it a celebrity or anyone else, wishes to have a normal delivery. The reason why many celebrities try harder for a normal delivery is that it is much easier to get back in shape after a normal delivery than a C-Section one.
A caesarean delivery leaves behind a scar, which can be adverse to their professional life as Bollywood demands that actresses remain picture perfect. Some celebs also undergo cosmetic surgery to get rid of their scar.
However, God has a set plan for everyone and all women are not able to have a normal delivery. And we can fiddle with Mother Nature for only so much! While pregnancy is a beautiful phase, each pregnancy is different and some medical conditions can actually make a caesarean section delivery inevitable.
So, whether you deliver vaginally or via C-section don't dwell too much on it, and instead enjoy your new motherhood. Here is the list of Bollywood moms who had a C Section Delivery.

Also Read: Viranushka's Good News
Here are 7 Popular Bollywood celebrities who've had a C Section Delivery:
#1. Kareena Kapoor C-Section Delivery
Bebo or Begum Sahiba, welcomed her little bundle of joy with a planned C-section. While lots of controversy interrupted over the name of Baby Taimur, we wish nothing but the best for both mommy and baby!
#2. Kajol
She delivered a baby boy through a Cesarean Section. Although many people were of the opinion that the couple had planned the delivery, but there is no evidence to support the statement.
#3. Shilpa Shetty Kundra
This popular actress got back to her fit self after her c-section before anyone knew it. She now flaunts her svelte figure very proudly. She had always been very conscious about her figure and has maintained it pretty well.
#4. Lara Dutta
The former Miss Universe flaunted her baby bump in style and welcomed her baby girl through c-sec at Lilavati Hospital, Mumbai in 2012. Her daughter Saira was placed in such a position that a normal delivery was not possible. She practiced postnatal yoga and got back to her original size in a very short span of time. Many new moms have got inspired by her and practiced yoga. Yoga is not just beneficial for weight loss, but it also tones the body and is very good for your overall wellbeing.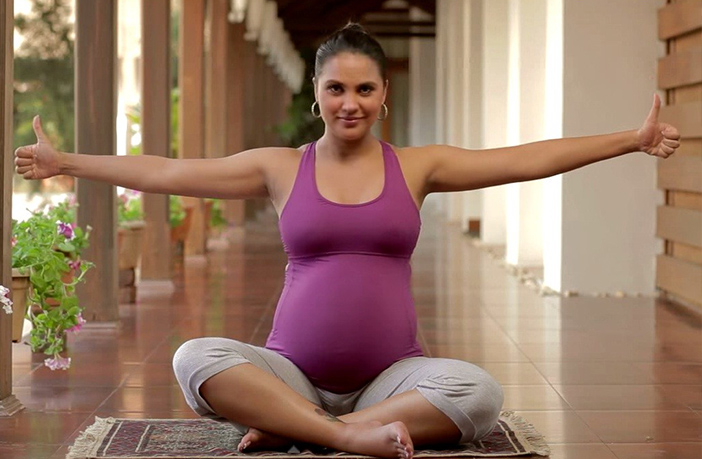 Also read: Father plays a crucial role in raising Triplets| Farah Khan
#5. Malaika Arora Khan
The hottest diva of Bollywood, Malaika Arora Khan delivered her baby through a c-section 15 years back. But, if you look at her, neither can you say that she's had a c-sec nor can you make out that she's a mom! She has that perfectly toned body which every woman wants!
#6. Mandira Bedi
The vivacious TV actress and host, Mandira Bedi's son came into the world via a caesarean delivery. Her son Vir is six years old now and she is back to her pre-pregnancy size.
#7. Farah Khan
For this ace Bollywood choreographer, a c-sec was the best birthing option since she was carrying triplets, whom she had conceived using IVF. But she has been able to shed quite a lot of her pregnancy weight and she also acted in a movie with Boman Irani as a lead actress – Shirin Farhad ki toh nikal padi. Nobody can tell that she's given birth to three kids!
Looking at the above celebrity moms, we get to know a very important truth. It is proved that it isn't as tough to lose weight after a c-sec delivery. Also, recovery is also not that cumbersome. If it is possible to have a normal delivery, one should always go for it, if not then medical intervention in the form of a C-section is always advisable.
Read More: 7 Amazing Mother-Daughter Relationships of Bollywood
Want to share your mommy experience with other moms through words or images? Become a part of the Moms United community. Click here and we will get in touch with you
null