Ragi or finger millet is an important millet that is widely cultivated in India. It has numerous health benefits and is a Super Food for babies to gain weight. Babies have an underdeveloped immune system and need all the nutrients to grow. Ragi provides various essential nutrients to babies. Discover the benefits of Ragi for babies here.
Benefits of Ragi for Babies & Nutritional Value
#1. Strengthen bones
Ragi have great nutritional value. Ragi is the richest source of calcium. In fact, no other cereal has as much calcium as ragi does. It also contains Vitamin D. Both these nutrients are crucial for babies as they help in the development of healthy bones in babies and maintain bone health. It contains natural calcium, which is absorbed by the body easily. It is also very beneficial when the baby starts teething.
Also Read: 31 Healthy Recipes Using Weight Gain Foods for Babies and Kids
#2. Provides Proteins
Proteins are the building blocks of the body. The high protein content of ragi helps to prevent malnutrition in babies. Ragi is a very good source of protein, especially for vegetarians.
#3. Prevents Anemia
Ragi is loaded with natural iron and regular consumption of iron can help to prevent anemia. The absorption of iron in the body can be increased with Vitamin C intake. Sprouted form of ragi provides Vitamin C and thus makes it easy for the baby's body to absorb iron.
Also Read: 10 Recipes using Ghee for Baby Weight Gain
#4. Aids in Digestion
Ragi has a very high level of dietary fiber and thus it facilitates digestion and helps to prevent constipation. It aids in normal bowel movement. It contains insoluble fibers which help to move the food through the intestines and also eliminate wastes from the body. Babies have an underdeveloped digestive system and ragi helps babies to digest food.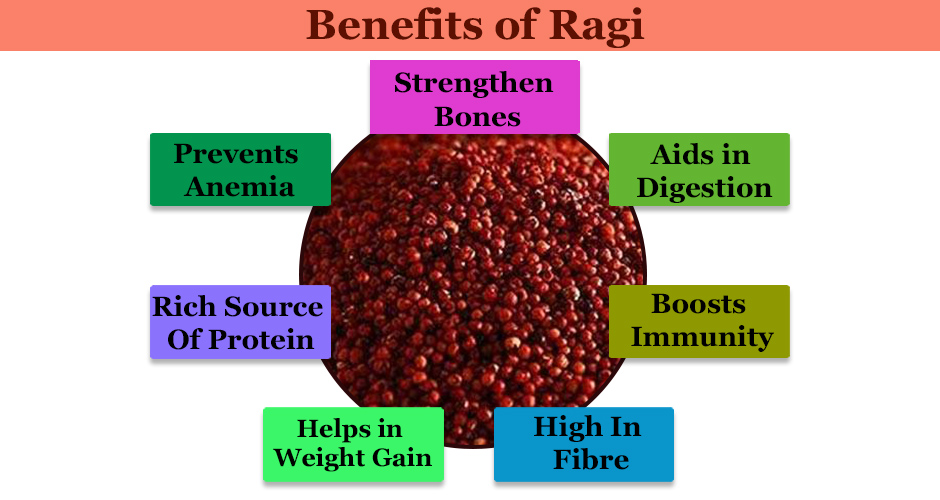 #5. Keeps the Heart Healthy
The amino acids present in ragi help to decrease the cholesterol level in the baby's body as it helps to eliminate the excess fat around the baby's liver. It also helps to prevent the formation of fat in the liver. It lowers the triglycerides in the blood and also prevents the blood platelet clumping, thus reducing the chances of a sunstroke. Being high in dietary fiber, ragi controls the overall cholesterol level of the baby's body and helps to prevent childhood obesity. It also helps to relax the muscles of arterial walls and reduce the blood pressure level in the body.
#6. Boosts overall Immunity
The presence of various essential nutrients in ragi helps to boost the overall immunity of the baby. Babies have a weak immune system and are more prone to catching infections. In such a situation, including foods such as ragi in the baby's diet is of utmost importance to keep diseases and infections at bay. The antimicrobial properties of ragi act against various harmful bacteria.
#7. Ragi as a Superfood for Weight Gain
One of the benefits of Ragi is that it is a highly nutritious and healthy millet. It is one of the best foods that can be given to babies to help them gain weight. Ragi contains lots of dietary fiber, calcium, iron, proteins along with Vitamins B1, B2, and many other minerals. All of these can help in the baby's development and in gaining weight.
#8. Increases the Supply of Breast Milk
Ragi facilitates the production of breast milk in lactating mothers and also improves the quality of breast milk with its numerous nutrients. It helps to enrich the mother's milk with calcium, iron, proteins, and essential amino acids. Lactating mothers must include ragi in their diet in some form or the other. It is also helpful in weaning babies.
Also Read: 10 Recipes Using Sweet Potato for Baby Weight Gain
When can I Give Ragi to My Baby?
Ragi can be introduced to babies in various forms after 6 months of age.
How to Give Ragi to a Baby?
Ragi flour is easily available in the market. It can be given to babies in various ways. Ragi porridge is one of the best first foods that you can give to your baby.

There are Two Types of Ragi:
When the ragi is soaked as a batter for 7-8 hours, it becomes fermented and is used to make dosa and idli. Fermentation increases the nutritional value of the ragi. It contains huge amounts of riboflavin, niacin, and pantothenic acid. It has more readily available minerals that are absorbed by the body in a better way.
When the ragi grains are ground and used as a flour, it is unfermented ragi. It can be made into puri, ladoo, upma, and halwa. Other ways of giving ragi to the babies after 1 year of age include ragi malt, ragi upma, ragi dosa, ragi pancake, ragi ladoo, ragi halwa, ragi idli, ragi seviyan, and ragi cookies.
Also Read: 13 Benefits of Figaro olive oil for baby
How to make Ragi Dosa?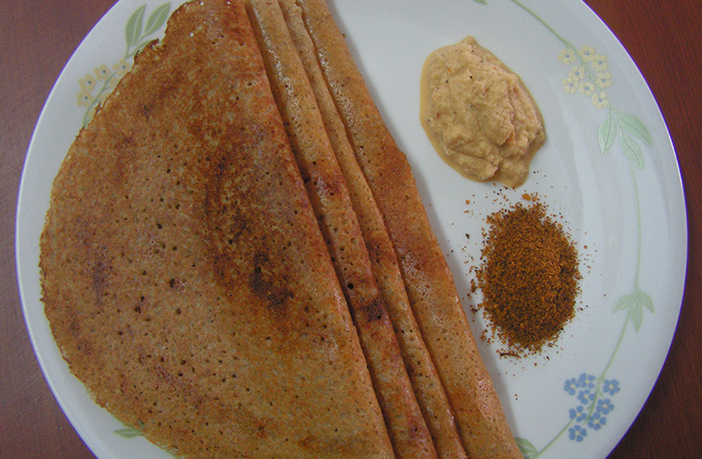 Ingredients: –
Method:-
Soak all the millets for 20 minutes.

Add all the ingredients into the blender and prepare a batter out of the millets.

Add 1 tsp of oil in non-stick pan.

Add the batter to the pan like a dosa.

This ingredients list will give you 10 thin dosa sheets.
Make ragi an integral part of your baby's diet and reap its numerous health benefits! Enjoy the benefits of Ragi in these simple yet delicious recipes.
null