Godh Bharai or baby shower is a celebration of a woman's pregnancy and motherhood and it is done to shower the mom-to-be and baby with blessings and gifts. In India, the traditional godh bharai is usually done in the 7th or 9th month of pregnancy, depending upon the custom followed by different people. All the married women of the family come to bless the mom-to-be. Mostly, it is done only for the first time, i.e in the case of a woman's first pregnancy, but nowadays things are changing and many women have a ceremony during their second pregnancy as well. If you are looking for some amazing baby shower ideas, you can take a look at what these celebrities did.
In the Western countries, a baby shower is given where friends and family are invited, games are played and the mom-to-be is given various gifts. Most of these gifts are baby essentials and other things that are going to be very useful once the baby arrives. In India also, more and more people are hosting baby showers for pregnant women in the family.
Most of the times, a baby shower is organised by a close family member or a close friend and it is centered around a theme. Bollywood is not far behind. So many Bollywood actresses have had a themed baby shower.
Also Read: 7 Amazing Mother-Daughter Relationships of Bollywood
Here are some baby shower ideas from famous Bollywood and TV celebs:
#1. Esha Deol – Lavender Themed Baby Shower
Image Source: Bollywoodlife

Esha Deol got a surprise lavender themed baby shower, which was organised by her younger sister Ahana Deol. Lavender is Esha's favorite flower and she simply loved it. Ahana planned the surprise bash with Esha's husband Bharat Takhtani. She got Esha a customized Lavender chiffon lace vintage gown by designer Neeta Lulla, which had floral embroidery on it. Esha looked like a fairy in her lavender gown. Her sister got the decor with lavender themed balloons, invites, lavender floral arrangements, personalised banners and assorted candies. Even the cake was a lavender based belgian chocolate flavor. Now that's what sisters are for!
Esha Deol – Traditional Godh Bharai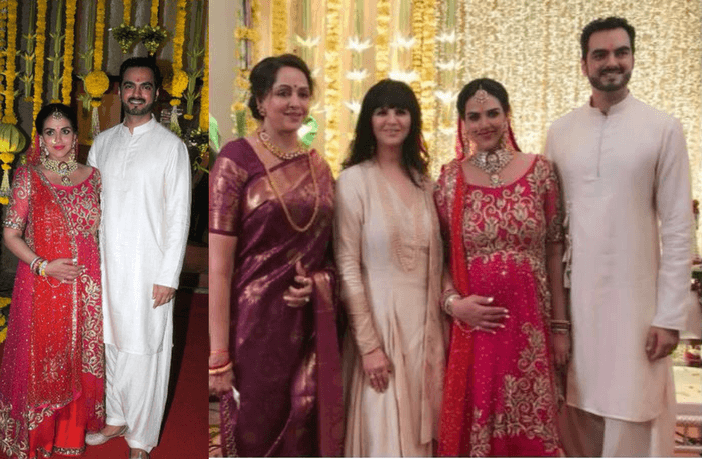 Image Source: iDiva
Esha Deol also had a traditional Sindhi Godh Bharai ceremony, for which the actress dressed up just like a bride with a traditional dress, makeup and jewellery and took three pheras with her husband Bharat Takhtani. The mommy-to-be looked beautiful in the red ethnic dress designed by renowned fashion designer Neeta Lulla.

Also Read: 7 Popular Bollywood Celebs who've had a Caesarean Delivery
#2. Geeta Basra – White Themed Baby Shower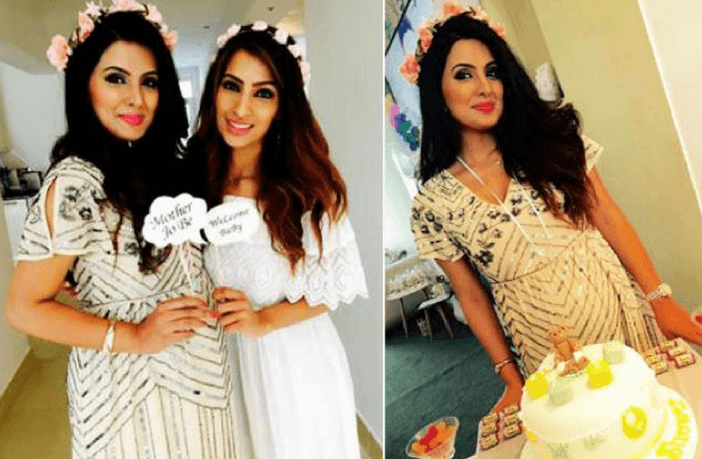 Image Source: bollywoodshaadis
Indian Cricketer Harbhajan Singh's wife, Geeta Basra had a white themed baby shower in London. It was hosted by her friends and family members. Geeta Basra looked like a princess in her white gown with a floral tiara over her head. All the guests were dressed in white and wore a tiara. Geeta's entire girl gang was present to bless her and her baby on the occasion.
#3. Manyata Dutt – Pink and Blue Themed Baby Shower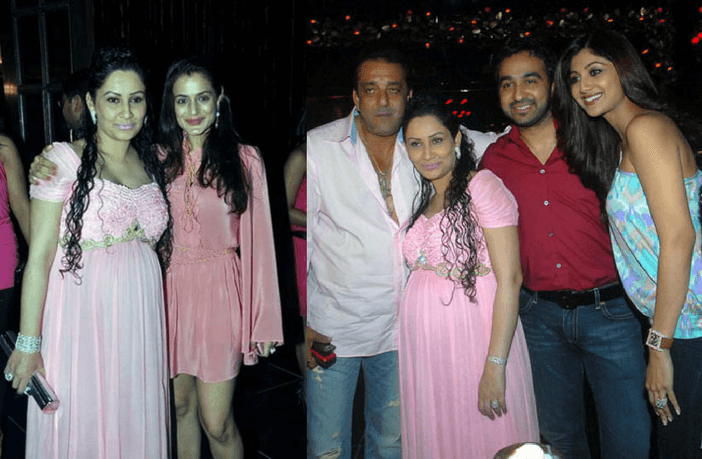 Image Source: rediff
Amisha Patel organized a pink and blue themed baby shower for her friend Manyata Dutt, wife of actor Sanjay Dutt. Everybody present adhered to the pink and blue dress code, as per the theme. The decor was done by designer Rohit Bal and the venue was Rohit Bal's restaurant Vega. Manyata looked pretty in her baby pink colored gown. This is the easiest theme that you can choose for your baby shower.
Also Read: Parenting Lessons from Bollywood Celebrities
#4. Teejay Sidhu – Fall Themed Baby Shower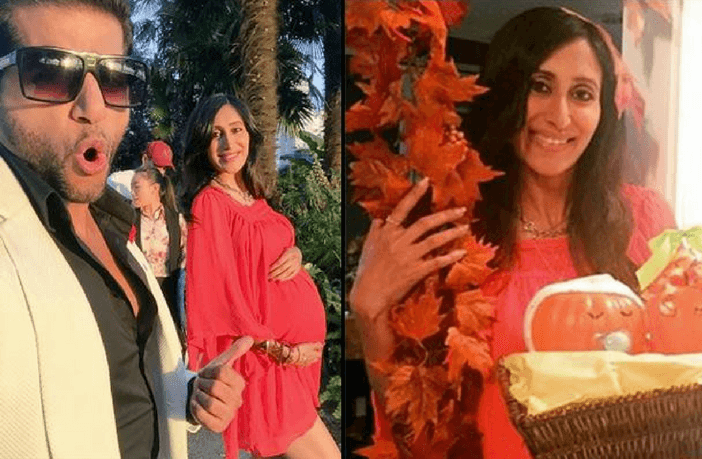 Image Source: bollywoodshaadis
Television Actor Karanvir Bohra's wife radio jockey Teejay Sidhu's fall themed baby shower was organized by her friends in Vancouver, Canada. Teejay looked like a diva in her stylish coral one-piece dress accompanied by an accessory on her head. This is a great theme for a baby shower.
#5. Roshni Chopra – Blue Themed Baby Shower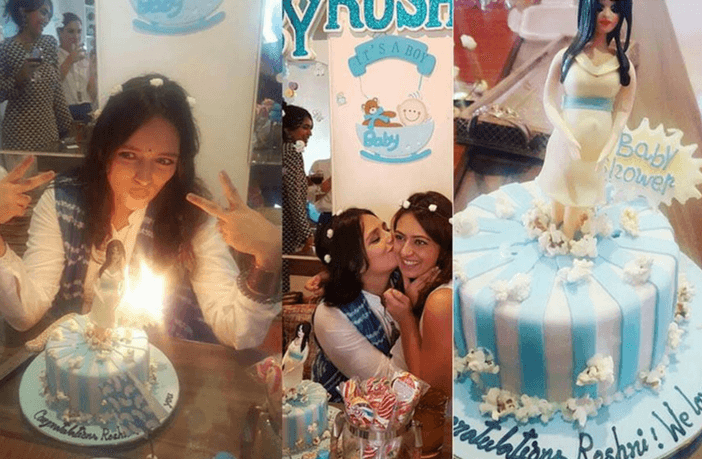 Image Source: tellychakkar
Television actress Roshni Chopra's baby shower was organized by her sister Deeya Chopra and Preeti Simoes, the creative director of The Kapil Sharma Show of Sony TV. It was a blue themed baby shower with a blue decor and a blue and white cake. Roshni was dressed in a blue and white outfit and seemed to be having a lot of fun. This is Roshni's second pregnancy and she's very excited even the second time around.
#6. Nisha Rawal – Pastel Themed Baby Shower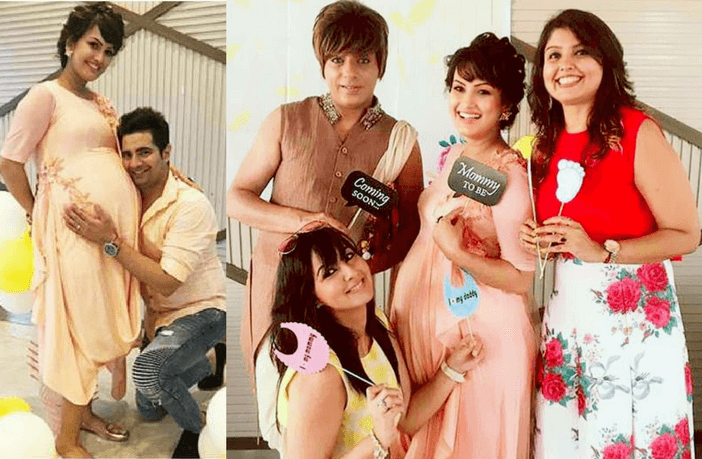 Image Source: The Indian Express
Also Read: Father plays a crucial role in raising Triplets| Farah Khan
Television actors Karan Mehra and Nisha Rawal had a beautiful pastel themed baby shower. It was really cute and the decor said, "It's a joint effort, so it's a joint shower!" The couple looked really cute in their color matched pastel shade clothes. Nisha wore a peach colored dress while Karan wore a peach shirt with jeans.
Clearly, be it a baby shower or a traditional godh bharai ceremony, it increases the mommy-to-be's happiness manifold. It is such a wonderful feeling when you know everyone is with you in your celebration and are all set to welcome the new member of the family.
Hope the above themes are helpful in planning your baby shower. If you know any other chic themes, do share your ideas with us!
Related: 8 Incredibly Comfortable Footwears for Pregnant Mums
Want to share your mommy experience with other moms through words or images? Become a part of the Moms United community. Click here and we will get in touch with you
null
null