If your little one is a two-year-old, he may have already made you a proud parent by hitting many milestones. By this age, toddlers can learn many physical skills and tend to engage in activities like playing with toys like doctor's sets and kitchen sets.
By the end of the 2nd year, he can understand most of what you are saying to him. Cognitive development peaks at this age as he can even solve simple puzzles. His food habits must have changed as well and he must now be an adventurous eater.
Let's take a look at some healthy food practices for your 2-year-old along with a food chart for 2 year old baby as well.
Things to keep in mind when feeding a 2-year-old-baby:
Make sure that your 2-year-old is eating 3 square meals a day along with 1 or 2 snacks tucked in between.
As a two-year-old's digestive system has matured enough, he can eat what the rest of the family is eating. However, please practice caution as some foods are not safe for them such as chunks of peanut butter, whole nuts (only powdered form is safe), whole grapes, seeds and large chunks or quantities of any meat etc.
It is now safe to feed your baby's cow's milk.
You can also introduce a whole egg to your baby but make sure it is fully boiled.
Make meal-times a priority, sit together and eat with your baby to encourage him to eat more and also to help social skills.
Do not fixate on how much your baby is eating.
You can continue to breastfeed your two year old before breakfast and after dinner.
Avoid giving your children any fizzy drink or artificially flavored fruit juices.
Encourage your child to only chew small portions.
Don't make it a habit to feed him by yourself. Let him take the initiative to learn how to eat.
2 Year Baby Food Chart Sample: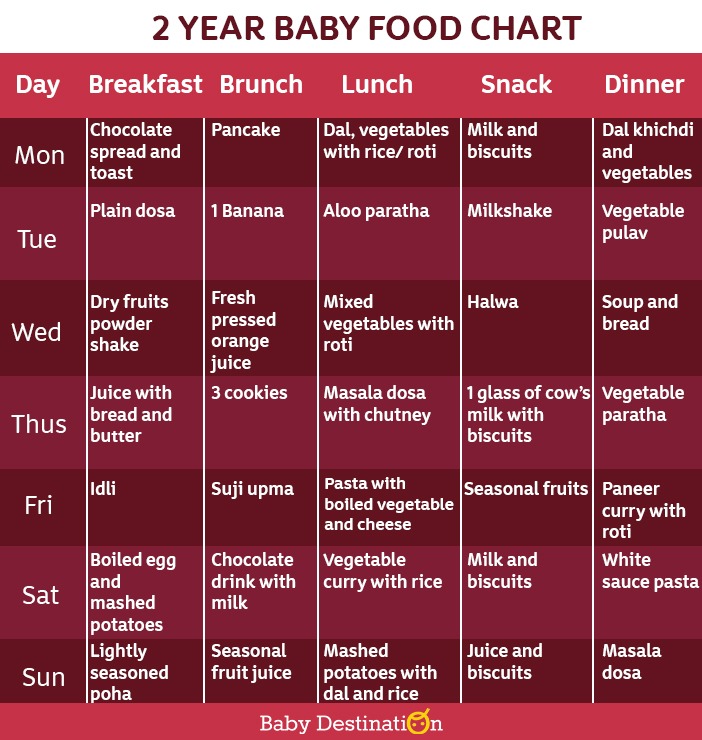 SAMPLE FOOD CHART or MEAL TIME TABLE FOR TWO YEAR OLD BABY:
| | | | | | |
| --- | --- | --- | --- | --- | --- |
| | Breakfast | Brunch | Lunch | Snack | Dinner |
| Monday | Chocolate spread and toast | Pancake | Dal, vegetables with rice/ roti | Milk and biscuits | Dal khichdi and vegetables |
| Tuesday | Plain dosa | 1 Banana | Aloo paratha | Milkshake | Vegetable pulav |
| Wednesday | Dry fruits powder shake | Fresh pressed orange juice | Mixed vegetables with roti | Halwa | Soup and bread |
| Thursday | Juice with bread and butter | 3 cookies | Masala dosa with chutney | 1 glass of cow's milk with biscuits | Vegetable paratha |
| Friday | Idli | Suji upma | Pasta with boiled vegetable and cheese | Seasonal fruits | Paneer curry with roti |
| Saturday | Boiled egg and mashed potatoes | Chocolate drink with milk | Vegetable curry with rice | Milk and biscuits | White sauce pasta |
| Sunday | Lightly seasoned poha | Seasonal fruit juice | Mashed potatoes with dal and rice | Juice and biscuits | Masala dosa |
Some Helpful Recipes for 2 Year Old Baby:
#1. Mashed Potatoes
Ingredients
Potatoes – 500 grams (chopped into cubes)
Butter – 1 tablespoon
Milk – ½ cup
Salt – To Taste
Pepper – To Taste
Method
Boil a pot of water with salt. Once it comes to a boil, add the potatoes.
Boil it for about 10 minutes until soft and then drain the water.
In a pan, heat butter and milk until butter in melted.
Pour this milk little by little into the potatoes while mashing it.
Season with salt and pepper.
#2. Aloo Paratha
Ingredients
Potatoes – 5 (medium sized)
Butter – 3 tablespoons
Salt – 1 tablespoon
Chat Masala – 1 tablespoon
Hing – According to taste
Onion – 1 (finely chopped)
Ajwain – 1 teaspoon
Coriander – A few leaves (chopped)
Flour – To make the dough (As required)
Method
Boil the potatoes and mash them in a large bowl.
Add onions, salt, chat masala, ajwain, hing, coriander and mix them well.
In a separate bowl, mix flour and water to make the dough.
Roll the dough into small roti like circles.
In one roti, small a ball of the potato filling and place it in the centre.
Place another roti on top of it.
Roll it over smoothly and cook it in a heated kadai or non-stick pan.
Serve it with butter.
#3. Masala Dosa
Ingredients
Rice grain – 1 and 1/2 cup
Urad dal – ½ cup
Water – 2 quarts
Salt – To Taste
Onion – 1 (chopped)
Ghee – 1 tablespoon
Mustard seeds – ½ teaspoon (black)
Curry leaves – few
Turmeric powder – A pinch
Potatoes – 2 (Boiled)
Directions
For Dosa Batter
Soak rice and urad dal separately for 6 hours and then strain it.
Grind it in a blender to make the batter. Add water accordingly.
Cover the mixture and let it sit overnight to ferment. Don't refrigerate it.
For Masala
Heat ghee in a sauce pan. Add mustard seeds and stir it.
Add curry leaves and onions and sprinkle some turmeric and salt. Stir.
Add mashed potatoes in the pan with some water and stir it.
For Masala Dosa
Pour dosa mixture in a dosa pan and spread it evenly to make a circle.
Apply ghee on the surface and place the masala in the centre of the dosa.
Roll it over with your serving spoon to make a roll.
#4. Suji Upma
Ingredients
Suji – 1 cup
Ghee – 1 and ½ tablespoons
Mustard seeds – 1 teaspoon (black)
Onion – 1 (small/chopped)
Curry leaves – A few
Sugar – 1 teaspoon
Salt – To Taste
Water – 2 and ½ cups
Method
In pan, roast suji in medium heat for 2 minutes, transfer to a bowl.
Heat ghee in a pan and add mustard seeds. Wait for them to splutter.
Add onions and fry it till soft, not brown.
Add salt and sugar and stir or a bit.
Add suji and stir for a minute before serving.
#5. Paneer Curry
Ingredients
Paneer – 250 grams
Onion – 1 (Finely chopped)
Garlic and ginger paste – ½ teaspoon
Turmeric powder – A pinch
Salt – ½ teaspoon
Peas – A handful
Tomato – 2 (chopped)
Jeera – ½ teaspoon
Refined oil – 1 tablespoon
Method
Heat oil in a pan in medium heat and stir fry ginger garlic paste for 30 seconds.
Add onion and saute it till golden brown. Add tomatoes and stir for 2 minutes.
Add turmeric powder, jeera and peas. Mix well.
Reduce the flame and add paneer cubes. Mix well.
Simmer for 3 minutes. Cover the pan with a lid and keep it aside for 10 minutes.
Stir well and serve.
Also Read: Breastfeeding Positions For Your Baby
Want to share your experience as a mom with other moms through words or images? Become a part of the Moms United community. Click here and we will get in touch with you
null
null