Having a baby is the most important, primeval event in any human's life. Most mammals nurture their offspring from the beginning by being with them and doing all the basic activities for them.
Human parents are no different. We love spending a lot of time with our newborns, cradling, hugging, and soothing being an integral part of it all. However, even though the baby needs to be cradled most of the time, our demanding lifestyles, work culture, and busy schedules often makes it difficult to fulfill this need all the time. To top it up it is taxing on the arms as well. It involves both hands and often engages the mom in a manner that she is left incapable of doing anything else. Carrying the baby keeps the mum occupied and takes away a lot of time from her work schedule and daily chores. This makes the most delightful involvements with the child, a tiring and taxing activity.
This is where baby carriers come to the rescue. They help in baby-wearing, which is a popular practice worldwide, as it helps in keeping babies connected with the mother, while allowing her to carry on with the daily activities. Easy to handle and simple to wear, carriers are safe and effective options that fit into every budget.
Choosing the right baby carrier however, can be a challenge as there are so many options, sizes, colours, and materials to pick from. Moreover different carriers suit different age groups; infants would want to snuggle close to the chest, while older babies would want to stretch the arms and legs.
Types of babywearing carriers
The most common and efficient babywearing carriers depending on the size bearing capacity are:
#1. Wraps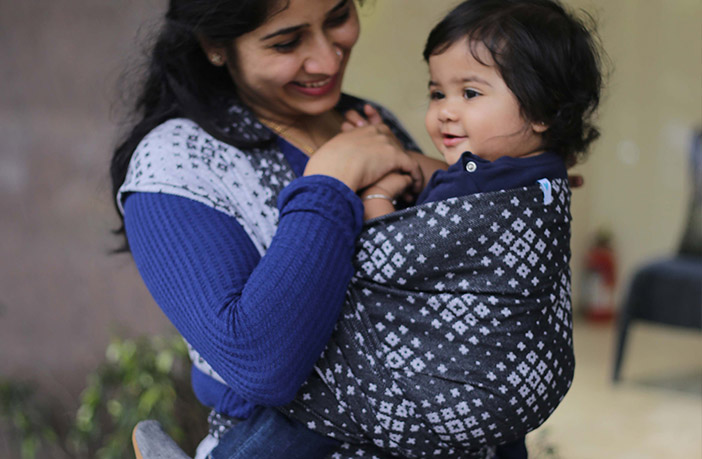 Traditional wraps are the simplest amongst all carriers. They are long rectangular pieces of fabric tying the baby to your body. You can choose the wrap fabric depending on the weather such as cotton or linen for summer, wool for winter, and so on. Wraps of different lengths can be used to carry the baby in variety of positions including front, hip, and back.
Benefits of wraps
Wraps are easily adjustable and versatile according to the wearer and the baby's age. For example cotton, linen and knit jersey are preferred for infants.
Wraps are free from clasps, rings or buckles and hence comfortable for your baby.
Challenges in using wraps
Many find wraps may not be easy to use especially when outside or while traveling. It is not a very quick to use compared to other types of carriers.
Choosing the correct size is important or else you cannot do all the different type of carries.
#2. Ring slings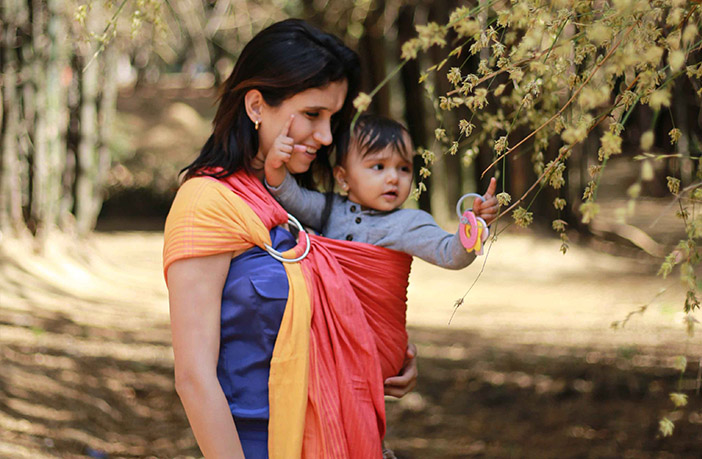 A ring sling is a modern carrier consisting of a pair of metal or nylon rings attached securely to the end of a long fabric approximately 2 metres in length. It is worn across the torso supported by one shoulder and can be adjusted as per the wearer's body.
Benefits of ring slings
They are very simple to use as the rings are easily adjusted.
The long ends of these slings can be used as a sun shade, nursing cover, or a hand hold.
They are ideal for quickly picking up newborns and toddlers.
They are easy to carry and very light weight.
Can be used to do front and back carry
Challenges in using ring slings
Since the ring slings are supported by one shoulder, they need frequent adjusting some times to avoid shoulder pain.
Click Here To Buy Soul Ring Slings
#3. Soft structured carriers (SSC)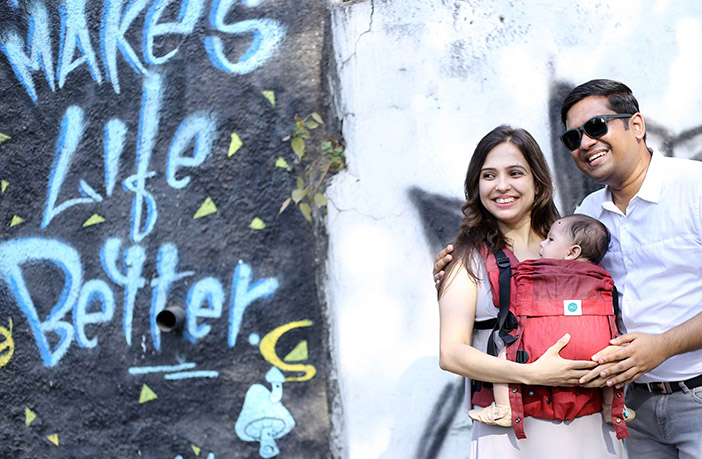 Soft structured carriers, features a thick padded waistband, have shoulder straps for comfort and can be worn in the front, forward facing back or hip positions. The shoulder straps are adjustable and few of them have additional features like sleep hoods, pockets, adjustable seats which allows to use the SSC from newborn to toddler years like Soul AnoonA for example seats etc.
Benefits of SSC
SSC are comfortable and convenient as the straps are adjustable and there is adequate support provided to the caregiver.
SSCs are easy to use compared to other carriers. Most prefered carrier by parents especially fathers!
Adjustable SSCs are one time buy which can be used from newborn [3.2kgs onwards] till 20 kgs normally allows to use the carrier for the entire babywearing journey.
Challenges in using SSC
SSCs are expensive compared to a ring sling or a wrap.
Most of SSCs available in the market is narrow seated and not tested. Ergonomic and tested SSCs are available online only.
Click Here To Buy SSC Baby Carrier
#4. Meh Dai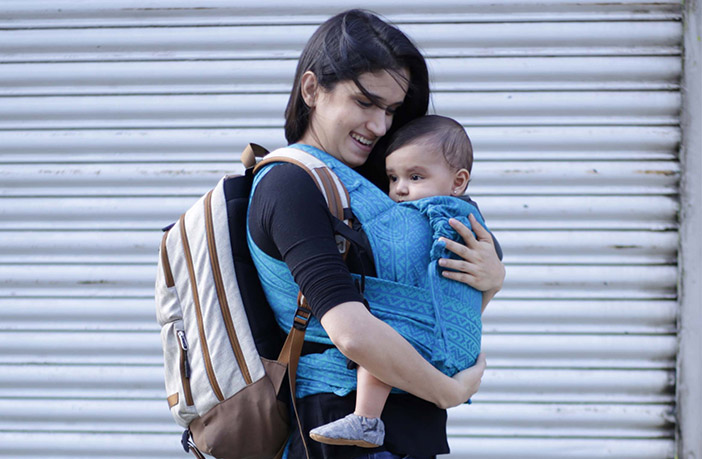 A Meh Dai is a soft-bodied carrier with a rectangular body panel with 4 straps, one on every corner. The straps are tied around the wearer and the baby sits in the body panel.
Benefits
Can be used from newborn to toddlers
You can cross the shoulder straps which gives great comfort.
Challenges
Some people find it difficult to tie and untie knots, so these are not a comfortable option for them.
Handling the long straps when outside will be difficult.
#5. Onbuhimo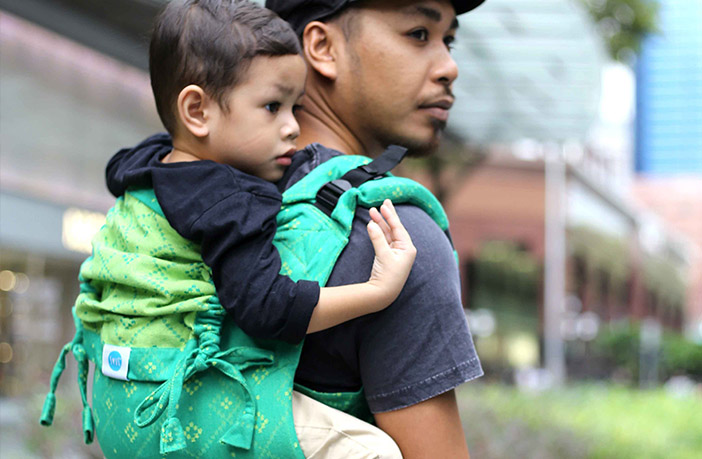 The Japanese-inspired Onbuhimo carriers are waistless and are mainly used as back carriers. It can also be worn as forward facing. These are lightweight and portable with a minimalist feel. These are good for babies who are able to sit independently and hold their heads up strongly.
Benefits
Perfect for hot weather as fabric covers less of your and your baby's body.
It doesn't come with a waist which makes it great for wearing while pregnant.
High back helps your baby peek over your shoulder.
Firm and supportive padding helps in optimum weight distribution.
Comfortable and airy fit with wide and supportive seat
Challenges:
Can be used with babies who can sit independently only and not before that.
The whole weight is on the shoulders so you need to ensure the carrier is used properly to avoid any pain. Not suitable for using long hours.
Click Here To Buy Soul Onbuhimo
Dos and don'ts while choosing the right baby carrier
Choose a carrier with the right fabric and type of carrier which is appropriate for the weight and age of your baby.
Always check the buckles cks and straps of the carrier to ensure safety. Ensure adequate passage of air between you and the baby.
After every wash, re-adjust the carrier (buckles, straps, seat etc.) to the comfort of both you and your baby.
Avoid using harsh chemicals and detergents at the time of wash.
It is preferred not to consume any hot beverages while you are wearing the baby as it may damage the skin.
Avoid wearing carriers if you are suffering from any back problems like spondylitis or sciatica as it will aggravate the condition.
Do not carry infants in the back position as they require head support which would be missing in this position.
Get in touch with a babywearing consultant if you need help with choosing/using a baby carrier. You can join babywearing groups on social media for help from users..
The carriers (as featured in this article) are from Soul, one of India's largest baby carrier manufacturers and retailers. Tested for international standards, these are made from 100% natural fibre and made using natural dyes, keeping in mind your baby's safety. Check out the entire range of Soul carriers here.
null
null