Merely 10 months after the birth of her daughter Misha, Mira Rajput said that she wants to have another baby. Just a few months back, Shahid Kapoor had also expressed his desire to have another baby in a short while! They are definitely in a hurry to make their family complete. Well, we're still waiting for the good news!!
Mira tweeted saying,"I am going to have another baby"
While talking to a leading daily, Mira expressed her desire to work and also said that she is interested in making a career in the field of lifestyle and food. Of course, she wants to complete her family before that. She said, "Yes, I would love to work, especially in a field that is creatively stimulating, but also allows me time with family. Perhaps something with food, or lifestyle," she shared, adding that she hasn't yet set a deadline because of that one reason.
You might also like: How to Celebrate Your Child's First Birthday in Celebrity Style
"No (haven't set a deadline), because I am going to have another baby, and then decide," she said. Seems like she wants to enjoy motherhood undisturbed and then get into the work mode. It does seem to be a sensible decision. After all, most of our elders used to have kids in a short span of time and it was much easier to raise kids all together. All the concepts of parents are still afresh and parents find it a lot easier.
She loves to take care of her daughter, Misha and giving her the best of everything is her top priority. Just like any concerned mother, Mira wants nothing but the best for Misha and says that "I want Misha to have a childhood like other kids. I wish that she is grateful for all she has. I want to be unconditional with my love, but frugal with privileges."
Also Read: Father plays a crucial role in raising Triplets| Farah Khan
She wants her children to understand the value of money and be grateful for all that she has. Now that's what any sensible parent would do. Giving too many luxuries to kids and fulfilling all their desires before they even ask for it, increases the expectations of a child and makes him/her overly demanding. Children must understand the value of money and the hard work that goes into earning each penny.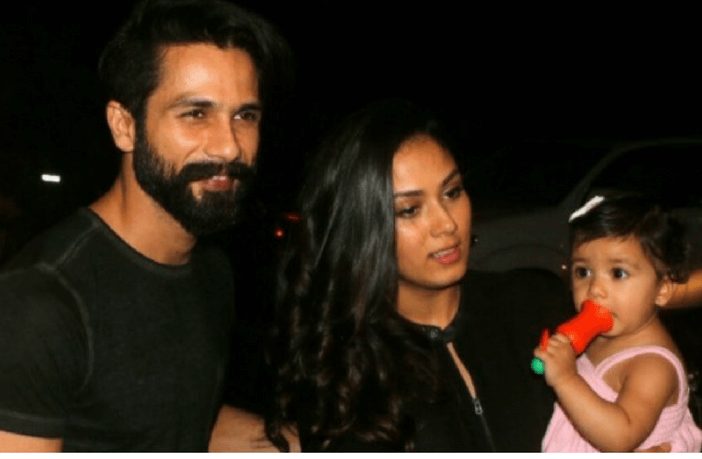 Image Source: Indian Letter
Mira is so happy playing the role of a mother and has admitted that she wanted to have another baby soon in order to bring up both the kids side by side. She also said that all this has been possible only with the support of her dear hubby, Shahid, and the family. She said that Shahid has provided her with all the support and his first priority is his family.
Read More: Parenting Lessons from Bollywood Celebrities
She said, "I don't want to seem like I praise him incessantly, but he balances priorities well. There was something going wrong today, and I called him. He was all ears. He said, yes, I have work, but tell me. He has a work mode, but he never forgets family." The support of the father and the family is of utmost importance in raising children. Elders, cousins and other people in the family help a great deal when you need to take care of two small kids together.
It's a big decision to have a second baby and that too, so soon. It's definitely going to be pretty tough for the couple since their first child is so young. Of course, there is no ideal age gap between siblings. A couple is free to decide when they want to have another baby. Also, it is much easier to bring up kids in a small age gap and you can also reuse a lot of the stuff.
Well, good for their little girl Misha, she's also going to have a sibling to play with. Research has shown that siblings with a small age gap have a stronger bonding and learn a lot from each other. Kids of similar age understand each other's problems and share secrets with each other. Children who have siblings who are not very much elder to them, find a great companion and friend in their siblings. They do not need any other friend. Their soulmate is right there with them.
Also Read: 7 Popular Bollywood Celebs who've had a Caesarean Delivery
Want to share your mommy experience with other moms through words or images? Become a part of the Moms United community.
Click here and we will get in touch with you
null
null